Episcopal Church
Blue Springs, Missouri 64015
Saturday, March 23, 2019

ADULT FORUM WITH DR. BILL STANCIL
This Sunday between services at 9:15 am
Join us this Sunday, March 24 and also on Sunday, March 31 for a special Lenten Adult Forum featuring
Dr. Bill Stancil
,
professor of theology and religious studies at Rockhurst University in Kansas City.
The forum will begin at 9:15 am in the undercroft. We will discuss the Gospel of John and the "I am" statements of Jesus.
A MESSAGE FROM FR. DAVID +
Here is another blog from Fr. Jay. I relate to this story as I needed necessary distractions to help me complete many of my seminary paper requirements. Enjoy his perspective as it may relate to your journey this Lent. Fr. David +
Bird watching
For me, writing papers in seminary could be tough. I'll be the first to admit that the product might be less than riveting. I had to do something to hold interest of others (and myself), something to bring a lighter touch. Thanks be to God, early in my program, I found a book in the library called "Bird Walk Through the Bible", a compilation of all the times birds are mentioned in the Bible. It turns out, there are a lot of them. I made a commitment, throughout my seminary years to include some reference to this book in every single paper I wrote. It gave me odd pleasure to include that title in every bibliography. It was sometimes a challenge, a stretch, but it was all influenced by the wisdom of G.K.Chesterton who said that angels can fly because they take themselves lightly.
So I was particularly interested in a lecture I heard last week, given by a remarkable artist named Grainger McKoy. He spends his life carving sculptures of birds in flight. These are large pieces, amazing acts of craftsmanship and attentiveness, involving years of effort. He is a person of faith, so his art becomes an offering of worship in celebration of the creator.
He spoke about one large piece he made, an amazing flock of interconnected birds, tangentially connected so that the sculpture seems to defy gravity as it soars toward the ceiling, causing the viewer to look up. Maybe that's why God created birds in the first place.
As he was creating this highly detailed, impeccably crafted work, a well meaning person told the artist that he could relax on crafting the bird at the top. No one on ground level would see how well that part of the work was done. That advice came from someone who said: "After all, only God will be able to see that bird." Grainger noted that was precisely the reason he would be more precise, more careful in his efforts. He devoted extra focus to that bird that only the Holy One could see.
I want to live my life that way
Not a life lived under the scrutiny of a divine Santa, making a list and checking it twice, finding out who has been naughty or nice. Rather a life lived in gratitude for a God who knows me better than myself. A life lived before a loving, liberating, life-giving God. (Read Psalm 139:1-10)
Lent is a season that invites us to think about our spiritual journey, our spiritual practices. Why do we do them? And for whom? A reading for Ash Wednesday (Read Matthew 6) invited readers to practice their religion in private, not so other people will think about how great they are, but making that practice an offering that maybe only God can see. It makes me mindful of how much of my life, including my religious observance, aims for the approval of folks around me. Newsflash: people-pleasing clergy are particularly susceptible to this.
It has been helpful to me to remember the wisdom of Soren Kierkegaard who offered this description of worship. He said that the liturgy is a drama. The clergy and the musicians are prompters. The members of the congregation are the actors. God is the audience. As someone privileged to lead worship, I often picture the congregation as my audience. My ego is stroked by compliments on a sermon. My ego is bruised when at the door, someone comments on my sermon, saying something like "Nice talk" or "Good try" (both of which have happened). What would it mean for me to let all of life be worship, with God as the audience, knowing that there are parts of my life that only God can see.
This week, the birds of the air, especially Grainger's sculpture, teach me to focus more on living life as an offering to God, and less on the good impression I might make to others (or myself). I'm grateful for that lesson from the birds.
- Jay Sidebotham
BIBLE STUDY DURING LENT
Every Wednesday at 1:00 pm
NO Wednesday evening bible study until after Easter.
Bible Study every Wednesday at 1 pm, currently studying Paul's letter to the Romans.
LENTEN AND EASTER SCHEDULE
LENT Schedule:
Every Friday: Stations of the Cross and Rosary at 12:15 pm in the nave

Holy Week services Monday through Friday, all starting at 7:00 pm
Easter Sunday:

One service at 10:30 am
NO Sunday evening service
Ecumenical Lenten Program Series
Five churches in Blue Springs, including Resurrection, share every Wednesday during Lent a common meal beginning at 6:00 pm followed by a 6:40 pm Lenten worship service. This year's theme is "Becoming". Offerings will support the Blue Springs Community Services League.
Wednesday, March 27:
Host - Chapel Hill Presbyterian Church, 3108 SW US Hwy 40. Message by the Rev. Virginia Pych
Wednesday, April 3: Host - Episcopal Church of the Resurrection, 1433 NW R.D. Mize Road. Message by the Rev. Andrew Florio
Wednesday, April 10: Host - All Saints Lutheran Church, 421 SW 19th Street. Message by the Rev. Cliff Caton
Outdoor Church Cleanup April 6 at 9:00 am
Mark your calendar and plan to join in on the fellowship, fresh air and helping hands to clean-up the outside of the Church on Saturday, April 6, beginning at 9:00 am.
Weekly Bible Study
Join us every Wednesday at 1:00 pm. Wednesday evening Bible Study on hiatus until after Easter.
Stations of the Cross/Rosary every Friday during Lent
Every Friday during Lent at 12:15 pm, March 8 - April 19.
Save Best Choice labels and Boxtops for Education
Please clip and save Best Choice brand UPC labels and the Boxtops for Education for Resurrection. Collection containers are located in the narthex.
Save items for our Summer Garage Sale
We are planning a large Church Garage Sale on June 14-15.. Please save your items now for donation later this year!
SUNDAY EVENING SERVICE
Please join us for our Sunday evening service
at 5:30 pm. Worship consists of liturgy of the word with music and Eucharist following the
Enriching Our Worship
settings. Candle light, Icons, occasional incense and a casual setting are highlights of this new service. A light reception follows with relevant scripture discussions.
SEVERE WEATHER AWARENESS MONTH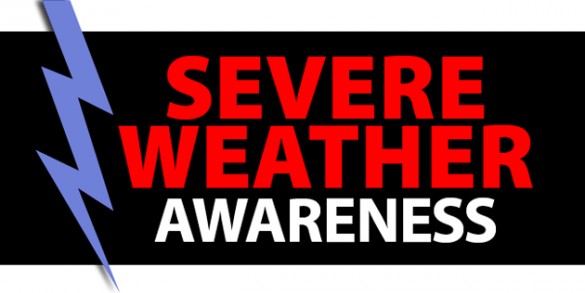 March is severe weather awareness month. Are you prepared? Issues to address:
Weather radio

What to do when the siren's sound

Supplies to support your family for 3 days
For more information research the following websites:
ALL SAINTS LUTHERAN CHURCH TALENT SHOW
Information about this fun event, along with a

sign-up sheet, is on the bulletin board in the narthex. This will be a great evening to share some fun with our neighbor Lutheran's.
Please mark your calendar and think of any skit, talent or performance that could be fitting for this event. Everyone is welcome regardless of age and professional abilities!
COMING UP
Important events and dates
Wednesday, March 27:
Blue Springs Ecumenical Lenten Program Series at Chapel Hill Presbyterian Church
Sunday, March 24: Lenten Adult Forum Part I with Dr. Bill Stancil
Saturday, March 30: Church Yard Sale planning meeting at 10:00 am
Sunday, March 31: Healing Service with Eucharist at 8:00 am and 10:30 am; Lenten Adult Forum Part II with Dr. Bill Stancil
Tuesday, April 9: LunchBunch at Cafe Verona in Independence at 11:30 am