Wellesley Books Newsletter
April 1st, 2020
If you've been trying to maintain your mental health in these unsettling times, as the days and weeks threaten to blur, you've probably read about the importance of sticking to a routine. While we can't guarantee that this newsletter wasn't written by a bookseller wearing pajamas well after noon (while listening to a Marketplace segment about our friends at Bookshop.org), we can offer up our usual, reassuring bounty of new releases. As always, clicking on any of these books will take you to our website, where you can add them to your shopping cart and ship them directly to your home. While we're sad that we can't chat with you at the register right now, we're happy that we can at least keep you virtually in the know.

While you're here, please consider reading these fantastic essays by Dave Eggers and Ann Patchett on why books and bookstores are so vitally important right now. If you're home with some little ones (or just in need of some comfort yourself), here is a great list of authors who are holding free virtual storytimes. Here's to your continued good--physical and mental--health!
Coronavirus is impacting independent bookstores near and far, but you can make a difference with a Libro.fm membership. When you start a membership with code
SHOPBOOKSTORESNOW
, you'll get two audiobooks for the price of one ($14.99), and 100% of your payment will go to Wellesley Books. You can also buy a
one-month audiobook gift membership
for $15 to send to a loved one and 100% of the sale will go to your local bookstore. (That's us!)
Bookseller Recommendations

On the surface, Beheld is a historical novel based on a real murder committed in Plymouth, ten years after the Pilgrims settled there, yet there are many layers here beyond the facts. The story is told in alternating narratives, mostly by Alice Bradford, wife of Governor William Bradford, and Eleanor Billington, wife of the murderer John Billington. It is certainly not the Pilgrim history I remember and the novel is all the more interesting for that. Beheld reminded me of The Crucible and The Scarlet Letter with its richness of history and my discomfort at the raw human emotion and conflict it portrays.
This is a dream-like kaleidoscope of a novel. Vincent is a young woman who first appears as a bartender and then morphs into a trophy wife. There is a Ponzi scheme at its center which involves a myriad of characters. And of course, the Glass Hotel itself, which is a beautiful looming edifice on the Vancouver shores. Once all--and more--of these elements and characters come into play, they mesh into a dazzling and original story.
An immigrant teenager tries to break out from the torpor of small-town adolescence. A young mother faces down the price she'll have to pay for doing the right thing. A middle-aged widow struggles to find a reason to keep living. And a young girl, abandoned by her mother and looked-down on in her neighborhood, finds someone to whom she can matter. Their lives become entwined in the aftermath of a brutal assault, in ways both haunting and heartbreaking. Elizabeth Wetmore's excellent debut pulses with the dry heat of West Texas oil country, and will stay with you long after you've turned the last page.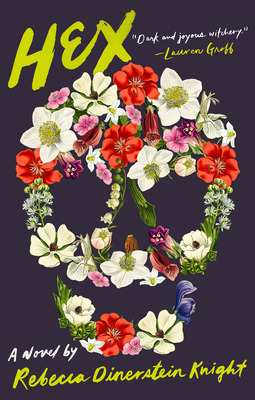 Hex
Rebecca Dinerstein Knight
Bookseller Recommendations For Kids
Joni Mitchell painted with words.

Sitting at her piano or strumming the guitar, she turned the words into songs.

The songs were like brushstrokes on a canvas, saying things that were not only happy or sad but true.

Joni Mitchell's music captivated me when I was little, and I would have loved this picture book biography of her. The collage illustrations vary to evoke the moods of her songs, and difficult adult stuff is explained in an age-appropriate way. From childhood on the Canadian prairie to adult artist of genius, this is a fascinating life story well told.
New Books For Young Adults
What We're Reading Now...

Bookseller Pet of the Week
Leo


This handsome fellow belongs to our intrepid School Liaison and book club leader Rachael. He's a 9-year-old retired farm cat who has lived the sweet indoor life with Rachael's family for close to a year. His favorite things in life are tuna crunchies, napping in the sun, and guarding Rachael's books. He also has a fetching extra toe that sometimes makes him look like he's giving you the thumbs-up.
Thank you for supporting your community
independent bookstore!
Sincerely,

Rebecca Stimpson