LetsGo2PuntaGorda Newsletter
August is here and fall is just around the corner. Lots of you have been enjoying visits with family and friends all over the country - including some of our international friends back in Canada, Sweden, Australia for the summer - we're watching the Olympics and thinking about all of you - looking forward to your return!
Watermelon Day, Oyster Day, World Elephant Day and Matchmaker Day are all part of the zany days that fall in August. And when it comes to real estate in August - everyone seems to think (naturally) that business slows to a crawl. Well, it's definitely a slower pace with fewer showings and inventory still very low - but the buyers that are in Punta Gorda are serious and are writing offers. So if you are thinking about selling, please feel free to give me a call and we'll talk about the process!
RE/MAX "Platinum" Club - 2015, 2014, 2013
RE/MAX "100%" Club - 2012
RE/MAX "Executive Club" - 2011
Direct - 941-676-1033
Cell - 941-347-8782

This Month's Facebook Drawing Winner
Congratulations to Daryl Hall,
the winner of August's Facebook drawing!
on Facebook and automatically be entered for a chance to win a $25 American Express Gift Card during the month of September!
**Please note: We've had problems contacting our winners. Please provide your contact information via email to
Latest PGI Civic Association News
The Punta Gorda Isles Civic Association is a great organization and if you're new to the area, it provides a lot of valuable information about how to become more involved in the community.
You can view a copy of the latest PGICA Commentator here
- a monthly publication where you can find information about our area and the multitude of community activities available to you.
Second Carrier coming to Punta Gorda Airport
For those of you near the Chicago, Trenton, and Philadelphia areas, check out our local Punta Gorda Airport. It just landed service from a second commercial carrier - Frontier Airlines!
For more information about our airport and Frontier,
click here.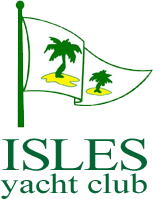 The Isles Yacht Club
The Isles Yacht Club offers a variety of activities and amenities for boaters and non-boaters alike. Membership offers social opportunities, 4 professionally maintained, lit Har-Tru tennis courts, 7 different card and board games, exercise classes, billiards, cruising & kayaking, biking, bocce, a 24-hour state-of-the-art fitness center, award winning dining, golf reciprocity, and much more! There is truly something for everyone!

What Do Real Estate Pros Look for When Buying?
It's not every day that you buy a home and make decisions about the next three, five, or 10 years of your life. Since you can't exactly take a home on a test drive, how do you decide?
Be Willing to Compromise for Your Priorities
Make sure your practical and functional priorities don't get lost in all the home buying hoo-ha (sparkling granite counters, new hardwood floors, a steam shower!). Remember, you can always add the hoo-ha, but you can't make a home fit all priorities, such as location and price.
Dig Into the Details
Go even deeper to uncover a home's not-so-obvious maintenance costs:
-Scope out the sewer line - especially if you're interested in an older home - to make sure there aren't any tree branches or other debris clogging up the works.
-Look at the trees. How mature are they? Roots from older trees can inv
ade the sewer line; untrimmed branches can pummel your gutters during storms.
-Know what's not covered by homeowners insurance.
Ask how old the appliances are. You might need to budget for something new in a few years. Sellers are only required to fix what the inspector finds is broken; they're not going to upgrade working appliances for you.
Focus on Lifestyle
Think of your lifestyle preferences and how those might change in the next few years. After all, the typical homeowner lives in a house for a median of 10 years before selling, NATIONAL ASSOCIATION OF REALTORS® data shows.
Missed Our Newsletter Last Month?
Click here
to read it now.