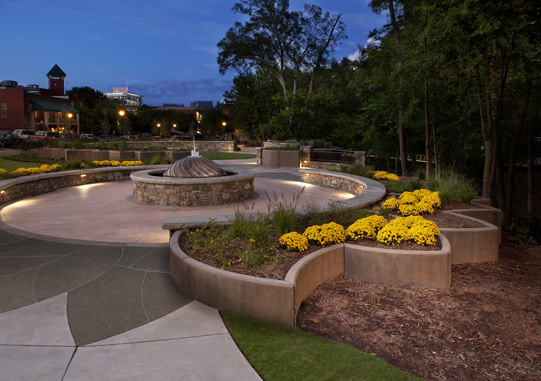 Greenville's Public Places

Most people associate architects with buildings, but architects shape the spaces around and between buildings too. The many talents of Craig Gaulden Davis can be seen within a 100-yard radius of downtown Greenville's West End. CGD worked with a talented team of designers to create Pedrick's Garden and an extension of the popular Falls Park that now extends to University Street. The project includes planters, walkways, passive recreation areas and a fountain that emulates a sunflower, a favorite flower of the late Pedrick Lowery. An elegant new bridge was designed to connect this exciting new garden with the expanding South Carolina Governor's School for the Arts & Humanities, which features CGD's design for a new visitor's center, scheduled to open later this year.

A week after the garden was dedicated, a bronze sculpture of Dr. Virginia Uldrick, founder of the Governor's School, was unveiled in a public ceremony honoring her lifelong work in support of the arts in Greenville. CGD designed the garden setting and base for this new public art installation created by local sculptor Zan Wells. CGD's work has provided improved public access and beautifully enhanced this developing area in downtown Greenville. Visitors and residents can stand in one location and see the architect's vision for creating serene gathering spaces, designing beautiful structures and enhancing public monuments that significantly add to the quality of life of the West End District.

David Dixon, AIA
Vice President & Treasurer

The ability to generate beautiful hand sketches as well as realistic digital renderings is a rare combination. Over the past decade, CGD partner David Dixon has mastered that skill by combining his appreciation of technological accuracy with his love for hand sketching. By blending these skills into an efficient design philosophy, he provides considerable benefits to his education, business and arts clients. David's engaging personality and thoughtful demeanor endear him to his clients. His passion for classic literature and philosophy makes him a natural collaborator with higher education leaders. He has worked on nine college campuses in the Upstate, designing a wide range of projects. David loves the large and small challenges inherent in educational design and prides himself in an ability to design complex iconic campus buildings like Presbyterian College's Neville Hall while also providing simple touches such as the elegantly tapered granite base that supports Clemson's Howard's Rock. Whether working with a pen or mouse in hand, David's skills and experiences have provided great value for CGD's clients for over 27 years.


Firm News:
John Hansen Goes to Washington

John Hansen along with thirteen fellow U.S. Green Building Council (USGBC) Chapter Steering Committee members from across the U.S. met in Washington D.C. September 9-12 to develop recommendations to enhance the USGBC's 76 Chapter network effectiveness with the goal to achieve the organization's vision of sustainable buildings and communities within a generation. John serves as the southeast region chapter representative on the committee and co-leads the Chapter Network Evolution - Business and Operations working group.

Scott Powell Serves as Teacher of the Year Jurist

Recognizing his passion for education, the Rotary Club of Greenville chose Scott Powell to represent them as juror in selecting the Teacher of the Year for Greenville County Schools. Adam Scheuch, a band teacher at Mauldin High School, was chosen to represent Greenville County in the state competition. Adam's selection was based on a written application, a classroom visit and a personal interview. Scott led a program to thoughtfully introduce the top four finalists to the Rotary Club on September 23. As a major sponsor, the Club provided each finalist with a cash prize.

On the Boards: Spartanburg Community College

Craig Gaulden Davis (CGD) enjoys designing multiple projects for its valued clients and is pleased to have been commissioned by Spartanburg Community College to provide design services for the expansion of the Center for Business and Entrepreneurial Development (CBED) at their Tyger River Campus in Duncan, SC. CGD's design seeks to create a vibrant new entrance for the large, multi-purpose facility that provides incubator space for businesses exploring markets in Spartanburg County to collaborate with government, business and educational organizations to launch operations in the local business community. The design features traditional offices, collaborative open work spaces, conference facilities and training rooms.


Craig Gaulden Davis
19 Washington Park, Greenville, SC 29601
T: +1 864.242.0761
E: design@cgdarch.com

You have received this newsletter from Craig Gaulden Davis because you have provided your email address to us.