Wicker Park Bucktown Pipeline 10.25.11
Visit us anytime at chicago-pipeline.com






We email 1X weekly, or less.




Coming

Nov. 28

,

2011:


Celebrate! Wicker Park Bucktown Holiday Magazine

Ad Rates/Details HERE.

Celebrate! Participation Deadline Extended to Friday, Nov. 11. Delivery, Nov. 28.




While in Lincoln Square this past Saturday, we admired the festive window display for Daniel's Antiques newish quarters, which contained, among other items, a pumpkin and a vintage Chicago Policeman's jacket, circa 1960s.

If you are looking for a creative costume idea and want to dress up like a copper from a bygone era this Halloween-- Cynthia even showed us her favorite part of the jacket-- a special pocket for a handgun!-- head over to Daniel's Antiques, 4507 N. Lincoln, to snag the one-of-a-kind piece, as well as say 'hello' to the former Bucktown retailers, who relocated to Lincoln Square this past January.

It's gearing up to be a big and exciting weekend in the neighborhood, kicking off with tomorrow's (Thurs.) "Take Back the Mustache" March, at Milw/Damen/North intersection, where 50+ men who've been growing mustaches all month long to help raise funds for a good cause. Read more about the march and the following day's Stache Bash 2011 HERE.



2010 Miss Wicker Park Pageant Winner Miss Hopkins waves to the crowd during

a 2010 warm-up party

at Debonair Social Club

And, as if nothing could top an event like that, stop by the Double Door at 7PM tomorrow for the 2nd Annual Miss Wicker Park Pageant Finals. Judges include Jon Cotay of Akira, NBC Nightlife Anchor Marcus Riley, and Miss Hopkins, last year's Miss Wicker Park. The cover charge is $10, ages 21+ only. It should be a fun time. See you there!

If stache parades and beauty pageants aren't your cup of tea, and you've got young ones, there's always the BCO-sponsored School Fair tomorrow (Thus.) at 7PM at Pulaski International Academy, featuring representatives from five schools, followed by a 'CPS 101' at 8PM, promising "a primer on everything you need to know to navigate the CPS System," per this email.

Dogs will be bobbing for tennis balls and kids will be bobbing for apples among a myriad of activities slated for this Saturday's

BOO-PALOOZA

, happening from 10AM-2PM in Wicker Park's Park (map it!). Over 30 organizations and businesses are banding together to make the 3rd annual event, sponsored by the Wicker Park Advisory Council and the WPB Chamber SSA#33, a success. See you there!

For many other local Halloween events, check out this round-up and add your event as a comment if we've missed it.

Haven't decided on a costume yet? Be sure to check out

CeCe Suggests,

for plenty of fun DIY ideas and examples. On a side note, CeCe, due to some unfortunate events, is now looking for a new job. Retail and restaurant leads welcome. Send an email if you'd like to meet with CeCe. Thanks.

Thank you to 60+ participants who've joined the printed pages of Celebrate! as well as to everyone who participated in We're in the Neighborhood, our summer edition. We appreciate your support and readership.



Got a cool costume? Pint is hosting a party and offering three prizes- for Scariest, Sexiest, and Judge's Choice!

Many thanks to Celebrate! newcomers Ian Feinerman of @Properties, Grace and Team at Sergio and Banks Realty, Steve Robinson of Constant Contact (the software we use to power the pipeline), City Farm, Pint Pub, Rebel Rebel, a new skate shop, Gran Discover, Wild Rose Vintage Restoration, Artist Florian Retkowski, the Wormhole Coffee Shop, Wing Stop, Virtu, My Pie Pizza, Personal Privilege boutique, the Tom Robinson Gallery, Miller Lumber, Virtu, Artist Kevin Lahvic, All Women's Health, and Spa Soak.

Send an email, call 773-960-3997, or stop by our "pop-up newsroom" inside of Lubinski's Furniture, 1550 N, Milw., on Mondays from 10AM-6PM, if you would like to participate in Celebrate! (RSVP recommended- we don't always sit still)

If we don't see you at Boo-Palooza, or Lubinski's on Monday the 31st, we wish you a Happy and Safe Halloween, as well as Day of the Dead

(

Wed. Nov. 2nd).

Thank You for Reading,

P.S. A purse and a camcorder with sentimental importance to a pipeline reader went missing from The Flat Iron bar early Saturday. Read more here, and keep an eye out. Thanks.

P.P.S. Happy 7th Anniversary to Larkspur on Damen!

Get Your Wig On, at D&S Yo-Yo Merchandise this Halloween


1284 N. Milw.

Mon-Wed 10AM-7PM

,Thurs.-Sat 10AM-8PM,

Sunday 11AM-5PM

p: 773-278-0332

mention 'pipeline' for a discount at the register, too!




RETAIL SPACES is sponsored
by Eva Bergant @properties Realtor



This week's closings include a house and a condo that don't look like much from the outside, while they provide current luxury on the inside. The MLS (Multiple Listing Service) requires the first photo shown on listings to be the outside of the property.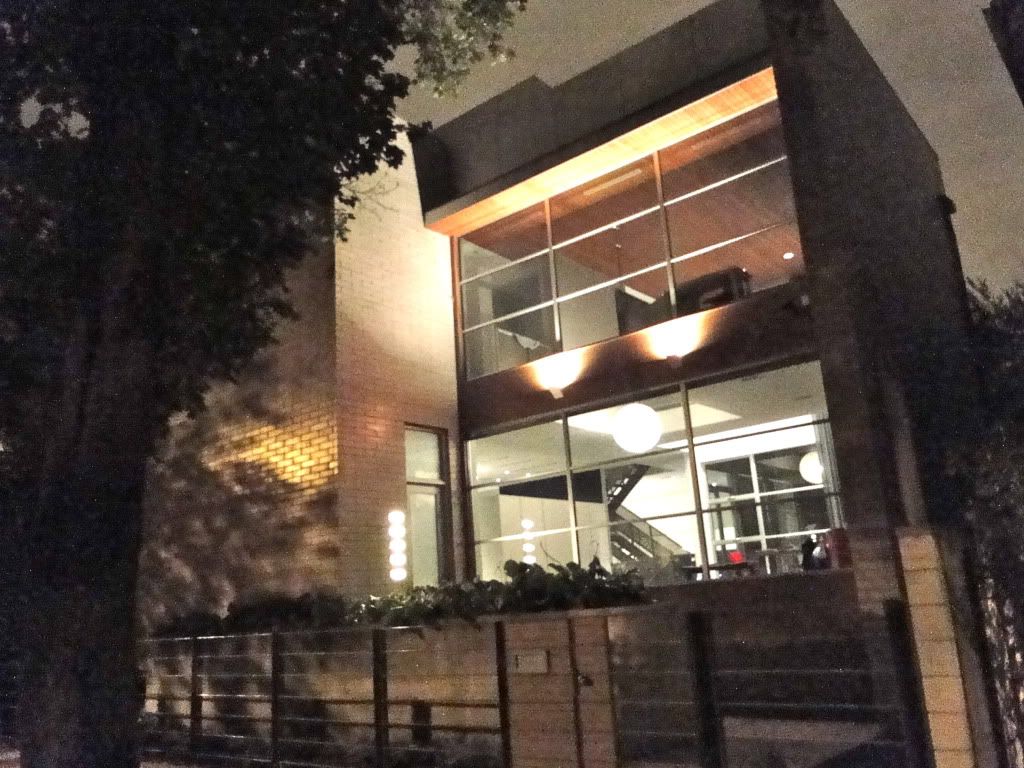 Alisa captured this photo of a 4 bed, 5.1 bath $2.6 million dollar home on the 2000 Block of W. Cortland last night just before the rain began to fall and almost destroyed her camera! Then she kept walking and stayed dry while checking out an art class at

Arts n Spirits

, where members of a corporate team

gathered together to paint the Chicago skyline

. It looked like a lot of fun!

Additional online photos, however, provide views of the interior rooms and capture features of the property and surrounding vistas. If there's a lesson to be learned, it's the cliched "Don't judge a book by its cover," or, in the case of real estate, "Don't write off every exterior; some hide beauty inside."
There were 10 closings in Wicker Park and Bucktown this past week. Three were detached single family homes and seven were attached condos. One closing occurred as a result of foreclosure. Most notable was a home in the 2000 block of N. Cortland, pictured at left, which was featured in Chicago magazine in 2009. Get the full rundown here.
Eva Bergant
is a Bucktown resident and local Realtor with a community driven style. In addition to being
president of the Bucktown Community Organization (BCO), Eva has long served as chair of the Bucktown Garden Walk

.

Do you have a real estate topic that you'd like explored in a future column?
COMMUNITY NEWS is made possible by Jackson Junge Gallery & Framing
1389 N. Milw. p: 773-227-7900; Monday-Sat 11AM-8PM; Sun. Noon-5PM.


"Ocean Gyre" by Caroline Anderson, at the Jackson Junge Gallery

If you haven't had a chance to check out Element Flux

,

a few of the participating 52 artists will be conducting a free talk this Saturday, so you can learn more about their collaborative efforts, as well as check out unique pieces like Ocean Gyre, right, by Caroline Anderson, which is comprised entirely of plastic bags, a timely piece considering a new ordinance proposing a ban on plastic bags which 1st Ward Ald. 'Proco' Joe Moreno plans to introduce next month

.

Element Flux closes Oct. 31. Ego Altered: One Artist, Two Minds closes Nov. 13.

Local Parents might be interested in knowing about tomorrow's (THURS) School Fair, presented by the Bucktown Community Organization (BCO). The info-session takes place at Pulaski School, 2230 W. McLean from 7-8PM, per this email.

32nd Ward Ald. Scott Waguespack's Oct. 21st e-newsletter contains detailed information on the city's proposed budget cuts as well as ideas to save $700 million. Read Ald. Waguespack's e-newsletter here.

32nd Ward Ald. Scott Waguespack speaks at a community meeting regarding the proposed closure of the13th District Police station at 937 N. Wood/Photo by Philn Phlash

Residents served by the 13th District Police Station gathered together last night (Tuesday) at the Ukrainian Cultural Center to meet with Chicago Police Superintendent Garry McCarthy regarding the proposed closure of the 13th District station, which is one of three stations slated to close if Mayor Rahm Emanuel's proposed 2012 City Budget is passed when it goes to City Council next month. Check out a few photos snapped by Philin Phlash who was there. (We/Alisa were unable to attend, due to being on deadline for today's e-newsletter, though check Our Urban Times, as Elaine Coorens was in attendance and will likely be posting a dispatch soon.)

Need a break from the stress of just about everything? We understand! Punk rock nihilism is a good place to start, if you can sneak away from everything, that is. First Ward Ald. Proco Joe Moreno is teaming up with Quencher's Saloon on Friday. Nov. 4th, for

a punk rock karaoke evening

. Tickets are $10 in advance, $15 at the door. The fun begins at 6PM. 100% of proceeds will benefit Friends of Goethe School.



This Sunday, Oct. 30th will be Last Call for the Wicker Park Farmers Market, so stop by between 8AM-2PM to pick up some produce and say goodbye to the farmers, or at least in the park. The

Logan Square Indoor Winters Farmers' Market

begins Sunday, Nov. 6th, 10AM-2PM in the lobby of the Congress Theater, 2135 N. Milw.

On Wed. Nov. 2nd, the Wicker Park Committee will host their monthly membership meeting at 7PM, as well as General Elections, and a presentation by the SSA #33.

Learn more on the WPC Facebook Wall

(thanks to Dina Petrakis who posted it!)
Linkypoos is Sponsored by Cat & Mouse Game Store
2212 W. Armitage p: 773-384-4454 Tues. 10AM-10PM
Wed. 10AM-8PM Thurs.-Sat 10AM-7PM Sun. 11AM-5PM

Cat & Mouse can't wait to participate in Wicker Park's Boo-Palooza event this Saturday! The day will feature a ton of FREE activities

, and Cat & Mouse will be there with a game table, goodie bags, and a scavenger hunt that will take little ones throughout the park. Hope to see you there

!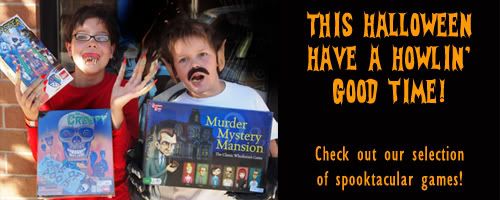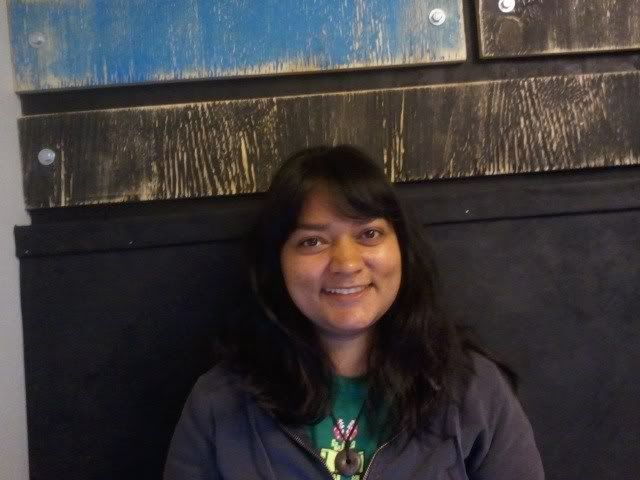 Nandika Gervais- Got a link to share? Send it to Nandika
Finally! The new Lush Cosmetics on Damen will open Friday at 11:00 a.m., according to this Racked Chicago post. The company sells handmade naturally derived soaps, creams, gels and other personal products for men and women.
Also on Damen, Ripasso is scheduled to open tonight (Wed), per this Eater.com story by Ari Bendersky.
Police patrolling the 1300 block of N. Ashland Ave. last Friday night, approached four men who fled upon seeing the officers. The police gave a short foot chase, when one of the suspects allegedly pointed a gun at the officers, prompting them to return fire. The suspects fled but were apprehended in 1300 block of N. Bosworth after calling an ambulance. All four men were taken into custody and a weapon has been recovered. Read more about this story here, on the WLS website.
According to this post on Reddit, there was a home invasion near Oakley and Shakespeare in the Bucktown neighborhood on Oct. 21. Please be aware of crimes like these happening in the neighborhood and report suspicious persons to 311 or 911.
Steve Dolinsky of the Hungry Hound turned a culinary spotlight on the Day of the Dead in this post, featuring Division Street's Sabor Saveur.
Interior Designer David L. Smith bought this historic, 5 bedroom Bucktown home at 2156 W. Concord Place in April 2000 for $925,000. The home was recently put back on the market for a whopping $4.4 million!
Brian and Fred Rosen, the guys who brought you Sam's Wines and Spirits, are bringing more top-notch booze to the hood with Evolution Wines and Spirits opening at 1704 N. Milwaukee Ave..
Read many more links compiled by Nandika HERE.
Tidbits/Spaces
T/S is sponsored by Gran Discover Clothing, 2044 N. Milw., Your

Neighborhood

Source for

Dickie's under $15

.

Smart hipsters know that 'GranD' sells Dickie's for 50% off Big Box prices. Going skiing this winter? Gran Discover has select NORTH FACE jackets marked way down, to the tune of nearly half off. You must see it to believe it.



Wicker Park's Chrome Bags was hopping this past Thursday night at a release party for Handsome Cycles. Read all about it and see pictures in this GRID Chicago story by John Greenfield.

Roller derby girls and future ice skaters take note: Rebel Rebel, the city's first skate shop for the roller derby community at large, and skaters, is now open in nearby Logan Square.

Sushi Para on Milwaukee is looking for a server, per a sign in its window. Rio at 2010 W. Armitage is looking for a Hostess & Server and requesting a resume (and a picture), per this sign.

Happy Halloween from riley boutique... here's a cute email Stephanie of riley just sent to her subscribers.

In other cute email news, or rather scary, we really enjoyed these spooky T-Shirt fashions, made by Culture Studio, which relocated from Division Street to the West Loop a couple years back now.

Happy almost anniversary to Beth of Larkspur, who will be celebrating seven years in the neighborhood next month! Read more in Larkspur's fall e-newsletter.

Need a new hair style, but low on funds? Bucktown's Karen Marie Salon is offering FREE bob styles, on Wednesdays, 10 and 11AM just as long as you're willing to be a hair model, per this flier.


The long vacated space at 1648 N. Milw, which formerly housed Findables and more recently a Cleveland Dean pop up gallery will soon be home to 1on1fitness, a personal training and bootcamp style gym which relocated from previous 'HQ' on Western Avenue.

Many thanks to all who popped by Club Lucky's Martini Night this past Wednesday, especially Jen and Alicia of Spa Soak! We had a blast and can't wait to do it again... Mark your calendars for the first Wednesday of every month, at Club Lucky, where the award-winning martinis will be just $6 and the tarot readings are free, from 7-10PM. Note: We are not (nor do we want to be) professional readers and we will never say anything negative unless you request it. Tarot is a hobby.


Tiara Love, an accessories boutique, is now open at 1452 N. Milwaukee, featuring lots of warm winter hats (some with animals on them!), scarves, jewelry and purses, etc. Pictured at left is Kristin of Tiara Love checking out a new hat.

The 'hood newest spot for sushi, Nori Sushi at 1393 N. Milw, (map it) is offering 50% off a selection of specialty roles, for an indeterminate time. A few weeks back we sampled the Strawberry Shortcake and Ninja roles, which, with the discount ended up being around $16 and is a perfect amount for two not-so-hungry people and just right for a glutton or someone who had been running around all day and forgot to eat anything. Fun fact: Nori is Japanese for a thin, dry seaweed sheet.

Reported on a few months back, it appears as if The Beer Temple, 1644 W. North Avenue, is gearing up to open soon, and sporting a logo in its window.
Mon-Thurs. Special:


50% Off ALL New Specialty Tacos (6 to choose from!) @Flash Taco, w/ mention of "pipeline" prior to ordering,

1570 N. Damen

(at Milw/Damen/North)!

Check out

the NEW menu!




Offer Expires: NOV. 22, 2011
*Specialty Tacos Only. Weekdays, Mon-Thurs. Only.

THE WEEK AHEAD is
Made Possible by Asia Nails

Normally $35, if you say "pipeline" to Andy or Tina or Zenny or Katie or Shayla, of Asia Nails, 2051 W. North, you will receive both services for just $28.

Halloween manicures for children (under age 12 only, must be accompanied by a parent) are just $5 if you mention 'pipeline,' now through Oct. 31st!
Note: For
HALLOWEEN HAPPENINGS
, please refer to this post on our website. For many other events, check out the
weekly WPB Chamber email.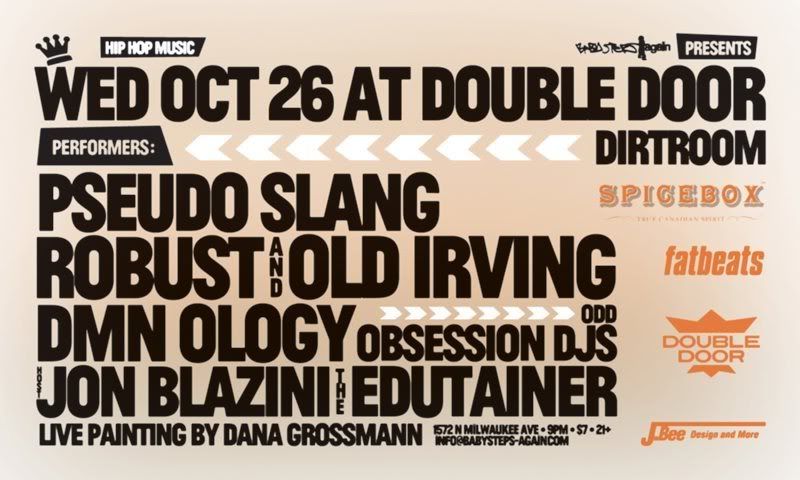 Wed. Oct. 26 9PM: Baby Steps Again Hip Hop Show (Double Door)

Thurs. Oct. 27
6-7PM: "Mustache March" (Milw/Damen/North)


Sat. Oct. 29

10AM-2PM Boo-Palooza (Park Grounds)

2-4PM: Artist Talk: Element Flux (Jackson Junge Gallery)
Where will friends meet when the Farmers' Market is over for the season?
Sun. Oct. 30
8AM-2PM:

Final

Wicker Park Farmers Market (Park Grounds)
Wed. Nov 2
6-11PM: Martini Night, Free Tarot Readings (Club Lucky) 7PM: Community: WP Committee General Mtg
Thurs. Nov. 3
6-9PM: Celebration: 7-Year Anniversary (Larkspur Floral)
Fri. Nov. 4
6PM: FUNdraiser: Punk Rock Karaoke (Quencher's Saloon)
Fri. Nov. 18
7:30PM: Benefit Concert w/ Dessert/Wine (Den Theatre)
Fri. Nov. 19
7:30PM: Benefit Concert w/Dessert/Wine (Den Theatre)
Fri. Dec. 9
7PM: Art Opening: Holiday Show with Whales (Tom Robinson Gallery)
Art Watch:
--Oct. 31: Jeffrey Reid: Portrait of an Idol
(The Silver Room)
--Oct. 31: Elemental Flux (Jackson Junge)
-Nov. 2: Spaces: defined (Eyeporium)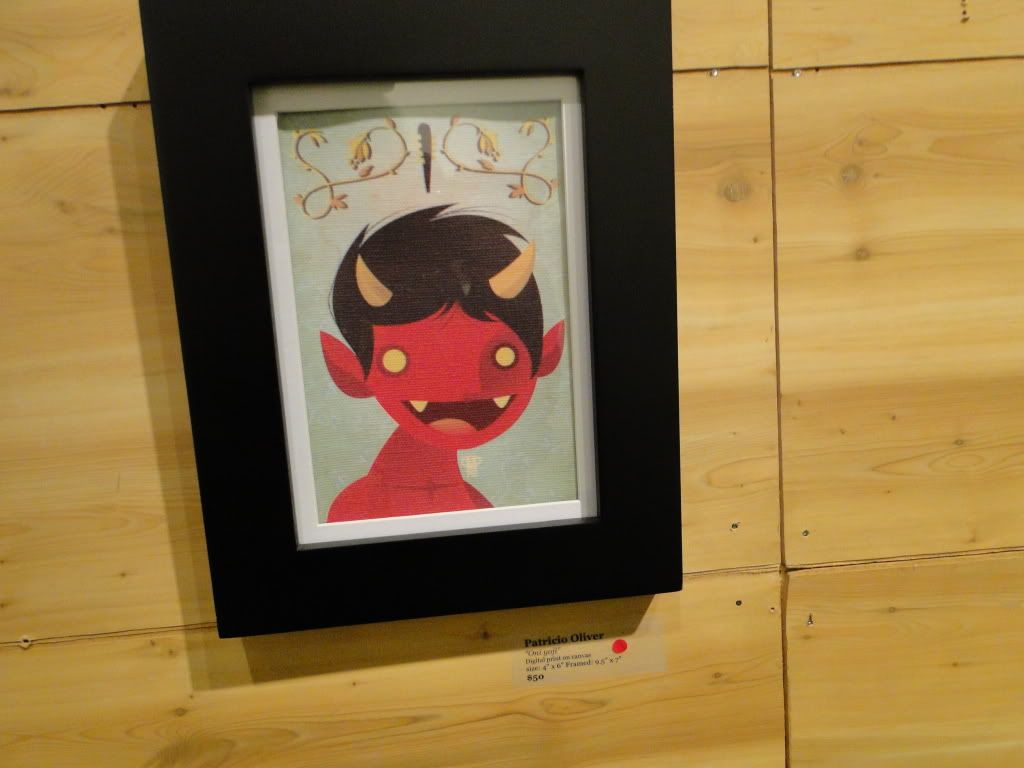 This piece by Patricio Oliver is marked "sold" but there are other small 'monstres' for sale on the walls of OhNo!Doom

-Nov. 3: Le Petit Monstres (OhNo!Doom)

-Nov. 13: Ego Altered: One Artist, Two Minds

(Jackson Junge)

Performance Beat:

--Oct. 28: Boobs of Khan: A Star Trek Burlesque (Gorilla Tango)

-- Oct. 29: Summer and Smoke (Den Theatre)

If you have an event to add to this calendar, let us know. NOTE: Due to time constraints, we are unable to cover theater outside of on a sporadic basis. If anyone would like to volunteer to write theater reviews as well as keep our listings updated, or assist in soliciting advertising to help support the existence of a theater section,

let us know

. Thanks!




welcomes the following UK Village/Noble Square participants to the Celebrate! Listings

:


Pictured are Jason of New Fish Aquarium, Jennifer of Wild Ruby Vintage Restoration, and Marty Kam, author of Mrs. Shumak's Boarding House, which The Pipeline is reading at the moment, or rather falling asleep with the book on our face because we can't read anything at night, no matter how good it is, and this is a really funny and original novel.

Get 50%

off

Mrs. Shumak's Boarding House if you mention 'pipeline' at Sunrise Cafe.