Wicker Park Bucktown Pipeline
People Inspired Community Driven Content Since April 6, 2009




Are you having trouble viewing this email? Do the images cover the text?

The software we use (constant contact) is not yet fully compatible with Internet Explorer 9, or Firefox 4 browsers. The newsletter views best on Safari, Chrome, Internet Explorer 7 or 8, and Firefox 3 browsers.

(Deadline: April 30, 2011)

Pipeline 100 Participants
Would you like to join us?

Deadline Extended:

April 30, 20011.


Delivery: June 2011




"He who enjoys good health is rich, though he knows it not." ~ Italian Proverb

2100 W. North Ave.

M-F: 6AM-10PM;

Sat.: 8AM-10PM

Sun. 10AM-7PM;

p: 773-235-3455

** Try it FREE!

One workout per visit per person, just say you saw it in the pipeline.




SPRING INTO

A HEALTHY SMILE




William DeJean, DDS

1363 N. Ashland

Ph: 773-384-3885








1462 N. Milw.

p:

(773) 661-2468

Coffee

Edibles

Internets

Good-Times-Now




M-F: 7AM-midnight

S-S: 9AM- midnight

BOO! It's Barrymore's Ghost at Jackson Junge Gallery

Jeffrey Baumgartner and Diann Squiers

formed Chicago City Creatives in 2010 to "to develop and promote a collective of artists from all disciplines including the visual arts, music, theatre and performance, film, and installation in an effort to explore and exploit the dialogue between them." So now they're doing a play in an art gallery.

Jason Miller (Father Karras in The Exorcist; he won a Pulitzer for his play That Championship Season) wrote the one-man play and toured it extensively. In it actor John Barrymore is a ghost doomed to haunting a theater during rehearsals for a new play. Local actor Baumgartner says in his press release, "I had the good fortune to play Hamlet about fifteen years ago, as well as having appeared as Barrymore in the wonderful comedy I Hate Hamlet. and with Barrymore's Ghost I get an opportunity to tap into that particular and extraordinary energy that is Hamlet, a role for which Barrymore was quite famous, if not infamous. Too, it is tremendously exciting to have a go of it while being surrounded by all of this original artwork."

The show runs Fri-Sat 4/15-4/23, 8 PM, Sun 4/17, 5 PM, at Jackson Junge Gallery, 1389 N. Milwaukee. Tickets are $25; group sales and dinner theatre packages are available at Tocco Chicago, 1266 N. Milwaukee. Call 773-227-7900 for reservations and more information. --Pat J. Daily

[ED. Note/Disclosure: Jackson Junge Gallery is a valued Pipeline sponsor. Just say 'Pipeline' for a special discount on tickets to Barrymore's Ghost-- and smile at our ad if you see it in the play's playbill!]

The sign said Cheap Thrills, and there were balloons.
The rest was bargain hunting history...







































Dear Spring,

Sheila and David of Bucktown, back in the 'hood after the Shamrock Shuffle Sunday

We know you're kind of busy, one of an elite crew of Four Seasons, and you're likely too swamped to open your email, what with

the tornados in Iowa,

and the

radioactive water in Japan,

but we still wanted to say "thanks" for popping by Chicago this past Sunday and kicking that old man, Winter, out of the picture. He was getting to be kind of

a drag.

Photo by Philin Phlash

Spring, your arrival serves as a literal and

Omar, of Irazu Costa Rican Restaurant, discusses the perfect black bean recipe with Rose, a local resident.

figurative 'green light,' giving us permission to relax, to

run in the largest and warmest Shamrock Shuffle,

sit on

benches with newspapers

, wear just-purchased new hats from Goorin Bros (

like this one),

and shop for summer fashions at multi-boutique sales

like Cheap Thrills

. Your goodwill inspires us to open windows, and enjoy brunch al fresco,

right.

Lauren had her convertible's top down for the second time this season (if inquiring minds must know, the first was "that really warm night last week") and was headed home after looking in on a Bucktown cat this past Sunday.

Spring, you make it okay to take down the top of a convertible, like on Lauren's car, right.

The back of Lauren's business card

reminded us of the time when we went out of town and our brother watched our cat, who defacated on the foot of our brother's visiting friend who will always remember us as his friend's younger sister whose cat shits on people's feet, even if that's only been true once.

Homer

Spring, you implore us to leave our quarters and sit on the closest thing some of us have to a porch, which might be a square of sidewalk next to a poultry slaughterhouse where Homer, age 86, was doing a bit of physical therapy as his 61-year-old wife, Margarita, was cleaning up the family's kitchen after producing a week's worth of food for a nonprofit on the far west side.

The couple

has been married 30 years and have two children.

A man with a shovel in an alley

Spring, your presence calls for beautification efforts, as exemplified by the man, right, who had worked up a sweat and preferred to keep his face out of an e-newsletter he'd never heard of while

duking it out

with dirt and debris in a Bucktown alley.

When asked why he does it, the man replied, "

Somebody's got to do it."

Spring, you are my Somebody.

Thank you for being here at last!

Yours,

Alisa

A butterfly pops in on the BCO Garden Walk, Summer 2010

RESIDENTIAL SPACES is Made Possible by
Eva Bergant, @properties Realtor




Eva Bergant

The offer was accepted - now what?

After the buyer and the seller have come to an agreement on the price and the terms of the home sale, it's time to work on meeting all the contingencies.

Inspection - In most sales, the buyer has a few days to bring in any inspector or other licensed persons to examine the property and identify any health or safety defects. These are items that are not obvious to the buyer or seller. An example might be...?

Curious to read more? Read the rest of what you'd need to know HERE, along with information on the six closings which took place in Bucktown/Wicker Park this past week.

*** Information sourced from MREDLLC;4/11/11. Attached Property and Detached Property residential Bucktown (Ashland, Western, Fullerton, North) and WickerPark (Ashland, Western, North, Division)

Do you have a topic you'd like to see explored or a real estate question? Send it in. If you'd like more information on properties currently on the market or selling your home just drop me a note.




Linkypoos is Made Possible By

2212 W. Armitage




Tues.: 10 AM-10 PM

Wed-Sat.: 10 AM-7 PM; Sunday 11 AM-5 PM

If your Easter basket needs a break from candy, Cat & Mouse has got you covered. From card games to brainteasers, and from mini Legos to Hexbugs (with bunny ears, no less!), we have lots of fun stuff to please the kids. Cavities not included!

Lauren, owner of Real Naked Food

A 2000 square-foot organic grocery store opened last week at 1909 W. Division. According to this Chicago Eater article, Real Naked Food features a deli, smoothie bar, and a prepared foods section with "many vegan options and an area with organic produce." For more images inside Real Naked Foods, visit this Streets of Wicker blog post.

Wicker Park Fest 2010/ Pipeline file photo... for more pictures snapped at the fest, click on this photo to see the album.

This recent Time Out Chicago article discusses the 2011 Wicker Park Fest lineup, which will include the likes of Wavves, Blitzen Trapper, Joe Pug, and DJ duo Flosstradamus.

Ever forget to move your car on street cleaning days and wind up getting a ticket? Make sure that never happens again! Get notified of street cleaning via text message by using the AntiTow website!

The Chicago International Movies & Music Festival (CIMMFEST) starts this week, and many of the events are taking place right here in the Bucktown and Wicker Park neighborhoods. "High on Hope," a documentary about the 90s dance scene in England, will be shown Friday, April 15, at 11 PM at Heaven Gallery, 1550 N. Milw. For more details on other events and showings, see this Gaper's Block article or the festival's website, and today's Week Ahead listings.

A Bradford Pear Tree growns in Bucktown/ from BCO Tree Tour with Guide Janet Mrowka, 2010/ Pipeline file photo. Click on the photo to visit an ENTIRE ALBUM of neat Bucktown trees!

Scientists at Bartlet Tree Experts will be monitoring trees in Bucktown over the next couple of years in order to research how to extend the life of city trees. Read more about it and listen to the story here on the WBEZ website.

Via a combination of ChicagoCurb, Joe Lake, and the Wicker Park Facebook Page, we got a status update on the long stalled condo development at Division and Marian, which will become upscale, eco-rentals to 11 renters vs. the original plan of 9 buyers. The building's street level will be occupied by Prasino, an "eco-chic restaurant."

-Compiled by Nandika Doobay,

Alisa Hauser




[Ed Note:

In the latest Time Out Chicago we enjoyed a Q&A about the boom in tobacco accessory stores in Wicker Park. It reminded us of the July 7, 2010 Pipeline, where we made a quip about a new shop, which prompted Meredith of Dude, I Forgot to write into the Pipeline. Remember to support your local tobacco accessory shops.]

Avocado Eatery Combines Swankiness with Homey Touch. 1913 North Milw.


Breakfast croissant at Avocado

Initially I'd ordered an egg, mushroom, jalapeno, and colby jack cheese breakfast croissant sandwich to go. By the time the plate came, however, I was enmeshed in a magazine, enjoying the calm vibe of a Sunday morning in a cafe with great music, friendly people, and natural light, so much so that I figured I wouldn't say anything about the to-go box and take the opportunity to sit and stay awhile at Avocado Eatery & Cafe, 1913 N. Milw. Looking in on me was an adorable girl no older than six or seven in a sundress who'd approached at least once, shyly staring, even more so when I took a quick snapshot of what I was about to eat. [true fact: It's weird-- or at least feels weird--to take pictures of your food, which is why we typically do not cover food in the Pipeline, but then again, we were curious too, so thanks for joining us, virtually.]




Avocado, a new cafe at 1913 N. Milw, opened this past week in the the former Tea Essence space.

If you fancy iced tea you'll get asked "One bag or two?" when ordering it, since each glass is brewed fresh, or maybe they were starting a new batch, frankly I can't remember. Everything on the menu, from multi-bean hummus to lentil soup, and the creatively titled Eggplant Poboy and "the Not So Token Portabella Poboy," is prepared from scratch. [Meat eaters might be happy to know there's chicken and tuna on the menu, too].

Stephan

Avocado's owner and chef, Stephan, is no stranger to the industry; his father owns Golden Rise Bakery in Logan Square. When asked what his favorite dish on the menu is, Stephan replied, "Portabella sandwiches and four cheese dip." For those who're curious, the name Avocado pays homage to Stephan's vegetarian roots and recalls when he was both eating an avocado and trying to think of a name for his first restaurant. "I thought maybe I should just call it Avocado," he reasoned.

And, with food like the amazing sandwich we heartily consumed, along with its uber-fresh fruit side dish, all within an environment that manages to strike a rare but nice cross between swanky and homey, we have enough reason to believe that Avocado, just like an actual avocado rich in vitamins and often called nature's perfect fruit, has all the makings of a space that will draw in and sustain regulars in the burgeoning indie-business-infused stretch of Milwaukee Ave. it now calls home. Welcome, Avocado!

Avocado is open Tues-Fri: 7AM-8PM, Sat. 8AM-7PM and Sun. 10AM-6PM.

i'm a Bloggin R***d with a Computer Virus
by Philin Phlash


Two members of the Waco Brothers have fun at the Cubs game/ Photo by Philin Phlash

PHLASH TOWN-CUBS WIN-THANKS FOR TUNE-ING IN,HERE WE GO AGAIN... CHICAGO MY KIND OF TOWN CHICAGO IS,CUBS WIN DAY 2,WELCOME BACK KERRY WOOD,GOOD JOB Z,M,SOTO AND THE WHOLE CUBS TEAM & MANAGEMENT IT WAS A GREAT DAY AT THE BALL PARK .I NEED TO THANK A FEW PEOPLE WHO MADE MY DAY.BOB FOR THE 2 TICKETS AND THE UNKNOWN GUY WHO GAVE MARTY A TICKET,YOU KNOW HIM TELL EM YOU ROCK DUDE !NEW FOO FIGHTERS DISC OUT ,BUY IT IT'S OUT TODAY THANKS FOR THE T-SHIRT. MAYOR DALEY THANK YOU FOR EVERYTHING YOU HAVE DONE FOR 20 YEARS TO MAKE THE CITY OF CHICAGO WHAT IT IS TODAY,NOW THAT YOUR LEAVING MAYBE YOU CAN PUT A WORD IN FOR ME WITH THE NEW GUY,I WOULD LIKE TO WORK FOR THE CITY IN THE PRESS DEPT.



Marty, Phlash's son, and Mayor Richard M. Daley, representing Haas Park


I'M TIRED OF WAKING UP TO BAD NEWS,WE NEED SOME ONE TO SHOW AND TELL THE WORLD WHAT A GREAT CITY CHICAGO IS AND I'M THE MAN TO DO IT. PHILIN PHLASH



[ED. note: see MORE IMAGES on Phlash's blog! We were unable to retype/de-capitalize this post before 'press time.' And there will be NO PIPELINE next week due to the Passover holiday. If any "breaking news" or desire to share occurs,visit philinphlash.blogspot.com, as well as streetsofwicker.blogspot.

On Twitter, we're thelocalfeed. Peace.]

Organic display silhouettes

Community News
is Made Possible
By Symmetry Organic Silhouettes


"Not all busts are created equal."

Experience a natural organic display perfect for retail environments as well as residential powder rooms. Symmetry's unique busts and hands, comprised of paper mache wrapped with natural fibers, can be found inside Division Street's Greenheart Shop and Beadnik's. Get in touch about getting a bust HERE.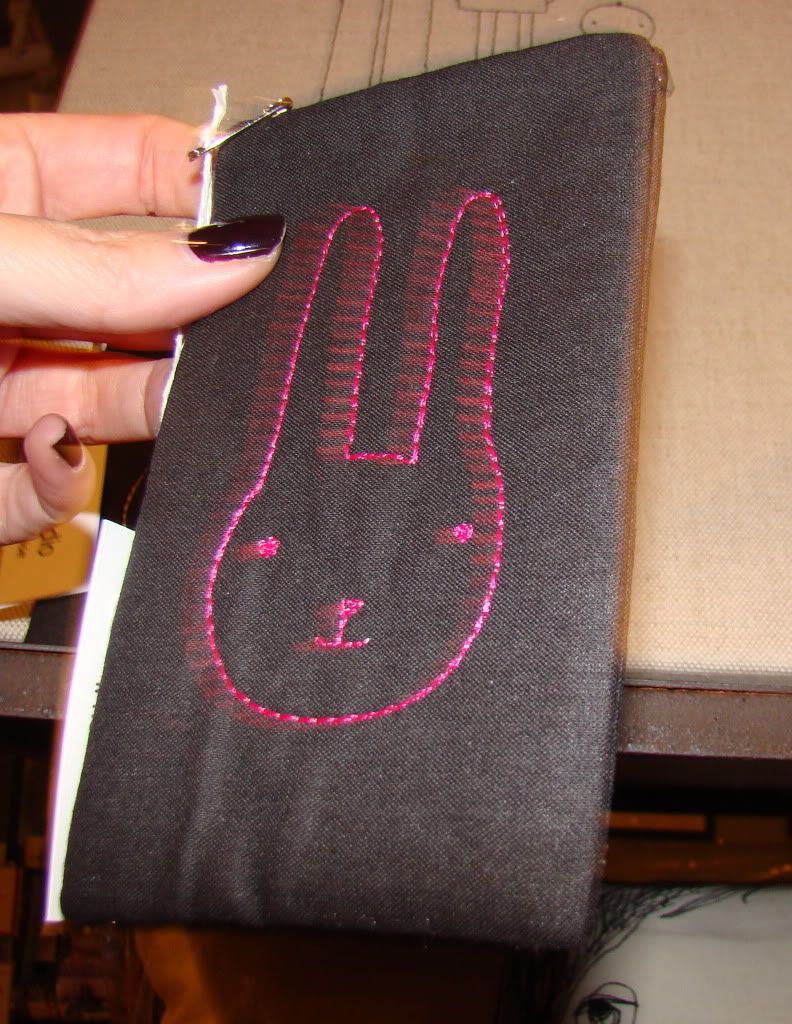 A bunny spotted inside Virtu, months back
BYOB(asket)... The annual Holstein Park Easter egg hunt will take place this Sat., April 16, in Senior Citizen Memorial Park, 2300 N. Oakley. Per Michelle of FOHP, the 10 AM egg-hunting slots are full, but there's space still available for the 10:30 AM hunt. There is a suggested $2 donation, taken at the door. Participants should come prepared with their own basket. Each child is limited to 12 eggs. Space is limited; RSVP required at http://www.friendsofholsteinpark.com/. Additionally, volunteers are needed to help clean the park and hide eggs in the morning.
The latest Bucktown Community Organization e-newsletter contains updates about summer events like the Annual Garden Walk, Movies in the Park, and more. Read it here.
A special THANKS this week to Jason, who puts together the Wicker Park Cloister Condo Association website and reported that he links to the weekly pipeline! We walk past the Cloisters everyday and did not even know that the condo building steeped in history has its own website! Like a lot of our encounters these days, we met Jason by chance during adventures inside Athletico. We wish Jason a speedy recovery.
The latest Wicker Park Bucktown Chamber of Commerce news (April 12) can be read here.
Ald. Proco Joe Moreno and Mayor Daley/
photo by Philin Phlash
Street sweeping began this April 1st. Not in the mood to figure out where your streets fall in this schedule? Just watch out for the orange signs. Or you can sign up for text message alerts if you live in the first ward, via a program ushered in by First Ward Alderman Proco Joe Moreno, who hosted Mayor Richard M. Daley on a tour of Haas Park this past Friday afternoon.
Haas is best known as the park near Fullerton and California, by Fireside Bowl. Many Bucktowners are reportedly registering their children for programming at the park. Check out more images snapped by Phlash at the gathering.
RETAILSPACES

As reported last week, Galleria 1712 appears to have closed based on this sign and letter from its owners on its Web site. Event Studio, 2027 W. Division, is now unfortunately closed along with REarrange Studio.

Has it really been eight years on Division for Moonshine? It seemed like just yesterday, didn't it? Read all about a party tonight (Wed, April 13) HERE.

Spring into a new work jacket? Per its Facebook page, Carhartt, 1514 N. Milw, next to Aldo shoes, plans to host a Grand Opening tomorrow (Thursday) April 14.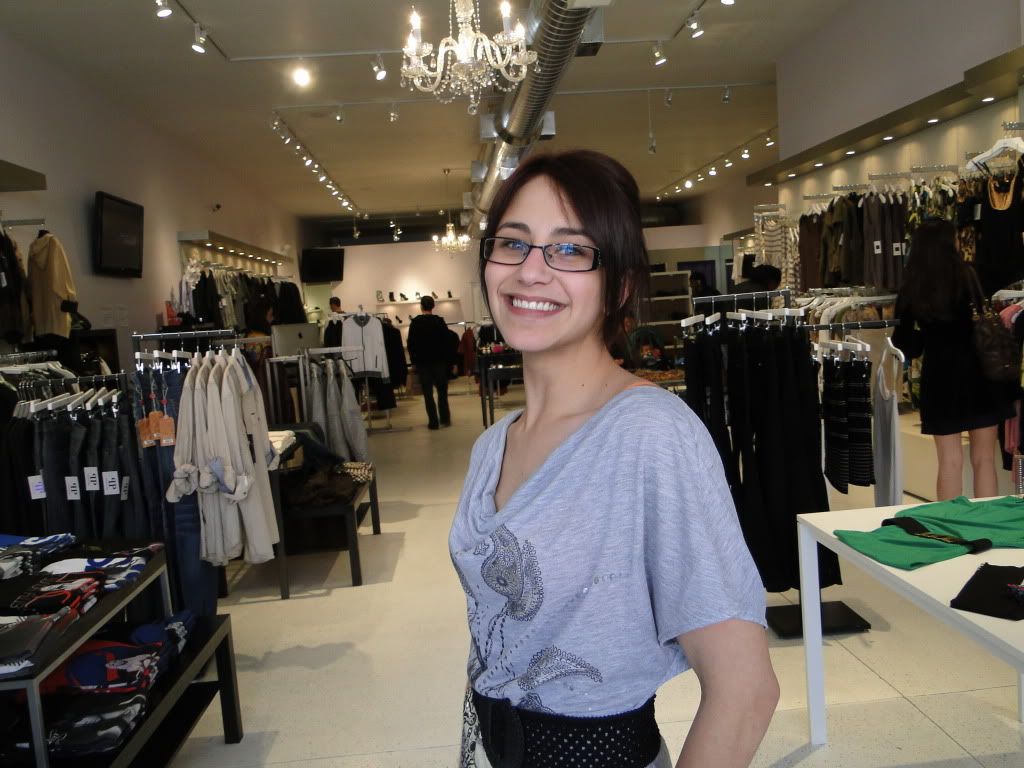 Swanky new digs for Personal Privilege Boutique
Third time's a charm for Personal Privilege?... After being on North Damen, the boutique moved next to Metamorph Tattoo at 1448 N. Milw. and now is located at 1456 N. Milw. A promoter on the street was offering a $15 gift certificate on dresses and tops under $30 this past weekend.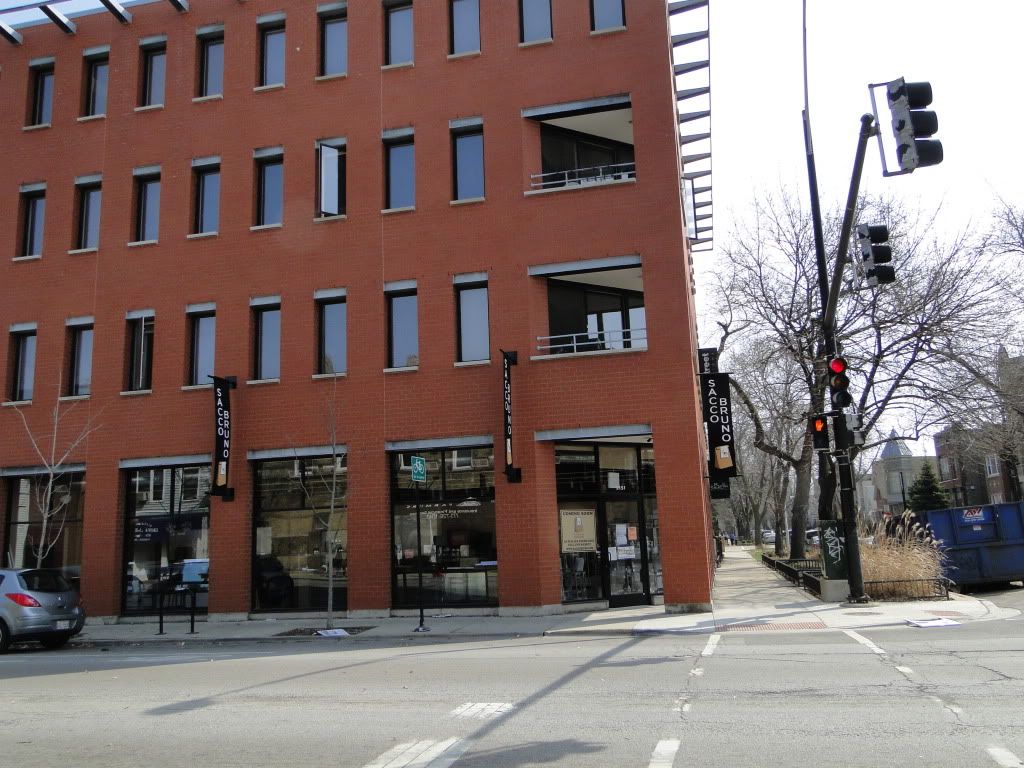 Future home of Sacco Bruno
Korner Deli, 1341 N. Damen should be greeting customers in a few weeks, if all goes as planned. No word on what they'll serve. Ditto for Bucktown's Sacco Bruno, in the former Doc Smoothie's space at Armitage and Leavitt, which will serve fresh Italian deli, based on its sign. Up the street from Sacco Bruno is Antico, 1944 N. Leavitt. This past Sunday afternoon we chatted up Antico cook, Pete, and his mother, Marketa. The Willowbrook, IL mother-son duo were relaxing on a few chairs on the sidewalk, after having just wrapped up a long day of cooking for Antico's weekend brunch, which is served from 8 AM to 2 PM. That day Pete reported that he'd cooked truffled eggs over a croissant or polenta, and cheesecake.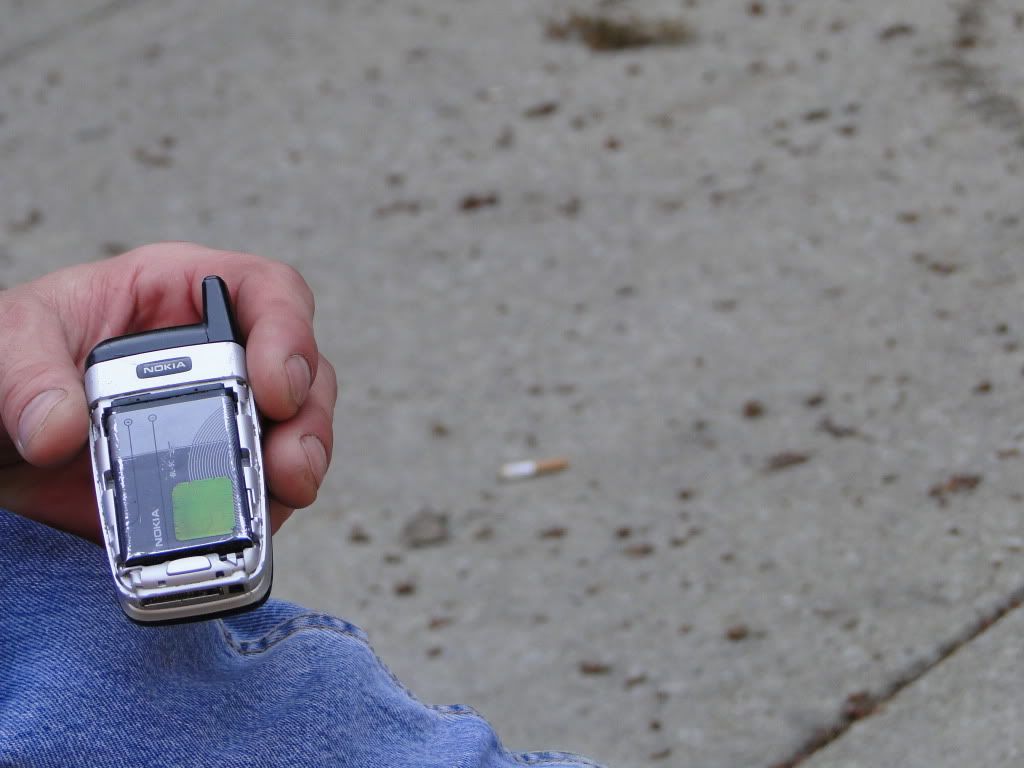 We were impressed by Pete's Nokia flip phone with exposed battery, which reminded us of our Sanyo flip phone which we'd just traded in for a newer model, though we're still experiencing separation anxiety from our old phone. The problem with these new-fangled computer phones is that they are everything, plus a phone. What if you just need and only want a phone?! We were also struck by Marketa's medical scrubs, especially when we learned she does not work in the medical field but enjoys the lightweight cotton, great for cooking in kitchens, something Marketa has experience with, having worked at a Czech restaurant, Mouldau, for many years. Marketa said that the market for heavy European food is not as strong as once was due to younger generations eating lighter fare. "Most of my customers are in nursing homes," she quipped.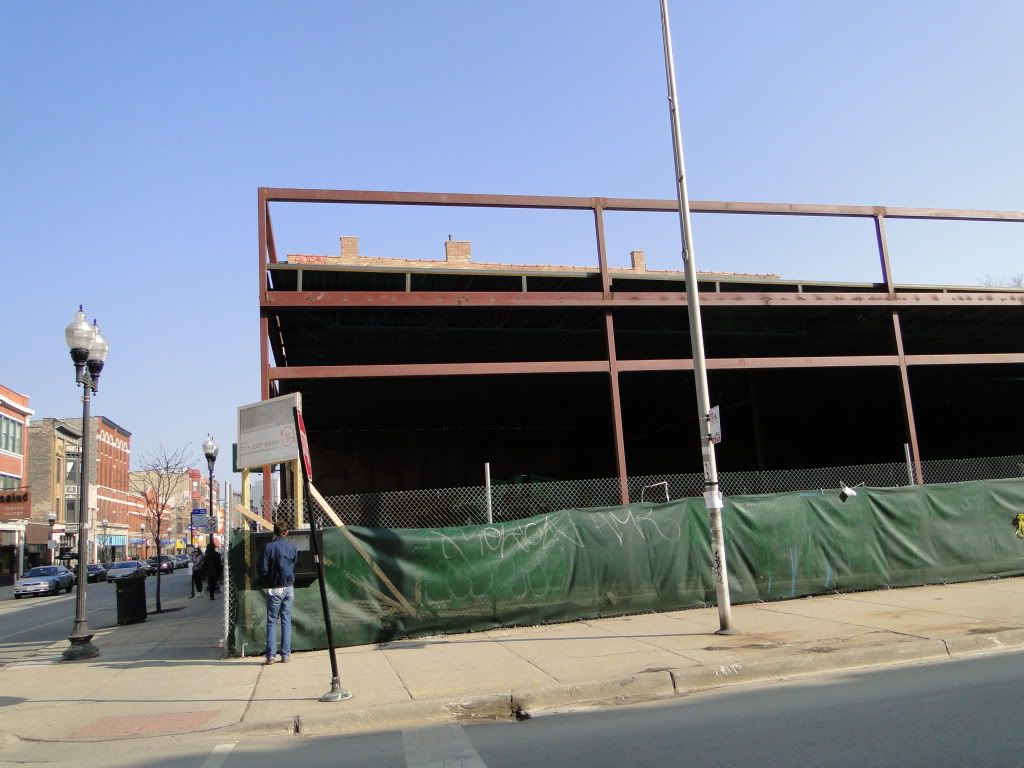 Future Home of Native Foods Cafe, at Evergreen/Milw.
Up, up, and opening soon? Native Foods is hoping to open in July or August, per Steve Lipe of Lipe Property Group, who brokered the deal with the West Coast chain, which will be taking Chicago neighborhoods by storm, with stops in Lakeview, Bucktown, and the Loop, per the Native Foods Cafe website.
Though not related to Wicker Park, there was a meeting this past Monday night regarding a proposed Wal-Mart in Lakeview. We were unable to attend, but noticed this editorial by Mega Wade Antieu on the Local First Web site.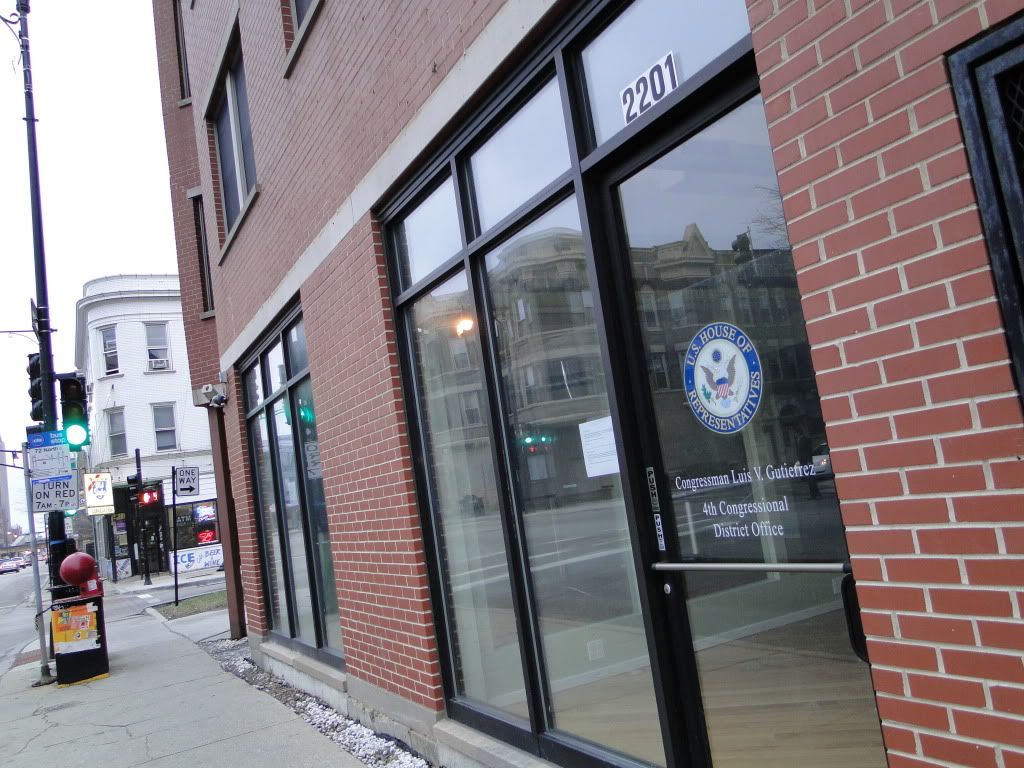 Former offices of Luis V. Gutierrez, does anyone know what's moving in next? Let us know.
Do you have news to share regarding an up-and-coming space? Would you like to follow up on your own lead and provide us the scoop? You will receive byline and photo credit and oodles of thanks! Though we don't know much about raising a child, word on the street is that it takes a village to raise one. The same concept applies to community focused e-newsletter, e.g. It takes a neighborhood to cover a neighborhood. Need an assignment to get you started? We're curious if can any reader-reporter give us a status on the blighted former Easter Seals building near North and Western? It's been a construction site for at least two years now. We don't have an exact address; just look for the pile of bricks two doors east of the Currency Exchange. In even more 'What's up on North Ave?' news, we wonder if anyone knows why U.S. Congressman Luis V. Gutierrez moved his office, right, out of Wicker Park. Per this sign, the move occurred Friday, April 8.
Send us an email if you've got the time to help make our Spaces reporting better. This was an area of reporting we enjoyed prior to Armagetajobagain. If you liked it too, join us!
Dispatch from the Cat Circus of Chicago
by Maria Murdoch

The Week Ahead is sponsored by
Jackson Junge Gallery and Framing
1389 N. Milw. P: 773-227-7900;


Tues-Sa. 11AM-8PM; Sun. Noon-5PM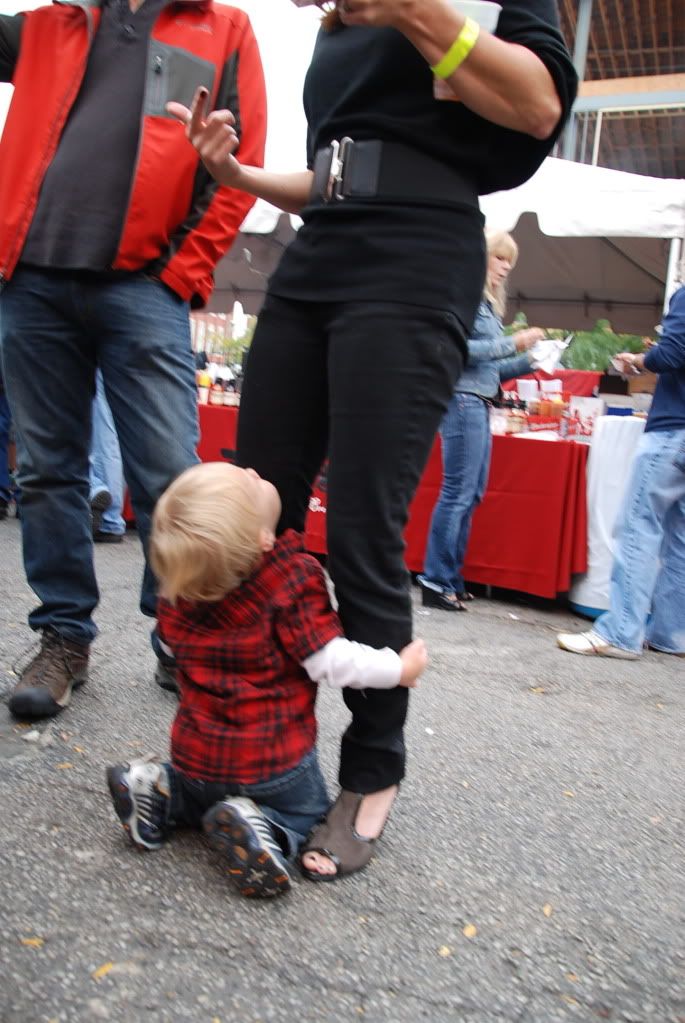 An unidentified child perhaps begs for a rib at Moonshine's Annual Rib-a-Que, Summer 2010/Photo by Philin Phlash


Wed. April 13
7-8PM: Moonshine Eight Year Anniversary Party

Thurs. April 14
Noon- 2PM: Carhartt Grand Opening (1518 N. Milw.)
2:30 PM: Storage Locker Auction (U-Store It, 2647 N. Western)
6:30PM: 4-4 Amateur Mens' Basketball League Championship Game


7-11PM: Art Opening: Art in the Dark (RGB Lounge)


Fri. April 15


6-9PM: Art Opening, Spring 2011 Exhibition (Kinzie Corridor Art Gallery, at Damen)

6:30PM: Movie Screening: Color Me Obsessed (Wicker Park Art Center)

7-11PM: Spring/Summer 2011 Collection Soiree(Anastasia Chatzka, 1740 W. Division)


8PM, Opening: Barrymore's Ghost (Jackson Junge)

Sat. April 16
10AM-1PM: Weekly Gardening w/ Garden Club) (1425 N. Damen, Park Grounds)
9AM-Noon: Earth Day (rain-or-shine) Clean-Up
(Ehrler/Churchill/Walsh Parks, email to volunteer)
10-11AM: Annual Easter Egg Hunt (Senior Citizen Park, 2200 N. Oakley)


5PM: CIMMFEST Screening: Bouncing Cats (Wicker Park Art Center)

8PM: CIMMFEST Screening: Utopia in Four Movements (Wicker Park Art Center)


Sun. April 17
Noon-4PM: Monoprints for Japanese Relief

Mon. April 18
7:45PM: Communal Passover Seder (The Living Room)

Wed. April 20
5-8PM: 'Green City Living' Open House (CNT, 2125 W. North)
10PM-2AM: New Feelings (Monsters & Dust Readings (The Charleston, 2076 N. Hoyne)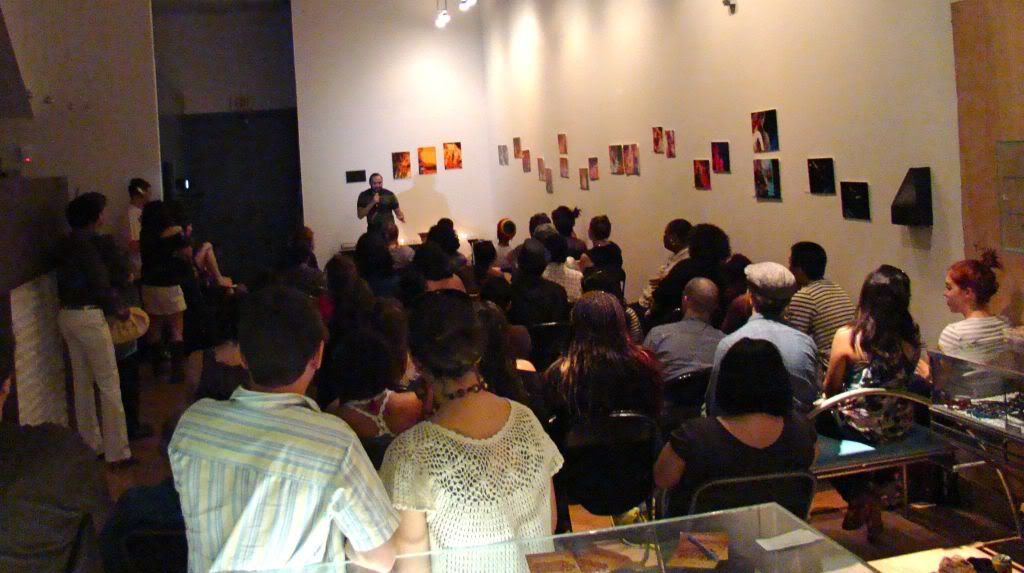 Grown Folks Stories

Thurs. April 21
7:30PM-Midnight, Grown Folks Stories
(The Silver Room)

Fri. April 22
6-10PM: Community Earth Day Party
(Karen Marie Salon)

Sun. April 24, Easter Sunday

Thurs. April 28
7-9PM: Performance: Spring Fling Dance (MaZi Fitness at Jackson Junge Gallery)

Sat. April 30
11AM-8PM: Living La Vide Verde 2011 (Wicker Park's Park, Gardens, Greenheart Shop)

ART GALLERY WATCH*:


Just extended:

Side Effects: Bruce Riley (Eyeporium Gallery)

A Year in Humboldt Park (on the walls of Birchwood Kitchen)

Closing April 30:

Beast Friends (OhNo!Doom Gallery)

Closing May 1:

Irena Saparnas (Jackson Junge Gallery)

Closing May 3:

Anthony Difatta (Howard Finster Vision House)

Closing May 14:

Rinus Van de Velde (Monique Meloche)

PERFORMANCE BEAT**

Through May 1, Ephemera (Josephinim Academy
Excerpt from Brown's Paying for It, lauded as 'the most talked about graphic novel of 2011,' published by Drawn & Quarterly
Through May 7, Star Witness (Chopin Theatre)
Through May 21, Sketchbook Reverb (Flat Iron Bldg)
Through June 23, Madness in Miniature (Chopin Theatre)
SAVE THE DATE(s):
Sat-Sun, May 7-8, 10AM-4PM,
Wicker Park Garden Club Fundraiser Plant Sale
Wed. May 11, 7PM Reading: Chester Brown 'Paying for It' (Quimby's)
July 9-10: BCO Annual Garden Walk (Volunteer Meetings Wed. Evenings, Club Lucky)
Aug 27-28, 2011: Bucktown Arts Fest
*Are you a gallery located within Wicker Park or Bucktown with a current and/or future show? Do you have an event to share? Let us know!
This UPDATE is Jointly Sponsored By Pipeline 100 Project Sponsors,
Odd Obsession Underground DVD and Movie Rental,
1822 N. Milw. M-F 2-10PM; Sat Noon-10PM; Sun. Noon-9PM
1658 N. Milw. M-F 8PM-7PM, Sat 9AM-5PM, Sun. Noon-4PM
The UPS Store #3173
Click to Enlarge for a Better View of Deets

Many thanks to the new Pipeline 100 sponsors who will be listed in our first ever PRINTED booklet! On a purely selfish level, after two years of being 100% Virtual, this project will at least give us something tangible to tuck inside our file cabinet when we reminisce about what we did with our time when we got laid off and Paula Barrington, the former executive director of the Wicker Park Bucktown Chamber of Commerce, gave us the opportunity to help her with putting together her weekly member e-newsletter. On a far broader scope, the Pipeline 100 is a true community-focused project, as exemplified by the growing number of small businesses who're figuratively- and now, for the first time ever, literally!- on the same page with us. You all rock!!! This week we extend thanks to Omar of Irazu, Guillermo of Arauz Tax & Accounting Services, Mike of Skewerz, Liz of Quimby's, and Ben of the Karen Marie Salon, which will be hosting an Earth Day Fund-raiser Party on Friday, April 22, featuring raffle prizes from many area small businesses. Proceeds will benefit Water for Japan and the Great Lakes Alliance.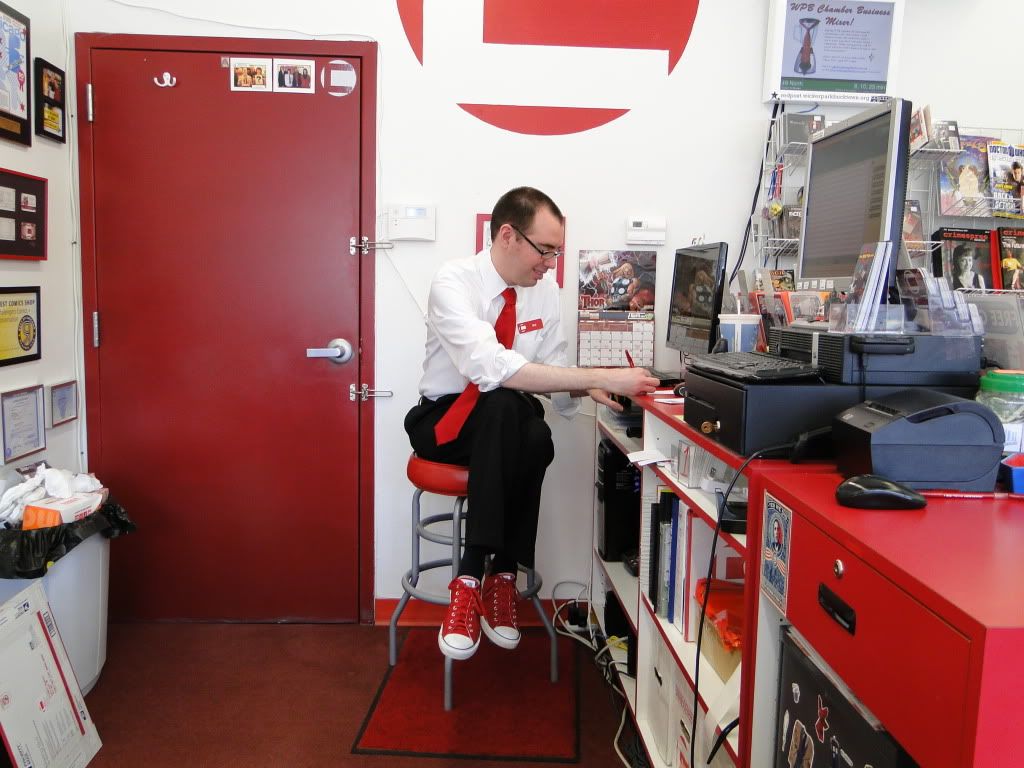 Dal of Challengers Comics + Conversation types his address and hours in for inclusion in the Pipeline 100. Do we have YOUR listing yet? Listings are just $10!

Receiving the info from the Karen Marie Salon in our P.O. Box at The UPS Store was a very pleasant surprise, as was participation from Dr. Otylia Hoberland of Chicago Conservative Care, 1654 W. North. We're loving mail correspondence these days due to the fact we only have one day each week, Saturday, to solicit/"POP IN" as well as mine for content, catch up with friends, family, laundry, bills, and physical therapy, thus please read the Pipeline 100 DETAILS. Ad sizes and specs are included in this link too. If you are interested in booking our back cover spot, or inside cover, call or text us at 773-960-3997.


Click to enlarge

Finished creative is due ASAP for those of you who've booked display ads. Pat will be taking charge of the listings. Please EMAIL us your hours, address, website and phone number if you haven't already, and title the header "LISTING." We have lots of fun stuff and surprises in store for the editorial, which will be mined exclusively from paid listings and ads, thus if you have an upcoming summer event, this would be a great way to get the word out as well as to support the Pipeline's existence.

Get in touch

if you'd like to be part of this unique experiment in print, community, collaboration, and masochism. Traditional media partners interested in zoning our booklet as an insert during June and July are most welcome too! [If you're a reporter mining this thing for story leads, encourage the Suits/Business Development folks at your printed publication to get in touch with us or call 773-960-3997, so we can all work together to optimize reach and distribution.]
WISHING ALL PIPELINE READERS A HAPPY START TO SPRING, NEW BEGINNINGS.

WE WILL BE BACK IN YOUR IN-BOX APRIL 26.

Until then, enjoy your life, send us your story leads, JOIN THE PIPELINE 100 PROJECT, and visit our blog.

[Thanks to everyone for reading and giving us the rare opportunity to express ourselves completely, without having to wear Stacy Adams shoes like in this billboard, right.]