German Wine Glasses - for
Thanksgiving and Christmas
Ruwer 0.20 LTR.Mark. ARC FRANCE.Rummers, or Roemers, or Roms, were large drinking-glasses studded with prunts to ensure a safe grip, popular in the Rhineland and the Netherlands from the 15th through the 17th century.
They lacked the flared bowl of the Berkemeyer and had much thinner walls.
The hollow base was built up by coiling strands of molten glass around a conical core.
Large Selection of German Beer Steins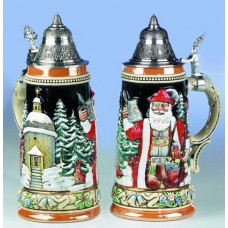 Our beautiful selection of authentic German steins are made by a renowned family firm in Germany called KING WORKS.
Of top quality, King Works is situated in the Westerwald (Western Forest) of Germany, near the Rhine and Koblenz (the ancient Roman town of Confluent) as well as the famous Limes (the fortified Roman border).


King steins are backed by generations of experience in the finest craftsmanship and the designs are based primarily on the designs of the antique originals.