LetsGo2PuntaGorda Newsletter
HO HO HO! Merry Christmas, Happy Hanukkah, Best Wishes for all your holidays!!! It's hard to believe that 2016 has almost ended. I hope you've had a terrific year, and I wish you all the best for 2017.
Funny Holiday Days in December? Guess what? Besides the ones you all know .... we also have National Fritters Day, Letter Writing Day, Ice Cream Day and International Monkey Day!
On a more serious note - providing excellent service to my clients is very important to me. In fact, my business is built on repeat business and referrals from satisfied clients. You can see some of the things clients have said by checking out the testimonials on our website - letsgo2puntagorda.com. We will do our best to go the extra mile with help and information - whether it's during a transaction or during the years in between transactions.
Please call me if there is anything more I can do for you - even if it's just to say hello!
RE/MAX "Platinum" Club - 2015, 2014, 2013
RE/MAX "100%" Club - 2012
RE/MAX "Executive Club" - 2011
Direct - 941-676-1033
Cell - 941-347-8782

This Month's Facebook Drawing Winner
Congratulations to Carol Nasby,
the winner of November's Facebook drawing!
on Facebook and automatically be entered for a chance to win a $25 American Express Gift Card during the month of December!
**Please note: We've had problems contacting our winners. Please provide your contact information via email to
Latest PGI Civic Association News
The Punta Gorda Isles Civic Association is a great organization and if you're new to the area, it provides a lot of valuable information about how to become more involved in the community.
You can view a copy of the latest PGICA Commentator here
- a monthly publication where you can find information about our area and the multitude of community activities available to you.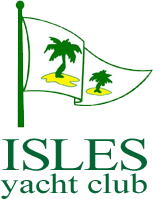 The Isles Yacht Club
The Isles Yacht Club offers a variety of activities and amenities for boaters and non-boaters alike. Membership offers social opportunities, 4 professionally maintained, lit Har-Tru tennis courts, 7 different card and board games, exercise classes, billiards, cruising & kayaking, biking, bocce, a 24-hour state-of-the-art fitness center, award winning dining, golf reciprocity, and much more! There is truly something for everyone!

Fresh Christmas Decorating Ideas
Use some of these ideas to decorate your home and set the table for this holiday season.
Create a Warm Welcome

Light up the season with a brilliant array of paper luminaries. Line them along front walks, driveways, and porches for a fiery Christmas display that's so simple (and affordable) to pull off.

To create your own gleaming arrangement, generously cover the bottom of white paper bags with sand, which will keep them sturdy and stationary when exposed to the elements. Arrange bags in desired positions (the luminaries lining the walk above at left all 2 feet apart), and then insert tea lights or battery-operated LEDs. For a twist, use a hole punch to create snowflake patterns, or adhere letter-shaped stickers spelling out a holiday message such as "NOEL" or "CHEERS" to the bags. (Safety note: Never leave luminaries unattended, and extinguish the flames when finished.)

Greet with a Garden Theme
Convey a cozy welcome with a garden-inspired holiday decorating theme. Rustic aluminum containers on the door, porch, and stairs offer casual Christmas appeal when filled with herbs and bright accents, such as red amaryllis blooms and berries.

Put Out Christmas Lanterns
Arrange a grouping of festive lanterns at your entryway for quick-and-easy holiday style. Consider using flameless candles as a worry-free alternative to regular pillars.
For more Christmas decorating tips, visit Southern Living.
Missed Our Newsletter Last Month?
Click here
to read it now.