SUBSCRIBE

Keep up-to-date
with BC Wood




Industry News
With a new year comes updates to our Value-to-Members Program. If your company is a BC Wood member, you are entitled to an array of cost-savings for regularly used services such as Sutton and Sandman hotels, Park n' Fly, and Enterprise/National car rentals. Once we receive your membership renewal, we will be sending you the updates and links, including a generous offer from Park n' Fly for a free two-day parking offer! For an updated list of suppliers, please contact Randi Walker
rwalker@bcwood.com
or Kit Crowe
kcrowe@bcwood.com.
Industry News
B.C. Invests $7.9 Million to Continue Advancing Wood Use and Growing Global Market
BC Gov News
To create and support good jobs in British Columbia's forest sector, government is investing $7.9 million to promote and grow markets for B.C. wood products at home and abroad
.
Doug Donaldson, Minister of Forests, Lands, Natural Resource Operations and Rural Development, made the announcement in his opening remarks at the annual Council of Forest Industries conference.
"Advancing new products and markets for B.C.'s world-class wood products supports good jobs in over 140 communities throughout British Columbia," said Donaldson. "Advancing innovation in wood products and wood technology supports our strategy to maintain B.C. jobs in B.C.'s forest sector."
Industry News

Nelson Bennett | BIV
The B.C. government will use its procurement powers on large public works projects, like the new $1.9 billion St. Paul's Hospital, to promote mass timber products, and tackle a shrinking timber supply, stumpage rates and other issues facing the B.C. forestry industry with a new renewal initiative.
Premier John Horgan told delegates at the Council of Forest Industries (COFI) convention in Vancouver Friday, April 4, that his government will try to help the industry do more with less.
Industry News
Susan Yurkovich: Forest Industry Helps Grow One in 17 Jobs in B.C.
Sudan Yurkovich | Vancouver Sun
The forest industry has long been known as a key driver in B.C.'s economy, but a new study reveals its economic impact is even more profound, in generating significant economic activity in all regions of the province including big cities, small towns and Indigenous communities.
The study, conducted by PwC for the B.C. Council of Forest Industries, assesses the industry's local economic impact in B.C.'s seven regions as defined by Statistics Canada: North Coast and Nechako, Northeast, Cariboo, Kootenay, Thompson-Okanagan, Mainland-Southwest and Vancouver Island-Coast.
Provincially, our forest industry drives 140,000 jobs - one out of every 17 jobs in the province. B.C. is home to 140 forestry-dependent communities with nearly 60,000 men and women directly employed in the industry, generating $8.6 billion in family-supporting wages. Another 80,000 jobs are supported through indirect and induced economic activity.
Industry News
Slabs of immaculately hewn maple, walnut and arbutus await delivery in the loading bay at Duncan's Live Edge Design. Nearby, contemporary, resin-infused countertops are contrasted with the clean simplicity of a rustic dinning room table. All are works of art that infuse an otherwise nondescript industrial park with a sense of magic that lures visitors to ponder the inspiration and skilled craftsmanship at the heart of each piece.
"No tree is firewood in our eyes," says designer Stephanie Farrow. "No two pieces are the same, and I love working with the challenges of each piece."
Stephanie says it isn't uncommon for projects like these to start as a vague idea concealed in someone's mind or as a rudimentary napkin sketch. The exciting part of her work, Stephanie says, is helping clients transform their visions into the finished products that will occupy honoured places in homes and workplaces.
Industry News
Abbotsford: Regional Trade Accelerator Program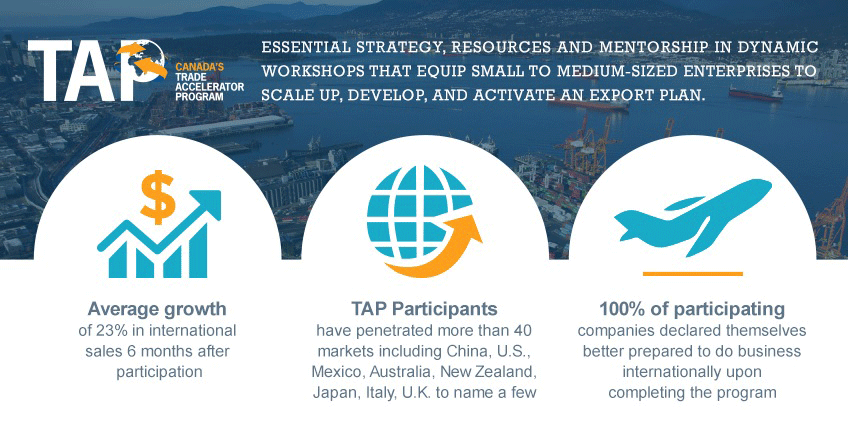 Upcoming Abbotsford Workshop, starts:

Wednesday, April 24, 2019



Schedule:

Registration: 8:30 - 9:00 a.m.




Program: 9:00 a.m. - 5:00 p.m.



Location:
Participation Fee:

*

Full bursaries available for qualified BC wood products manufacturers. Inquire at BC Wood for details.



New trade agreements and a competitive Canadian dollar make it an ideal time to extend your company's reach through the export of goods and services.
World Trade Centre Vancouver has successfully delivered Canada's Trade Accelerator Program (TAP), in B.C. since 2017.
The Trade Accelerator Program is designed to help SMEs TAP into their full export potential. It has a proven track record helping participants get results.
Industry News
WMC Management Skill Training Program
UBC - Online Management Skill Training Courses
UBC - Centre for Advanced Wood Processing (CAWP) will be offering two "online" courses; Business Finance & Investment Evaluation, and Supply Chain Management. Both these courses will run for 6 weeks starting May 13th to June 24, 2019. These wood products industry specific courses are designed for owners, manager, supervisors or management tracked employees. These are not academic courses and the skills learned can be applied immediately to the work place. Each part time course is led by a tutor with extensive industry experience.
For more information on the courses, please click on the following link:
Management Skill Training or call Jason Chiu at 604 822-0082.
Industry News
PhilWood Expo 2019 Exhibit
The second annual PhilWood Expo 2019 has been slated for October 21-22, 2019.
In line with its theme, "A Greener Economy Through Wooden World", the event aimed at converging wood specialists, businesses, and enthusiasts from different parts of the world with the key business drivers of the wood and construction industry of the Philippines. To make the expo more meaningful in guiding the US$ 3.3 Billion Philippine wood market, the event will showcase sustainable trends and innovation in wood industry, and likewise host breakout sessions with keynote speakers leading participants to understanding how to protect our forests while taking care of the needs of the communities that contributes to a more inclusive growth in our economy.

Marketing & Sales Tips
Roadside Marketing: Guerrilla Marketing Ideas that Raise Visibility and Generate Leads
I love guerrilla marketing. I enjoy the brainstorming process that produces winning ideas - and I love seeing those ideas turned into the finished products of things that are done - and (even better) things that work. This month let's look at some roadside guerrilla marketing ideas that relate to wood products and home finishing.
I urge every client - and you - to consider all the things that can be done to increase your visibility, and generate leads, using your vehicles and signage. Here are just a few ideas...
Wrapping your ride
The Mars Bar truck is my favorite example of wrapping your ride because of its three dimensional treatment. And it's effective. Drivers report getting the thumbs up and other forms of recognition - constantly - from other truckers, motorists and pedestrians. While vehicle wraps were expensive at first, they are now very affordable, yet (strangely), very few companies do it. Why not? You can wrap passenger vehicles (think Red Bull), vans of any size or kind, as well as your larger trucks. They make you an instant standout. Your 'rolling billboard' must display a huge phone number and your website address - and an outstanding photo or photos of your work - of course.
WoodTALKS
WoodTALKS Program - 2019/20

Ken Hori | khori@bcwood.com

The WoodTALKS programming provides BC value-added wood
manufacturers the opportunity to educate and/or promote products or
services to BC Specifiers (architects, designers, engineers, developers,
builders, and contractors). Participants in the program receive the added
benefit of establishing themselves as trusted industry leaders and building their client bases. The ultimate goal is to create more customers/markets for your products and services.
Educational program includes:

Opportunity for you to present your products or services directly to the Specifier Community in a variety of formats including:

Lunch & Learn seminars
Group seminars
Factory tours

Assistance as required to develop effective AIA, AAA and AIBC certified presentations or programs

Assistance as required to maximize their delivery effectiveness

Work with each participating company to develop a target list of specifiers.

Promotion of presenter sessions to specifiers through direct contact, website, and at events

Organizing and arranging up to six sessions (lunch & learn seminars, group seminars, and factory tours)
Japan Market Update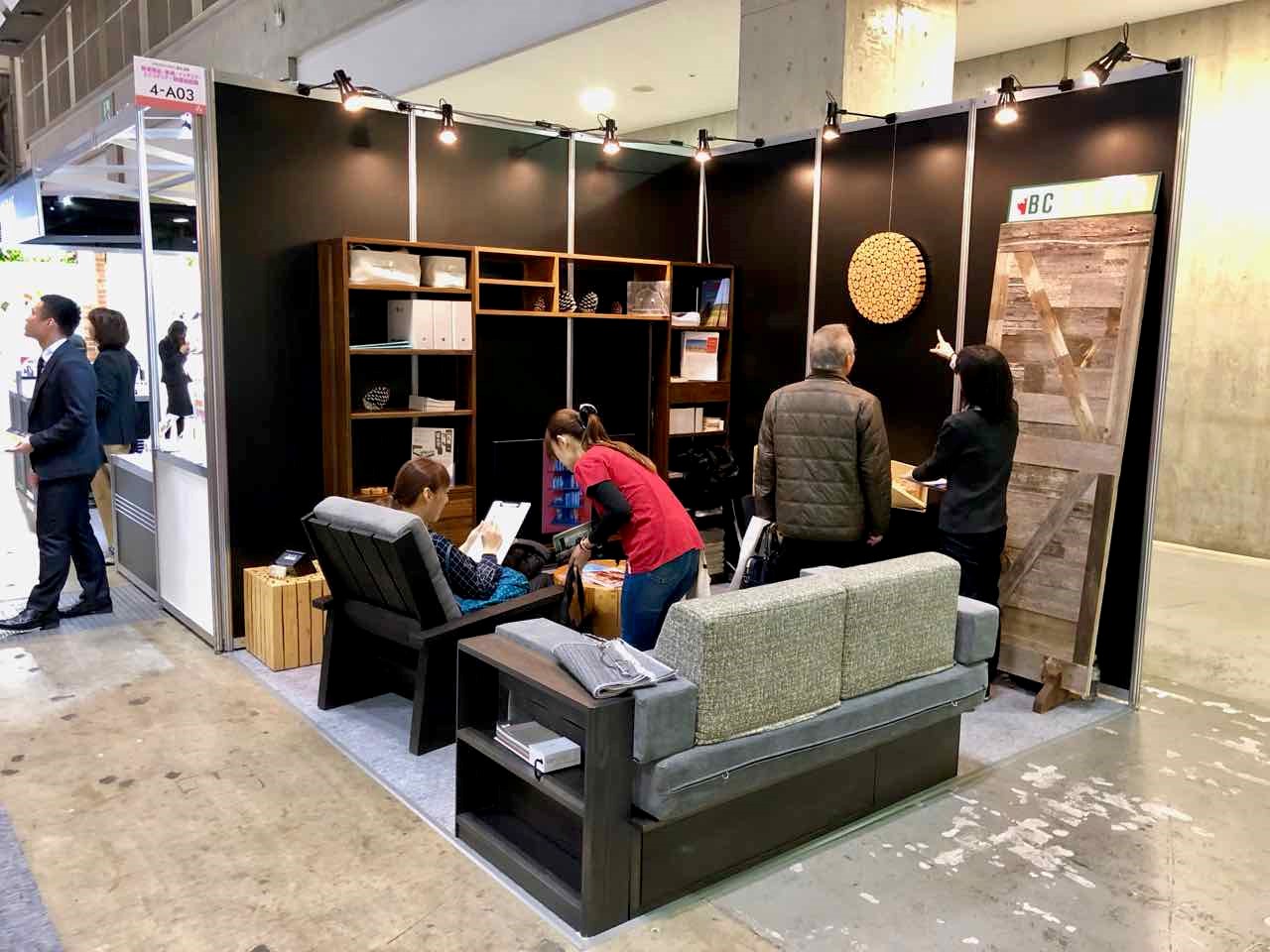 For the second year in a row, BC Wood exhibited on behalf of the Canadian wood products industry at the "Hotel Restaurant Show", better known as HoteRes, at Tokyo's Big Sight from February 19th to 22nd. This is the largest show in Japan for the hospitality industry and covers everything for that sector from building products to industrial coffee machines. The show takes up all eight of Big Sights East Halls with over 67,000 attendees coming through over the 4 days.
Our purpose for taking part in this show is to target specifiers involved with resort projects in Japan. This show is unique in that it attracts both architect and builders as well as the owners and upper management of resort properties. Last year we exhibited with a WRC themed single booth. This time we focused on furniture and finishings which proved to be very attractive for the show visitors. Over the four days we collected almost 200 new contacts that will help us develop new leads for our log & timberframe, furniture, millwork, and engineered wood sectors.
China Market Update
BC Wood once again worked with our partners at QWEB to deliver the Canada Wood Pavilion at the Interzum Show in Guangzhou, China from March 28th to 31st. This is the largest wood working show in Asia and is an excellent entry point for members targeting China's remanufacturing industry, as well as the construction lumber market. The number of visitors to Interzum has been growing every year and it felt like that trend continued this year.
Interzum is a very international show in terms of both visitors and exhibitors. Despite the current China-US trade war, the United States once again had a very large presence anchored by the American Hardwood Export Council. Their area also included softwood producers. Germany and Turkey also had large exhibits, while countries such as France, Chile, and Poland were represented with smaller booths. Having BC's softwood and Quebec's hardwood producers together was also a plus for the visitors, as it allowed for "one-stop-shopping" at the Canadian pavilion.
Mexico Market Update
Trade Mission & Expo Mueble Internacional
Ken Hori | khori@bcwood.com
Tecno Mueble Internacional, August 14th to 17th is celebrating 31 years of being the biggest fair of machinery, raw materials and accessories for the furniture and woodworking

industry

in Mexico. The four-day event at Expo Guadalajara gathers exhibitors and buyers from Mexico, Estados Unidos, Canada, Brazil, Colombia, Italy, Spain, Turkey, China, France, Chile and Austria; including furniture manufacturers, architects, interior

and industrial

designers, wood distributors and contractors.
BC

Wood will have a joint booth at the show with the Consulate of Canada in Guadalajara. We will have your company/product information and samples in the booth, staffed full time to handle questions and collect business inquiries. When not in pre-set trade mission meetings, you will have a number of opportunities to meet visitors at the booth.
BC Wood's goal is to connect you with qualified buyers in Mexico throughout the week August 11th to 17th. The trade mission component focuses on business-to-business meetings, usually at the buyer's office/facilities. Customized, pre-qualified meetings will be made to target the best potential customers for your products in Guadalajara. A driver and interpreter will be arranged for all your on-site meetings.
For more information, please contact Ken Hori at 604-882-7100 or khori@bcwood.com.
Canada Market Update
IDS Vancouver - Sept. 26-29, 2019
Ken Hori | khori@bcwood.com
IDS Vancouver attracts 38,500+ attendees over 3.5 days at the Vancouver Convention Centre West. This includes 7,050 guests to the Party on Opening Night; 7,500 designers, architects, buyers, builders/developers and other industry professionals during Trade Day; and an additional 24,000 consumers interested in design, on the weekend.
7,

500 designers, architects, buyers/developers and other industry professionals attend Trade Day for free. 24,000 avid design enthusiasts visit IDS Vancouver to source design products and services.
I

DS Vancouver is a high-profile event that sells out quickly. With only limited space available, BC Wood's organizational efforts need to start now. BC Wood has booked an island booth and invite member companies to join us.
For more on rates and information, please contact Ken Hori at 604-882-7100 or khori@bcwood.com.
USA Market Update
A few comments, suggestions, and ideas...
With Spring's arrival here in the lower mainland, it signals BC Wood's new fiscal year. An excellent time to look at your market development needs and how we can assist you in reaching these goals. I thought we would review a couple of programs that we have coming up to see if they are a fit for your company.
PCBC 2019
This event takes place May 29 -31 in San Francisco California. Like its counter part, International Builders Show (IBS 19), PCBC is a tradeshow that targets both the residential and multi-family construction sector. The difference is while IBS is massive, PCBC is a smaller regional event, specifically focused on builders, developers and architects from the West Coast of the United States. This show provides a solid opportunity to meet a targeted group of buyers, specifiers, and decision makers from Pacific Northwest, California, the Southwest and Mountain States. If the West Coast residential and multi-family sector is a target market, then you should seriously consider attending PCBC. BC Wood will have a coordinated Wood Products Pavilion at the event this year and BC Industry are welcome to stop by the display.
AIA Conference on Architecture 2019
Immediately following PCBC, we cross the Sierra Nevada's to participate in another key trade event which targets a select but important influencer, the architect. BC Wood and industry will be at the AIA Conference on Architecture 2019(A'19) annual conference and trade event June 6-8 in Las Vegas, Nevada. This event draws over 30,000 architects, designers and specifiers from across North America. The event differs from many other events in that nearly all the attendees come to AIA to help get the educational credits required to continue as a practicing architect. As with PCBC, we will have a coordinated Wood pavilion at AIA and are currently planning a networking event as well.
If either of these two events are of interest to your firm, please reach out to me at
dfarley@bcwood.com
or on my cell at 604-728-8786.
Space is very limited for both events at this time, so please contact me ASAP.
Marketplace
If you would like to include a posting in our Marketplace section, please email me at
kcrowe@bcwood.com
or call 604-882-7100 and ask for Kit.
Upcoming Events
May 28-29, 2019: PCBC, San Francisco, California

June 6-8, 2019: AIA National Conference on Architecture, Las Vegas, Nevada
July 23-25, 2019: AFN - Circle of Trade, Fredericton, NB
August 14-17, 2019: Tecno Mueble, Guadalajara, Mexico
For a list of all trade and industry events, please visit
If you have any questions, comments, suggestions, or feedback, feel free to email me at

kcrowe@bcwood.com

.

Kit Crowe
BC Wood