SUBSCRIBE

Keep up-to-date
with BC Wood




If you have not yet been featured in our Spotlight section and would like to be, please email me at
kcrowe@bcwood.com
or call 604-882-7100.
If you are using Microsoft Outlook to view this email, you may not be able to see all of the images. In this case, you can view the webpage version of this email by clicking on the link at the top of this email "Having trouble viewing this email?
Feel free to send me news stories that you think our readers would be interested in. You can email them to
kcrowe@bcwood.com
.
Industry News
BC Wood Specialties Group 2019 Annual General Meeting
9:30 - 10:15 AM, Wednesday, September 11th, 2019
Whistler Conference Centre
BC Wood will be holding its' 2019 Annual General Meeting on Wednesday, September 11th, 9:30 AM at the Whistler Conference Centre in Whistler, British Columbia. All BC Wood members are encouraged to attend.
To register or for more information, please contact me directly at
bhawrysh@bcwood.com
or by phone at 604-882-7100 (toll free 1-877-422-9663). We look forward to seeing you in scenic Whistler, BC for BC Wood's Annual General Meeting on September 11th, 2019.
Industry News
Canada Investing to Grow Markets for B.C. Wood Products
Natural Resources Canada
The Government of Canada is investing in Canada's resources to boost economic competitiveness while protecting our environment. By promoting innovative wood products from sustainably managed forests, Canada is supporting our forestry sector by expanding market access and creating jobs and economic opportunities for Canadians.
Canada's Minister of Natural Resources, the Honourable Amarjeet Sohi, today announced a multi-year investment totaling over $24 million in six wood product associations based in British Columbia to help strengthen international demand for Canadian wood products. The federal government's partnership with industry and the Province of British Columbia in promoting this work is critical to its long-term success.
"The federal government's announcement of funding support for BC Wood's 2019-20 market development activities is welcome news, indeed. Natural Resources Canada's Expanding Market Opportunities program will greatly benefit the many small and medium-sized manufacturers in B.C. as they work to promote high-value products, develop new export markets, grow their businesses and generate new economic benefits and employment opportunities for the province."
- Greg Stewart
Chairman, Board of the Directors, BC Wood Specialties Group Association
Industry News
Resilient and beautiful - Wood is Winning Hearts
David Wylie | Journal of Commerce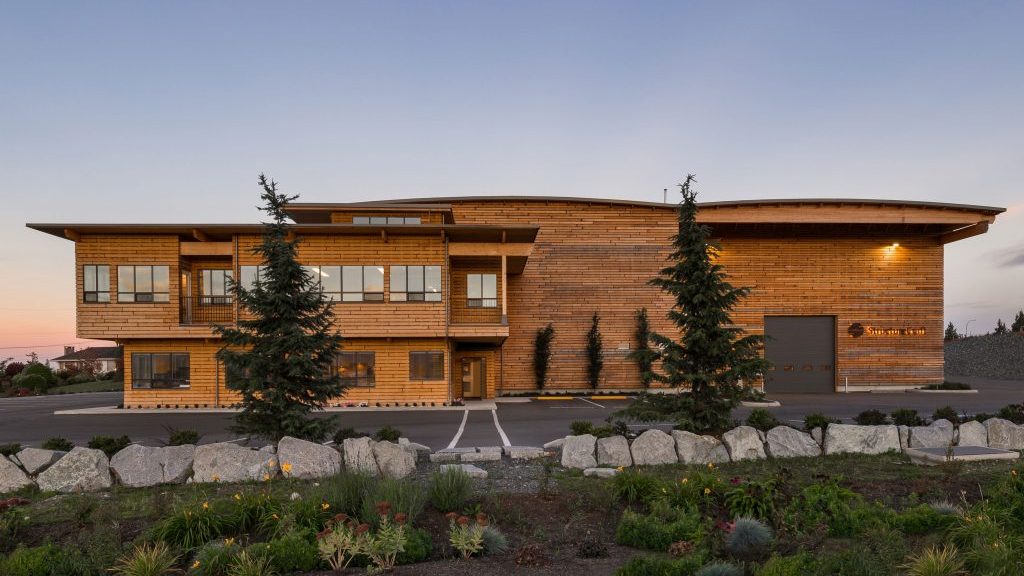 C

ommercial and industrial buildings are incorporating more wood into their construction.
Along with the strength needed to last in heavy duty applications, wood has its own unique advantages.
Wood's warmth makes it perfect for adding a cozy feeling to retail and office spaces, and the speed and efficiency that prefabrication offers is perfect for manufacturing buildings with a repeatable floorplan. Modern mass timber buildings arrive at the construction site in components prefabricated off-site in a climate-controlled environment to be easily installed when they get to their destination.
Wood was a natural choice for the construction of StructureCraft's facility in Abbotsford, B.C., which was built from a simple kit of parts composed of glue-laminated timber columns and beams, tall wood walls, and wood roof panels.
Industry News
Timber for Two: Robert Malczyk And Eric Karsh Want to Transform How We Think of Timber
Kerry Gold | Construction Business

Equilibrium Consulting principal Robert Malczyk may be the Engineer of Record on Shigeru Ban's tall downtown Vancouver timber project, but he's more interested in the humble mid-rise. The mid-rise, not the attention seeking wood skyscraper, he argues, will ultimately transform the way we see wood-frame and mass-timber construction.
"Combining energy efficiency and mass timber is my personal passion," says Malczyk. "Of course, it's nice to be involved in these [tall] buildings, but I think the biggest change we can influence is in mid-rises."
Shigeru Ban's Terrace House in Coal Harbour is one of a number of wood skyscrapers underway in the global race to the top. The first twelve stories will be constructed with traditional concrete and steel, while the remaining seven will feature exterior wood elements and floor plates cut from timber. The plan is for all of the wood to be sourced locally.
Industry News
More Funding Will Soon be Available for Canadian Companies!
As of August 22, 2019, the CanExport for SMEs project funding limit will increase up to $75,000 to cover up to 75% of eligible expenses.
In order to make the changes to our systems, the CanExport for SMEs application system will be closed from August 9 to 21 and will re-open on August 22. Any current projects and those submitted before August 22 will continue to have access to a maximum of $50,000 in funding to cover up to 50% of eligible expenses.
Industry News
Building the Case for More Mass Timber Construction
Rolando Hinojosa | BIV
Faced with the challenge of diminished lumber supply and lower prices, the British Columbia government has made investing in higher-value-added products like engineered wood a priority, betting that supporting mass timber construction can be a winning proposition for the industry.
"For too long the focus has been on maximizing volume but not value, and so we want to flip that on its ear,"
Doug Donaldson
, minister of forests, lands, natural resource operations and rural development, told
Business in Vancouver
.
During 2019's first half, the B.C. government announced a number of measures aimed at supporting the increased production of engineered wood products for the construction industry, with a particular focus on building taller mass timber structures.
Industry News
UBC Wood Products Processing Co-op Job Postings Call for Winter 2020
Co-op postings
for the Winter 2020 term (January to April or August) are now being accepted. For more information, you can review examples of co-op positions for Wood Products Processing students, a program overview, and a job template. S
tudents are available for 4 month (January to April) or 8 month (January to August) terms.
Students get taken up very quickly, so it is strongly suggested

that anyone interested in co-op students posts, interviews and offers as soon as they can.
Students are qualified for positions related to marketing/sales, business process analyses/improvements, engineering processes, manufacturing, quality control, research, testing and technical analysis.
To recruit a co-op student, please follow these easy steps:
2. REVIEW AND INTERVIEW
Review the applications. Select the Co-op students
you wish to interview
. We coordinate the interviews for you.
3. HIRE A CO-OP STUDENT
Select and hire your Co-op student
Industry News
Increase Your International Sales through the Trade Accelerator Program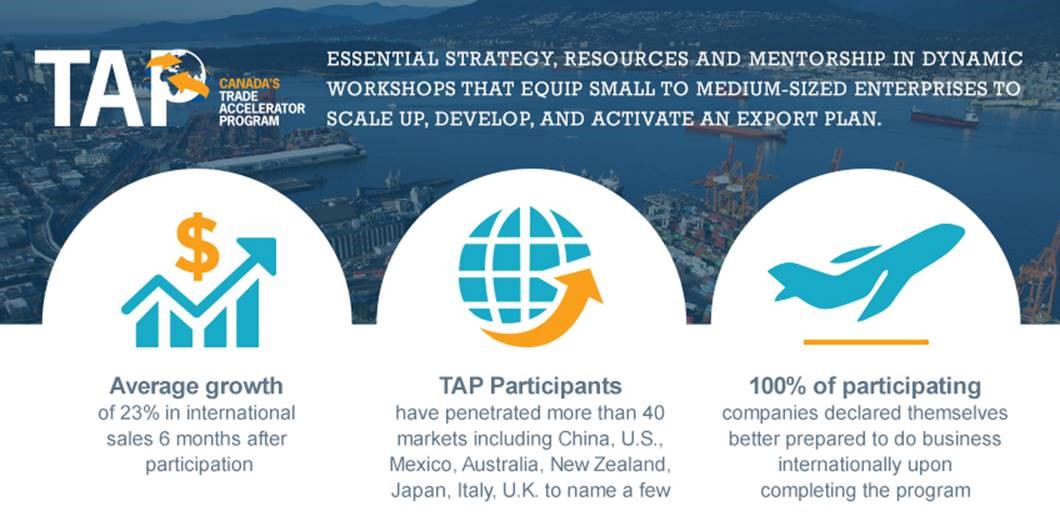 Upcoming Vancouver Workshop, starts


October 23, 24, November 1, 28

Application Deadline:
October 9, 2019
Upcoming Prince George Workshop, starts


November 6, 7, 14, December 12

Application Deadline:

October 23, 2019

Schedule:
Registration: 8:30-9:00am
Workshop program: 9:00am - 5:00pm
Participation Fee:

Full bursaries available for qualified BC wood products manufacturers. Inquire at BC Wood for details.

New trade agreements and a competitive Canadian dollar make it an ideal time to extend your company's reach through the export of goods and services.

World Trade Centre Vancouver has successfully delivered Canada's Trade Accelerator Program (TAP), in B.C. since 2017.

The Trade Accelerator Program is designed to help SMEs TAP into their full export potential. It has a proven track record helping participants get results.

Industry News
Robot Made: Large-Scale Robotic Timber Fabrication in Architecture
Lecture and Workshop
October 5-7, 2019 (plus 2 optional days)
7/21 AIBC LUs Approved

(1-day lecture or 3-day workshop)
| | |
| --- | --- |
| | |
| | 2018 - Robot Made Workshop prototype: Stressed Skin Structure |
David Correa, Assistant Professor at the University of Waterloo, Oliver David Krieg, Director of Technology at LWPAC, and AnnaLisa Meyboom, Associate Professor at UBC will hold a workshop on robotic fabrication at the
Centre for Advanced Wood Processing of the University of British Columbia, Vancouver.
Using a state of the art seven axis industrial robot configuration, the workshop will guide participants through the unique technical and conceptual foundations that underpin robotic milling in wood through the development of a full-scale fabrication project.
The Workshop:
The workshop is structured as a one full-day intensive in class session on Saturday with robot orientation, followed by a parametric design and fabrication session on Sunday and then hands-on fabrication session the following three days. Participants can opt for the full program or the shortened program.
Industry News
Timber Building & Construction Tour to Italy and Austria- December 2019

(AIBC & HPO credits available for this event)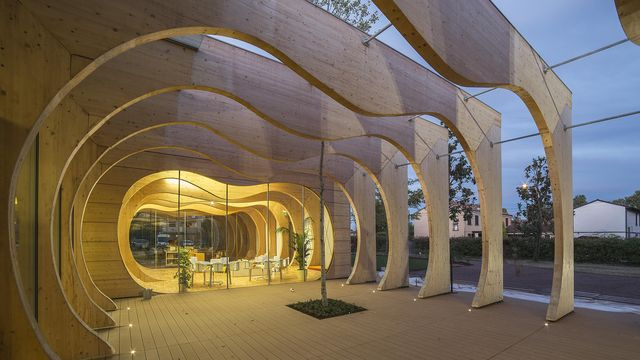 CAWP is pleased to announce that it will lead a technical tour for wood products manufacturers, architects, engineers and policy makers, interested in advanced mass-timber construction and prefabricated/modular energy efficient home design to Italy and Austria. The tour will start on Sunday, December 1st and end on Saturday, December 7th, including two days at the 25th International Holzbau Forum to be held for the first time in Innsbruck, Austria.
A group of 15-20 industry participants accompanied by group leaders from UBC-CAWP and UNBC will visit production facilities of state-of-the-art producers of prefabricated homes and building components (glulam, CLT, prefabricated/modular construction, and other products). Visits to building projects both completed and under construction will be conducted, including some notable contemporary building projects realized in timber.
The group size will be limited to 20 people. More information can be found at:
Industry News
Kiln Drying Training Program - Essentials of Wood Drying (5 days)
Centre for Advanced Wood Processing, Vancouver, BC
A comprehensive, hands-on introduction to drying technology taught from a practical, real-life
perspective and backed with solid explanations into the scientific background of drying.
This highly-regarded workshop discusses the key processes and concepts involved in drying
wood. Beginning with wood properties and moisture movement, students become familiar with
kiln design considerations, drying schedules and kiln loading considerations. Other topics include
drying with air, drying degrade, lumber storage and handling, control systems and power plants.
Industry News
WMC Management Skill Training Program
UBC - Online Managements Skill Training Courses
UBC - Centre for Advanced Wood Processing (CAWP) will be offering two "online" courses; Production Planning and Marketing Green Products. Both these courses will run for 8 weeks starting September 9th to November 4th, 2019. These wood products industry specific courses are designed for owners, managers, supervisors or management tracked employees. These are not academic courses and the skills learned can be applied immediately to the work place. Each part-time course is led by a tutor with extensive industry experience.
For more information on the courses, please click on the following link:
Management Skill Training or call Jason Chiu at 604-822-0082.
Industry News
UBC - Online Certificate in Industrial Wood Finishing
A unique Industry Training Program
Part-time online training program with a one-week hands-on practical session.
This is North America's most comprehensive wood finishing certificate program.
The certificate program provides participants with a broad understanding of the field of wood finishing. It's designed for individuals who have some general experience in wood finishing and would like to expand their knowledge.
Once completed, learners will have knowledge and experience to do the following:
Understand why finish is applied to wood and how wood properties affect finishing

To be able to identify the best finishing system based on the end use

Trouble-shoot wood finishing problems

Design a safe and efficient finishing facility
This course will provide you with the knowledge and tools to start a finishing business or to improve an existing one.
Starts January 6, 2020 - April 11, 2020
One week intensive practical - April 6-10, 2020
Space is Limited, Register Now!
Spotlight: Pan Abode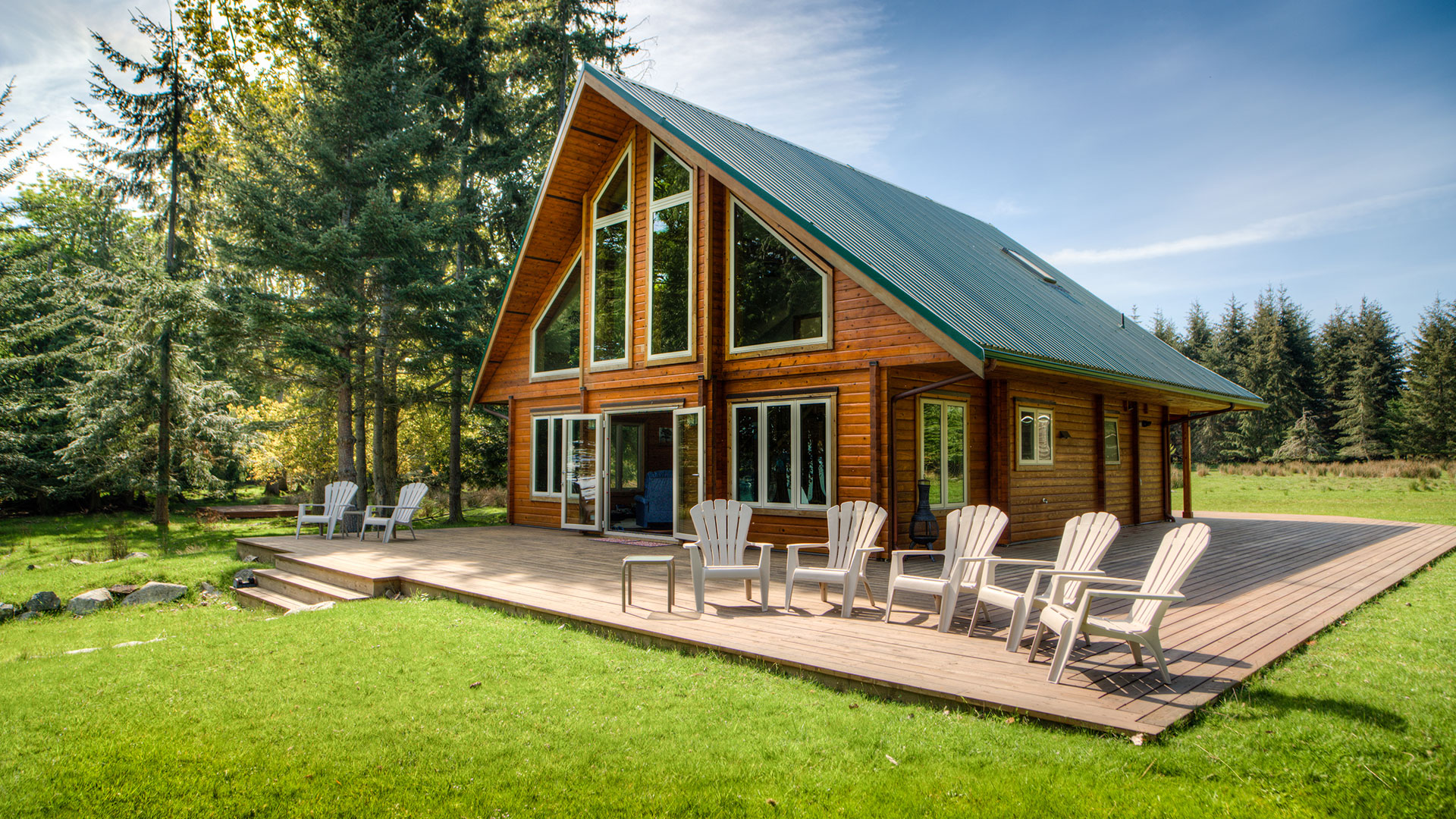 Pan-Abode International, a division of the AP Group, is a long-standing British Columbia-based manufacturer of milled log homes. Since the company's inception in 1948, Pan-Abode has maintained the highest standards of quality with an emphasis on solid log construction using 100% Western Red Cedar. Pan-Abode designs, engineers, and manufactures both standard and custom homes for customers across Canada, the US, and around the world. Packages contain all materials to lock-up, including subfloor, exterior log walls, interior log walls and framing, siding (dependent on design), windows, doors, roof system, and the roof itself.
Founder Aage Jensen, a Danish master carpenter, established the company on the idea that anyone could build a "cabin in the woods". He quickly realized the amazing properties of Western Red Cedar and combined the wood with his joinery skills and tongue and groove, creating the original Pan-Abode system. This system has gone through several iterations over the years, but since the early 90's, the company has been using 4x6 logs with a double tongue and groove profile. They find this the perfect sweet spot to gain the benefits of thermal mass without compromising on the quality of their tight-knot, free of heart centre fibre that prevents checking, warping or twisting. The company has grown considerably over the years and has dealer networks world-wide.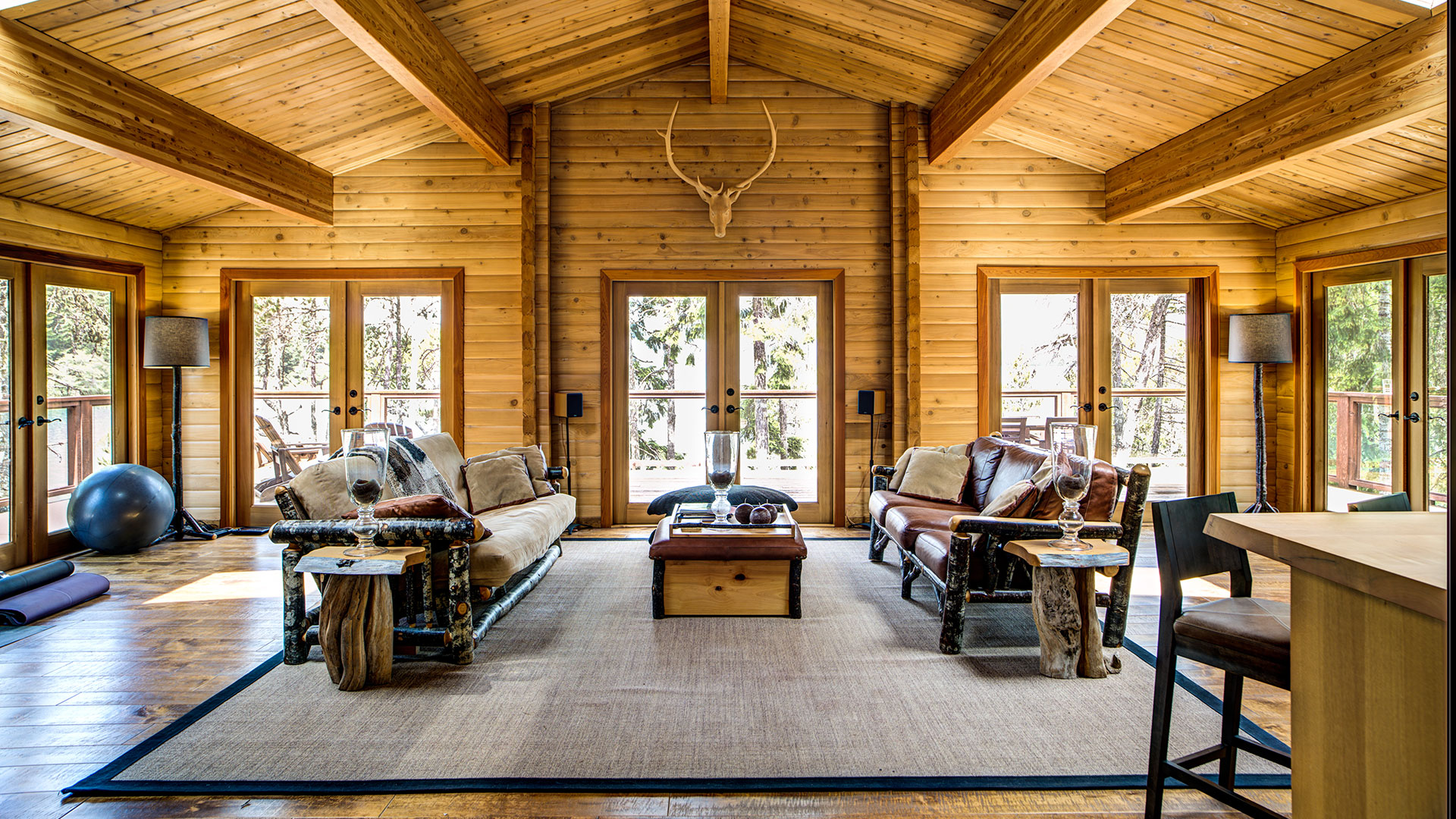 Today, Pan-Abode still maintains the belief that anyone can build their cabin in the woods, by creating clear, well labelled kits. Pan-Abode also offers extensive customer service, from creating home designs from scratch to site visits, ensuring the product makes the best use of land. Using Western Red Cedar means the end-user has a high-quality product that needs little maintenance. It is not only individuals who love the product, but contractors and builders too, as it greatly reduces labour time. The packages have grown from a cabin in the woods to high-end homes and commercial buildings, such as yoga and meditation retreats,
visitor centres, fishing and hunting lodges, and golf clubhouses.
Global Buyers Mission
2019 Global Buyers Mission™ (GBM) Update
The 1
6
th
Annual GBM is
fast approaching and we are happy to announce that
almost all the
booth space
is
sold-out
,
and
our international
Buyers
are
registering at a
regular
pace.
There is still time
to apply for booth space, if you are interested in
meeting new Buyers
attending the GBM
.
W
e
are also
still
accepting registrations
for our
Participant category, which does get you access to all the activities and the showroom, September
11
th
to 13
th
. Hotel rooms are becoming a bit scarce though, so we would encourage anyone interested to sign up ASAP to get your hotel link(s).
Just email us at
gbm@bcwood.com
and request a registration package. We will send it to you immediately! If you have any questions on who is attending and whether your participation will benefit you and your business, give us a call. We would be happy to discuss the program and events with you.
As usual, p
re-registration is required to attend the GBM.
To the many of you already registered to attend, we look forward to seeing you on the Mountain!

Canada Update
UBCM Trade Show at the Vancouver Convention Center, Sept., 25-26
BC Wood will be organizing industry participation at the UBCM Trade Show at the Vancouver Convention Center (East Building), on Wednesday and Thursday, September 25-26, 2019.
The show provides a unique opportunity for suppliers to promote and connect with a myriad of municipal and local governments, as well as regional district representatives - all in one locale! The UBCM Trade Show presents the best occasion to meet, exchange ideas, accelerate or forge new relationships with those tasked with planning and constructing community service facilities.
The UBCM Trade Show's primary attendees are elected local government officials, including Mayors, Councillors, and Regional District Directors. Many non-elected decision makers such as Corporate Administrative Officers, City Managers, Finance, Purchasing and Community Services Managers, in addition to several Provincial Ministers and MLA's also attend.
Exhibition space is limited, so for more information regarding participation at the UBCM Trade Show in BC Wood's pavilion, please contact Brian Hawrysh at 604-882-7100 or email
bhawrysh@bcwood.com
.
Japan Market Update
Target Your Products at Japan's Booming Resort Market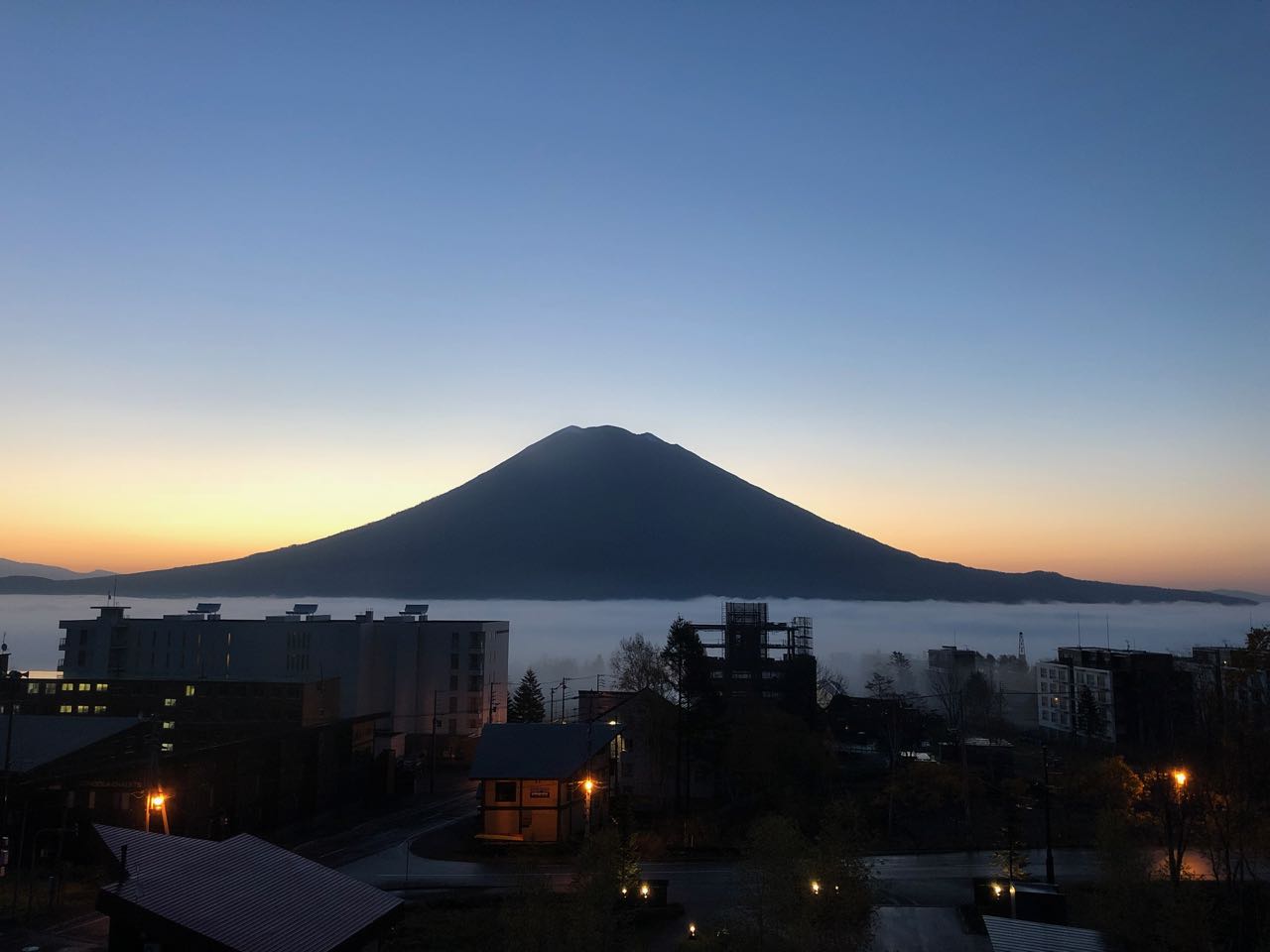 As inbound visitors have been flocking to resorts in Japan, BC Wood has been researching and approaching the key players in the various hotspots across the country. Based on this, we see that there are great opportunities for Canadian products ranging from log and timberframe homes, mass timber, finishing materials, furniture, and WRC exterior products, as these resorts are renovated and rebuilt to meet the needs of well-heeled European and North American clients. During this fiscal year, BC Wood will be putting more resources into helping our members access these opportunities.
The first promotional opportunity we will be offering to our members is to be a part of a new company directory that will specifically target resort developers as well as architects, designers, and builders who work on such projects. We will produce this handout soon so that we can start distributing it at our in-market fall shows. In addition to our shows, this piece will be a part of a mail-out package that we will send to a targeted list of developers we are assembling, ahead of a series of resort development themed seminars we will hold across Japan next March. If you would like to be a part of this directory and get your product information into the hands of these companies working projects in Japan's top resorts, please contact Jim Ivanoff for more information (
ivanoff@bcwood.jp
).
Upcoming Events
September 11-13, 2019: Global Buyers Mission (GBM), Whistler, BC
September 25-26, 2019: UBCM Trade Show, Vancouver, BC
September 26-29, 2019: IDS West, Vancouver, BC
October 10-13, 2019:
The Bond Custom Home Expo, San Diego, California
October 24-27, 2019: West Edge Design Fair,

Santa Monica, California
October 30 - November 1, 2019: Osaka Living and Design Show,

Osaka, Japan
November 5, 2019: Wood Solutions Conference,

Vancouver, BC
November 13-15, 2019:

Japan Home and Building Show, Tokyo, Japan
January 21-23, 2020:

International Building Show (IBS), Las Vegas, Nevada
February 12-13, 2020:

Buildex, Vancouver, BC
For a list of all trade and industry events, please visit
If you have any questions, comments, suggestions, or feedback, feel free to email me at

kcrowe@bcwood.com

.

Kit Crowe
BC Wood