SUBSCRIBE

Keep up-to-date
with BC Wood




Happy New Year from BC Wood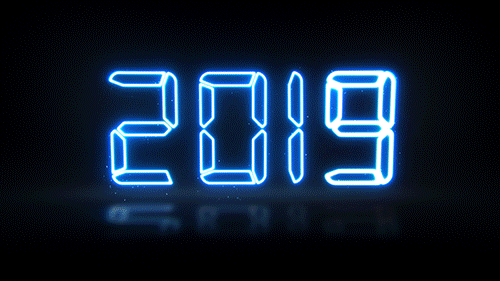 With a new year comes updates to our Value-to-Members Program. If your company is a BC Wood member, you are entitled to an array of cost-savings for regularly used services including as hotels, Park n' Fly, and car rentals. For an updated list of suppliers, please contact Randi Walker
rwalker@bcwood.com
or Kit Crowe
kcrowe@bcwood.com
.
The BC Wood staff are currently meeting with our industry on proposed programs and activities for the 2019-2020 fiscal year. If you have not yet been contacted and would like to learn more about these opportunities, we would be happy to schedule an appointment. Please email
kcrowe@bcwood.com
or
click here
to see our full Staff Contact list.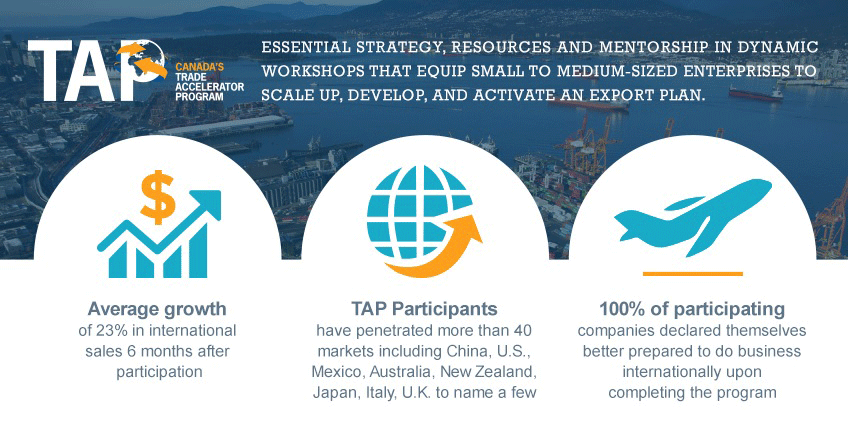 Upcoming Kelowna Workshop, starts

February 4, 2019
Application Deadline:
January 14, 2019
Schedule:
Registrations: 8:30-9:00am
Workshop program: 9:00am - 5:00pm
Location:
Downtown Kelowna
Participation Fee:

Full bursaries available for qualified BC wood products manufacturers. Inquire at BC Wood for details.

New trade agreements and a competitive Canadian dollar make it an ideal time to extend your company's reach through the export of goods and services.

World Trade Centre Vancouver has successfully delivered Canada's Trade Accelerator Program (TAP), in B.C. since 2017.

The Trade Accelerator Program is designed to help SMEs TAP into their full export potential. It has a proven track record helping participants get results.

Industry News
CanExport Opens the Door to New Markets for More Canadian Exporters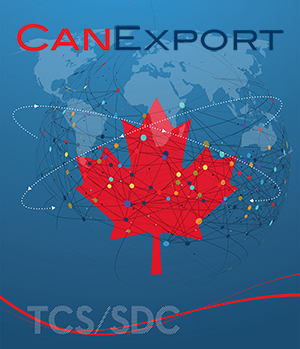 One of the key obstacles small and medium enterprises (SMEs) face in exporting to new markets is the high financial cost. In response, the Government of Canada has committed $100 million in additional funding for CanExport and related funding programs to help Canadian firms manage the risks associated with developing and diversifying their sales abroad.
CanExport offers direct financial assistance to small and medium enterprises (SMEs) registered in Canada. Since its launch in 2016, the program has helped over 1,000 SMEs with market entry projects in 90 new markets, and generated $375M in new export sales.
CanExport provides matching funding between $10,000 and $50,000 to eligible SMEs, and supports a wide range of export development activities into new markets, such as: business travel to target markets; participation at trade fairs and trade missions; adaptation of marketing tools for new markets; intellectual property protection; business, tax or legal advice for target markets; and market research.
The program has broadened its eligibility criteria with regard to the number of FTEs and annual revenue, and will dispense grants in addition to contributions. These and other recent changes reflect CanExport's commitment to becoming an indispensable tool for Canadian businesses looking to better compete in the global market place.
If you have an export development project in mind, visit the CanExport website for full program details and to submit an application: Canada.ca/CanExport
Industry News
T3 Atlanta Office - Drone Footage
StructureCraft recently released some great drone footage of the upcoming T3 Atlanta office. Click the link above, or click here, to check it out!
The 7-storey T3 Atlanta project, at 200,000 sqft timber area, will take over the previous T3 office building as the largest mass timber building in the US once built. Learn more at
structurecraft.com/projects/t3-atlanta
.
Industry News
Forestry Stands Tall: The 2019 Wood and Paper Products Industrial Outlook

The Conference Board of Canada is offering BC Wood members a 50% discount to join this upcoming webinar on the latest forecast and key underlying trends from their biannual Industrial Outlook. Please
click here
to register for the discount.
Canada's forestry sector has survived headwinds in the past couple of years, and, despite ongoing uncertainty, is poised for steady growth in the next four years. Record prices and rising demand have supported the industries, but looking forward, production growth is expected to moderate and even decline through 2019 and 2022. Investment is a key to the future growth in the sector.
In this business climate, we invite you to join us for this Conference Board of Canada webinar, available to members of BC Wood, to get the detailed outlooks for the Wood Products and Paper Products Industries from The Conference Board's unique five-year economic forecast.
Topics covered:
U.S. duties- Not a sharp cut...yet

Export growth - Expected to slip

Investment - An urgent matter

Labour shortages - Putting pressure on operations and labour costs

Carbon pricing - An impact on competitiveness
Date: January 24, 2019 at 2:00 PM
Price:
$124.50 (for BC Wood members)
Edmonton Cottage Life Show
The 2019 Edmonton Cottage Life & Cabin show will be held on April 26-28th, at the Edmonton EXPO Centre.
The show attracts consumers interested in:
Products/services for their lake or recreational property
Looking for recreational property
Building a log, timber home
Decor for their recreational property
Sporting goods & outdoor gear
Boats & docks
Ideas for weekend escapes
Industry News
Timber Online Education Needs Analysis Questionnaire
Founded
by Architect Michael Green and Structural Engineer Eric Karsh,
Design Build Research is a non-profit organization that will soon offer free, open online education courses to professionals and students in the design, engineering, and construction of mass timber buildings. In preparation for course development and delivery of the Timber Online Education program, an independent research firm, R.A. Malatest & Associates Ltd., has been hired to conduct a short 15-minute survey to better understand the needs and interests of industry professionals and students related to the design and construction of mass timber buildings. This feedback is vital for the program development.
As a thank-you for your time, qualifying respondents will have the option to enter a draw to win an iPad Pro or a copy of "Tall Wood Buildings: Design, Construction and Performance"by Michael Green and Jim Taggar
t.
After completing this survey, you will have the opportunity to find out about our free online courses and request a copy of the results.
Event Date: Thursday, January 31st, 2019
Time: 12:30pm to 5:00pm (Open House) and 6:00pm to 9:30pm (Co-op Night)
Where: UBC Forest Sciences Centre (2424 Main Mall, Vancouver)
Open House: Sign in at main Wood Science reception, CAWP 2900
Co-op Night: FSC 1005
CAWP Open House (12:30pm to 5pm)
12.30PM




Registration and Lunch




1.15PM




Welcome and CAWP Update - What's on the calendar for this year? - Jason Chiu




1.25PM




Co-op and undergraduate program overview - Sanya Sivic




1.35PM




Digital Design Seminar Update - Annalisa Meyboom will report on the Robot Fabrication and Digital Design workshop




1.55PM




UBC Formula Car Team - Jeffery Schidlowsky will present on the robotic mould fabrication project

.


2.05PM




Market intelligence report: Jason Chiu / Joern Dettmer will report on the technical highlights from our December prefabricated construction technical tour to Germany.




2.25PM




Construction waste recycling: Adam Corneil will report and his deconstruction company, Unbuilders.




2.45PM




Laser Log Scanning Conveyor system - Dr. Julie Cool will discuss and demonstrate the newly donated Log Scanner Conveyor, a collaboration between Optimil, Hermary and MPM Engineering.




3.00PM to 5.00PM



*Pizza and refreshments will be available at 5pm for Open House attendees that are staying for Co-op Night.
WPP Co-op Night (6:00pm to 9:30pm)

For a list of Speakers at the Co-op Night and the companies they worked for, please click here.
USA Market Update
A few comments, suggestions, and ideas...
I recently heard the old saying "you can't see the forest through the trees" and it had me thinking of two things: one, how lucky we are to live in such a beautiful part of the world, and two, how we have so many great cities and markets just to the south and east of us.
Two of these are Spokane, Washington and Coeur d'Alene, Idaho. These cities have a population base of a little over 300,000, have vibrant economies, and boast excellent recreational and lifestyle opportunities.
I was recently in both cities and was impressed with the number of high quality residential and light commercial construction projects that were underway. The opportunity for B.C manufacturers to develop market share and create sales was significant.
To this end, we are currently planning a WoodTALKS Lunch and Learn for both cities, tentatively scheduled for mid-March, where we will meet with some of the key builders and architects in the region. The details will be revealed in the next few issues of the Wood Connections newsletter; however, if this is of interest to you, please feel free to contact myself
dfarley@bcwood.com
or Ken Hori
khori@bcwood.com
in short order as space will be limited.
Korea Market Update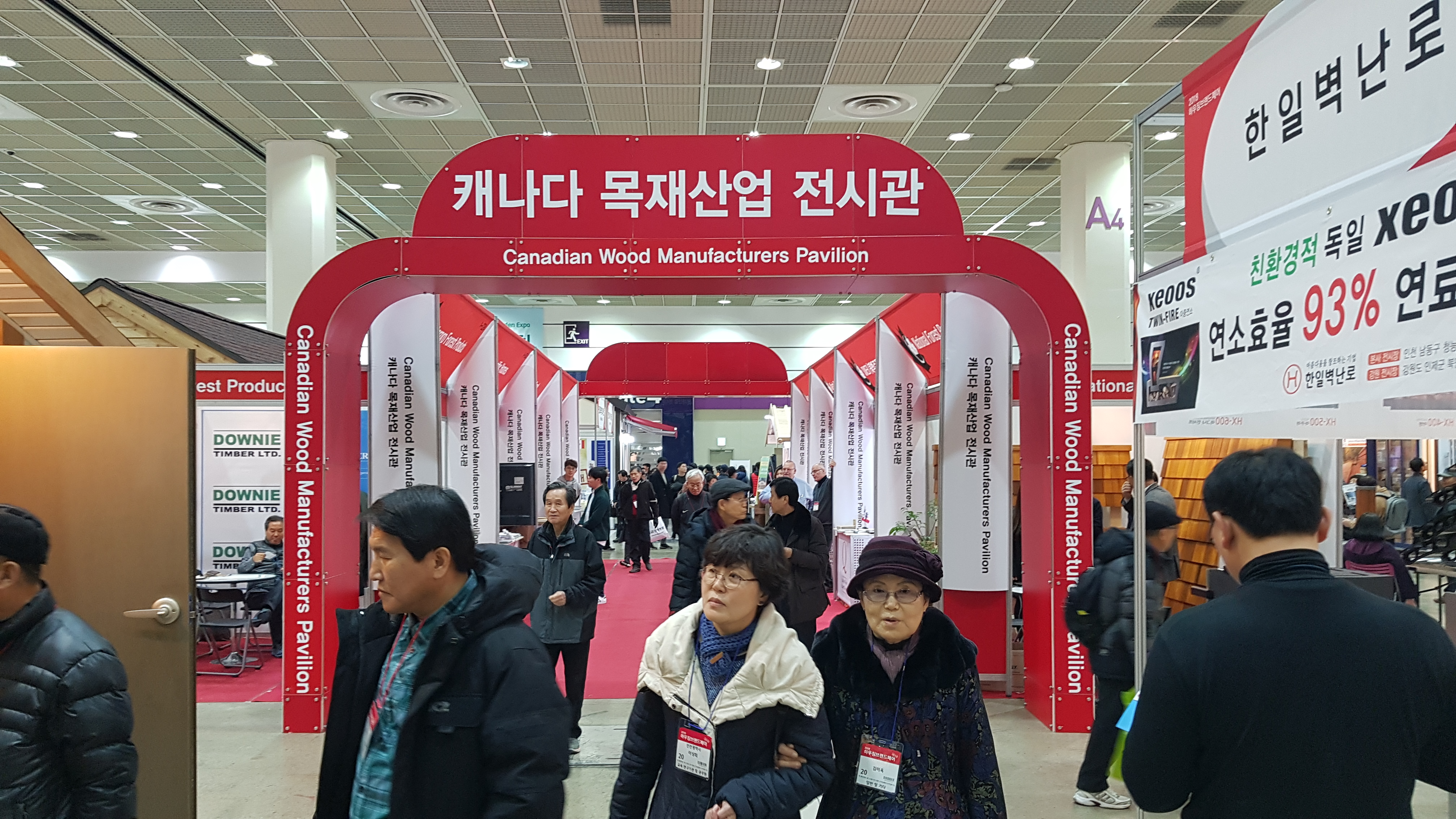 BC Wood will be organizing a pavilion for members at the next Housing Brand Fair to be held from February 14th to 17th at the very convenient COEX Exhibition Facility in Seoul's Gangnam district. The show's strong promotional backing and central location attracts most of the major players in Korea's wood and construction industries. A wide range of products are covered at the show including lumber, millwork, kitchens, furniture, and house packages. Therefore, this show is ideal for a large cross-section of BC Wood members interested in targeting professionals in the Korean construction industry.
On behalf of BC Wood members interested in attending the show, BC Wood's Korean Representative JC Lee has been negotiating with the
show
organizers
to cover some of our members' travel costs for the show. For more information on this and the show, please contact Jim Ivanoff at ivanoff@bcwood.jp.
Japan Market Update
BC Wood will once again be coordinating the Canadian Pavilion at the Nikkei Architectural and Construction Materials Show that will be held at Tokyo's Big Sight from March 5th through 8th, 2019. The Nikkei Show is already sold-out, but with BC Wood's longstanding participation in the show we have been able to secure a pavilion in a prime location on behalf of our members.
The Nikkei Show is the largest show of its kind in Japan and sees over 250,000 industry professionals over the show's four days. The show attracts a great number of architects, but is also well attended by importers, distributors, and both residential and commercial builders. Therefore, the show is a good fit for producers of cabinetry, millwork, house packages including log and timberframe, as well as lumber and remanufactured products. For more information, please e-mail me at
Ivanoff@bcwood.jp.
Canada Market Update
Spring Cottage Life Show, Toronto -

March 21 - 24, 2019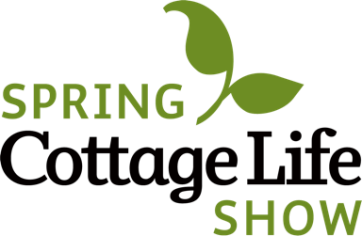 BC Wood will once again be hosting with a large BC wood presence at the Spring Cottage Life Show.
The Spring Cottage Life Show attracts 39,000 visitors from one of Canada's hottest recreational property markets. These hard-core cottagers arrive at the show with a plan to upgrade, improve, build new, or to buy property, boats, furniture, and accessories. Over 525 exhibitors come together for one great weekend to celebrate and prepare for all things cottage related. Exhibitors include builders, contractors, innovative building products, green solutions, décor and arts and crafts.
If you are interested in finding out more about this event, please contact Ken Hori at 604-882-7100 or
khori@bcwood.com.
Marketplace
If you would like to include a posting in our Marketplace section, please email me at
kcrowe@bcwood.com
or call 604-882-7100 and ask for Kit.
Upcoming Events
February 13 -14, 2019: Buildex, Vancouver, BC

February 14 -17, 2019: Housing Brand Fair, Seoul, South Korea

February 19 - 21, 2019: International Building Show (IBS), Las Vegas, USA



February 19 - 22, 2019:

Hotel-Res Expo, Tokyo, Japan

March 5-8, 2019: Nikkei Architectural & Construction Materials Show, Tokyo, Japan

March 21-24, 2019: Spring Cottage Life Show, Mississauga, ON

March 28-31, 2019: Interzum Guangzhou, Guangzhou, China

For a list of all trade and industry events, please visit
If you have any questions, comments, suggestions, or feedback, feel free to email me at

kcrowe@bcwood.com

.

Kit Crowe
BC Wood