SUBSCRIBE

Keep up-to-date
with BC Wood




Announcement
Trade Commissioner Service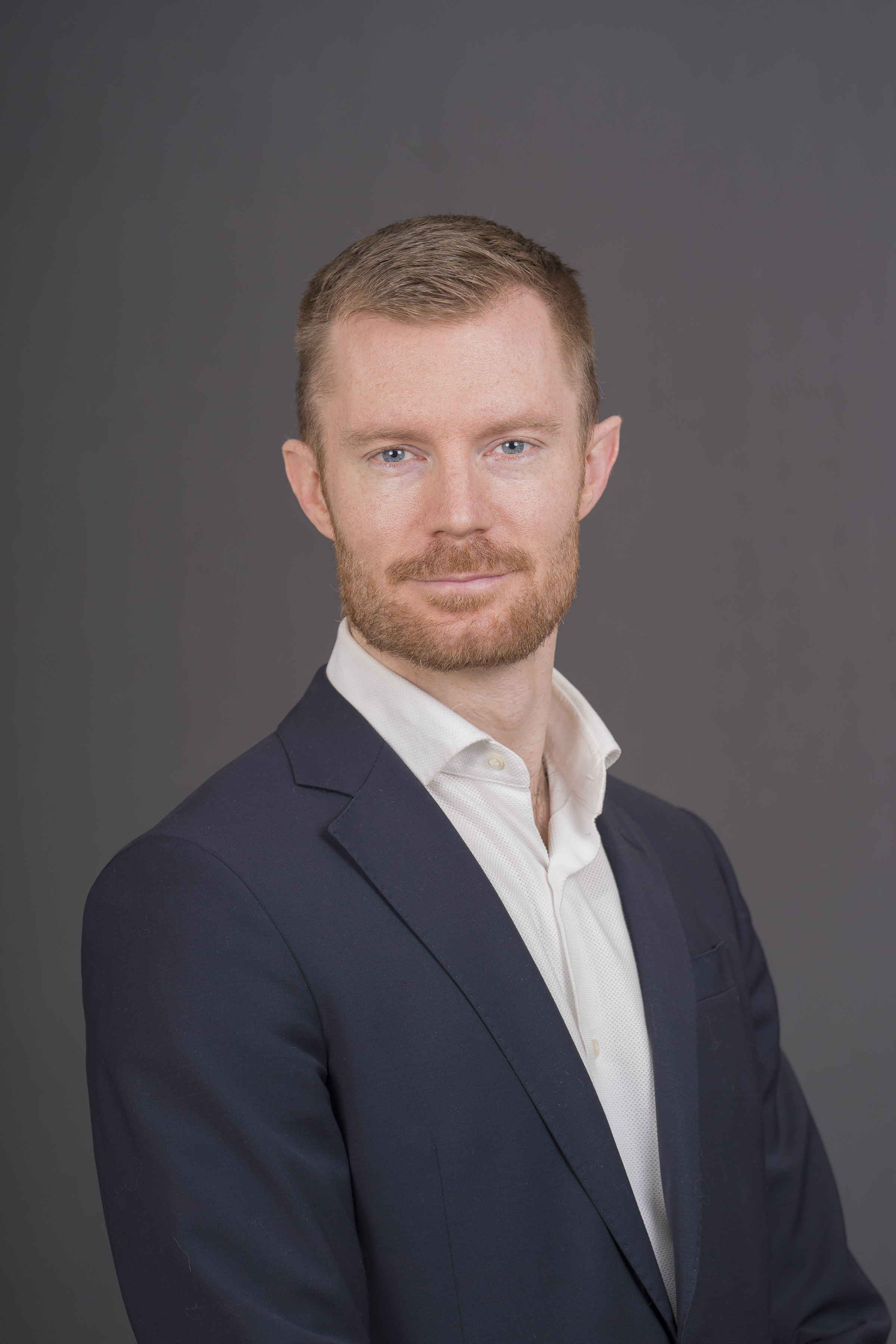 Over the past couple years, many value-added wood manufacturers in BC have gotten to know Trade Commissioner Sarah Quigley as she worked endlessly to help companies expand into export markets. On behalf of the Industry, BC Wood would like to thank her and wish her the best in future endeavors.
We are excited to announce that Warren Senkowski will be taking over Sarah's portfolio. Warren has been working in British Columbia for three years as a Trade Commissioner for the Infrastructure Sector. Throughout his time working in this sector, he has made many key contacts in architecture, engineering, and building products manufacturing.
The Trade Commissioner Service (TCS) is a free service offered by the Government of Canada that helps Canadian companies (especially SMEs) expand their businesses overseas. They do this by using their network of offices in over 160 cities to provide market information, contacts, and advice. Specifically for the Value-Added sector, the TCS can help connect you with buyers, distributors, partners, or other stakeholders in target markets. As well, they can help field questions regarding tariffs, shipping, border issues, helping choose markets with the highest potential for your products, and regulations and incentives. Warren can also advise you on the benefits of the CanExport program, which can help you by funding up to 75% of your business development expenses in new markets you have targeted for expansion, including travel, accommodation, marketing, translation and conference fees.
Warren Senkowski invites all value-added manufacturers to reach out to him, saying "If you are currently exporting or thinking about it at all: come talk to us! We have lots of resources to help you. Always happy to chat with businesses of any size."
You can reach Warren Senkowski at Warren.Senkowski@international.gc.ca. He expects to be in the BC Wood Langley office on Wednesdays and Thursdays, and is available for meetings at the BC Wood office or your facility. Please contact him ahead of time to make arrangements.
Industry News
On The Move With B.C. Wood


David Wylie | REMI NETWORK

B.C. forest products are a predominant structural and finishing material for a wide range of transit infrastructure throughout the province.
Architect Peter Busby oversaw the Brentwood Town Centre Station in Burnaby, which he points to as an example of wood's durability. The iconic SkyTrain station was the first in a series of innovative transit station designs.
The station on Metro Vancouver's Millennium Line has stood the test of time.
"It's now 17 years old, and the glulam and nail-laminated wood ceiling is in perfect condition," he said. "The steel has been repainted three times. So when somebody says wood won't last, we take them out there and say, 'Well, it lasts a lot longer than painted steel.'"
The station's sleek, canoe-like design has two curved nail-laminated timber canopies, supported by glue-laminated (glulam) timber ribs. The SkyTrain station is a forerunner to other stations Perkins and Will designed that incorporate wood, including Canada Line stations Richmond Brighouse, Aberdeen, and Landsdowne.
Industry News
Value-added Wood Sector Riding the Building Boom
Andrew Duffy |Times Colonist
The sheer volume of construction and pace of building on Vancouver Island and beyond may allow some of the value-added wood manufacturing sector to survive what is now the longest strike in coastal forest history.
Some of the Island's secondary manufacturing firms have in fact been growing, despite a dwindling fibre supply on the coast due to a strike that has effectively shut down the coastal forest industry.
Now into its seventh month, the United Steelworkers strike at Western Forest Products has sidelined 3,000 workers and several manufacturing facilities.
Added to that toll were another 2,000 workers idled in late November when Mosaic Forest Management decided to take its winter shutdown early and curtailed harvesting operations.
Industry News
Dragon Skin Wood Installation Provides Outdoor Shelter On Campus
Emily Kwong | Ubyssey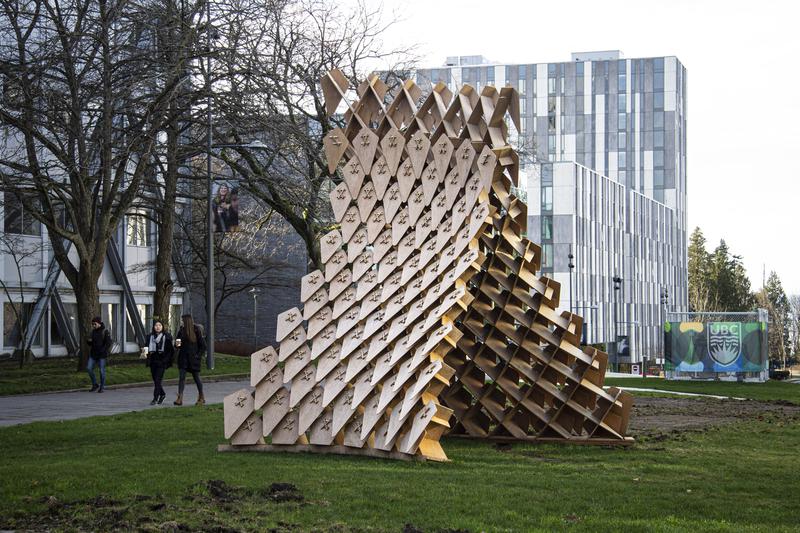 A new canopy-shaped wood installation has arrived on UBC campus as an outdoor rain shelter.
Named Dragon Skin in reference to its scale-like shingles, the installation is the third iteration of a collaborative project between UBC's SEEDS Sustainability Program, the School of Architecture and Landscape Architecture (SALA) and the Centre for Advanced Wood Processing (CAWP).
UBC Associate Professor Dr. AnnaLisa Meyboom led a group comprised of student and industry participants in a workshop to build the installation. The design for the structure was created beforehand and participants were guided through the process of construction, which involved robotic fabrication.
Through this hands-on process, students learned how to use highly accurate machines to cut materials and consider its architectural tolerance, assembly and staging on site.
"Those are really good questions for students to think about, but [you] only get to think about them when you actually build very complex structures," said Meyboom, explaining the goal behind the workshop. "And normally only very advanced [graduate] students get to experience that."
Industry News
Gorman Bros. Deflects Forestry Downturn
Steve MacNaull | The Daily Courier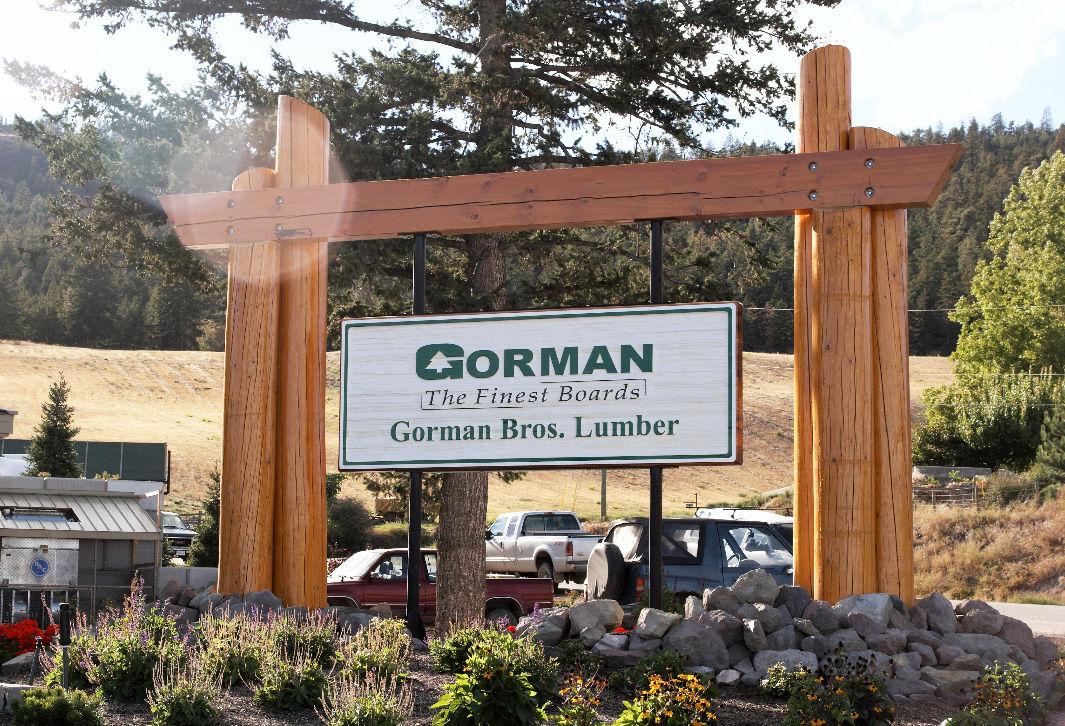 "Stumpage (the fee forestry companies pay the provincial government to cut trees on Crown land) is high, there's a limited supply of trees in the Interior after years of wildfires and the mountain pine beetle killing trees, lumber prices are half of what they used to be and demand is down because the home building sector is soft."
Gorman's saw this coming and five years ago cut back from three shifts a day at the West Kelowna plant to two shifts. When times got really tough this year, downtime was taken by adding days to long weekends rather than shutting down for weeks at a time.
Gorman's is in shutdown at its West Kelowna sawmill over Christmas. However, the finishing side of the plant is operating making value-added wood products like flooring, baseboards, casings, ceilings, wall panels, cedar siding and cedar decking.
It's the specialized wood products that Gorman's makes that has insulated it somewhat from the worst of the forestry hurt.
"We make the kind of high-value products for targeted markets in 28 countries that keeps demand for our products consistent," said Arkle.
Industry News
FII India Embarks on Second Phase of Growth
Lalatendu Mishra | The Hindu
Having created awareness about Canadian Wood over the last five years, Forest Innovation Investments India Pvt. Ltd. (FII India), the British Columbia government's market development agency for forest products in India, has embarked on its second phase of growth in the country.
"In the first five years we focused on the manufacturing industry which was making doors, windows and furniture. We are now looking for the next five years very enthusiastically. We have brought about certain tweaking in our strategy," said Pranesh Chhibber, country director, FII India, in an interview.
"Initially, we focused 100% on the wood manufacturing industry but because we were able to create enough buzz and demand for Canadian Wood, we are now helping in building the capability in India to build with wood. So, we are not only just helping source wood from Canada but we are also bringing in the expertise and sharing it with the people here on how to build with wood," he added.
Industry News
CAWP Open House & Wood Products Processing Co-op Presentation Night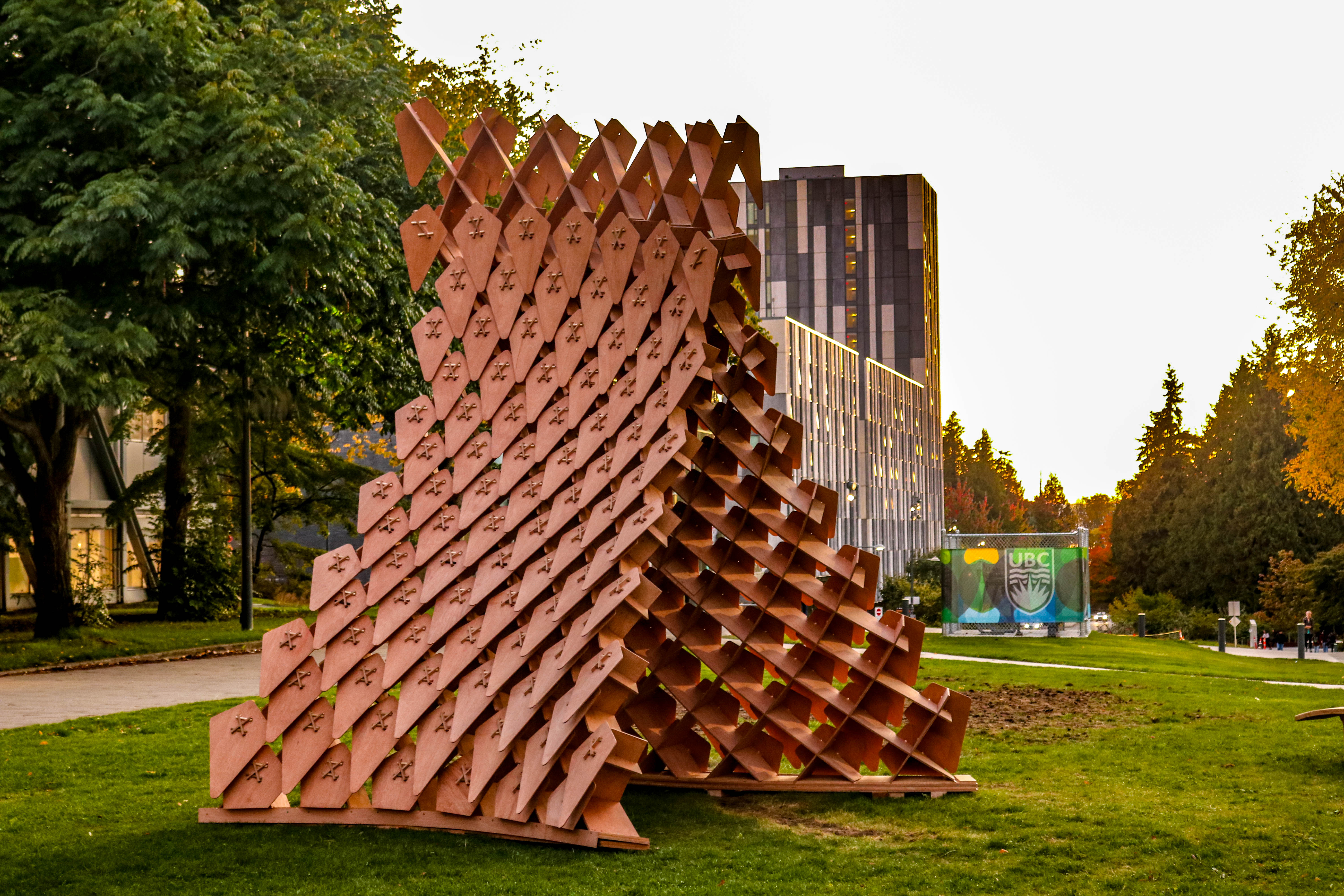 Please join us for our Wood Products Processing (WPP) Co-op Presentation Night and the Centre for Advanced Wood Processing (CAWP) Open House on Thursday, January 30th, 2020.
CAWP's Open House event is an opportunity for interested individuals to learn more about the education, training, research and industry assistance programs that go on in our building. In the afternoon we have a few short presentations on topics of interest to the wood products industry community. After presentations, visitors can walk around and view practical demonstrations and exhibits in our machine lab areas, as well as talk to some of our machinery, software and educational partners.
In the evening, Intermediate and senior students in the B.Sc. Wood Products Processing degree program at the University of British Columbia will be delivering presentations on their most recent co-op work terms. The intermission will provide a valuable networking opportunity to meet our industry partners, UBC faculty members and students.
When:
Thursday, January 30th, 2020
Open House (12:30pm to 5pm)
Where:
Sign in at main Wood Science Reception (2900-2424 Main Mall, Vancouver)
Co-op Night (6pm to 9:30pm)
Where:
UBC Forest Sciences Centre (2424 Main Mall, Vancouver) - Room 1005
Please RSVP by 11:55pm, January 28th, 2020
Industry News
Webinar: Taking Your Business To India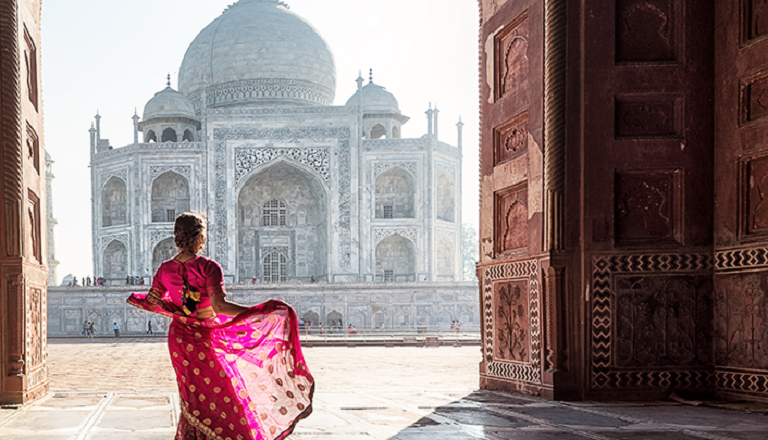 With a fast-growing economy, skilled workforce and huge consumer base, India is a high-potential market for Canadians who are already doing business internationally or looking to expand overseas. The Indian market offers many opportunities, but it also comes with its own set of unique challenges.
Understanding which sectors have the most opportunities and highest consumer demand, as well as how to build a strong market-entry strategy for India are just two elements that can set you on the path to success. Our new webinar, Taking your business to India, will give you the information you need to enter and succeed in this rapidly expanding market.

Join us live on Thursday, Jan. 23 from noon to 1 p.m. ET to learn:

Strategies for entering the Indian market
India's top sectors for Canadian goods and services
The common challenges of doing business in India (and how to overcome them)
How EDC can help you find customers and protect your investments
Industry News
You are Invited to Participate in the Trade Accelerator Program (TAP)


World Trade Centre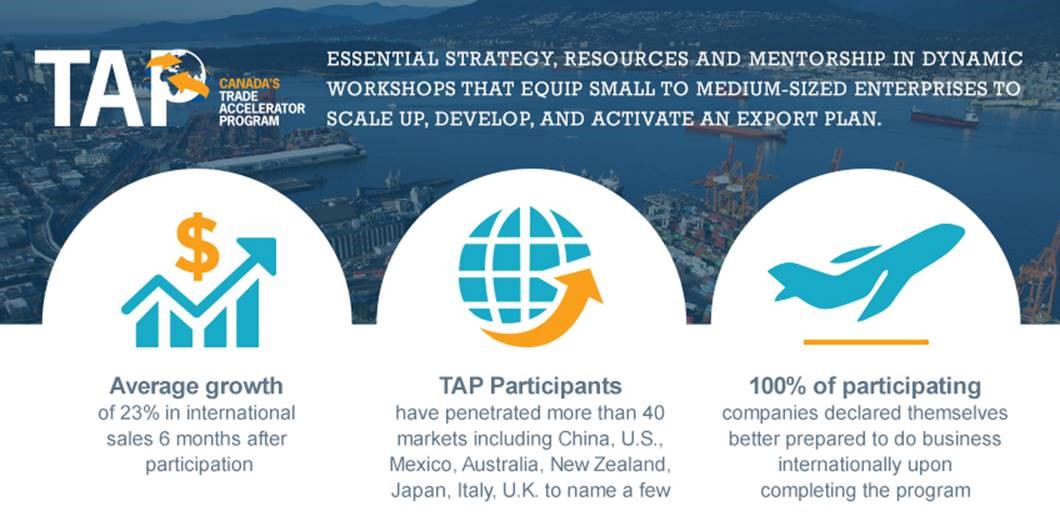 New trade agreements and a competitive Canadian dollar make it an ideal time to extend your company's reach through the export of goods and services.

World Trade Centre Vancouver has successfully delivered Canada's Trade Accelerator Program (TAP), in B.C. since 2017.

The Trade Accelerator Program is designed to help SMEs TAP into their full export potential. It has a proven track record helping participants get results.
Just six months after graduating the program:
On average, export revenue increased by 28%

Participants forecast their export sales to grow 47% over the next 5 years
By enrolling in TAP Canada you can:
Navigate complexities of the global trade ecosystem

Leverage Canada's deep trade and investment resources

Access tailored, face-to-face coaching and advice

Learn about international best practices

Accelerate export readiness

Develop and implement a new market entry plan

Expand your global trade footprint and increase revenue
| | |
| --- | --- |
| Upcoming Workshops | |
| | |
| Tri-Cities | February 11,12, 19, March 12, 2020 |
| | |
| | |
| | |
| Abbotsford | March 9, 10, 18, April 14, 2020 |
| | |
| | |
| Schedule: | Registration: 8:30 - 9:00 a.m. |
| | Workshop Program: 9:00 a.m. - 4:00 p.m. |
| | |
| Participation Fee: | |
| | |
| | *Bursaries available for qualified companies. |
Industry News
Export Ready: Understanding Global Money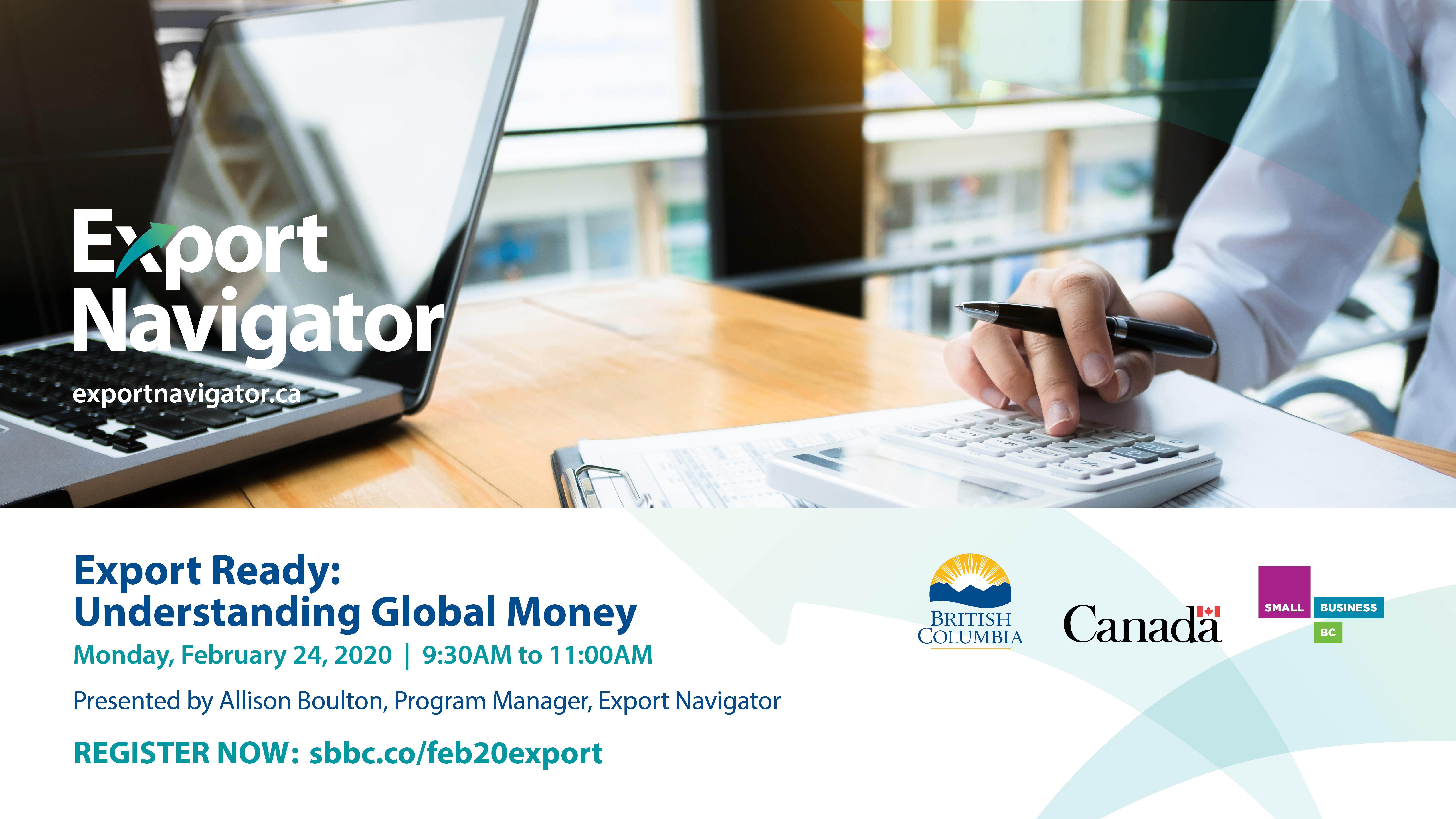 Monday, February 24, 2020 | 9:30AM to 11:00AM
Looking to sell your goods outside of British Columbia? Exporting can increase your profits, deliver access to more consumers and diversify market opportunities. To make the most of it, building an understanding of global finance is key.
You'll need to account for currency fluctuations, accounts receivable insurance, and learn how to receive and send foreign
funds.

Join us for this FREE seminar and discover the basics of global finance. You'll discover the impact of exporting on business cash flow, expenses and the financial risks in international markets.
Hear insights from Allison Boulton, Program Manager of Export Navigator, as well as guest speakers from Export
Development Canada and Business Development Canada.
Key takeaways:
Learn the common export finance terms
How to prepare for currency fluctuations
Understand options for sending and receiving money globally
Find out your options for global accounts receivables insurance and working capital financing
Learn about government funding programs to help expand your business
Global Buyers Mission
Global Buyers Mission 2019 & WoodTALKS at the GBM 2019 Recap Videos!
Global Buyers Mission 2019
If the video above does not play, please click here.
2019 WoodTALKS at the GBM
If the video above does not play, please click here.
Japan Market
Niseko's Building Boom Accelerates
Jim Ivanoff | ivanoff@bcwood.jp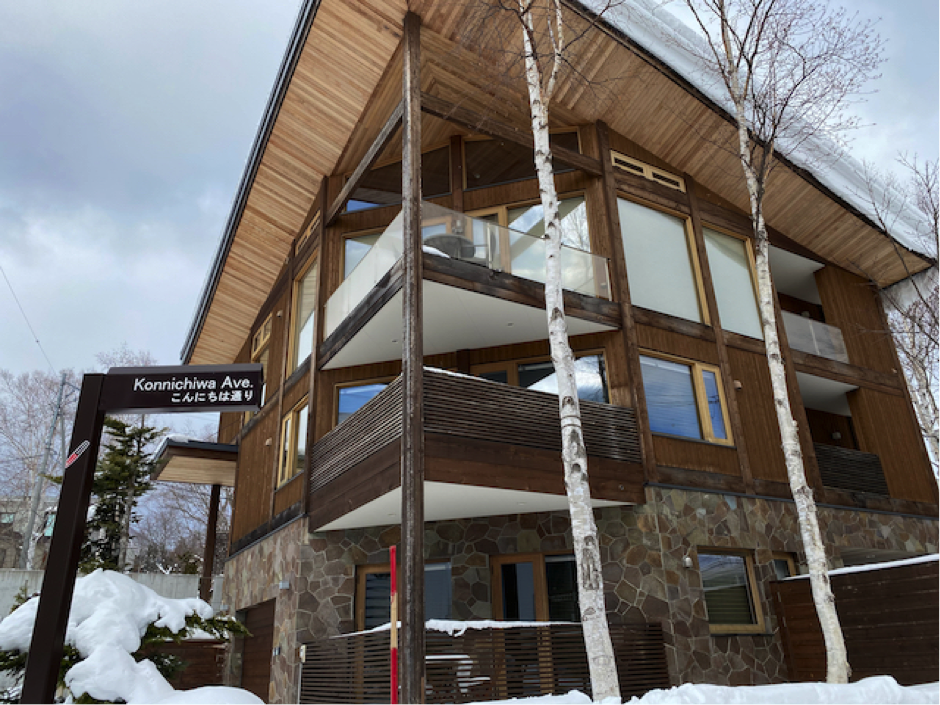 In preparation for BC Wood's resort development themed seminars coming up in March, I visited Hokkaido last week and met with many local developers, government officials, and builders. Every time I visit Niseko in particular, I am surprised by what is going on. This time was no different as the pace of development seems to have been put into high-gear.
Over the years I have watched the Hanazono development with great anticipation. The ski hill used come to an abrupt end in a huge parking lot which, while desolate at the time, made for a completely clean canvas for the Hong Kong based owners Pacific Century Premium Developments, which is run by the same family behind Concord Pacific in Vancouver, to create a brand new resort experience in Niseko. While there has been a long wait since the first promotions of the new development, a large and stunning Park Hyatt Hotel is now set to open in a few months, dramatically changing the landscape around the ski lifts. As the new hotel brings affluent visitors to stay and explore, development will start for high-end custom homes and condos on the surrounding sites. Stylish commercial
space will also undoubtedly flourish here as a brand new apres-ski village is built out. To me, it is reminiscent of the days when the main Whistler Village was encircled by parking lots. Hanazono's future looks bright.
The other ski hills (Hirafu, Annupuri, and Niseko Village) that together with Hanazono combine to make the "Niseko United" ski destination are also seeing long-held development plans coming to life. Hirafu has always been the main area for development as the land there was held by many small owners willing to sell and make way for new projects. However, as that area has seen tremendous growth, prices have soared. In fact, according to Savills' global ski property price index, Niseko now ranks only 4 spots behind Whistler Blackcomb. As a result, development and the resort itself has started moving into the main city's core neighbourhoods. This creep as well as the build-up of the neighbouring ski hill bases is finally starting to merge all of the originally individual villages into one large resort area.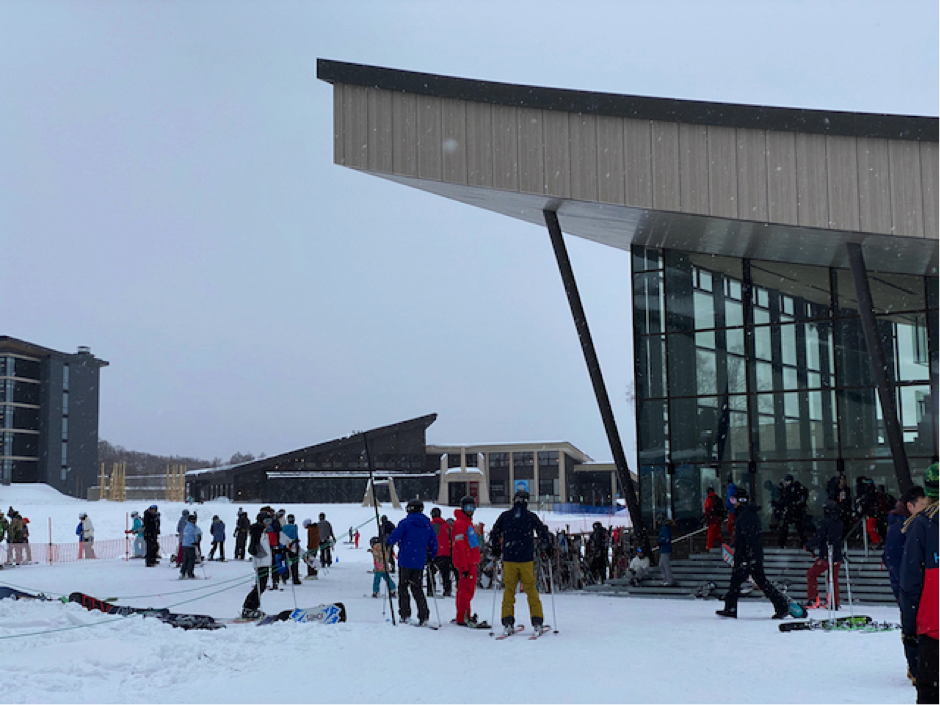 While this integration is seen by some as the final step in cementing the Niseko brand as one of the world's top ski destinations, it has created a lot of concern amongst locals and governments who feel that they have lost control of the way the area is being developed. Many are thus calling for the need to have a master plan for the area, but no one seems to know where to start. These areas are also still seeing a hodgepodge of building styles, many of which do not suit the natural setting and are thus potentially ruining that area's attractiveness in the minds of overseas visitors.
Timed with the March Nikkei Show, BC Wood will be conducting seminars across northern Japan with the help of Canadian experts on resort master planning and wood construction to offer some ideas to help address these issues. When I told the local developers, builders, and government officials about these seminars, they were ecstatic! They see Whistler in particular as a world-class example that they could learn
much from. I am looking forward to having similar discussions in Nagano and Niigata over the next week as I am sure that they too will be very grateful that we are bringing such Canadian knowhow to their communities.
Members interested in BC Wood's resort market programs for Japan as well as the upcoming Nikkei Show should contact Jim Ivanoff (
ivanoff@bcwood.jp
) for more information.
China Market
Jim Ivanoff | ivanoff@bcwood.jp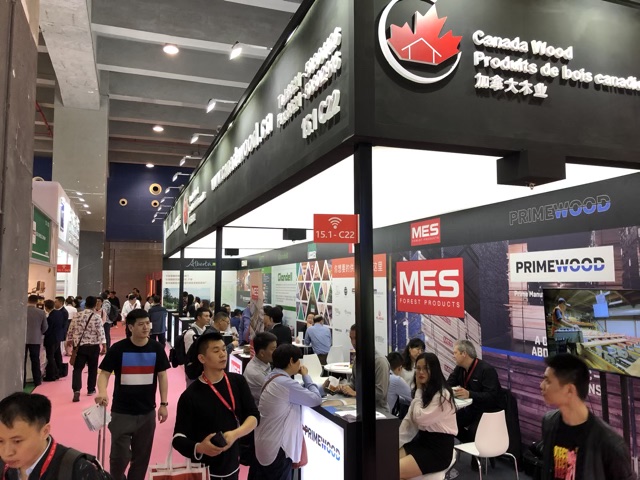 Once again, BC Wood will be exhibiting at Interzum Guangzhou from March 28th to 31st to give industry members the opportunity to build and expand their business in the large Chinese market. This annual event covers every facet of wood furniture and building products manufacturing, including both machinery and raw materials. It is said to be the largest woodworking show in Asia. Over 1,100 manufacturers and suppliers are expected to occupy the 130,000-square meter venue with 60,000 visitors expected.
Interzum has been attracting pavilions from Germany, the US, Italy, Turkey, Spain, Sweden, and more over the past ten years, covering a wide variety of both softwood and hardwood species. Due to the show's importance to the Chinese woodworking industry, buyers/ importers of all types of wood products visit. Therefore, this show will be of interest to members supplying a wide variety of softwood & hardwood lumber for uses in remanufacturing, concrete forming, as well as wood construction. For more information, please e-mail me at
Ivanoff@bcwood.jp.
Canada Market
BC Wood will be participating at the Spring Cottage Life Show in Toronto, March 26-29, 2020. This show features 600 exhibitors showing all things cottage related from building products to docks to power boats. With an average audience of 39,000, the Cottage Life Show attracts an elite consumer with a high household income, high net-worth and dual homeowners.
As the exhibit spaces sell out quickly, if you have an interest in exhibiting at this show or would like more information, please contact Ken Hori at
khori@bcwood.com
as soon as possible.
Korea Market Update
BC Wood will be organizing a pavilion for industry at the next Housing Brand Fair, held from February 20th to 23rd at the convenient COEX Exhibition Facility in Seoul's Gangnam district. The show's strong promotional backing and central location attracts most of the major players in Korea's wood and construction industries. A wide range of products are covered at the show including lumber, millwork, kitchens, furniture and house packages. This show is ideal for a large cross-section of BC Wood industry members interested in targeting professionals in the Korean construction industry.
On behalf of BC Wood, Korean Representative., Mr. JC Lee has been negotiating with the
show
organizers
to cover some of our industry members' travel costs to attend. For more information on this and the event itself, please contact Jim Ivanoff at ivanoff@bcwood.jp.
Japan Market Update
Nikkei Show 2020


Jim Ivanoff | ivanoff@bcwood.jp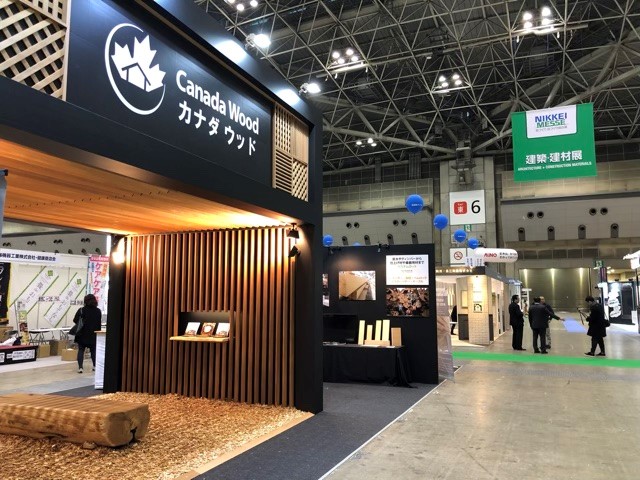 BC Wood will once again be coordinating the Canadian Pavilion at the Nikkei Architectural and Construction Materials Show that will be held at Tokyo's Big Sight from March 3rd through 6th, 2020. The Nikkei Show is the largest show of its kind in Japan and sees over 200,000 industry professionals over the show's four days.
The show attracts a great number of architects and designers, especially ones working on commercial and hospitality related projects, therefore, it is a great show to target Japan's booming inbound and resort sectors. It is also well attended by importers, distributors, and both residential and commercial builders. Overall, the show is a good fit for producers of cabinetry, millwork, house packages including log and timberframe, as well as lumber and WRC reman products. For more information, please e-mail me at
Ivanoff@bcwood.jp.
Upcoming Events
January 21-23, 2020:
International Building Show (IBS), Las Vegas, Nevada
February 12-13, 2020:

Buildex, Vancouver, BC
February 13-16, 2020:
Housing Brand Fair, Seoul, Korea
February 22-23, 2020: Hawaii Island Living & Design Expo, Kona, Hawaii
March 3-6, 2020:

Nikkei Architectural & Construction Materials Show, Tokyo, Japan
March 26-29, 2020: Spring Cottage Life Show,

Mississauga, ON
March 28-31, 2020: Interzum,

Guangzhou, China
For a list of all trade and industry events, please visit
If you have any questions, comments, suggestions, or feedback, feel free to email me at

kcrowe@bcwood.com

.

Kit Crowe
BC Wood