SUBSCRIBE

Keep up-to-date
with BC Wood




If you have not yet been featured in our Spotlight section and would like to be, please email me at
kcrowe@bcwood.com
or call 604-882-7100.
If you are using Microsoft Outlook to view this email, you may not be able to see all of the images. In this case, you can view the webpage version of this email by clicking on the link at the top of this email "Having trouble viewing this email?
Feel free to send me news stories that you think our readers would be interested in. You can email them to
kcrowe@bcwood.com
.
Industry News
New Book Explores the Story of B.C. Wood -
Naturally Wood Showcases More Than 65 Leading Wood Projects

David Wylie | Construction Business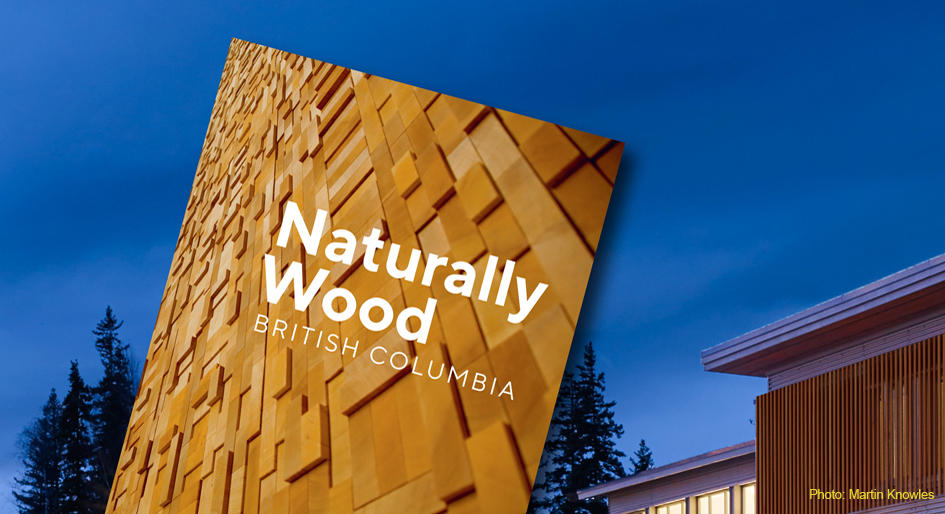 British Columbia's cutting-edge wood architecture and design are featured in the newly released book,
Naturally Wood
.
B.C.'s leadership in the wood building sector is progressive and inspiring. Naturally Wood is packed with stories and insights from industry leaders, innovators and thinkers, captured in first-person and by a variety of B.C. writers.
This collection of perspectives and projects in the book underscores B.C. wood innovation and history in a tribute to one of our most important industries in B.C. It makes a cohesive and convincing argument that wood is a natural choice and a building material that can help provide solutions to our biggest challenges in the decades to come, including affordable housing and sustainable building systems.
"Wood is a limitless material in so many ways - renewable and with extraordinary expressive potential," says Darryl Condon, founder of HCMA Architecture + Design. "As British Columbians, it makes sense that we are drawn to building with wood and we've really embraced pushing the envelope with what you can do with wood."
Industry News
More Funding Will Soon be Available for Canadian Companies!
As of August 22, 2019, the CanExport for SMEs project funding limit will increase up to $75,000 to cover up to 75% of eligible expenses.
In order to make the changes to our systems, the CanExport for SMEs application system will be closed from August 9 to 21 and will re-open on August 22. Any current projects and those submitted before August 22 will continue to have access to a maximum of $50,000 in funding to cover up to 50% of eligible expenses.
Industry News
Gryphon Presents: Brent Comber
Brent Comber Originals is an art and design studio that creates sculpted objects, functional pieces and design environments. Brent's work is deeply rooted in a knowledge of, and respect for, place.
Materials are sustainably sourced from the surrounding area, and designed and milled at his oceanfront workshop and gallery. Through the exploration of materials; wood, stone, glass, resources are taken at their purest form and transformed into objects of recognition yet the fundamental elements remain. Brent takes care to ensure that every piece retains its story, its relationship with the greater system, and that this story remains visible throughout his body of work.
Brent's own story is similarly rooted, as he is the fourth generation of his family to be raised within the Pacific Northwest. Ranging from residential to commercial installations, the spirit of the coast is embedded into his work. This aesthetic interpretation has been recognized both locally and globally, his work has been shown as far as Paris, London, Japan, Bora Bora and beyond. Brent continues to explore themes unique to the Pacific Northwest that connect people to this unparalleled setting and the history and dynamism of the landscape.
Industry News
Nanoose Bay Man Fashions Drums Out of Rare and Unusual Wood
Emily Vance | Nanaimo Bulletin
If ever a craftsman was aptly named, it's Brad Wood.
Wood runs a silviculture nursery in Nanoose Bay, but lately his true passion has been making drums.
Snare drums made of teak, bird's eye maple, walnut and purpleheart grace the display he debuted at Nanoose Bay Art in the Garden this past June.
A drummer and woodworker in his spare time, Wood first saw a snare drum made of purpleheart wood when browsing online.
A few clicks later, he realized the percussion piece that had snared his heart was a little bit out of his price range.
Undaunted, he set about trying to recreate it.
"I probably burned through at least a dozen different, cheaper woods, just to kind of get my legs and figure out that I could turn a piece of wood into a round circle. It took a little while - a month or two - and once I got everything set up... and realized I can do it, I just kind of got obsessed. With woods, actually," said Wood.
Industry News
Showcase Wood Pavilion Built at UBC's Martha Piper Plaza Fountain


Kenneth Chan | DailyHive


A newly-installed centrepiece for the heart of
University of British Columbia's
campus is both functional and a sustainable architecture showcase piece.
Led by associate professor Joseph Dahmen, graduate students at the
UBC School of Architecture and Landscape Architecture
designed and constructed C-Shore - a sustainable timber pavilion that provides students, faculty, staffing, and the wider community with an area of respite and relaxation.
The covered wooden pavilion, complete with bench seating, is built into a green space on University Boulevard, wedged between Martha Piper Plaza Fountain and the cascading fountain and wetlands.
Industry News
The Malaysian Timber Council (MTC) will be organising Malaysian Wood Expo 2019 (MWE 2019) on November 19 - 21, 2019 at Putra World Trade Centre, Kuala Lumpur. The trade exhibition will provide a platform for local and international timber industry players to gather for trade, networking and information sharing. The exhibition is an ideal platform to meet with wood-based manufacturers and exporters as well as woodworking machinery suppliers and buyers around the ASEAN region which, as a region, was ranked as the 3rd largest economy in Asia and 5th in the world with total exports of US$1,322 billion in 2017.
In conjunction with the MWE 2019, MTC is also organising the 2nd

MTC's "Overseas Suppliers-Malaysian Importers/Manufacturers Exchange Programme" on 19 November 2019.

The objective of this programme is to facilitate the Malaysian timber industry in sourcing for timber raw materials from off-shore by inviting overseas suppliers to participate in business-to-business (B2B) sessions with potential buyers/importers in Malaysia. The 1st

MTC's "Overseas Suppliers-Malaysian Importers/Manufacturers Exchange Programme" which was successfully organised on 26 September 2018 had garnered about forty local importers and manufacturers to participate in the B2B programme. This year, MTC is anticipating greater participation from the industry as it will be held in conjunction with the MWE 2019.
MTC would like to invite Canadian wood suppliers to take part and exhibit timber products in WME, as well as participate in the "Overseas Suppliers-Malaysian Importers/Manufacturers Exchange Programme". For more information, please visit
www.malaysianwoodexpo.com.
Industry News
Increase Your International Sales through the Trade Accelerator Program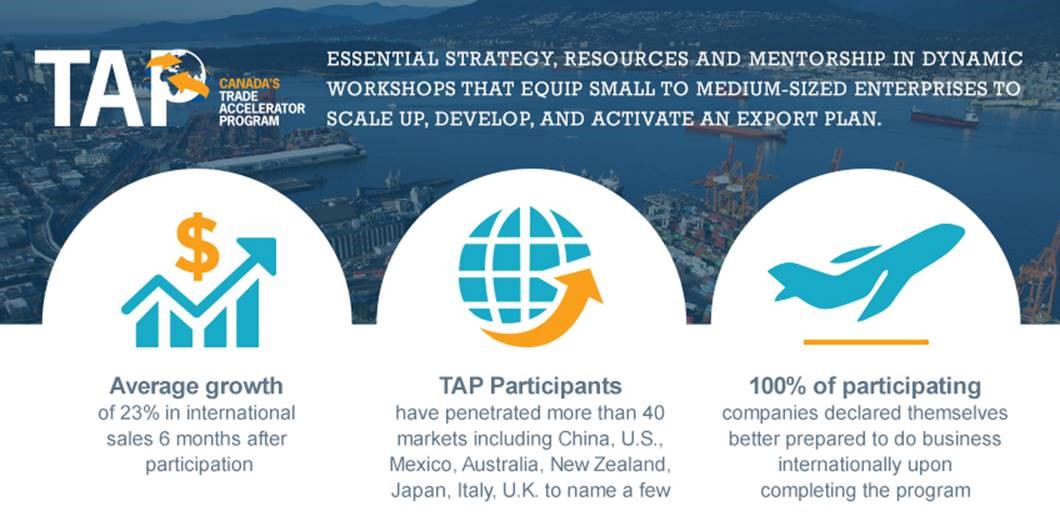 Upcoming Vancouver Workshop, starts


October 23, 24, November 1, 28

Application Deadline:
October 9, 2019
Upcoming Prince George Workshop, starts


November 6, 7, 14, December 12

Application Deadline:

October 23, 2019

Schedule:
Registration: 8:30-9:00am
Workshop program: 9:00am - 5:00pm
Participation Fee:

Full bursaries available for qualified BC wood products manufacturers. Inquire at BC Wood for details.

New trade agreements and a competitive Canadian dollar make it an ideal time to extend your company's reach through the export of goods and services.

World Trade Centre Vancouver has successfully delivered Canada's Trade Accelerator Program (TAP), in B.C. since 2017.

The Trade Accelerator Program is designed to help SMEs TAP into their full export potential. It has a proven track record helping participants get results.

Industry News
UBC - Online Certificate in Industrial Wood Finishing
A unique Industry Training Program
Part-time online training program with a one-week hands-on practical session.
This is North America's most comprehensive wood finishing certificate program.
The certificate program provides participants with a broad understanding of the field of wood finishing. It's designed for individuals who have some general experience in wood finishing and would like to expand their knowledge.
Once completed, learners will have knowledge and experience to do the following:
Understand why finish is applied to wood and how wood properties affect finishing

To be able to identify the best finishing system based on the end use

Trouble-shoot wood finishing problems

Design a safe and efficient finishing facility
This course will provide you with the knowledge and tools to start a finishing business or to improve an existing one.
Starts January 6, 2020 - April 11, 2020
One week intensive practical - April 6-10, 2020
Space is Limited, Register Now!
Industry News
WMC Management Skill Training Program
UBC - Online Managements Skill Training Courses
UBC - Centre for Advanced Wood Processing (CAWP) will be offering two "online" courses; Production Planning and Marketing Green Products. Both these courses will run for 8 weeks starting September 9th to November 4th, 2019. These wood products industry specific courses are designed for owners, manager, supervisors or management tracked employees. These are not academic courses and the skills learned can be applied immediately to the work place. Each part time course is led by a tutor with extensive industry experience.
For more information on the courses, please click on the following link:
Management Skill Training or call Jason Chiu at 604-822-0082.
Marketing & Sales Tips
4 Reasons Why You Aren't Getting Enough Trade Show Booth Traffic
Samuel J. Smith | Skyline
After all the planning, investment and hard work, imagine standing in an empty trade show booth while attendees simply walk on by.
If you've been in that situation, chances are you were frustrated, while your bored booth staffers wished they were somewhere else.
Trade shows are too expensive to do without having a consistent flow of traffic in your booth. Here are 4 reasons your booth traffic is too small - reasons you can fix to turn that trickle of booth traffic into a flood.
1. YOU'RE NOT HOSTING ENGAGING TRADE SHOW ACTIVITIES
Trade show attendees have changed in two major ways, that make it harder to get them out of the aisle and into your booth. And both of those causes are from technology.
Global Buyers Mission
2019 Global Buyers Mission™ (GBM) Update
The 16th Annual GBM is fast approaching and we are happy to announce that there are still a few booth spaces available for Canadian wood products manufacturers. Our international Buyers are registering at a steady pace with new applications coming in everyday. We expect to reach our goal of 70% new Buyers again this year, with the help of our very enthusiastic overseas staff and the continued assistance of the International Trade Commissioner Service abroad.
Registration from the specifiers community has already surpassed last years total attendance for WoodTALKS @ the GBM Program. For those of you whose business will benefit by access to this influential sector, call us to see how you can participate.
To apply for booth space, email
gbm@bcwood.com
or you can access the program costs and
schedule here
. Discounted hotel rooms are going fast so if you are interested, sign up ASAP to get your hotel link(s).
If you have any questions on who is attending and whether your participation in the 2019 Global Buyers Mission will benefit you and your business, just give me a call. I would be happy to discuss the program and events with you. As usual, pre-registration is required to attend the GBM.
To the many of you already registered to attend, we look forward to seeing you on the Mountain!

Canada Update
UBCM Trade Show at the Vancouver Convention Center, Sept., 25-26
BC Wood will be organizing industry participation at the UBCM Trade Show at the Vancouver Convention Center (East Building), on Wednesday and Thursday, September 25-26, 2019.
The show provides a unique opportunity for suppliers to promote and connect with a myriad of municipal and local governments, as well as regional district representatives - all in one locale! The UBCM Trade Show presents the best occasion to meet, exchange ideas, accelerate or forge new relationships with those tasked with planning and constructing community service facilities.
The UBCM Trade Show's primary attendees are elected local government officials, including Mayors, Councillors, and Regional District Directors. Many non-elected decision makers such as Corporate Administrative Officers, City Managers, Finance, Purchasing and Community Services Managers, in addition to several Provincial Ministers and MLA's also attend.
Exhibition space is limited, so for more information regarding participation at the UBCM Trade Show in BC Wood's pavilion, please contact Brian Hawrysh at 604-882-7100 or email
bhawrysh@bcwood.com
.
Canada Market Update
Wood Solutions Fair / Conference - November 5, 2019, Vancouver
Ken Hori |
khori@bcwood.com
BC Wood is inviting value-added manufacturers to join the BC Wood pavilion at the upcoming Wood Solutions Fair / Conference.
The Wood Solutions Conference is dedicated to design and construction with wood products and systems, including mass timber. This one-day educational event will showcase wood uses in commercial, institutional, industrial and multi-unit residential construction through specifically designed seminar streams, new and current topics and an interactive trade show. A keynote lunchtime speaker and an evening networking reception provide exciting networking opportunities with industry leaders and peers.
When:


November 5, 2019



Where:

Vancouver Convention Centre (W)
1055 Canada Place
Vancouver, BC
For more information, please contact Ken Hori at 604-882-7100 or
khori@bcwood.com
.
Canada Market Update
Spring Cottage Life Show - March 26 - 29, 2020, Toronto


Ken Hori | khori@bcwood.com


Join BC Wood at the 26th annual Spring Cottage Life Show.
This event continues to attract the cottage owner who attend with plans in hand ready to purchase products for their cottages such as building materials, decking, saunas and furnishings; looking for cottage property to purchase; or looking for ideas for renovations and future projects. The attendance averages 37,000 and 600 exhibitors. As exhibitor floor space must be booked well in advance for this event, if you are interested please contact Ken Hori or Dave Farley at BC Wood at your earliest convenience.
Japan Market Update
Hakuba in Nagano Set to Rival Niseko for Inbound Tourists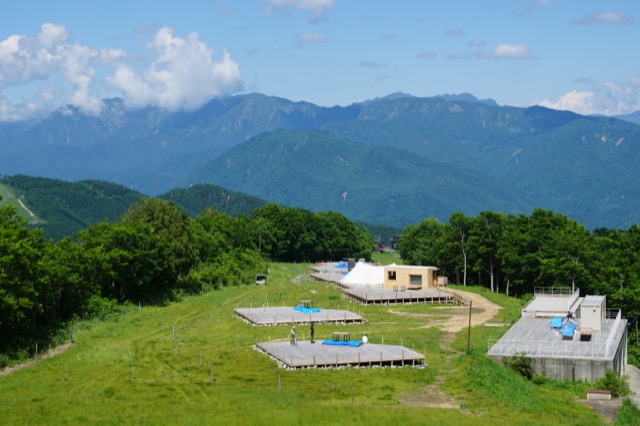 Recently I was able to visit the Hakuba area in Nagano which has been growing in popularity with inbound tourists. The area originally gained international exposure as the skiing venue for the 1998 Olympics. In the past few years, it has again seen interest from overseas visitors attracted to Japan by Niseko's world-famous powder but looking for other options as Niseko's prices have astronomically increased. As a result, there has also been an influx of foreign developers leading to a growing building boom in Hakuba.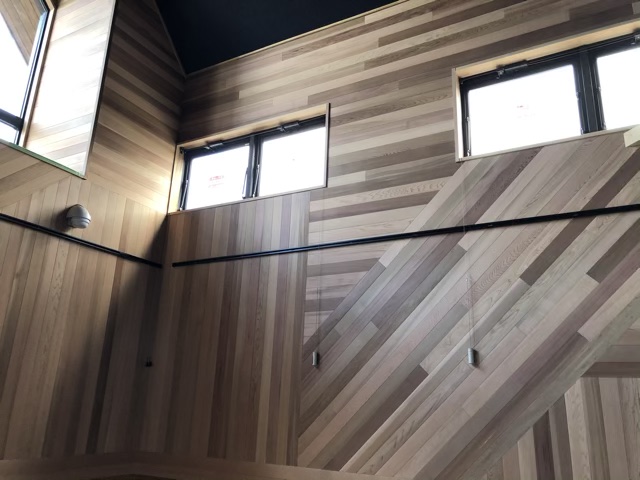 While in Hakuba, I was able to visit several clients' projects, including both commercial and residential. One of the commercial projects was a new glamping facility at the
Happo-one Ski Hill
that used a large amount of Western Red Cedar in the construction of the eight large decks to house the glamping tents. Many smaller WRC decks and facilities were also built for hosting meals and to act as stargazing platforms. In the neighbouring town, I visited the construction site of the now completed Northern Alps Brewery which used WRC paneling extensively. The owner is a big fan of Whistler and is proud of his Canadian handcrafted log home in Hakuba. In both cases, the builders had cheaper options, but chose WRC for its rich, natural look that will appeal to the well-heeled clients they are targeting.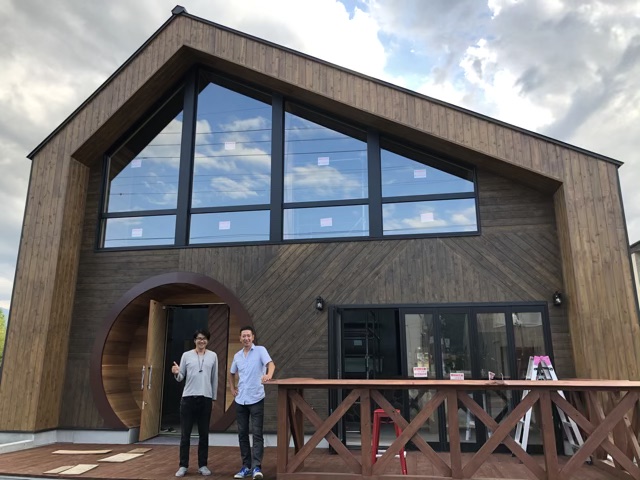 In talking to local tourism officials, I also learned that the region is actively trying to target European and North American visitors. Currently 48% of the inbound visitors are Australian with most of the rest coming from Asia. The Asian guests typically only stay for a short time and do not engage in many higher-value activities. Meanwhile, the over-reliance on Australians for the one week plus long stay market is seen as market risk. The other big issue for Hakuba, along with most every other resort, is to increase inbound tourism during the "green-season". Currently a whopping 98% of the inbound visitors come to Hakuba during the ski season.
For these reasons, there is a recognized need for developing both facilities and activities that will attract North Americans and Europeans during both the ski and green seasons, with Whistler being seen as the most successful all-season resort example that they can learn from. This year, BC Wood will be making more efforts to promote this kind of Canadian resort development know-how to our Japanese clients, and develop more business opportunities for our members from a variety of sectors.
WoodTALKS
WoodTALKS Program Update

Ken Hori | khori@bcwood.com

The WoodTALKS program is well underway for both the Lunch and Learn program and WoodTALKS at the GBM.
The Lunch and Learn series currently has 16 participating companies, of which 6 are new to the program. What's different this year is that we have broadened our reach to a larger number of architectural firms, as well as opened the Lunch and Learns up to Contractors and Builders, to ensure participating companies can make connections with the Specifiers best suited for their products. Lunch and Learn bookings for the Summer and Fall have just opened, and requests have steadily been coming in. Having new companies means new topics are being offered, while previously participating companies have all revamped their presentations. If you are still interested in joining the program, we have up to two spots available. Please
click here
for more information.
WoodTALKS at the GBM has an exciting line-up of speakers, which is quickly bringing in a great crowd of Specifiers. We have already surpassed last year's number of registrants with more signing up each day. One of the biggest draws for Specifiers is meeting value-added manufacturers. If you would like to learn more about the Global Buyers Mission, please
click here
or contact the GBM team at 604-882-7100.
Upcoming Events
July 23-25, 2019: AFN - Circle of Trade, Fredericton, NB
August 14-17, 2019: Tecno Mueble, Guadalajara, Mexico
September 11-13, 2019: Global Buyers Mission (GBM), Whistler, BC
September 26-29, 2019: IDS West, Vancouver, BC
October 10-13, 2019: The Bond Custom Home Expo,

San Diego, California
October 24-27, 2019: West Edge Design Fair,

Santa Monica, California
October 30 - November 1, 2019: Osaka Living and Design Show,

Osaka, Japan
November 5, 2019: Wood Solutions Conference,

Vancouver, BC
November 13-15, 2019:

Japan Home and Building Show, Tokyo, Japan
January 21-23, 2020:

International Building Show (IBS), Las Vegas, Nevada
February 12-13, 2020:

Buildex, Vancouver, BC
For a list of all trade and industry events, please visit
If you have any questions, comments, suggestions, or feedback, feel free to email me at

kcrowe@bcwood.com

.

Kit Crowe
BC Wood