SUBSCRIBE

Keep up-to-date
with BC Wood




If you have not yet been featured in our Spotlight section and would like to be, please email me at
kcrowe@bcwood.com
or call 604-882-7100.
If you are using Microsoft Outlook to view this email, you may not be able to see all of the images. In this case, you can view the webpage version of this email by clicking on the link at the top of this email "Having trouble viewing this email?
Feel free to send me news stories that you think our readers would be interested in. You can email them to
kcrowe@bcwood.com
.
Industry News
Market Development Activities for 2019-20

BC Wood is pleased to announce that we have received confirmation of funding for our 2019-20 20 market development activities. Last fall, BC Wood's staff began the process of gathering input on Industry's marketing priorities. BC Wood took this input and developed a comprehensive package of market development activities for North America, Mexico and Asia. The proposals that resulted were submitted in mid-December to both Federal and Provincial funders for review and recently approved.
Once again, the proposed activities focus on growing market share in Canada and the United States, while solidifying our hard earned presence in the Asian markets.
Recognizing the on-going need to continue our push into emerging markets, BC Wood has a gain scheduled a mission and participation in a trade show in Mexico in August, 201 9. The Global Buyers Mission, celebrating our 1 6th year, will be bigger and better than ever, with an anticipated 3 00+ buyers and specifiers coming to Whistler September 11th to 13th.
I would like to recognize and thank the staff of BC Wood for the extra effort they put towards writing these funding proposals, as well as the Industry representatives that provided their own input at the meetings and through our member survey. The result is that BC Wood has another strong program of approved trade events and activities for the coming fiscal year.
For those of you interested in the updated list of proposed trade show activities, please
click here
.
If you have any comments or questions regarding these planned activities , they can be directed to me at
bhawrysh@bcwood.com
or by calling our office at 604-882-7100.
Industry News
Federal Government Helps Grow International Markets for Canadian Wood Products


Natural Resources Canada | Newswire

As the world shifts to a low-carbon future, getting clean Canadian goods to international markets is of vital importance. By promoting innovative forest products from our sustainably managed forests, we are expanding market access and creating jobs and economic opportunities for Canadians.
Jati Sidhu, Member of Parliament for Mission-Matsqui-Fraser Canyon, on behalf of the Honourable Amarjeet Sohi,
Canada's
Minister of Natural Resources, today announced over
$8.5 million
to help strengthen Canadian wood product exports.
The investment will support the Canada Wood Group - which brings together industry associations - in diversifying and expanding Canadian forest product exports to traditional and emerging offshore markets. Support will enable market research; assist in the transfer of technology; advance codes and standards that will increase the use of wood in construction; and deliver training in wood design and construction in
China
,
Japan
,
South Korea
,
India
and
Europe
. The Canada Wood Group is an excellent example of governments and the forest industry collaborating to grow offshore markets for
Canada's
forest products.
Industry News
New Wood WORKS! BC Case Study on Wood in Commercial Buildings
Wood WORKS! BC recently released its latest case study on commercial buildings. This case study examines two wood buildings, both with primary retail commercial occupancies, but which employ different mass timber products to achieve very different effects. Askew's Uptown Supermarket in Salmon Arm, BC, features an expansive nail-laminated timber (NLT) roof while the Whistler Community Services Society Building in Whistler, BC, uses a robust, utilitarian exposed glued-laminated timber (glulam) and cross-laminated timber (CLT) structure as befits the building's industrial setting.
Industry News
Pacific Truss Celebrates 60 years in Cowichan
Warren Goulding | BC Local News
Brothers David, Wayne and Grant have all played key roles in the development of the company.
After 60 years in business the venerable Cobble Hill business, Pacific Homes & Pacific Truss, has selected its focus.
"We've found our niche on the manufacturing side as opposed to the retail side," explains Grant McKinnon, one of three sons of Ken McKinnon who formed the company in 1959.
The company ventured into the retail world in the 1960s, became Tim-BR-Mart dealers in the '80s, then Beaver Lumber and Home Hardware. In 2006, the McKinnons began a relationship with RONA and became dealers for the huge lumber and home renovation company in several markets.
Industry News
MEC's New Vancouver Flagship Store Set to Open this Fall
Kenneth Chan | DailyHive
Construction on Mountain Equipment Co-op's (MEC) new Vancouver flagship store in the Olympic Village district is nearing an end, ahead of the planned Fall 2019 opening.



MEC is planning a big move of its Vancouver store, which is currently located at 130 West Broadway. An exact opening date will be announced at a later time.




The new store will be a few blocks south of the existing location, at the northeast corner of the intersection of 2nd Avenue and Quebec Street. Beedie Development has leased the property to MEC for 20 years, with options for renewal.



Industry News
Parksville Carver Turns Invasive Species Into Cutlery and More


Namaimo News Bulletin


It may come as a surprise that Vancouver Island is home to its own 'ivory' trade.
Fortunately, it's cruelty-free and doesn't come from elephants or rhinos. However, the material is still highly contentious in these parts.
For the past two-and-a-half years, Francois Lavigne has been hard at work etching out a niche for himself. He's a wood carver whose primary material these days comes from the trunk of the notorious invasive plant, Scotch broom.
He calls his product 'Island Ivory.'
It's partially a tongue-in-cheek recognition of the plant's not-so-cherished status.
"Everybody sees a bit of humour in it," said Lavigne. "It's like you make something with garbage and it turns out good, people are like 'oh my god!'"
Industry News
Sustainable Gamble: Kalesnikoff Lumber Company Makes $35 Million Investment in Mass Timber Plant
Rick LeBlanc | Pallet Enterprise
T
he family-owned lumber company plans to open its new facility in late 2019. A thorough business plan was critical for the process.
South Slocan, British Columbia - Later this year, Kalesnikoff Lumber Company will open its new $35 million mass timber facility in the West Kootenays, with full product line availability by the summer of 2020. The fully financed project includes the construction of a new 110,000 building on existing company land, as well as the purchase of state-of-the-art processing equipment and technology from companies in Canada and Europe. The plant will produce custom glulam and CLT products, creating 50 jobs in the community.
"We see mass timber as a natural and exciting innovation and next step for our company and team," said Chris Kalesnikoff, chief operating officer, of Kalesnikoff Lumber Company. "We've done extensive research to ensure our new world-class equipment will create exceptionally high-quality cross-laminated timber and glulam beams. Our focus will be on full integration from the forest through cutting, drying, and manufacturing to the final finished and delivered products."
Marketing & Sales Tips
The 3-R's of Customer Loyalty
by Neil Godin
Historically, customer satisfaction and loyalty were measured by just two R's - Repeat and Referral business. Now, thanks to the internet, Google and social media, a third R has been added - and it's just as important as the first two.
And then there were three...
In the online era, there are now three R's - Repeat, Referral, and Review. Not only do we want delighted customers to keep coming back (Repeat) - and rave about us to their friends (Refer) - we now need them to say great things about us on line (Review). While "word of mouth" advertising has served for centuries as the most effective way to grow a business, we have now entered an era where what I call "word of mouse" marketing is required as well.
The reason is simple: People believe and trust their friends and fellow customers more than they trust advertisers. If you're in doubt think about the way you shop for bigger-ticket items these days. Do you check websites, and look at star rankings, and read reviews? Do they influence you more than advertising? If not you are now in a minority that grows smaller by the day.
Not only are reviews, ratings and rankings more effective than most advertising, they are also much, much less expensive. But there's a problem. If you're like most people in the value-added wood products business, you probably have very few reviews online. That's because most people hate asking for reviews. They don't want to bother their customers. And when they have asked for reviews they usually haven't received them, so they tend to ask only occasionally - or they may send out a form-letter type of email asking for reviews impersonally (an approach that typically receives very few responses). So the Big Question is this: "How do you get satisfied customers to go online and give you those great reviews?"
WoodTALKS
WoodTALKS Program - 2019/20

Ken Hori | khori@bcwood.com

The WoodTALKS programming provides BC value-added wood
manufacturers with the opportunity to educate and promote products or
services to BC Specifiers (architects, designers, engineers, developers,
builders, and contractors). Participants in the program receive the added
benefit of establishing themselves as trusted industry leaders and building their client bases. The ultimate goal is to create more customers/markets for their products and services.
Educational program includes:

Opportunity to present products or services directly to the Specifier Community in a variety of formats including:

Lunch & Learn seminars
Group seminars
Factory tours

Assistance as required to develop effective AIA, AAA and AIBC certified presentations or programs

Assistance as required to maximize your delivery effectiveness

Working with each participating company to develop a target list of specifiers

Promotion of presenter sessions to specifiers through direct contact on BC Wood's website and at industry events

Organizing and arranging up to six sessions (lunch & learn seminars, group seminars, or factory tours)
Global Buyers Mission

The 16th Annual Global Buyers Mission™ (GBM) planning is officially underway and already we have almost sold out the floorspace with returning wood products manufacturers and suppliers from across Canada.
If you are interested in being a new exhibitor at the GBM in Whistler, you will be joining over 800 delegates including pre-qualified international Buyers and Specifiers. Last year, it was estimated that over $35 million in new business was developed from this event.
Pre-qualified Buyers are expected from Australia, Belgium, Chile, China, France, Germany, India, Indonesia, Japan, Jordan, Korea, Malaysia, Mexico, Netherlands, Nigeria, Pakistan, the Philippines, Switzerland, Taiwan, Thailand, the UK, United States, and Vietnam.
Proposed Program Schedule
Wednesday - September 11th
BC Wood AGM; Exhibitor set-up

Evening Welcome Reception at the spectacular Roundhouse Lodge at the Peak of Whistler Mountain for all participants
Thursday - September 12th
Breakfast with Opening Ceremony and Morning Networking/Tradeshow/Meetings

Afternoon GBM/Hoo Hoo Golf Tournament; Specifiers in-booth presentations; Market updates and meetings or Whistler free time

Evening Networking Dinner/Reception at the beautiful Audain Art Museum
Exhibit space is already VERY limited and will be available on a first-come / first-served basis. If you haven't already registered but would like to get on the shortlist, call Randi at 604-882-7100 or email gbm@bcwood.com. Short-listed companies will be able to register starting Monday the 24th, through to Friday the 28th. July 2nd will open registration opportunities for the rest of Industry to book Booth Space.
Japan Market Update
Buyers Looking Forward to GBM 2019
During the months of May and June, BC Wood does not participate in any trade shows in the Asian markets, but this does not mean it is a quiet stretch. In fact, it is a very busy time of the year as we are out visiting many clients to talk about the GBM.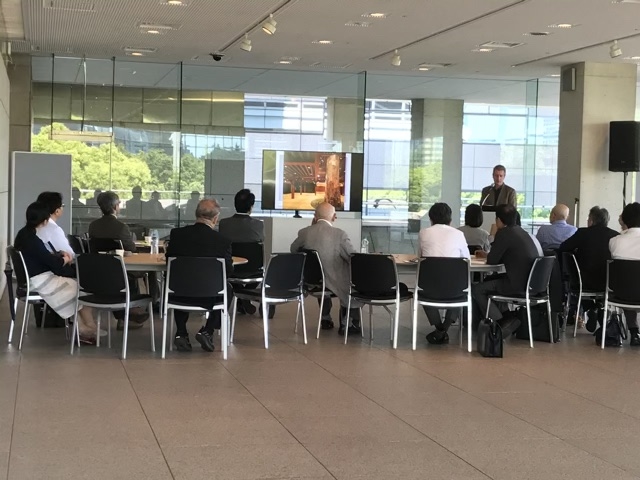 In Japan, it is also the "Sokai (AGM) season" when every association holds their annual general meetings. These typically start in mid-May after the Golden Week holiday and the last ones wrap-up around mid-June. This year I attended six of these events across Japan, with most of the associations agreeing to distribute our GBM information. We also organized GBM information sessions in Sapporo, Nagoya, Osaka, and Fukuoka earlier on the same day as these AGMs, so that other local contacts from our client database could come and find out more about the Whistler show and the preceding Extended Missions. Our largest information session was in Tokyo and graciously hosted by the Canadian Embassy. This event has become our annual kickoff event for the GBM in Japan, with many industry media representatives also attending.
Speaking to many people at these various events, several common themes emerged. As BC's current forest industry challenges are known in Japan, many importers and users of Canadian lumber products asked questions about supply going forward. They were interested to know if the enactment of the CPTPP between Japan and Canada, as well as Canada's ongoing trade friction with the US and China, would lead to Canadian companies becoming more active in Japan. The other common theme was the interest in wood usage in commercial/non-residential projects. Many Japanese companies that have traditionally serviced the single-family housing market see non-res as their opportunity for growth domestically. What they see happening in North America with mass timber is exciting and they want to learn from Canada about related business opportunities, both on the structural and millwork sides. I expect that many of our GBM participants from Japan this year will be coming with these kinds of questions in mind.
Canada Update
UBCM Trade Show at the Vancouver Convention Center, Sept., 25-26
BC Wood will be organizing industry participation at the UBCM Trade Show at the Vancouver Convention Center (East Building), on Wednesday and Thursday, September 25-26, 2019.
The show provides a unique opportunity for suppliers to promote and connect with a myriad of municipal and local governments, as well as regional district representatives - all in one locale! The UBCM Trade Show presents the best occasion to meet, exchange ideas, accelerate or forge new relationships with those tasked with planning and constructing community service facilities.
The UBCM Trade Show's primary attendees are elected local government officials, including Mayors, Councillors, and Regional District Directors. Many non-elected decision makers such as Corporate Administrative Officers, City Managers, Finance, Purchasing and Community Services Managers, in addition to several Provincial Ministers and MLA's also attend.
Exhibition space is limited, so for more information regarding participation at the UBCM Trade Show in BC Wood's pavilion, please contact Brian Hawrysh at 604-882-7100 or email
bhawrysh@bcwood.com
.
Mexico Market Update
Trade Mission & Expo Mueble Internacional
Ken Hori | khori@bcwood.com
Last Call To Register
Tecno Mueble Internacional, August 14th to 17th is celebrating 31 years of being the biggest fair of machinery, raw materials and accessories for the furniture and woodworking

industry

in Mexico. The four-day event at Expo Guadalajara gathers exhibitors and buyers from Mexico, Estados Unidos, Canada, Brazil, Colombia, Italy, Spain, Turkey, China, France, Chile and Austria; including furniture manufacturers, architects, interior

and industrial

designers, wood distributors and contractors.
BC

Wood will have a joint booth at the show with the Consulate of Canada from Guadalajara. We will have your company/product information and samples in the booth, staffed full time to handle questions and collect business inquiries. When not in pre-set trade mission meetings, you will have a number of opportunities to connect with potential buyers at the booth.
BC Wood's goal is for you to meet with qualified buyers in Mexico throughout the week August 11th to 17th. The trade mission component focuses on business-to-business meetings, usually at the buyer's office/facilities. Customized, pre-qualified meetings will be made to target the best potential customers for your products in the Guadalajara region. A driver and interpreter will be arranged for all your on-site meetings.
For more information, please contact Ken Hori at 604-882-7100 or khori@bcwood.com.
Canada Market Update
IDS Vancouver - Sept. 26-29, 2019
Ken Hori | khori@bcwood.com
One Booth Space in BC Wood Pavilion Available!
IDS Vancouver attracts 38,500+ attendees over 3.5 days at the Vancouver Convention Centre West. This includes 7,050 guests to the Party on Opening Night;
7,
500 designers, architects, buyers/developers and other industry professionals attend Trade Day for free; and 24,000 avid design enthusiasts pay to visit IDS Vancouver to source design products and services.
I

DS Vancouver is a high-profile event that sells out quickly. With only limited space available, BC Wood's organizational efforts have already started. We have booked an island booth and invite member companies to join us.
For more on rates and information, please contact Ken Hori at 604-882-7100 or khori@bcwood.com.
Canada Market Update
Buildex Vancouver - February 12-13, 2020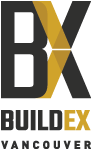 BUILDEX is the voice of the building industry today, and the vision of its future. This exciting event - the largest in Western Canada - brings together talent from across industry to interact, learn and discover the newest innovations of a market in constant transformation. 600 + Exhibitors showcase their latest products at the trade show, together with 90 + Tailored Seminars.
Over 14,000 industry professionals attend the 2 day event which includes
professional development seminars, networking opportunities, and the chance to discover hundreds of products and services.
70% of the trade show floor space is now sold out.
To reserve booth space in the BC Wood Pavilion, please contact Ken Hori at khori@bcwood.com or 604-882-7100.
USA Market Update
A few comments, suggestions, and ideas...
I have just returned from a couple of important US trade events, and here are a few of my observations.
They say imitation is the sincerest form of flattery and judging by the number of manufacturers showcasing "faux wood" products at PCBC in San Francisco, the wood industry should be blushing. Plywood made from bamboo; "wood" ceramic roofing shingles; a variety of composite siding and decking materials; these products and more were on prominent display at PCBC. While these imitation products continue to get better, they are still a long way off from the warmth and feel of real wood.
That being said, the one thing some of these products do bring to the market, which they heavily promote, is superior fire performance. This is one very important feature, especially given the devastating wildfires experienced throughout the Western United States in recent years.
A frequently asked question fielded from both builders and architects, was whether the wood products on display were fire treated. This was usually followed up with "does the treatment impact the ability to stain the product". The perceived issues around wood and its performance in regions prone to wildfires will continue to be a concern. It is in the interest of manufacturers targeting this market to continue to work with treatment and coating companies, to offer products that provide some level of fire resistance.
In the next Building Connections, we will review the successful AIA National Convention, that recently took place in Las Vegas. As always, please feel
free to reach out to me at
dfarley@bcwood.com
with
any questions or comments on the US market.
Upcoming Events
July 23-25, 2019: AFN - Circle of Trade, Fredericton, NB
August 14-17, 2019: Tecno Mueble, Guadalajara, Mexico
September 11-13, 2019: Global Buyers Mission (GBM), Whistler, BC
September 26-29, 2019: IDS West, Vancouver, BC
October 10-13, 2019: The Bond Custom Home Expo,

San Diego, California
October 24-27, 2019: West Edge Design Fair,

Santa Monica, California
October 30 - November 1, 2019: Osaka Living and Design Show,

Osaka, Japan
November 5, 2019: Wood Solutions Conference,

Vancouver, BC
November 13-15, 2019:

Japan Home and Building Show, Tokyo, Japan
January 21-23, 2020:

International Building Show (IBS), Las Vegas, Nevada
February 12-13, 2020:

Buildex, Vancouver, BC
For a list of all trade and industry events, please visit
If you have any questions, comments, suggestions, or feedback, feel free to email me at

kcrowe@bcwood.com

.

Kit Crowe
BC Wood