SUBSCRIBE

Keep up-to-date
with BC Wood




Announcement
Sector Advisory Survey
Brian Hawrysh | bhawrysh@bcwood.com
BC Wood is in the process of creating our proposal for the 2020/21 fiscal year trade and market development activities. Your opinion is critical in what markets and types of market development activities we deliver in those markets, so please take a minute to complete this BC Wood 2020/21 Market Development Proposed Activities Survey.
Without your feedback, BC Wood does not know what markets you are interested in, or what kind of activities meet your requirements and helps you build your business. Funding from our government partners allows us to offer cost-shared activities, coordinated by BC Wood, which greatly lowers your risk of entering new markets.
If you have any questions or concerns regarding the proposed activities in the survey, please contact me at 604-882-7100. We appreciate your time and feedback and look forward to presenting you with a comprehensive suite of activities for 2020/21.
Industry News
Wood on the Rise in Residential and Hotels


Construction Business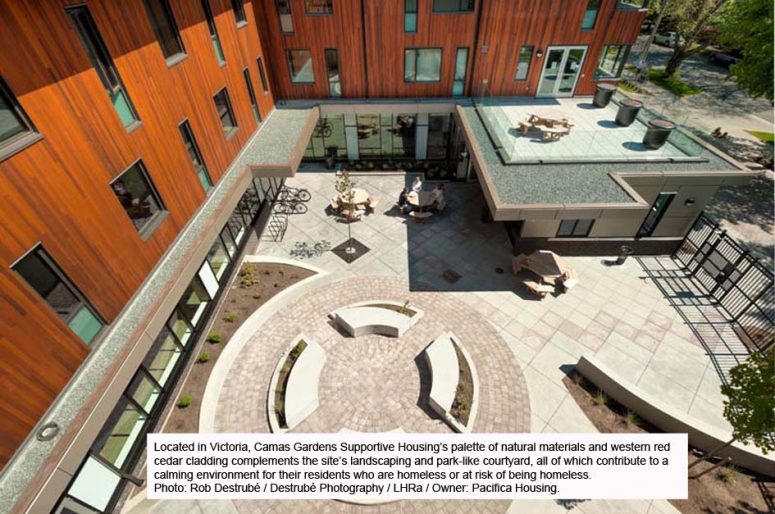 Advancements in construction technology, modernized building codes, and a demand for sustainable design are making wood the right choice for a variety of residential and hotel projects. Wood products from B.C.'s sustainably managed forests are also helping to meet the growing demand for affordable housing; wood is well-suited for economical and timely construction - notably in hard to reach places, including downtown sites and remote locations.
One way to build economically with wood is modular prefabrication, which can speed up construction schedules and reduce overall costs. Manufacturing wood-frame modular units off-site means there's less noise and less disruption for neighbours at the building site.
"A lot of time and energy is put into planning how we're going to build before we even start. That means the timeline is shorter," said Tim Epp, director of manufacturing at Metric Modular, based in Agassiz, B.C.
Industry News
Building Taller: BC Mass Timber Suppliers See Surging Sales in Canada, US


Jean Sorensen | Wood Business

As the B.C. commodity lumber sector shutters mills, the B.C. value-added sector serving mass timber construction is surging forward with sales buoyed by a strong U.S. economy clamouring for new buildings and optimism over changes in Canada's 2020 National Building Code.
B.C. is an early-adopter of the draft of the new 2020 National Building Code, which lands encapsulated mass timber construction (mass timbers that are encapsulated in fire resistant material) into the mid-rise construction market. The new Canadian code allows wood buildings up to 12 storeys and provides guidelines for the tall buildings trend unfolding in B.C., Quebec, and Ontario. U.S. states have also actively been changing building codes to allow more mass timber buildings.
The Canadian Wood Council's program Wood Works! cites that, as of March 2019, 545 multi-family, commercial, or institutional projects have been constructed out of mass timber or are in design in the U.S. Sonya Fletcher, vice-president of market development for Forest Innovation Investment, says it's early days yet in terms of market statistics on mass timber, but the U.S. numbers are a "solid indicator" as the trend deepens.
Industry News
Enderby Log Home Builder Says More Investment Needed in Small Log and Timber Sector
Brendan Shykora | Vernon Morning Star
The president of a log home building company in Enderby called for better support of B.C.'s log and timber sector in front of local politicians and industry representatives on Friday.
Peter Sperlich has operated Canadian Pride Log and Timber for 30 years, and in that time the company has produced roughly 350 projects with over 100 sent to Germany and 170 to Japan. His company has no shortage of demand for Canadian-built log homes. The problem he's facing is a lack of high-quality logs with which to build them.
"Our production schedule is full for nearly a year in advance at this point, (but) I'm running behind because we are having an issue getting some of our wood," said Sperlich at his production site in Enderby.
Industry News
Kudos to the Kalesnikoff Lumber Company
Virginia Rasch | Kootenay Business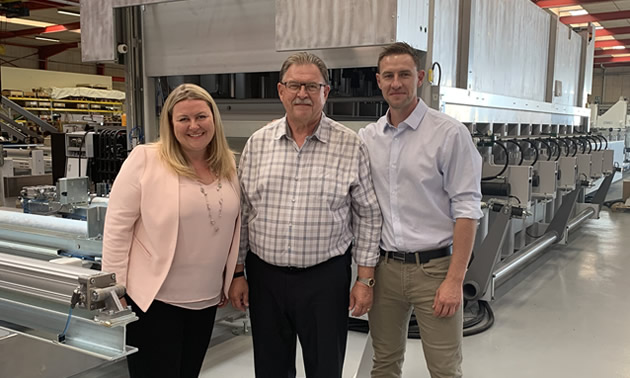 Value-added products are the key to this Kootenay lumber company's success
After seemingly unending news stories about mill closures and shutdowns in B.C., one mill in the Kootenays stands towering over the rest. The 80-year-old
Kalesnikoff Lumber Company
in Thrums is investing in a $35-million expansion. What's behind this success story?
One answer is certainly a committed multi-generational family business, run by Ken Kalesnikoff, CEO and president. Their philosophy is "Take care of the land, and the land will take care of you." One way this is accomplished is by optimizing the products from each log.
Industry News
Highlights from the 2019 Wood Solutions Conference
Sandy McKellar | Tree Frog Forestry News
The Vancouver Convention Centre was buzzing on Tuesday as 600+ architects, engineers, builders, contractors, building officials, technologists, planners/developers and students came together for the 2019 Wood Solutions Conference. An annual event hosted by Wood WORKS! BC, this is the place for wood producers to showcase their products to end users who are passionate about using wood.
"Spare time is something nobody has these days," said Wood WORKS! BC executive director Lynn Embury-Williams, who was quick to thank all those in attendance for taking the time to come out and learn more about building with wood. She also emphasized the importance of support from their funders, without which, the conference wouldn't be possible.
An event that has become a tradition in the province of BC, the Wood Solutions Conference provides delegates with two streams of learning. This year, in the expanded second floor ballroom of the convention centre, 36 booths filled a trade show where wood industry representatives displayed information and spoke with interested visitors. Exhibitors included a wide range of wood producers, from mass-timber suppliers and specialty wood product manufacturers to passive and eco-friendly building systems and even a display of wood nails!

Industry News
Instructor Position (Tenure-Track) - Advanced Secondary Wood Processing and Design


University of British Columbia, Faculty of Forestry, Department of Wood Science

The Department of Wood Science (Faculty of Forestry) at the University of British Columbia is accepting applications for an Instructor position in the area of Advanced Secondary Wood Processing and Design. This is a tenure-track position in the UBC educational leadership stream. Applicants must have demonstrated clear potential to achieve excellence in teaching and leadership in the area of wood processing, design and product development.
The successful candidate will hold a Master's or a Ph.D. degree in Wood Science, or a closely related discipline. Wood industry experience will be an asset. Candidates with a Bachelor's, degree and extensive commercial experience will also be considered. The successful candidate should demonstrate evidence of ability and commitment to teaching, and promise of educational leadership.

Global Buyers Mission
Global Buyers Mission 2019 & WoodTALKS at the GBM 2019 Recap Videos!
Global Buyers Mission 2019
If the video above does not play, please click here.
2019 WoodTALKS at the GBM
If the video above does not play, please click here.
Spotlight
Spotlight: Gorman Bros. Lumber Ltd.
Gorman Bros. Lumber Ltd., located in West Kelowna, is a manufacturer of Engelmann Spruce and Lodgepole Pine 1-inch boards. With the third generation of family actively involved in the business, the company sells a variety of products to over 30 countries around the world.
Over the past 68 years, Gorman has created strong brand recognition for their ability to dry wood, finishing of their product, and for a smooth and splinter resistant edge known as the "Gorman Edge". Their newest product, "Barnwood", is a reclaimed look that is achieved through an aging process utilizing UV lighting and a natural aging process.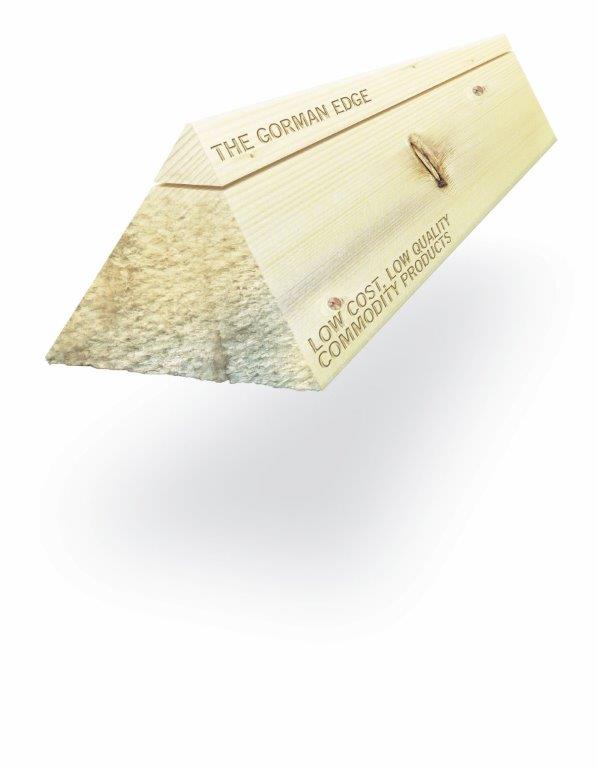 The company started in 1951, when the Gorman Brothers started producing Apple Bin Boxes for Orchards throughout the Okanagan Valley. After a mill fire, they chose to rebuild their mill to produce 1 inch boards rather than dimensional lumber and focus on the value-added market. In the first year they produced 2.5 million board and after decades of re-investment in technology and the mill, the company now produces in excess of 200 million board feet per year. The company employs more than 1200 employees under the parent company, Gorman Group.
Industry News
Online Industrial Wood Finishing Certificate Course

January 6th to April 11th, 2020
Online plus 5-day practical session in April
This certificate program provides participants with a broad understanding of the field of wood finishing. It's designed for individuals who have some general experience in wood finishing and would like to expand their knowledge.
Once completed, participants will have the knowledge and experience to do the following:
Understand why finish is applied to wood and how wood properties affect finishing

Are able to identify the best finishing system to use based on the products end-use

Trouble-shoot wood finishing problems

Design a safe and efficient finishing facility
This course will provide you with the knowledge and tools to start a finishing business, or improve an existing one.
Starts January 6, 2020 - April 11, 2020
One week intensive practical - April 6-10, 2020
Space is Limited, Register Now!
Industry News
WMC Management Skill Training Program
UBC - Online Managements Skill Training Courses
UBC - Centre for Advanced Wood Processing (CAWP) will be offering two "online" courses; Quality Management and Control, and Business Finance. Both these courses will run for 6 weeks starting January 13 to February 24, 2020. These wood products industry specific courses are designed for owners, managers, supervisors or management tracked employees. These are not academic courses and the skills learned can be applied immediately to the work place. Each part time course is led by a tutor with extensive industry experience.
For more information on the courses, please click on the following link:
Management Skill Training or call Jason Chiu at 604 822-0082.
Industry News
CAWP Open House & WPP Co-op Presentation Night
CAWP Open House
CAWP's Open House event is an opportunity for interested individuals to learn more about the education, training, research and industry assistance programs that go on in our building. In the afternoon we have a few short presentations on topics of interest to the wood products industry community. After presentations, visitors can walk around and view practical demonstrations and exhibits in our machine lab areas, as well as talk to some of our machinery, software and educational partners.
When:
Thursday, January 30th, 2020, 12:30 pm to 5:00 pm
Where:
UBC Forest Sciences Centre (2424 Main Mall, Vancouver) - Sign in at main Wood Science reception, CAWP 2900
WPP Co-op Presentation Night
Intermediate and senior students in the B.Sc. Wood Products Processing degree program at the University of British Columbia will be delivering presentations on their most recent co-op work terms. The intermission will provide a valuable networking opportunity to meet our industry partners, UBC faculty members and students.
When:
Thursday, January 30th, 2020, 6:00 pm - 9:30 pm
Where:
UBC Forest Sciences Centre (2424 Main Mall, Vancouver) - Room 1005
Canada Market
BC Wood will be participating at the Spring Cottage Life Show in Toronto, March 26-29, 2020. This show features 600 exhibitors showing all things cottage related from building products to docks to power boats. With an average audience of 39,000, the Cottage Life Show attracts an elite consumer with a high household income, high net-worth and dual homeowners.
As the exhibit spaces sell out quickly, if you have an interest in exhibiting at this show or would like more information, please contact Ken Hori at
khori@bcwood.com
before November 30th.
Korea Market Update
BC Wood will be organizing a pavilion for members at the next Housing Brand Fair, held from February 20th to 23rd at the convenient COEX Exhibition Facility in Seoul's Gangnam district. The show's strong promotional backing and central location attracts most of the major players in Korea's wood and construction industries. A wide range of products are covered at the show including lumber, millwork, kitchens, furniture and house packages. This show is ideal for a large cross-section of BC Wood members interested in targeting professionals in the Korean construction industry.
On behalf of BC Wood members interested in attending the show, BC Wood's Korean Representative., Mr. JC Lee has been negotiating with the
show
organizers
to cover some of our members' travel costs to attend. For more information on this and the event itself, please contact Jim Ivanoff at ivanoff@bcwood.jp.
Japan Market Update
Nikkei Show 2020


Jim Ivanoff | ivanoff@bcwood.jp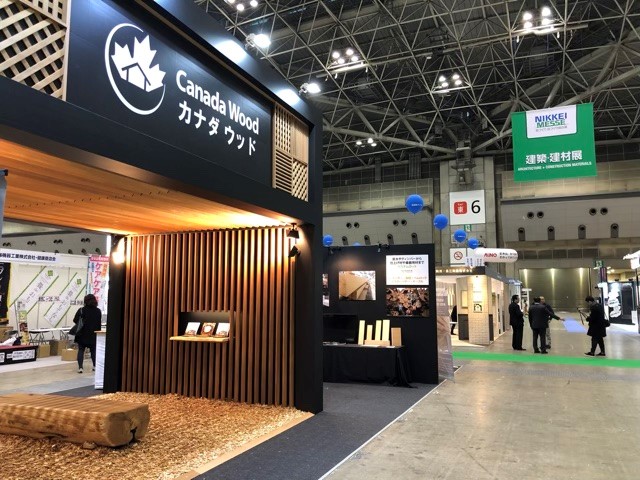 BC Wood will once again be coordinating the Canadian Pavilion at the Nikkei Architectural and Construction Materials Show that will be held at Tokyo's Big Sight from March 3rd through 6th, 2020. The Nikkei Show is the largest show of its kind in Japan and sees over 200,000 industry professionals over the show's four days.
The show attracts a great number of architects and designers, especially ones working on commercial and hospitality related projects. Therefore, it is a great show to target Japan's booming inbound and resort sectors. It is also well attended by importers, distributors, and both residential and commercial builders. Overall, the show is a good fit for producers of cabinetry, millwork, house packages including log and timberframe, as well as lumber and WRC reman products. For more information, please e-mail me at
Ivanoff@bcwood.jp.
Upcoming Events
January 21-23, 2020:
International Building Show (IBS), Las Vegas, Nevada
February 12-13, 2020:

Buildex, Vancouver, BC
February 13-16, 2020:
Housing Brand Fair, Seoul, Korea
February 22-23, 2020: Hawaii Island Living & Design Expo, Kona, Hawaii
March 3-6, 2020:

Nikkei Architectural & Construction Materials Show, Tokyo, Japan
For a list of all trade and industry events, please visit
If you have any questions, comments, suggestions, or feedback, feel free to email me at

kcrowe@bcwood.com

.

Kit Crowe
BC Wood