SUBSCRIBE

Keep up-to-date
with BC Wood




If you have not yet been featured in our Spotlight section and would like to be, please email me at
kcrowe@bcwood.com
or call 604-882-7100.
If you are using Microsoft Outlook to view this email, you may not be able to see all of the images. In this case, you can view the webpage version of this email by clicking on the link at the top of this email "Having trouble viewing this email?
Feel free to send me news stories that you think our readers would be interested in. You can email them to
kcrowe@bcwood.com
.
Industry News
B.C. Wood: Growing Part of Neighbourhoods


David Wylie | Journal of Commerce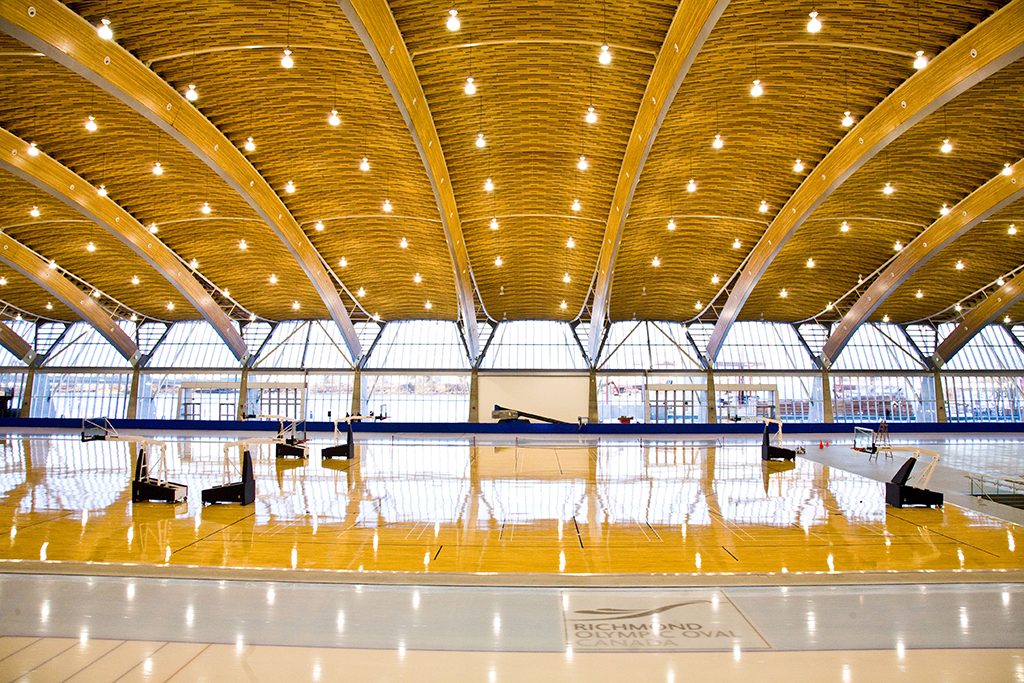 F
or many, recreation centres are becoming a home away from home.
Showcasing the beauty of wood, British Columbia (B.C.) forest products from sustainably managed forests are being used to help make these important facilities feel warm and inviting, enhancing well-being.
Scott Groves oversees the design, construction and operation of all civic facilities in Surrey, B.C.
"Today, more and more people live in homes or condos where they don't have enough room for a garage, workshop, or studio anymore," he said. "Civic and recreational facilities are becoming an extension of our living space, a kind of community living room in some ways."
Rec centres are a social hub, providing space for exercise, fitness classes, aquatics, hobbies and childcare.
Grandview Heights Aquatic Centre in Surrey is an example of how the fast-growing City of Surrey is often incorporating wood from B.C. forests in its civic buildings.
Industry News
Austria / Germany Technical Tour - December 2019
Canada Wood Council
The Canadian Wood Council, supported by National Research Council (NRC) Industrial Research Assistance Program (IRAP), is offering a technical tour in Austria and Germany from December 1 - December 11, 2019.
The tour has two objectives:
To achieve professional and technical development for Canadian engineers and architects working on the advanced wood-engineering and in particular on the construction sites, and not as much on the design, with the goal of achieving the targets fixed by the federal government in terms of building with wood in Canada.

To remain connected to FDI leads and prospects since programmed site visits will be done at manufacturing plants and construction sites of Austrian companies and offer support for their expansion in Canada.
The tour includes the 25th International Wood Construction Conference (Holzbau) from December 4th - 6th. It is one of the major European wood construction conferences which provides architects, engineers, universities and builders with an opportunity to report on experiences, processes and goals related to wood structures and construction.
The total cost of the 11-day tour is $4385. This fee covers all of your breakfasts, most of the dinners, all hotels, taxes, site entry fees, logistics, and most ground transportation costs from the afternoon of Sunday 1 December through to Wednesday morning, 11 December, 2019.
This fee also covers your full conference cost to the Holzbau conference, which alone is €690 (more than $1000 CAD)
Economy airfare cost for SMEs is reimbursable (up to $3000 per company) by NRC-IRAP.
Industry News
Requesting Phytosanitary Certificates through My CFIA
This message is for exporters of plant products from Canada.
CFIA is pleased to announce that beginning in late fall 2019, all plant exporters will be able to request the phytosanitary certificates they need online, through
My CFIA
.
My CFIA is the Agency's secure and convenient way to do business with us online. By signing up for a My CFIA profile, account holders can submit service requests for a growing number of CFIA services.
In early fall 2019, a pilot project will take place in which a small number of industry members and CFIA staff will test the system to request and process phytosanitary; shortly after the pilot ends and necessary adjustments are made, the certificates will be made available for request online for the entire industry.
Benefits of requesting a phytosanitary certificate using My CFIA
Industry News
Korea's Regulation to Promote Legal Timber
Starting October 1, 2019 Korean importers that do not satisfy requirements regarding timber trading (logs, sawn timber, anti-decay wood, fire retardant treated wood, laminated wood, plywood, and wood pellets) could face penalties for non-compliance. More information on the requirements for Korean importers can be found in
Korea's Regulation to Promote Legal Timber
published by the Korea Forest Service.
Canadian exporters of forest products to Korea may receive questions and/or requests for additional documentation from their Korean clients. KFS had previously indicated they would accept the following documents to prove legality for Canada:
Permit for felling (forestry permits, commercial cutting permits)
Forest management certificate and forest product certificate (chain of custody, controlled wood, forest management certification) issued by the Forest Stewardship Council (FSC) or the Programme for Endorsement of Forest Certification (PEFC)
If you have any questions related to the issue, please contact Barry Ford at BFord@westerntimbersource.com.
Industry News
Value-added Wood Products is BC's Fastest Growing Forest Products Sector


Kelly McCloskey | Tree Frog News

Doug Donaldson, BC's Minister of Forests, Lands, Natural Resource Operations and Rural Development, opened the 16th annual Global Buyers Mission (GBM) in Whistler, BC to a standing room crowd of more than 700 delegates. Introducing the Minister was Greg Stewart, BC Wood's Chairman and President of Sinclar Group Forest Products Ltd.
Prior to introducing the Minister, Mr. Stewart thanked the government and industry sponsors of the GBM but also the hundreds of buyers, architects and delegates whose participation ensures the event's success. Speaking to these delegates and the hundreds of manufacturers and suppliers of value-added wood products present, Stewart noted the good works of the association in helping grow the value-added sector. "BC Wood is the voice of the value-added wood sector and given that it's the fastest growing sector in the forest products industry, it's a great time to be that voice".
Article Headline
WoodTALKS Speaks to the Benefits of Wood and Mass Timber
Kelly McCloskey | Tree Frog News
This week, over 700 buyers, sellers and specifiers of value-added wood products have gathered in Whistler for the Global Buyers Mission (GBM), Canada's largest show of its kind. And on day one, WoodTALKS-a wood design and construction education event held in conjunction with the GBM-was front and centre. Ken Hori, BC Wood's Program Manager opened the event, welcoming more than 130 architects and other building sector professions.
First to the podium was Robert Cesnik of HDR Architecture Associates, speaking on the Evolution of Mass Timber Design in BC's Okanagan. Starting with glulam applications back in 2003, Cesnik wove a story of product experimentation and advancement in design and engineering that culminated in many iconic mass timber structures-notably the Penticton Lakeside Resort. Key decision drivers for his firm's use of cross laminated timber include its carbon benefit, quick construction time and physical attributes (e.g., ability to cantilever in two directions). To ensure project success, Cesnik emphasized the importance of good relationships between the design, engineering and construction professions but added that ensuring the client is comfortable with these cutting-edge products is also key. Looking to the future, Cesnic spoke of four current mass timber designs in the Okanagan, including a proposed 19-storey residential tower!
Industry News
Increase Your International Sales through the Trade Accelerator Program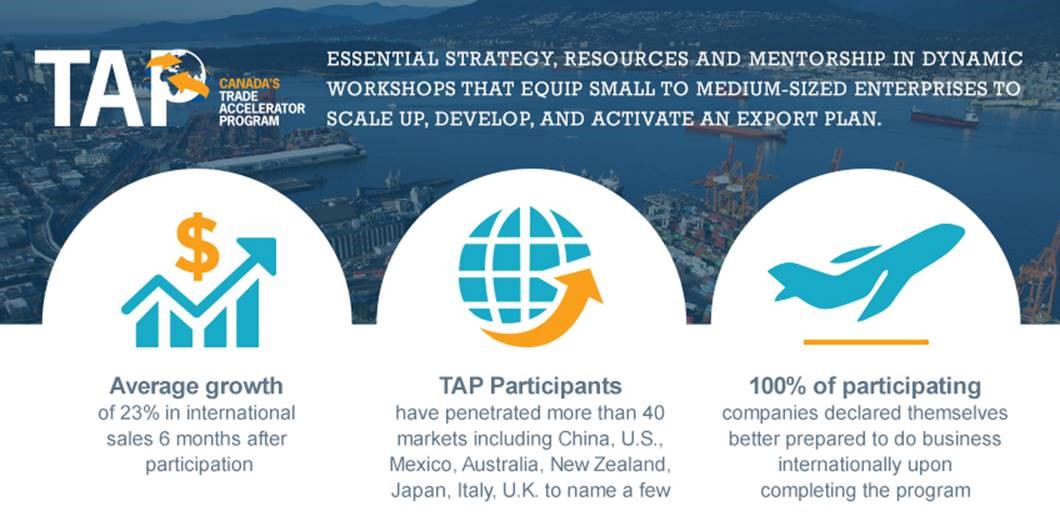 Upcoming Vancouver Workshop:


October 23, 24, November 1, 28

Application Deadline:
October 9, 2019
Upcoming Prince George Workshop:


November 6, 7, 14, December 12

Application Deadline:

October 23, 2019

Schedule:
Registration: 8:30-9:00 am
Workshop program: 9:00 am - 5:00 pm
Participation Fee:

Full bursaries available for qualified BC wood products manufacturers. Inquire at BC Wood for details.

New trade agreements and a competitive Canadian dollar make it an ideal time to extend your company's reach through the export of goods and services.

World Trade Centre Vancouver has successfully delivered Canada's Trade Accelerator Program (TAP) in BC since 2017.

The Trade Accelerator Program is designed to help SMEs TAP into their full export potential. It has a proven track record helping participants get results.

Industry News
Holzbau Timber Building Tour and Conference to Italy and Austria
December 1st to December 7th, 2019
(AIBC LU's pending approval)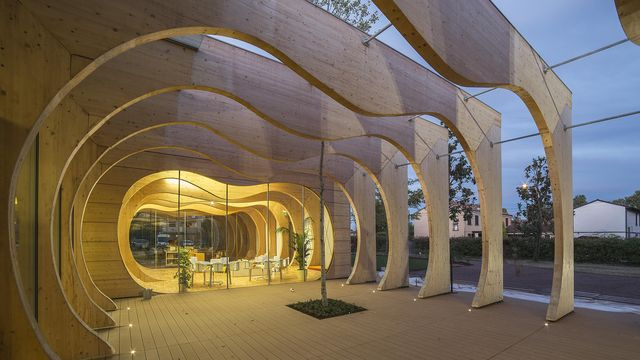 CAWP, in partnership with UNBC, is organizing a technical tour for architects, construction and wood builiding products manufacturers, public sector officials and policy makers. The tour will begin in Italy, on Sunday 1st of December and end in Munich on Saturday 7th of December, including three days at the inaugural Holzbau Forum in Innsbruck, Austria. A group of 15-20 industry participants, accompanied by 'tour guides' from CAWP, will visit state of the art production facilities of innovative producers of prefabricated homes and modular building systems, world renowned timber structures, and building component manufacturers.
Industry News
Kiln Drying Workshop (5 days)
Centre for Advanced Wood Processing, Vancouver, BC
A comprehensive, hands-on introduction to drying technology taught from a practical, real-life
perspective and backed with solid explanations into the scientific background of drying.
This highly-regarded workshop discusses the key processes and concepts involved in drying
wood. Beginning with wood properties and moisture movement, students become familiar with
kiln design considerations, drying schedules and kiln loading considerations. Other topics include
drying with air, drying degrade, lumber storage and handling, control systems and power plants.
Industry News
Robot Made: Large-Scale Robotic Timber Fabrication in Architecture
Lecture and Workshop
October 5-7, 2019 (plus 2 optional days)
7/21 AIBC LUs Approved

(1-day lecture or 3-day workshop)
| | |
| --- | --- |
| | |
| | 2018 - Robot Made Workshop prototype: Stressed Skin Structure |
Assistant Professor David Correa from University of Waterloo, Director of Technology Oliver David Krieg from Intelligent City, and Associate Professor AnnaLisa Meyboom from UBC SALA,will hold a technical workshop on robotic fabrication in collaboration with UBC Centre for Advanced Wood Processing (CAWP). While many industries have made leaps and bounds in adopting highly flexible and fully automated fabrication workflows using robotics, the construction and design industry are only just starting to open the door to these technologies. Recent developments in robotics, combined with more accessible design-to-fabrication tools, can now offer architects, designers and fabricators unprecedented access to a new design paradigm.
We are pleased to welcome two experts to share their knowledge and experience with students and practicing architects here at UBC. Using a state-of-the-art eight-axis industrial robotic work cell in the CAWP manufacturing pilot, the workshop will guide participants through the unique technical and conceptual foundations that underpin robotic milling in wood, through the development and construction of a full-scale fabrication project.
Industry News
Online Industrial Wood Finishing Certificate Course

January 6th to April 11th, 2020
Online plus 5-day practical session in April
The certificate program provides participants with a broad understanding of the field of wood finishing. It's designed for individuals who have some general experience in wood finishing and would like to expand their knowledge.
Once completed, participants will have the knowledge and experience to do the following:
Understand why finish is applied to wood and how wood properties affect finishing

Able to identify the best finishing system based on the products end-use

Trouble-shoot wood finishing problems

Design a safe and efficient finishing facility
This course will provide you with the knowledge and tools to start a finishing business, or improve an existing one.
Starts January 6, 2020 - April 11, 2020
One week intensive practical - April 6-10, 2020
Space is Limited, Register Now!
Global Buyers Mission
2019 Global Buyers Mission™ (GBM) Review

The 16th Annual Global Buyers Mission held September 11th to 13th, 2019 welcomed over 700 delegates from all over the world to Whistler, BC Canada this year. Given the economic challenges faced by many international markets, we were extremely pleased with the efforts made by those buyers and suppliers that supported and participated in the 2019 GBM.
Many thanks must also go to our funding Partners, who without their continued support, we would not be able to deliver this world-class event:
Natural Resources Canada Expanding Market Opportunities Program (EMO), Forestry Innovation Investment Ltd. (FII), Alberta Government and Global Affairs Canada (GAC). Our Corporate Sponsors this year included The San Group Ltd., The Waldun Group, Interfor, Glandell Enterprises, PPG, BFL Insurance, BMO Nesbitt Burns and RBC. Thanks also to our Golf sponsors this year Channel-X, Olympic Industries and the Sansin Group.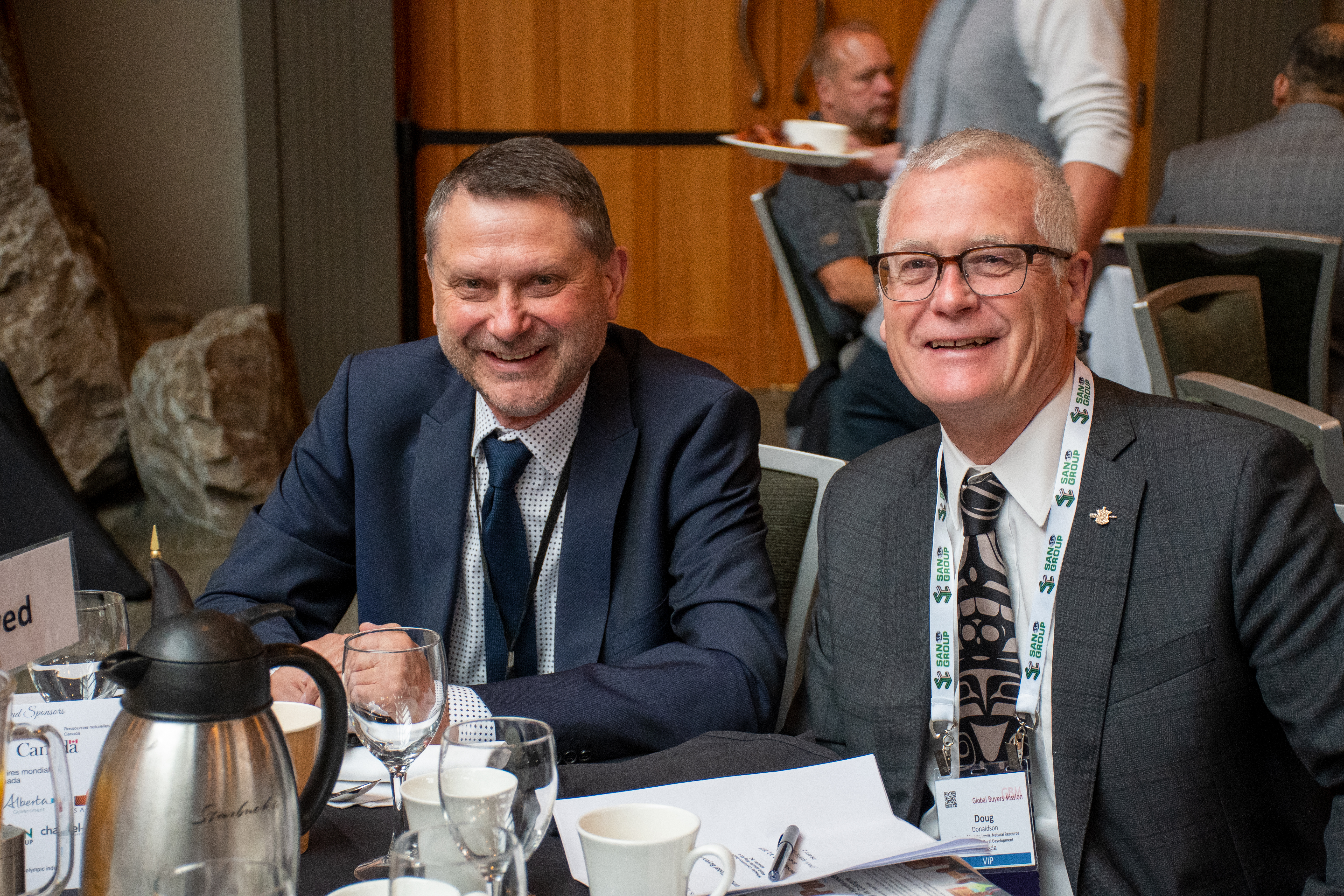 CEO Brian Hawrysh and Board Chairman Greg Stewart from Sinclar Group welcomed our Opening Ceremony guest speaker, the Honourable Doug Donaldson, Minister of Forests, Lands and Natural Resource Operations, and Rural Development, and welcomed Honourable George Chow, Minister of Jobs, Trade and Technology, GoBC. Minister Donaldson officially opened our 16th Annual GBM.
This year, we registered international buyers from Australia, Belgium, China, India, Japan, Korea, Mexico, Netherlands, Pakistan, Poland, Taiwan, Thailand and the United States
. Again, many thanks must go to the Federal Trade Commissioner Service and BC's Trade & Investment Representatives from international markets that greatly assisted with the buyer recruiting this year. With their continued dedication, there were many first-time buyers to the GBM, offering opportunities for Canadian manufacturers to develop new business.
New sales for Canadian wood products manufacturers are estimated to be more than $30,000,000 from the GBM this year.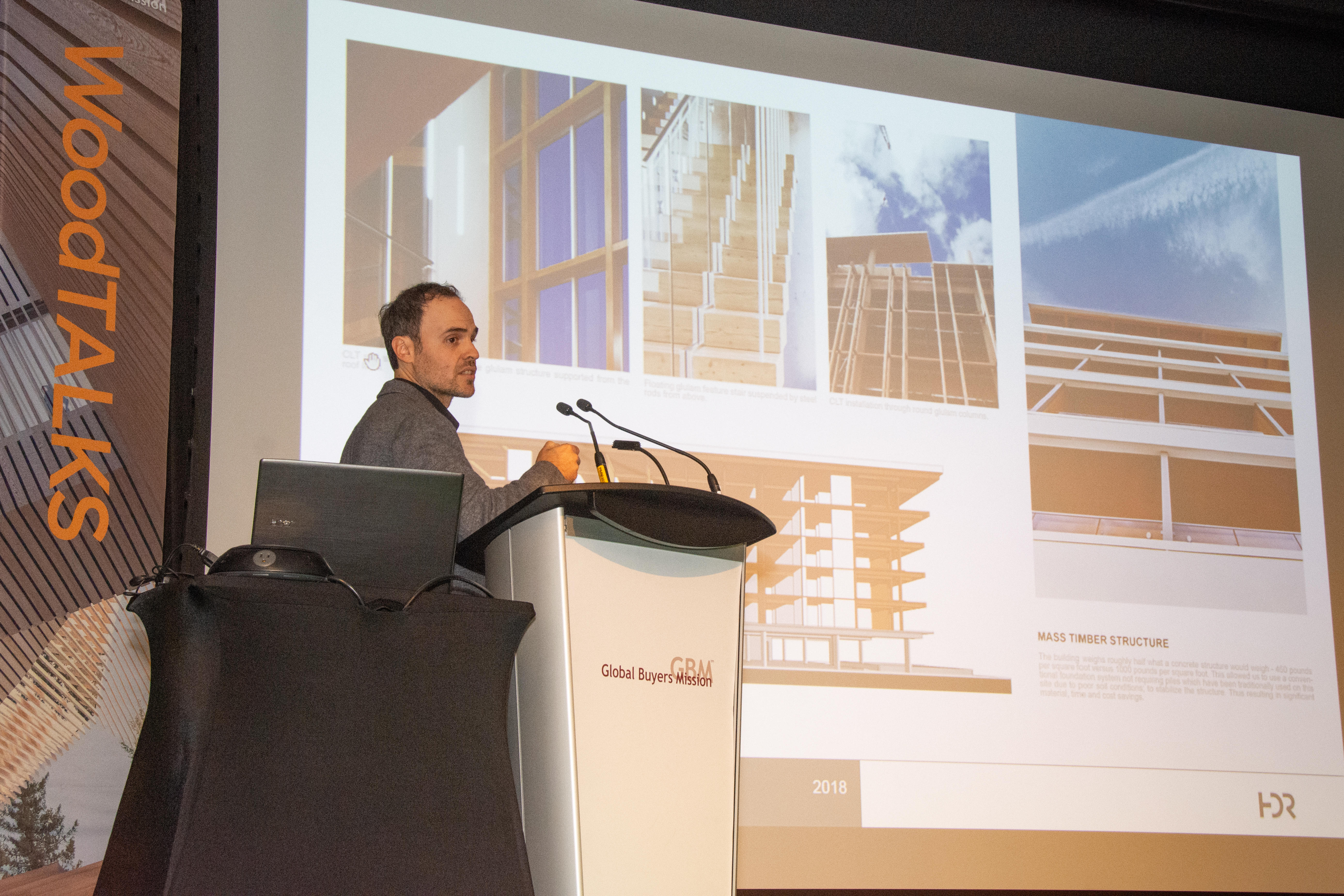 We also hosted North American architects, designers, contractors, developers, engineers and specifiers to our WoodTALKS™ program, held in conjunction with the GBM. This included successful presentations by renowned architects; a mini-seminar series on the tradeshow floor Thursday afternoon and a choice of two site tours on Friday. These activities were very well received by both the architect community and participating exhibitors.
Canadian products on display from across the country included timber frame structures, engineered wood products, treated lumber, reclaimed wood, cabinetry, building products and systems, Western Red Cedar products, furniture and sculptures, and a variety of other value-added wood building products.
BC Wood also organizes Extended Mission programs for incoming international delegates that include site visits and factory tours. This year, pre-qualified Buyers toured production facilities and new project sites in the lower mainland to meet participating GBM manufacturers. Besides helping buyers immediately source high quality, innovative, and competitively priced wood products, the tours helped build future business relationships by familiarizing potential customers with Western Canada's wood species. We thank the many local companies that made the effort to open their mills and plants for these informative and productive tours.
Held at the Whistler Conference Centre, the GBM continues to be Canada's largest event dedicated to promoting value-added wood producers.
The next GBM is scheduled for Whistler, September 10th to 12th, 2020.
USA Market Update
GBM Recap & IBS 2020


Dave Farley | dfarley@bcwood.com


A few comments, suggestions and ideas...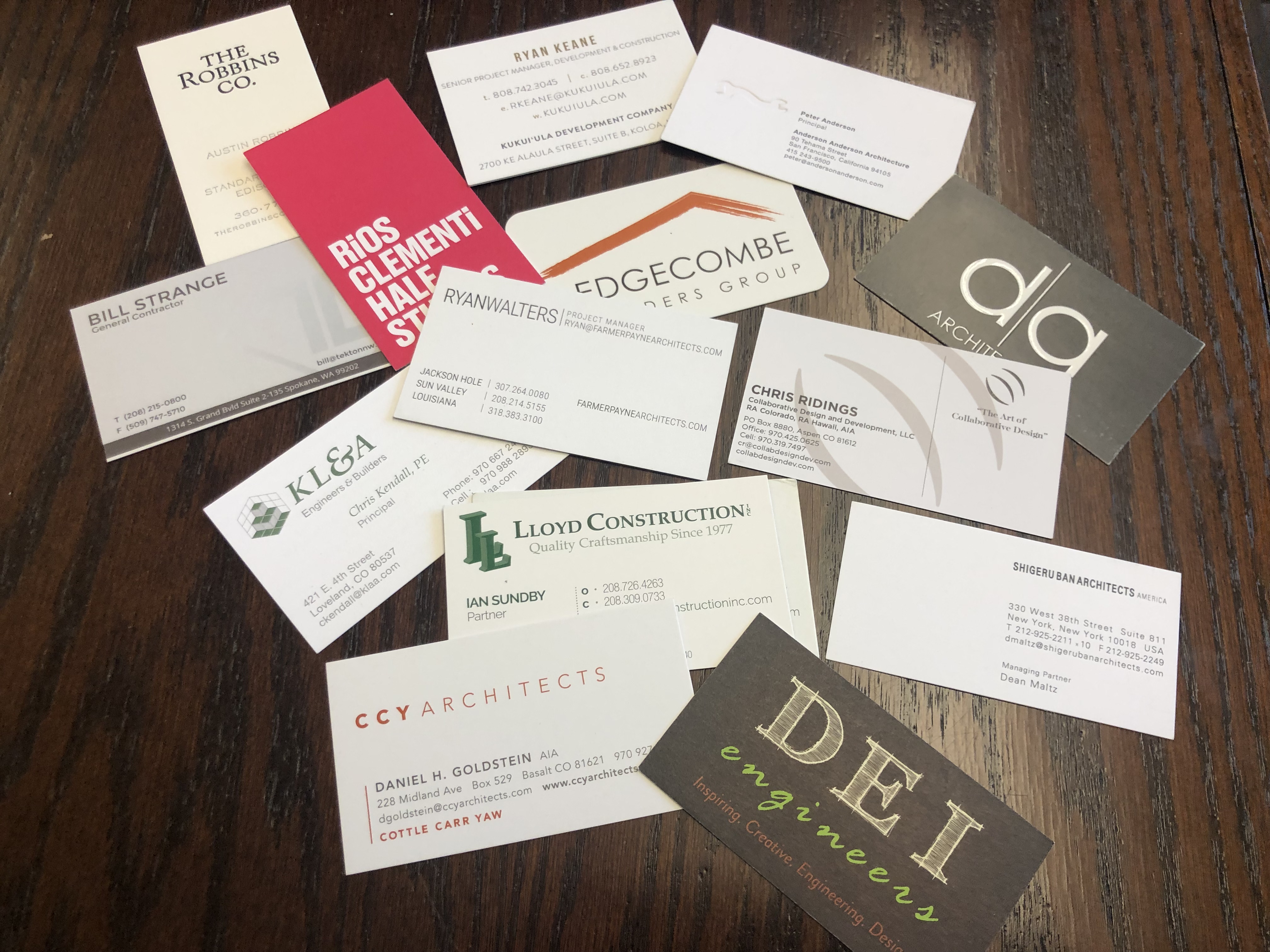 Another Global Buyers Mission successfully completed and I have now had a few weeks to reflect upon the event. Looking at it from the quality of buyers and influencers that we had attending from the United States, I was extremely happy with the GBM this year. We had a solid contingent of world class architects, engineers and builder's at Whistler this year, many hailing from our target markets in the Western US. If you attended the GBM this year, it might be worth taking another look at the business cards you collected to checkout out the websites of these firms. I recently did and was frankly blown away by the depth and quality of work that these firms undertake.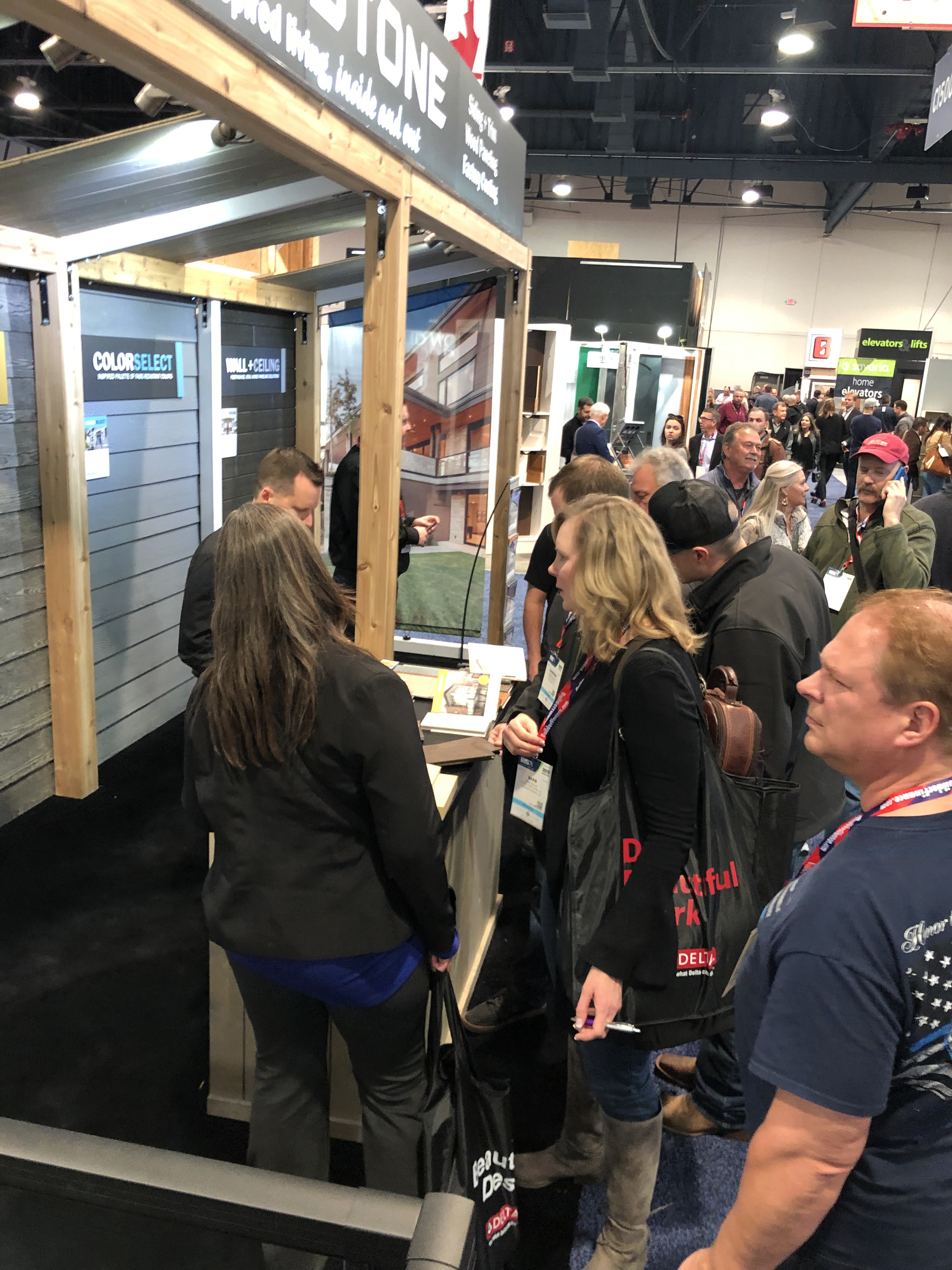 With the changing of the seasons, the time has come for folks to start looking at upcoming trade and marketing events for your company. The largest and most important event that we have coming up in the US is the International Builders Show (IBS) 2020 which takes place January 21-23 in Las Vegas. The Builders Show attracts over 105,000 buyers from across the Western world, including builders, construction specifiers and distributors. It is simply the largest event for the residential construction sector in the America's. We have excellent space in the Central Hall of IBS and if this show is of interest to you, you will need to let me know soon as I only have a few spaces left in our coordinated wood products pavilion.
As always, if you have any comments questions or concerns on the US market, please feel free to reach out to me on my cell at 604-728-8786 or email at dfarley@bcwood.com.
Canada Market Update
Join BC Wood at the Wood Solutions Conference
Vancouver Convention Centre EAST, Tuesday, November 5th, 2019
Presented by the Canadian Wood Council/ WoodWORKS BC, the Wood Solutions Conference is dedicated to design and construction with wood products and building systems, including mass timber. This one-day educational event will showcase wood uses in commercial, institutional, industrial and multi-unit residential construction through specifically designed seminar streams, featuring new and current topics and an interactive trade show floor. A keynote lunchtime speaker and an evening reception provide exciting networking opportunities with industry leaders and peers.
The Wood Solutions Conference is tailored for architects, engineers, builders, contractors, building officials, technologists, planners and developers. More than 800 design and building professionals will come together to listen and learn; connect and collaborate.
http://wood-works.ca/bc/
If you would like to participate in the BC Wood cost-shared space, please contact Ken Hori at
khori@bcwood.com
.
Canada Market Update
Buildex Vancouver - February 12-13, 2020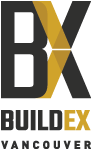 BUILDEX is the voice of the building industry today, and the vision of its future. This exciting event - the largest in Western Canada - brings together talent from across industry to interact, learn and discover the newest innovations in a market of constant transformation. 600+ Exhibitors showcase their latest products at this trade event, bolstered by 90+ industry tailored seminars.
Over 14,000 industry professionals attend the 2-day even,t which includes
professional development seminars, networking opportunities, and the chance to discover hundreds of products and services.
To reserve booth space in the BC Wood Pavilion, please contact Ken Hori at khori@bcwood.com or 604-882-7100.
Korea Market Update
BC Wood will be organizing a pavilion for members at the next Housing Brand Fair, held from February 20th to 23rd at the convenient COEX Exhibition Facility in Seoul's Gangnam district. The show's strong promotional backing and central location attracts most of the major players in Korea's wood and construction industries. A wide range of products are covered at the show including lumber, millwork, kitchens, furniture and house packages. This show is ideal for a large cross-section of BC Wood members interested in targeting professionals in the Korean construction industry.
On behalf of BC Wood members interested in attending the show, BC Wood's Korean Representative., Mr. JC Lee has been negotiating with the
show
organizers
to cover some of our members' travel costs to attend. For more information on this and the event itself, please contact Jim Ivanoff at ivanoff@bcwood.jp.
Upcoming Events
September 26-29, 2019: IDS West, Vancouver, BC
October 10-13, 2019:
The Bond Custom Home Expo, San Diego, California
October 24-27, 2019: West Edge Design Fair,

Santa Monica, California
October 30 - November 1, 2019: Osaka Living and Design Show,

Osaka, Japan
November 5, 2019: Wood Solutions Conference,

Vancouver, BC
November 13-15, 2019:

Japan Home and Building Show, Tokyo, Japan
January 21-23, 2020:

International Building Show (IBS), Las Vegas, Nevada
February 12-13, 2020:

Buildex, Vancouver, BC
February 13-16, 2020:
Housing Brand Fair, Seoul, Korea
For a list of all trade and industry events, please visit
If you have any questions, comments, suggestions, or feedback, feel free to email me at

kcrowe@bcwood.com

.

Kit Crowe
BC Wood