SUBSCRIBE

Follow us on Twitter



Missed previous Wood Connections issues?
Our archive gives you access to any issue at any time.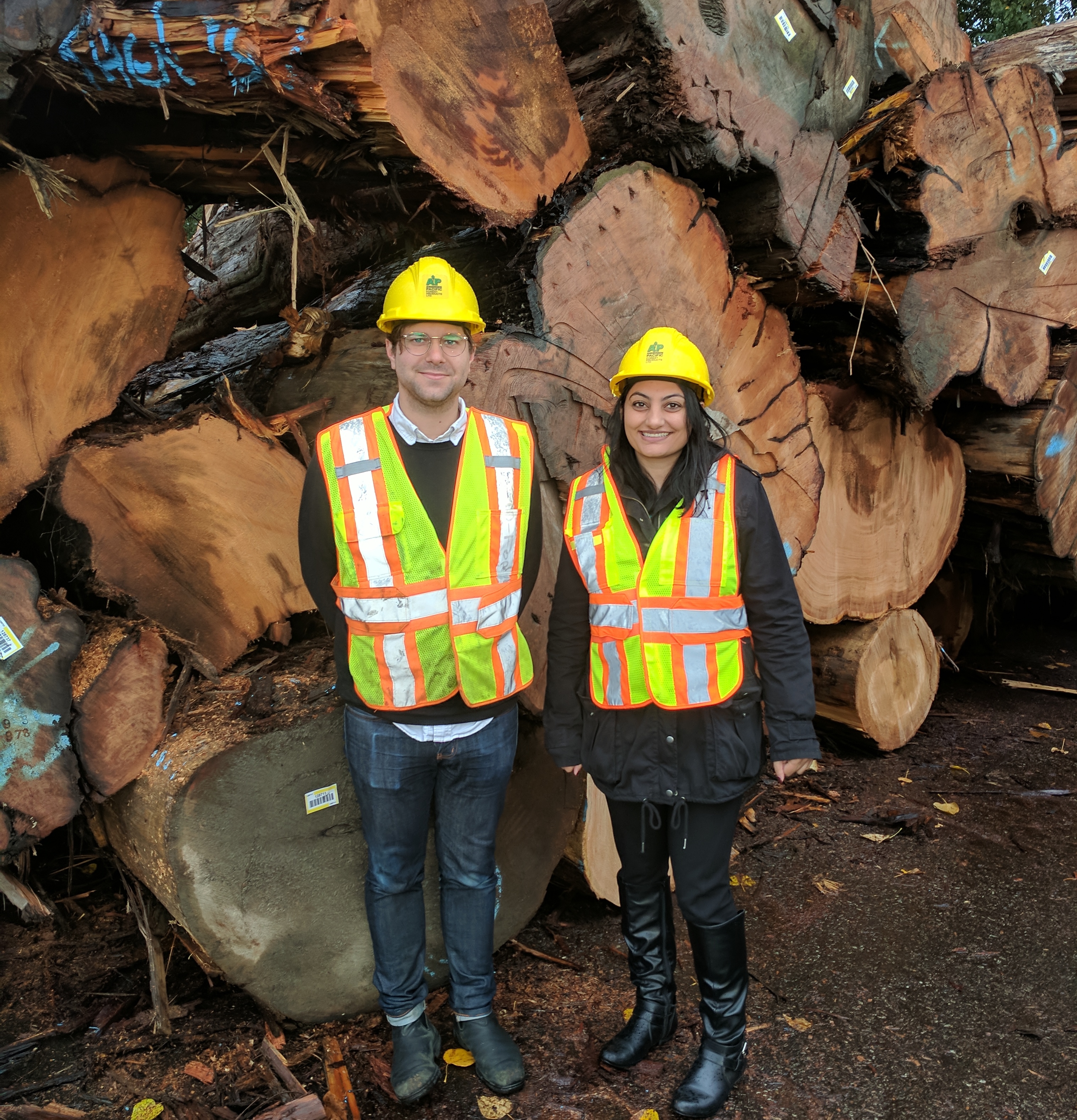 BC Wood staff, Rumin Mann and Kit Crowe, have been busy visiting BC Wood members this past month. We would like to thank our members for taking time out of their schedules to meet with us and show us around!
If you have not yet been featured in our Spotlight section and would like to be, please email me at
rmann@bcwood.com
or call 604-882-7100. You must be a value-added wood manufacturer in BC; however, you do not have to be a member of BC Wood, or any other association to participate - and it is free of charge!
If you are using Microsoft Outlook to view this email, you may not be able to see all of the images. In this case, you can view the webpage version of this email by clicking on the link at the top of this email "Having trouble viewing this email?
F
eel free to send me news stories that you think our readers would be interested in. You can email them to
rmann@bcwood.com
Industry News
BC Wood's Fall and Winter Market Development Programs Gear Up!
Brian Hawrysh |
bhawrysh@bcwood.com
With another successful GBM behind us, BC Wood's fall/winter market development programs begin to gear up. The next four months are always BC Wood's busiest time for trade shows. This year is no different, with seven different trade event programs November through February. The winter schedule includes the following events:
Wood Solutions Conference Vancouver, BC November 14, 2017
| | | |
| --- | --- | --- |
| | | |
| International Builders Show | | |
| Magna Expo Mueblera | Mexico City | January 14 - 20, 2018 |
| | | |
| | | |
Buildex Vancouver, BC February 14 15, 2018
These trade shows are an opportunity for BC companies to get their products and services in front of potential customers from all over North America and Asia. Cost savings, and just as importantly, in-market support are available to BC companies. For more information regarding these events and those scheduled through March, 2018 see here or contact me directly a bhawrysh@bcwood.com.
Industry News

Tax Incentives Lunch and Learn in Langley on October 25!
Learn about possible tax incentives and funding opportunities!
Join KPMG to hear from their Incentives Practice staff who will provide insight on possible tax incentives and funding opportunities available for all companies in BC's value-added wood products industry, including grants, loans, and government funding such as the Scientific Research and Experimental Development Program.
Location: 3RD Floor of the KPMG Building - 8506 200 ST. Langley, BC
Date & Time: Wednesday, October 25, 12:00pm - 1:30pm
Cost: $14.99 per person (your fee includes lunch)
Webinar:
This seminar will also be available via webinar. Please contact Rumin Mann at
rmann@bcwood.com
for more information.
Industry News

Sales Training Workshop with Randy Hnatko in Kelowna on Nov 15!
Fundamentals of Selling Extended Workshop
This one-day workshop has been designed and tailored toward arming sales professionals with the techniques, knowledge and skills necessary to succeed in their environment, helping them to overcome any barriers they may encounter along the way.
Topics include:
Using DISC
Advanced Pain Techniques
Body Language and Bonding & Building Rapport with Prospects
Overcoming Call Reluctance and Making the Call
Advanced Questioning Techniques
Negative Reverse Selling
Trainwest Management & Consulting Inc. CEO & World-Renowned Sandler Trainer, Randy Hnatko, will teach proven strategies and tactics to navigate today's competitive sales climate. Attendees will walk away with tools and skills for real-world success that they can apply for immediate results Investment.
Location:
Delta Grand Okanagan Resort, Kelowna, BC
Date & Time: November 15, 2017
Cost: $95 per person, $85 per additional person from the same company (coffee and lunch is provided)
Industry News

US Immigration: Doing Business and Cross-Border Travel

- October 24, 2017
Speaker Panel
Join us for an informative and dynamic panel about US immigration and cross-border travel. If you or your clients are doing business or traveling to the US, this program should not be missed.

You will hear from US Consul General Katherine Dhanani, US Consulate Vice Consul Eric Bratt, Chief Customs, Border Protection Officer Orlando Caridad and, US Immigration Counsel, Ellen S. Kief, Dentons Canada LLP.

Come join us as we welcome our new incoming Vancouver US Consul General Katherine Dhanani. Ellen S. Kief, US immigration Counsel at Dentons Canada LLP, will moderate the panel and discuss US Immigration business visa options and how to be prepared for doing business and traveling to US.
*Program followed by a reception
Panel Speakers: US Consul General Katherine Dhanani, US. Consulate Vice Consul Eric Bratt, Chief Customs, Border Protection Officer Orlando Caridad and, US Immigration Counsel Ellen S. Kief, Dentons Canada LLP.
Moderator: Ellen S. Kief, US Immigration Counsel, Dentons Canada LLP
Place: Dentons,

250 Howe St, Vancouver, BC


Time: 4:00 PM-6:00 PM Pacific Time
Date: 24 October 2017
Admission: AMCHAM Pacific Members - $25.00; Non-Members $50.00
Host: Tapas and beverages will be served
Industry News
Update! AIBC Approves 30 LU's
"Holzbau 2017" Timber Building Technical Tour and Conference -
Austria and Germany
23rd Holzbau Forum 3 Day Program Announced!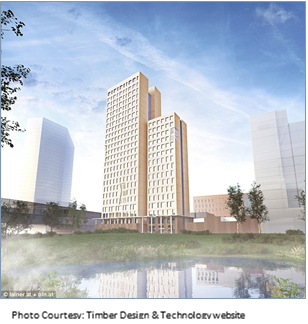 Registration ends:

Friday, October 20th
Date:
December 2nd - 9th, 2017
Locations: Austria and Germany
CAWP is pleased to announce that it will lead a technical tour for architect, builders, manufacturers, public sector officials and policy makers, interested in advanced timber construction, energy efficient pre-fabricated manufacturing, and building component manufacturing. The tour will start on Saturday, December 2nd and end on Saturday, December 9th, including three days at the International Holzbau Forum in Garmisch, Germany.
The group size will be limited to 20 people. More information can be found at: Tour Information or
contact:
Jason

604 822-0082

or

Jorn

604 822-6131
Industry News
UBC - Online Managements Skill Training Courses Starting in November
UBC - Centre for Advanced Wood Processing (CAWP) will be offering two "online" courses; Quality Management & Control (6 weeks), and Production Planning (8 weeks) courses starting November 6, 2017.
These wood products industry specific courses are designed for owners, managers, supervisors or management tracked employees. These are not academic courses and the skills learned can be applied immediately to the work place. Each part time course is led by a tutor with extensive industry experience.
For more information on the courses, please click on the following link:
Management Skill Training
or call Jason Chiu at 604 822-0082.
Industry News
Live Edge Design and Ancient Art Of Stone at IDSWest Vancouver
Experience the stunning tables and the unveiling of the incredibly unique doors that are a collaboration of masters in their fields (Live Edge Design and Ancient Art of Stone).
Industry News

Contribute To A Study On Innovation In The Value-Added Sector By Completing A Quick Questionnaire
Spotlight - Advance Lumber & Pallet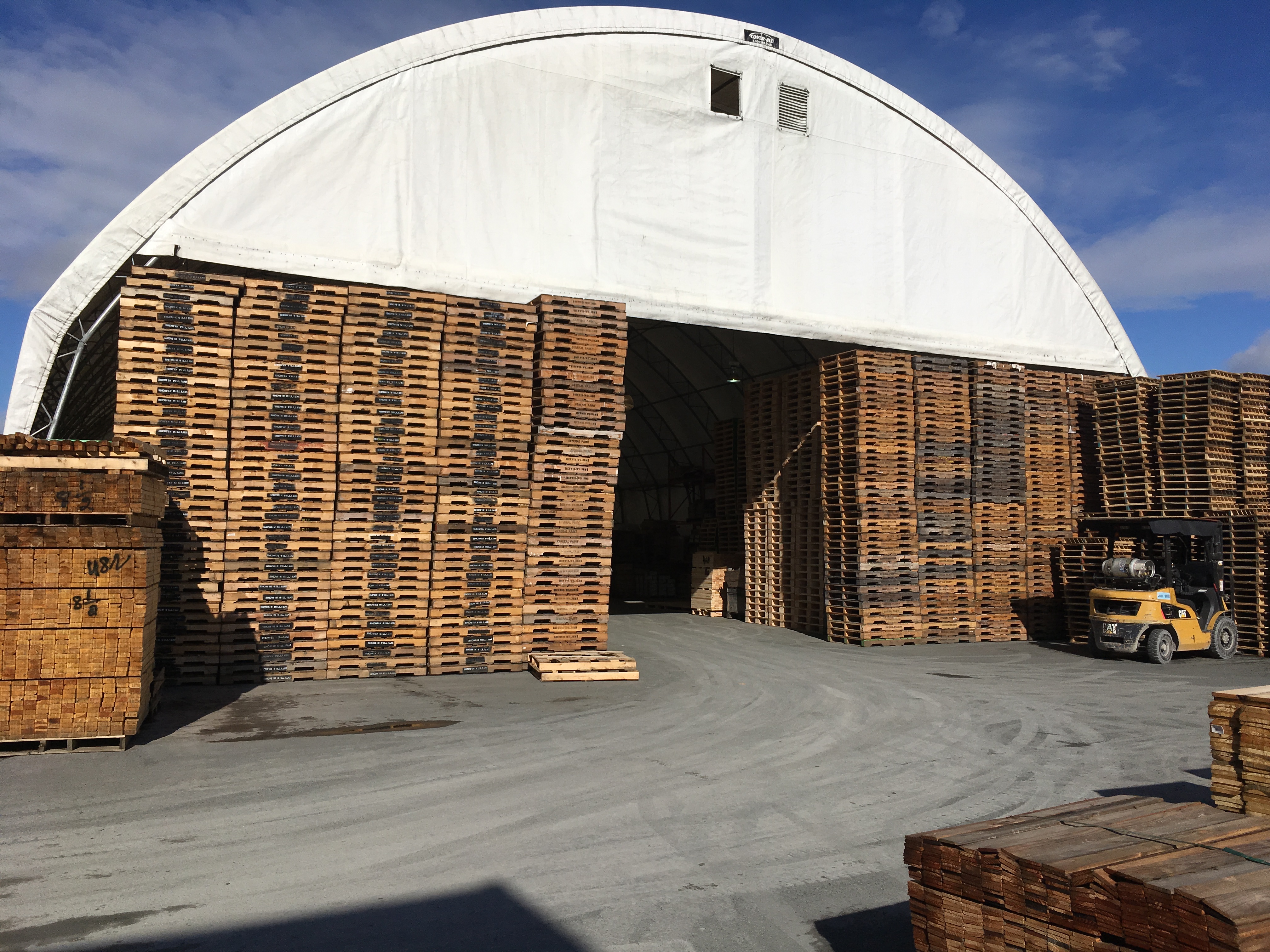 Family owned and operated Advance Lumber & Pallet, BC Wood's newest member, remanufactures 2x4's and 2x6's into precut pallet material in a variety of sizes, based on their customers' needs. They also assemble new customized pallets, quite often adding colour to work with their clients' corporate branding. As well, they work with a large national pallet
rental
company on restoration by washing, repairing, and sorting. This helps ensure Advance contributes as little waste in the industry as possible. Some of the pallets they restore have been in use for almost 20 years!
Advance Lumber & Pallet was established in 1995 in Surrey, BC by
Rajinder
Brar with
8 staff
. By sticking to their core values and having the ability to easily adapt, they have grown over the years and now operate three divisions with 120 staff. Boasting strong values and commitment to customer service, they have been recognized by Business In Vancouver as one of the top 100 Manufacturers in the Lower Mainland of Vancouver for the past two years. The Brar family takes pride in their product, which has allowed them to create strong relationships with their customers.
Our Whistler conference which included WoodTALKS, the GBM, and related programs is now firmly in the rear view mirror and following that busy event, yours truly took a couple of weeks off for a little R&R. Now, we are now fully fixated on the next 5 months with organizing and implementing lunch & learn sessions, factory tours, and at least one very special event.
Historically, October is the beginning or our busiest season for specifier events and this October is no exception. The month is now fully booked with lunch & learn sessions and we expect this trend to continue through to the middle of December.
So far this year,19 BC manufacturing companies are involved in the Specifiers Program, with an increasing number offering 30 minute sessions. This allows us to present two participating companies at one, one-hour lunch & learn! There is still an opportunity for another 1 or 2 companies to join this group this year. If you are not sure if this program is right for your company, we would be pleased to have one of your representatives sit in on one of our sessions to see if this would be a fit for you. As well as organizing and implementing all specifier activities, we also assist, as needed, in the development of the presentations to ensure they are effective, and that they meet the criteria for educational sessions.
Should you wish additional information on any of the foregoing, please contact me at
rmanion@bcwood.com
or call me at the office: (604) 882-7100.

A trade event that should be on the radar for BC Industry is the upcoming IBS Builders Show this January 9th through 11th in Orlando, Florida.
The IBS is the largest residential and light commercial builders show in the western world, with last years attendance topping the 115,000 mark. BC Wood has limited space available at IBS and with the devastating hurricanes that have recently hit the South East and Caribbean, reconstruction will be a high priority.
For more information on this show or on the US market, feel free to contact me at
dfarley@bcwood.com
Japan Market Update

Osaka Living & Design Show 2017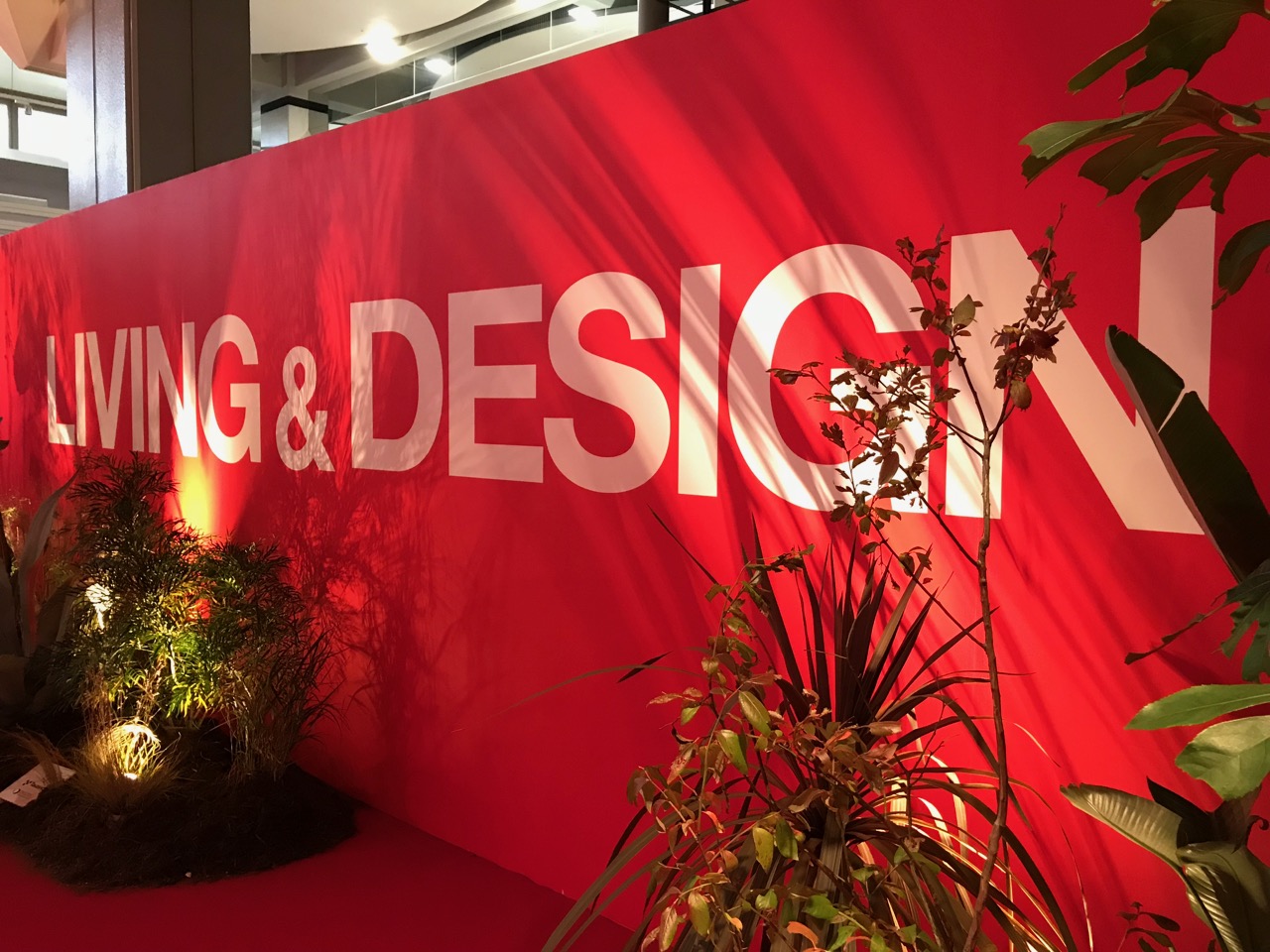 The Osaka Living and Design Show has grown into not only one of the leading design shows in Japan, but also the most respected housing related show in the Kansai region. The show's producer, Toshiyuki Kita, creates one of the most visually appealing exhibitions with a grand entrance, a stunning café area, and high-standards set for the exhibitors' booths. This show also has one of the best aisle layouts that directs visitors around all of the booths. Living & Design has also grown in scope with more emphasis now on renovations.
BC Wood has based its Kansai promotions around this show for the past several years and this time we exhibited with five members showing finishing materials ranging from furniture and kitchens to WRC products. The reaction to our booth was very positive and as a result, we developed over 350 new contacts.
BC Wood also worked with the show organizers to host a talk by Yukio Hashimoto, who produced the recently completed Conrad Osaka Hotel, featuring work by one of our members. Brent Comber, as the main art piece in the reception area. Being one of Japan's top designers, Hashimoto-san drew in a large a large crowd for the talk and he did a wonderful presentation on why he has chosen to work with Brent, and on the uniqueness of Canadian wood species.
As in past years, the show had good representation from overseas. There were participants from Italy, France, the USA, as well as Asia. Domestic Japanese wood producers also had a strong presence and in many cases were promoting furniture and millwork applications of softwoods. Overall, wood products have become very prevalent at this show.
BC Wood Mexico Trade Mission & Trade Show - January 14th - 20th, 2018
BC Wood is inviting members to join us in our January 2018 trade mission to Mexico for one-on-one meetings and trade show participation in Mexico City, and one-on-one meetings in Guadalajara or Monterrey.
After 23 years of evolution, Magna Expo Mueblera Industrial is the leading trade fair in Mexico for wood processing, woodworking and furniture manufacturing. The four day event takes place at Centro Citibanamex, the largest exhibition centre in Mexico City. This event is combined with Magna Expo Mobiliaro which is the leading trade fair for furnishings, decoration, appliances and flooring. The majority of the 8,000 visitors attending Magna Expo Mueblera will be industry professionals, while the Mobiliaro side will attract some public participation.
www.hfmexico.mx
Proposed Schedule:
Sunday January 14th: Travel to Mexico

Monday the 15th: Meetings in Guadalajara or Monterrey

Tuesday the 16th: Meetings in Guadalajara or Monterrey

Wednesday the 17th through to

Friday the 19th

: Magna Expo Mueblera Industrial & Meetings in Mexico City

Saturday January 20th: Magna Expo Mueblera Industrial & Travel home

Optional:

January 19th-20th Trade Commissioner Service and COMACO are organizing with the College of Architects a two-day seminar in Puerto Vallarta on Wood Construction. BC Wood members who are interested in the architectural audience and the Puerto Vallarta region can make a presentation at the seminar and will meet the attending architects.
For more information, contact
Ken Hori in the office at 604-882-7100 or on his cell at 604-317-3161.
khori@bcwood.com
The Wood Solutions Conference

- Nov 14, 2017
The Wood Solutions Conference
is dedicated to design and construction with wood products and systems, including mass timber. This one-day educational event will showcase wood uses in commercial, institutional, industrial and multi-unit residential construction through specifically designed seminar streams, new and current topics and an interactive trade show. A keynote lunchtime speaker and an evening networking reception provide exciting networking opportunities with industry leaders and peers.
Date:
Tuesday, November 14, 2017 (one-day)
Location:
Vancouver Convention Centre EAST, 999 Canada Place
For more information on exhibiting at the event, please contact Ken Hori at 604-882-7100 or khori@bcwood.com.
BUILDEX Vancouver - Feb 14 & 15, 2018

BUILDEX Vancouver is Western Canada's largest tradeshow and conference for the construction, renovation, architecture, interior design, and property management industries. With over 600 exhibits and more than 80 educational seminars, BUILDEX attracts over 14,000 attendees annually.
To join the BC Wood Pavilion,

please contact Ken Hori at 604-882-7100 or
khori@bcwood.com
.
Spring Cottage Life Show, Toronto -

Mar 23-25, 2018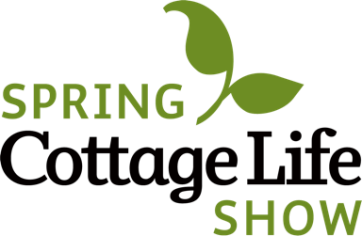 The Spring Cottage Life Show attracts 37,000 visitors and 86% of the attendees own a cottage. These hard-core cottagers arrive at the show with a plan to upgrade, improve, build new, or to buy property, boats, furniture, and accessories. Over 525 exhibitors come together for one great weekend to celebrate and prepare for all things cottage related. Exhibitors include boats, docks, builders, contractors, innovative building products, green solutions, décor, arts and crafts, food and entertainment, and water toys.
BC Wood will be booking 6 booth spaces. For more information and to reserve your space, please contact Ken Hori at 604-882-7100 or
khori@bcwood.com
Marketplace
---
In this se

ction, you can post for free anything from job listings (for employees looking f

or work, and employers looking for new staff), to machinery for sale/wanted, to a request for a particular type of wood or service.

If you would like to include a posting in our Marketplace section, please email me at rmann@bcwood.com

or call 604-882-7100 and ask for Rumin.
Upcoming Events
October 25, 2017: Tax Incentives Seminar, Langley, BC
November 14, 2017: Wood Solutions Conference, Vancouver, BC
November 15, 2017: Sales Training Workshop, Kelowna, BC
January 9-11, 2018: International Builders Show, Orlando, USA
January 14-20, 2018:
Magna Expo Mueblera
, Mexico City, Mexico
January 18-21, 2018: Housing Brand Fair, Seoul, Korea
January 26-28, 2018: BIA Hawaii, Honolulu, USA

February 2018: Hotel-Res Expo, Tokyo, Japan
February 14-15, 2018: Buildex Vancouver, Canada
March 2018: Nikkei Architectural & Construction Materials Show, Tokyo, Japan
March 23-25, 2018: Spring Cottage Life Show, Mississauga, Ontario
March 28-31, 2018: Interzum Guangzhou, China
For a list of all trade and industry events, please visit

Rumin Mann
BC Wood