May 4, 2018

19th of Iyyar, 5778













Candle Lighting at 7:36 PM



Sanctifying Life By Separating From Death


The Torah describes in great detail how kohanim are prohibited from coming into contact with death. The laws of ritual impurity all revolve around the loss of life. Why does Jewish law shun contact with death and label it as

tamei

, impure? Couldn't one suggest that there's something holy or pure in death? Isn't death actually an opportunity for one's soul to reunite with God?




Rabbi Soloveitchik explains that Judaism's laws of ritual impurity reflect not an abhorrence of death but a celebration of life. Judaism's emphasis on halachik practice is a way of declaring that we are meant to embrace the physical world and consecrate it with our performance of mitzvot. Death means that we are no longer afforded the opportunity to carry out our

raison d'etre

, sanctifying the mundane and bringing holiness to life.




I am always proud of the KYHS students, who have learned this lesson and bring holiness to our world in so many different ways. Thank you to the Highlites staff for another stellar edition showcasing some of those contributions to making our world more holy!




Rabbi Jonathan Kroll

Head of School




Upcoming Events

Meet Your Mentor BBQ for incoming Freshman



Fri. May 18


Next Highlites

Good and Welfare

Avi ('04) and Mimi Amsalem on the birth of their son, Eliyahu Tzvi
Mother Of Parkland Victim Speaks To KYHS Students About Safety And Action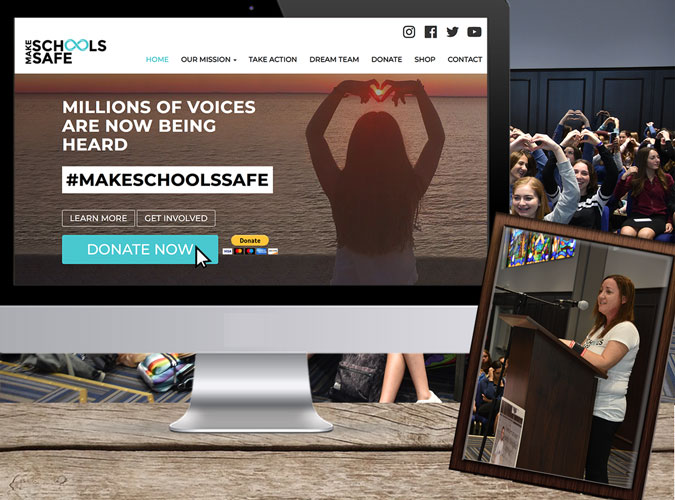 Gra phic by Highlites Staff
Article by
Meital Fixler ('19)
hhhhh
Almost 3 months have passed since the tragic school shooting at MSD High School in Parkland, yet KYHS students have not stopped thinking about the 17 souls that were murdered. This week, students were honored to hear from
Mrs. Lori Alhadeff, mother of MSD victim Alyssa Alhadeff and founder of the new organization, Make Our Schools Safe.
Mrs. Alhadeff gave students an insight into the life of Alyssa, described her feelings on the day of the tragedy, advised students to speak to their parents with 100% focus rather than while texting a friend on their phone, and urged students to take immediate action in establishing preventative safety measures in school.
Ideas were shared regarding how students can get involved in school security
, specifically by creating "dream team clubs," locking all school doors, placing "stop the bleed" kits in every classroom, and having designated safe spots in every classroom in case of emergency.
Additionally, Mrs. Alhadeff focused on the impact students can have on society through social media by encouraging students to advocate for school safety on Instagram, Snapchat, and Twitter.
Students appreciated Mrs. Alhadeff's visit and were
inspired by her visible strength and activism.
Students Show Off Their Sefira Beards
Gra phic by Highlites Staff
Students Celebrate This Mystical Day With Marshmallows, Talent Show, And Ping Pong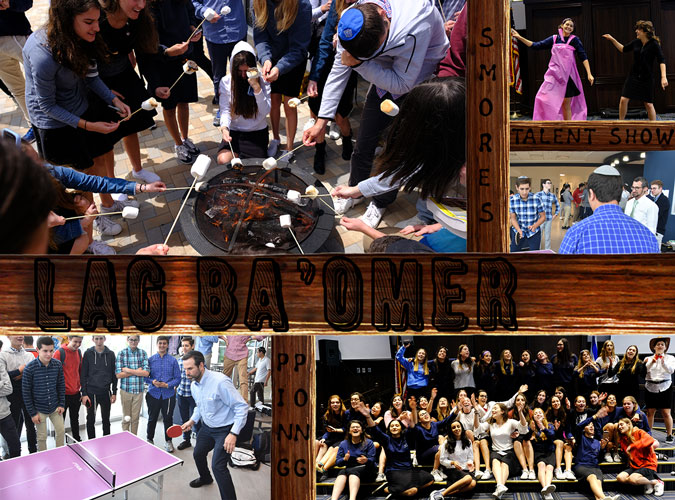 Graphic by Highlites Staff
Article by Lexi Cohen ('19)
This Thursday, KYHS celebrated Lag Ba'Omer in a fiery fashion! During lunch, students roasted marshmallows over a bonfire and consumed delicious s'mores. The boys participated in a ping pong tournament that surely brought about friendly competition. A girl's talent show was also held. Many girls sang beautiful renditions of songs, while others opted for a more comedic route, such as Yakirah Rosen, who demonstrated her impressive fidget spinning skills. Still smiling after the incredible event, one freshman noted, "It was amazing to watch the girls let their silliness out! They were all incredibly talented, and I greatly enjoyed the show!"
Sara's Scoop: Finishing Strong
Getting Through The Final Stress, Making Memories That Count
Graphic by Highlites Staff
Article by Sara Deichman ('19)
hhhhhh

As the end of the year approaches, KYHS is booming with activity! Stop a student in the hallway to schmooze and they probably won't have time to respond as they head towards their fourth community service activity of the week or second lunchtime final exam review session.



Though the end of the year brings about conclusions of curriculums, grades, and schedules, it inspires many new beginnings as well.
The third trimester invokes hard work and commitment in much of the student body, with students finding themselves more pressed for time than ever before within the realm of both academics and extracurriculars. Upon the realization that each student will, in fact, return in a new grade at the start of next year, memories are made as aspirations of high school fulfillment arise.
With much added stress circulating around the third trimester, students are busy beyond compare, yet a surprising trend emerges with elevated third trimester grades compared to the first and second trimesters.
The mysteriously elevated third trimester grades raise many questions with interesting answers.
Perhaps the reason for third trimester success lies in the understanding of teachers. In classrooms across the school,
teachers choose to spend lunch or class periods reviewing before an AP or final exam, allowing their students easier access to overall success in the class.
Many teachers seem to recognize the immense stress and sense of finality the last trimester and finals bring, aiding students more than in previous trimesters. From personal observation and conversations with students, it is clear that out-of-the-classroom help and time management schedules have become greatly prevalent throughout KYHS in this last trimester, allowing students to combat the stress of grand tasks at hand and take every day step by step.
Furthermore, by the final segment of the school year, students have generally become acclimated to the unique style of each of their classes, providing higher grades due to consistency and repetition.
Thankfully, students are utilizing tools offered to them in an effort to support the trend of higher marks at the conclusion of the year.
Despite all this, the end of the school year is never simply about grades. Though over a month of school remains, the home stretch is truly about making the best of every moment. Freshman, sophomore, junior, or senior, when the doors close at the end of the year, you may recall one crucial test you took in math class, but how much more so will you remember joyously dancing with your classmates at a chagigah, having that compelling conversation with your teacher, or simply sitting at the lunch table, laughing with your favorite people?
Though the home stretch is filled with APs, finals, and completing service requirements, make sure you throw in some good memories, making time for the things that matter most, and complete the present trend of finishing the school year even better than you began it--fulfilled.
Students Attend Engineering Fair At Scheck Hillel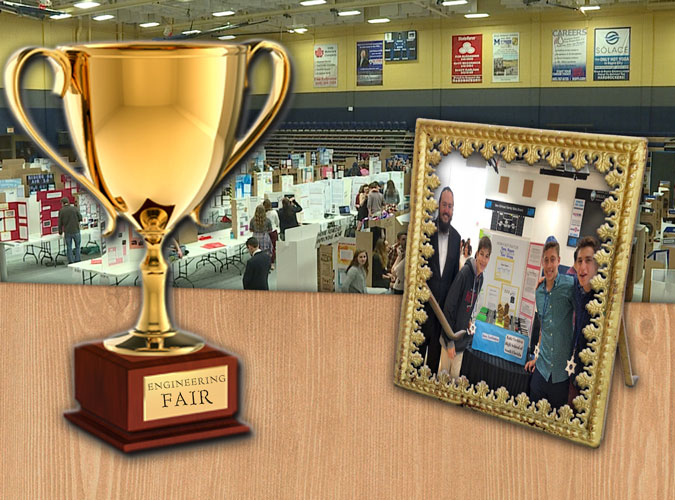 Graphic by Max Frolich ('21)
Article by Al Dimont ('20)
It was the final countdown. 10 schools, 37 groups, and only 1 winner. This would be the ultimate challenge for KYHS engineers. During the second half of each year, students in the engineering elective in grades 9 and 10 are required to create their own inventions. Students are split up into small groups and each group must come up with an idea/product, code the product, and bring it to life. Notably, one group developed a laptop case that cools the computer down utilizing water. Another group designed a timer that reveals how much time will elapse until a running traffic light turns to red. Students spent hours working on their projects and perfecting them until they were ready.
hhhhh

Yonina Kaminetzky ('21) explained, "I spent hours and hours working on my invention until it was absolutely perfect. I may be exhausted now, but it was worth it in the long run."
hhhhh

After months of hard work, the KYHS engineering students finally put their inventions up against each other at an invention competition that took place this past Sunday at Scheck Hillel in NMB. Jewish schools all across South Florida sent numerous engineering groups that had designed a product. Tables were set up in the Scheck Hillel gym displaying inventions and posters of explanation. Students, parents, and judges went around to the different tables to learn about what others had created. One group from another school developed a portable internet for people living in third world countries! When a judge came to judge the product of a group, the group was directed to explain what the invention was and how it functions. After a few hours of explaining inventions to the public, the judges told the students that they had determined the winning group and runner-ups from all the schools.
hhhhhTwo KYHS groups ended up standing in the top five places! One KYHS group earned fifth place for their invention, and the group that created the traffic light timer ended up in second place! Even though no KYHS groups won first place, they had the most groups achieving placement in the top five. The students were exuberant with their placements, yet promised to work even harder next year. The medal given to the top five places was a light-up Jewish star, a symbol of both the Jewish and technological components of the innovative contest. Doctor Wolf stressed the importance of engineering by saying, "The ever-growing prevalence of STEM in society can hardly be denied. Our students cannot simply be proficient in the use of technology; they must excel in its creation and execution. We are aiming to imbue students with 21st century skills, such as computer programming and computer-aided design, that are going to be required in millions of unfilled in-demand jobs by the time they enter the workforce."
Thank you to Scheck Hillel of North Miami Beach for hosting the event and to CIJE for continuously supporting our engineering program profusely.
Students De-Stress With Incredibly Cute Therapy Dogs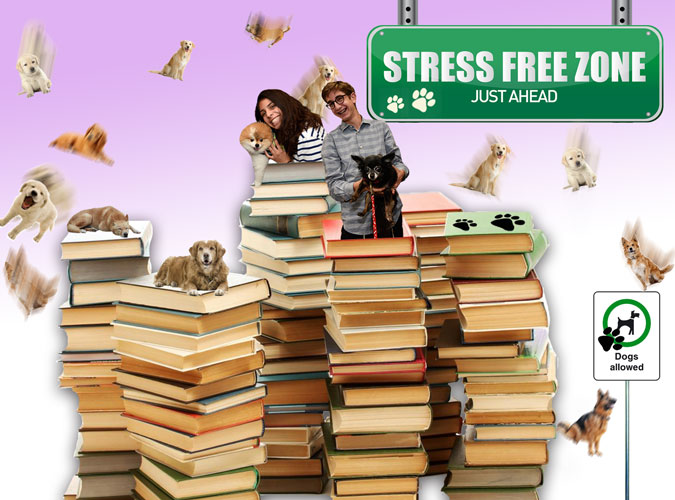 Gra phic by Highlites Staff
Article by

Ariella Gross ('21)
hhhhh
A multitude of scientific evidence points to the fact that interacting with dogs leads to a significant reduction in human tension. With growing stress due to imminent finals and AP exams, the Humane Club, led by Zack Ben-Ezra, brought in trained therapy dogs for students to play with during lunch. Students enjoyed engaging with the dogs in the upstairs rotunda. "Having the dogs at school made school a much happier and exciting environment," Aleks Shapiro said, continuing, "Not only did they help students cope with stress, but I loved how they had different types of dogs and everyone who wanted to pet or play with them was included." Students hope the dogs will return in years to come!
This Week in Pictures

The Yeshiva Highlites Staff