September 27th, 2019

27th of Elul, 5779













Candle Lighting at 6:54 PM









Filling The Shoes


The University of Notre Dame football team is one of the most successful athletic teams in all of sports, college or professional. They have won the National Championship 13 times, have 7 Heisman Trophy winners, 52 graduates in the College Football Hall of Fame and 495 players selected in the NFL draft. Suffice it to say they have had a lot of really good players.




The team also has an incredible tradition that is truly inspiring. Each year when uniform numbers are given to each new team member, along with the jersey comes a card that lists the famous players who have worn that number and some of their career contributions. I have always viewed that as having a profound impact on the new recruit. Here he sees the legacy that he must live up to. He can gain inspiration to perform and live up to the model that was set before him.




I believe, though, that there is an added message that each player feels as well. The thoughtful player will wonder: Will my name be added to the list when the next player gets this number? What incredible statistics can I accomplish in order to set a goal for the next player? What can I do so that the next player sets me as the standard to meet?




A number of years ago, a teacher told me a story about a junior boy who looked around the Beit Midrash one day toward the end of the year, and noticed a senior boy who was a particularly strong davener and had impacted the junior's own davening in a profound way. The junior asked the teacher: with this boy about to graduate, who was going to set that model of davening to future students? The answer is that we each need to learn from the people around us, not just to live up to the model they set, but to also become a person that other people look to and say "Wow! I want to be able to.... just like that person!"




As we approach Rosh Hashana, it is important to set goals for ourselves. While each person can learn from others and aim to emulate their

middot

, they can also find their own passion, cultivate it and nurture it. They can model that trait and perhaps even inspire others along the way.

Shabbat Shalom,

Rabbi Benjy Horowitz


Director of Judaic Studies





Upcoming Events

Sept. 29th - Oct. 1st

Tzom Gedeliah-Fast Day 2:15 Dismissal

Nov. 1st.

Good & Welfare



Engagements

Jordan Brown ('13) to Jeri Veingrad ('13). KYHS's 16th couple!

Condolences

Steven Berekely on the passing of his beloved father, Barry Michael Berkely
Teachers Give Early Morning Teshuva Tidbits
Not Just
Cereal and Milk for Breakfast
Graphic by Josh Bernten ('20)
Article by Zohara Lam ('23)
It's finally that time of the year again! Rosh Hashanah is right around the corner. In preparation for the holiday, KYHS students began saying Selichot this week. Each morning, students gathered in the Beit Midrash to say Selichot together, a truly motivational experience. Students normally daven in separate davening locations, so davening together this week for even just a few minutes really spread the feeling of
achdut
. Following Selichot, students attended Teshuvah Drashot, during which a faculty member delivers an inspirational speech to get students in the right mindset for this time of year. Many important topics were discussed such as character development, being the best you, and how to keep resolutions. We also had the honor of hearing from guest speaker, Rabbi Goldberg, who talked about how social media detracts from making the most of our lives. The various
drashot
we've heard throughout this week have taught us important life lessons to carry with us throughout this season and beyond. Now everyone in KYHS feels ready and confident going into the New Year! We look forward to more next week!
Gravity of Elul Spurs Chesed Movement
Volunteers Pack Bags for the Bahamas with Love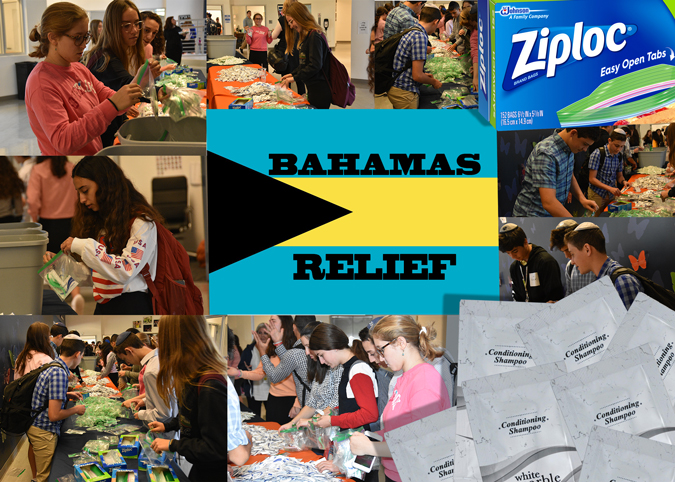 Graphic by Naomi Reichemberg ('22)

Article by Gavi Melnitsky ('23)
Students are continuing to learn how to grow as people through KYHS's Teshuva Campaign. During the course of the next couple of weeks, numerous opportunities to focus on Torah, Avodah, and Gemilut Chasadim (TAG), will help direct our minds and thoughts along the path of holiness, in preparation for the upcoming holidays.
On Thursday, October 3, the entire school will participate in a Chumash siyum (Torah) in the Beit Midrash to honor the memory of Ari Fuld z"l. This experience will bring inspirational learning and unity to our entire student body and will create an uplifting atmosphere we can bring with us into Yom Kippur and Sukkot.
Last week in class, students were given Avodah pledge cards which encouraged them to deeply contemplate their connection with Hashem through their actions and motivate them to strive to make a change in themselves and their daily habits for the better. These pledge cards contained different ideas for self improvement like abstaining from profane language and coming to shul before Barchu, just two of several suggested ways of self improvement.
Finally, during lunchtime on Wednesday, September 25, students filled toiletry bags with shampoo, soap, deodorant, and lotion to be sent to the hurricane victims in the Bahamas. This event was a great opportunity to help those in need, and helped us focus on the Gemilut Chasadim aspect of our Teshuva Campaign.
Mordy Shap Hypes Up Selichot Program
Inspiring Saturday Night Selichot Program At
Young Israel Of Hollywood
Graphic by Ariella Mayer ('23)
Article by

Talia Shapiro

('21)
This past Saturday night, the extended KYHS and BMA families gathered at the Young Israel of Hollywood for our annual Selichot program. This year we were honored to host the one and only Mordechai Shapiro. The night started with pizza and then an inspirational kumzitz. The kumzitz was followed by dancing, which had everyone on their feet having a great time. We finished the night off with meaningful Selichot, which was a great way to prepare for Rosh Hashanah and the Yamim Noraim. "The selichot program on Motzei Shabbos really got students in the proper mindset for the Yamim Noraim as we sang together in an inspirational and meaningful kumzitz led by Mordechai Shapiro," said Yarden Rindsberg (class of '21).
Rabbi Efrem Goldberg Urges Students to
Fulfill Their Own Identities
Graphic By Highlites Staff
Article by Aiden Harrow ('21)
On September 22nd, the students of KYHS were privileged to hear words of inspiration, Torah, and
mussar
from the venerable and world-renowned
Marah D'asrah
of the Boca Raton Synagogue, Rabbi Goldberg. The topic of the speech he gave was how to detach ourselves from constantly watching the lives of others and focus on our own growth and improvement as people and Jews leading up to the High Holidays. He told many interesting anecdotes, including one about a father whose son, previously rowdy and misbehaved, had suddenly turned his life around in a matter of months. Why? He deleted Snapchat.
The point Rabbi Goldberg was making was that social media is at times a great thing, but can be harmful when used in improper ways. Hannah Eliyahu ('21) said that, "the speech really made [her] think about how much time [she] spend[s] watching [her] friends' lives instead of focusing on [her] own." The message was extremely poignant and relevant, with almost everyone constantly on their phones, whether it be for texting, calling, posting, or a whole host of other reasons, not pausing to look up at the world around them or to look inside themselves to seek potential for improvement. Yonit Salit ('21) expressed that, "Rabbi Goldberg's speech was very enlightening and it gave all of us some really interesting things to think about for the upcoming New Year." May this be a year of personal growth, health, and happiness for all. Shana Tova.
Take Control Of Your Life

Rabbi Blumenthal Gives Seniors Three Important Messages In JED Talk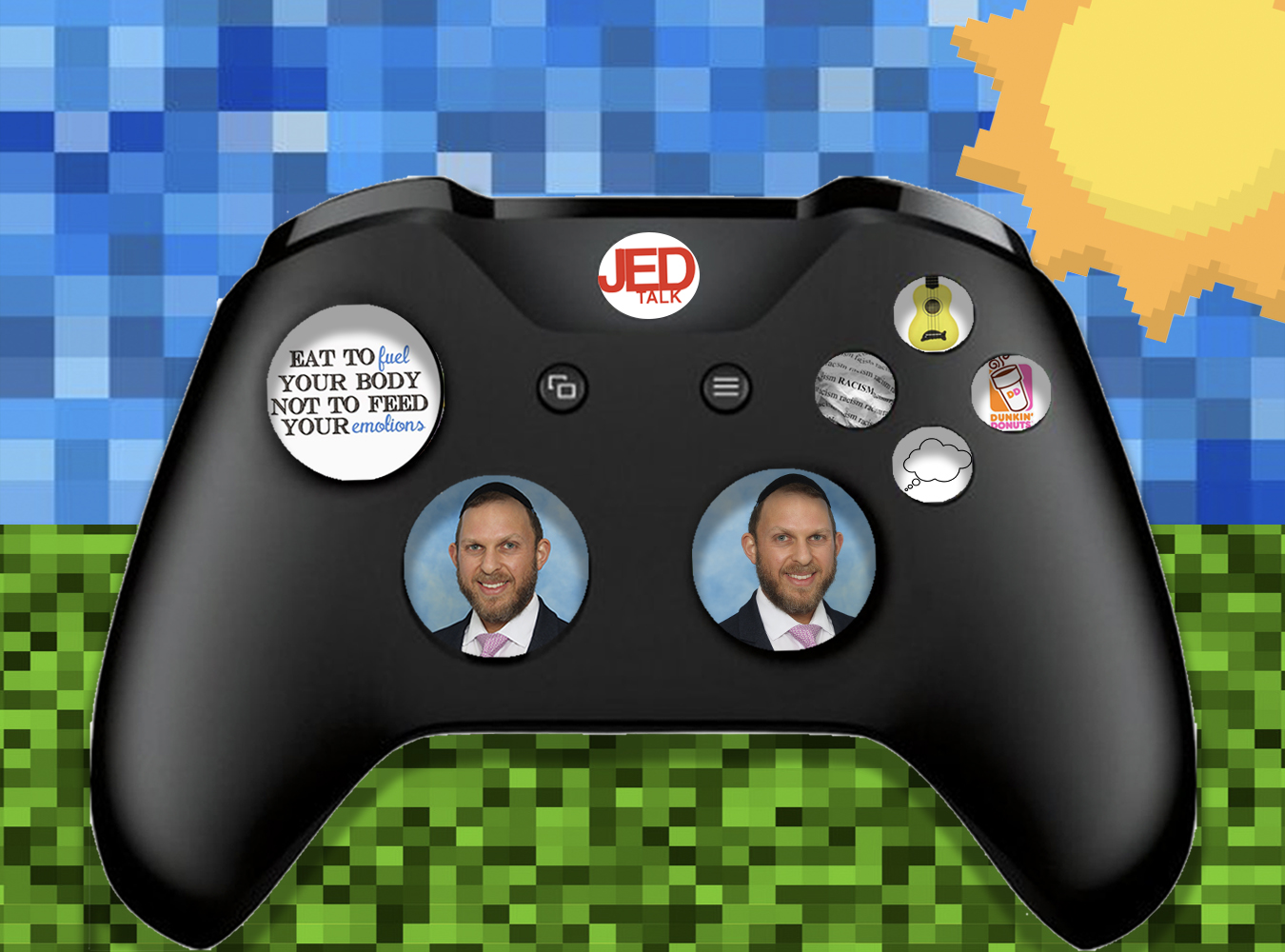 Graphic by Chana Schandelson ('22) and Leora Cohn ('20)
Article by Maayan Tzur ('20)
Last Friday, Rabbi Blumenthal, KYHS teacher and Rabbi of BRS West, gave an incredibly inspiring speech to seniors. He began his speech talking about how he grew up racist. Rabbi Blumenthal explained his childhood during Apartheid in South Africa, where racism was prevalent and normal. Only when he was in third grade, when Nelson Mandela become Prime minister in South Africa, were black citizens allowed to start integrating into society. He spoke of the first time an black child was allowed in his class and how, surrounded by racism his whole life, he initially didn't want to sit near her. Years later, when someone made a racist joke about Jews, he saw how atrocious racism actually is, and realized he needed to actively oppose it.
Rabbi Blumenthal says
the way to combat prejudice is empathy.
When a person starts feeling for another, he realizes he is just like him, and can disregard stereotypes. Next, Rabbi Blumenthal spoke of
the "doubt monsters" that prevent people from achieving their goals.
Whether a person wants to play guitar, but says he doesn't have enough time, or wishes to be a doctor, but feels he couldn't get through medical school, there's a "monster" getting in the way of his dreams, and he needs to stand up to it.
As soon as the person starts working to achieve his goal -- takes the first five minutes to learn a chord, goes to the first lesson of med school -- he defeats the monster. He's not guaranteed success and still has to work hard, but once people are motivated enough to start something, there's a good chance they will complete it.
Finally, Rabbi Blumenthal spoke about losing weight. When trying to lose weight,
how
to lose weight is not the important part
, it is deciding to lose weight.
The motivation is key. These three lessons which Rabbi Blumenthal beautifully conveyed are integral and can be applied in our daily lives. We thank Rabbi Blumenthal so much for imparting these messages to us!
A Look Into The Shtick Around School
Article by Al Dimont ('20)

It was a day that would forever be remembered in history. A day of freedom and recognition for all extra-terrestrial life forms imprisoned at Area 51. Last Friday, in walked students, wearing anti-alien gear, including"tin-foil hats," lead by supposed anti-alienists, Binny Krawatzky and Aiden Frohlich. Those following the anti-alienist movement claimed their purpose was to "free the aliens," but we all know the truth. They were selling the aliens and using the profits for the Nachman club. Why do you think Binny Krawatzky (a prominent Nachman club member) brought in all that tin-foil
for other people
?! Also, did you see any free aliens by the end of the day?! Collusion? I think yes! When pressed about his motives, Binny responded, "Saving the aliens is important because in government facilities there is terrible WiFi and 51% of aliens want to watch Netflix." Cop-out answer right there! The biggest conspiracy, however, is if Rabbi Levitt is really the one behind the scenes. He suspiciously had to remove his "tin-foil hat" by the time I, an anti-alienist investigator, had his class. Coincidence? I think not!
Art by Andrew Galitzer ('20)
The Yeshiva Highlites Staff