August 30th, 2019

29th of Av, 5779













Candle Lighting at 7:25 PM






Impactful Environments

In this week's Parashat HaShavua, Re'eh, we encounter another description of our key holidays, but not all of them. We learn about Pesach, Shavuot, and Succot and we learn about them in the context of laws designed to protect the impoverished on the front end, and the different leadership types that will govern Israelite society on the back end. I leave aside for now the question of why Rosh HaShana and Yom HaKippurim are excluded. Consider the bookending parshiyot and you will be able to develop a theory as to why these latter two holidays do not appear in Re'eh.

Notice that there is an explicit injunction to create simcha on Shavuot and on Succot. This same instruction is noticeably absent from the reminders about Pesach, and it seems strange that only two of the three holidays come with the command "ve'samachta". Based on ideas developed by Rabbi Menachem Leibtag, I suggest that Pesach has something special built into the festivities that creates simcha all on its own. When a family is ordered to consume an entire lamb, the amount of food generated by that offering is more than even a large family could eat. By necessity, families are expected to take in the impoverished, the lonely, the friends who have no family to take them in, and it is through these acts of bonding that the Jewish people experience joy on the holiday. Creating warm, intimate clusters that aren't so small is the essence of Pesach and the simcha springs forth with no need for further instruction.

Katz Yeshiva High School has a two-decade long history of creating a warm and supportive school environment. As our school society grows larger and as we now feature close to 400 students, we as a school have to find activities and spaces that ensure that our students, our teachers, and our parents continue to feel the warm embrace. I'm not suggesting we make lamb on Tuesday a Grove food item, but I am challenging us to wonder about how we hold onto the beautiful elements of the small Yeshiva High School that was with the big Yeshiva High School that we have become.

May the year be filled with many moments of simcha and may all of our stakeholders continue to feel like being here is like being at a warm family celebration (with lots of good food!).

Shabbat Shalom,

Rabbi Avi Levitt

Head of School




Upcoming Events

Sept. 5

Meet the Teacher Night


Good & Welfare


Muriel (Azra '02) and Scott Kaplan on the birth of their son, Jacob Aaron
Rina (Magid '03) and Josh Altman on the birth of their son, Omri
Shayna (Hoenig '04) and Jeremy Bekritsky on the birth of their son, Dov Ber.
Louise (Jacobovitz '05) and Ouri Cohen on the birth of their son, Maor Eliyahu
Jennifer (Adler '06) and Daniel ('06) Poliak on the birth of their son, Aaron Pesach.
Ari ('10) and Atara Shachter on the birth of their daughter, Eliana Rose.
Jake ('10) and Shoshana Abitbol on the birth of their son, Akiva Asher.
Ariella (Saragossi '11) and Rafi Hopkins on the birth of their daughter, Lielle Ora
Jordan ('15) and Jordyn Stauber on the birth of their daughter, Eliana Ruth
Elana ('12 Kaminetsky) and Yosef Penner on the birth of their son, Dovid Baruch.
Mazel Tov to grandparents KYHS Executive Director/Staff members
Shimmie and Beth Kaminetsky.
Jonathan Struhl ('05) to Nicole Kraus from Weston, Massachusetts
Eli Albert ('09) to Toby Margolin from Hollywood, FL
Eliana Feldan ('13) to Daniel Kaplan from Queens, NY
Saige Rosenberg ('13) to Ben Margolin from Long Island, NY
Yehuda Phillips ('13) to Nechama Cohen from Lakewood, NJ
Ayala Broide ('17) to Jake Mannis from Scarsdale, NY
Avi Dennis ('07) to Dr. Stephanie Haimovitz
Stephanie Trachtenberg ('07) to Michael Rosen
Harry Ganz ('08) to Allie Shabman
Ilana Ben-Ezra ('10) to Mendy Zecher
Matthew Jacoby ('11) to Dakota Gotlib
Randi Prince ('11) to Yaad Gal
Brooke Bienenfeld ('11) to Sammy Salamon
Alexander Stein ('11) to Molly Zagha. Mazel Tov to KYHS
Art Teacher Loren and Eric Stein.
Etan Shacther ('12) to Karen Horowitz
Elliot Danis ('12) to Naomi Silverman
Gabey Baratz ('13) to Kayla Roisman
Hedva Tirschwell ('13) to Josh Azar.
founding principal Rabbi Perry and Miriam Tirschwell.
Jacob Ovadia ('13) to Esther Simchi
Elad Rotenstein ('15) to Michele Sabti
Eliana Linzer ('15) to Shimmy Savitsky
Maya Borzak ('16) to Yakir Greenberg
Ayliana Winogrand ('17) to Moshe Weiser
English Department Chair, Mrs. Adina and Avi Ciment on the
Bar Mitzvah of their son, Binny.
Director of Technology, Mrs. Claudia and Doug Cohen on the
birth of their grandson,
Nathan Joseph
Leah Amar on the passing of her beloved father, Avi Gilad.
Rabbi Perry Tirshcwell on the passing of his beloved brother, Rabbi Aaron Tirschwell.
Yaffy Israel ('13) on the passing of her beloved brother, Eli Israel.
Casey ('16) and Alyson ('18) Winderbaum on the passing of their
beloved mother, Lauren Miller.
Kimberly Frohlich on the passing of her beloved brother, Rabbi Dr. Brian Galbut
Hundreds of Freshmen Are Oriented
Mobs of First Year Students Marvel At All That KYHS Has to Offer
Graphic by Josh Bernten ('20)
Article by Marielle Ashkenazi ('22)
Video by Rina Ciment ('20)
This year's KYHS freshmen orientation was a great start to a new school year! Students were introduced to the exciting activities KYHS has to offer. Everyone had the opportunity to speak with old friends while making new ones. Another way that everyone got to know each other was by playing a fun game of bingo where the winner got an awesome prize. Mrs. Kanner gave an interesting d'var Torah followed by a greeting from the new head of school, Rabbi Levitt. We were then provided with our class schedules, ipads, and lockers and the teachers introduced the school's policies. Before the delicious lunch of pasta and salad was provided, school pictures were taken. During lunch students spoke to their mentors and met some of the teachers. Freshmen have a lot to look forward to this school year! Best of luck to the class of 2023!
Energetic New College Counselor Leads Students and Parents Through Stress-Free College Process
Graphic by Penina Kahane ('22) and Ariella Mayer ('23)

Article by Al Dimont ('20)
High school seniors and parents funneled into the Beit Midrash on Wednesday night. It was time for College 201, an important part of learning how to get into college. Mrs. Seidenfeld and Mrs. Teplitz got up to the podium to discuss the nuts and bolts of applying to college. Students appreciated the detail that Mrs. Teplitz put into describing how to use the Naviance website and the Common Application.
Most seniors found College 201 very helpful and informative. "I wish I could attend informative events like this every night of the college process. Mrs. Seidenfeld and Mrs. Teplitz did such a good job, but there is so much more to learn," remarked Yoni Kurtz ('20). Anyone who still needs help should go to one of the College Application Workshops over the next few weeks. In the spirit of college guidance, one student even brought up the idea of a tribute for Mrs. Roberts. "She did so much," the student exclaimed, "We can never forget her."
The senior class thanks Mrs. Seidenfeld and Mrs. Teplitz, and Ms. Andi Koppleman for all the hard work they put into making this event great. After the information session, students felt that the College Guidance team really communicated how to get through the daunting process of applying to college. They were even nice enough to include Twizzlers and mints, delicious treats to help seniors process the vast amount of information they shared.
Storm Speaks
Highlites Legends Are Total Package: They Create Graphics and Speak Too!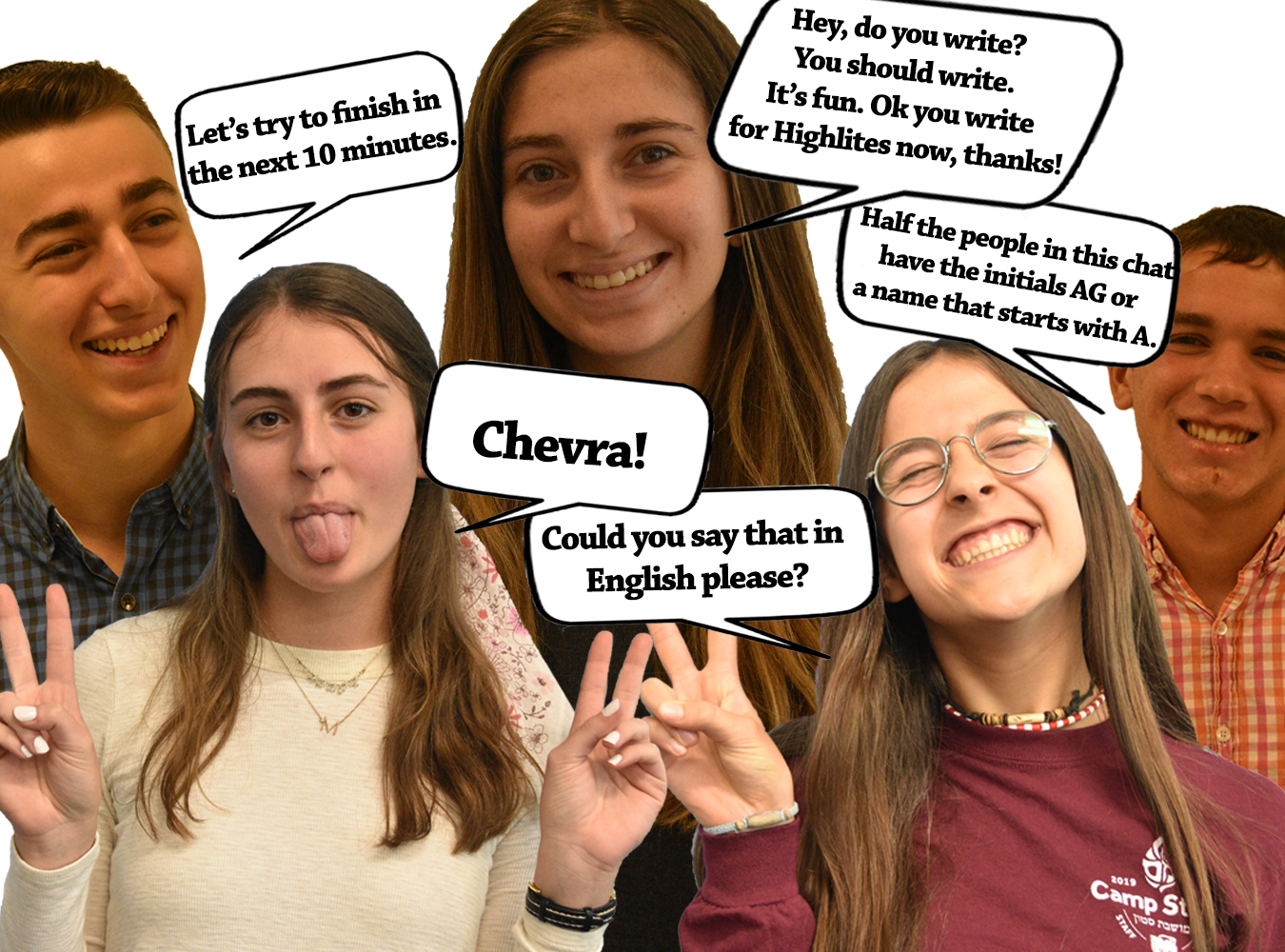 Graphic by

Chana Schandelson ('22) and Aerin Tripp ('22)
There's 104 Days of Summer Vacation
Mom, Phineas and Ferb are Writing a Title for This Article!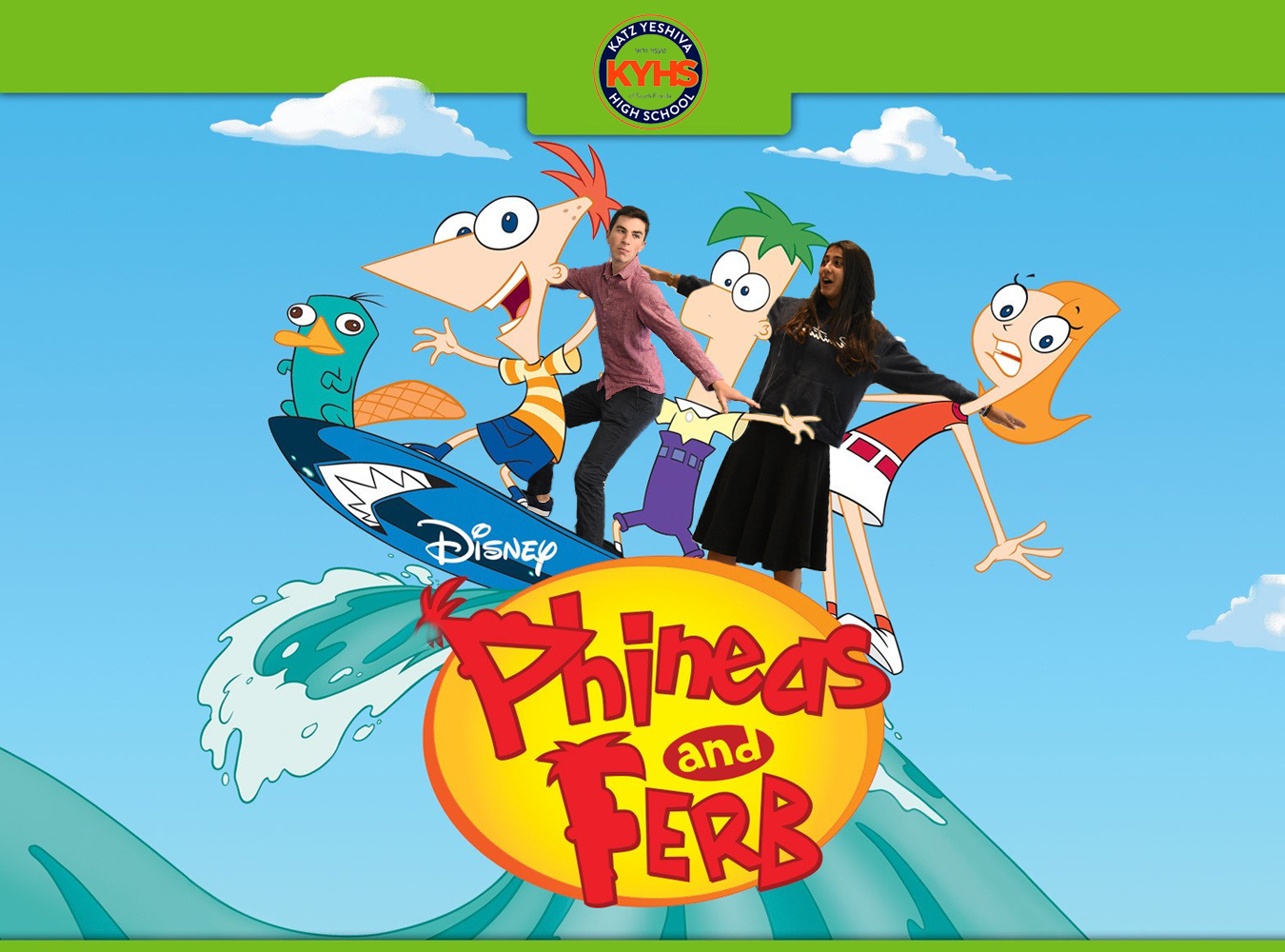 Graphic by Leora Cohn ('20) and Chantal Newman ('22)

Rabbi Levitt leads group of outstanding yet mysterious new faculty
Graphic by Naomi Reichenberg ('22) and Devorah Lome ('22)
Article by Talia Shapiro ('21)
Talia: Where did you grow up?
Rabbi Levitt: West Orange, New Jersey.
Talia: What school did you come from?
Rabbi Levitt: Magen David Yeshivah High School in Brooklyn New York.
Talia: How your first week at KYHS? Rabbi Levitt: Fantabulous!
Talia: Are you teaching any classes this year? Rabbi Levitt: Yes,12th grade boys honors Tanach.
Talia: What's your favorite part about your job?
Rabbi Levitt: Being interviewed for highlights by Talia Shapiro.
Talia: What inspired you to become head of school?
Rabbi Levitt: I originally went into Jewish education after being an actuary and was encouraged by mentors to take leadership roles in the Jewish field and I have something good to say about running schools effectively.
Talia: What are you excited for this year?
Rabbi Levitt: Besides not needing snow shovels and winter coats, I'm excited to come to a school where students want to be part of the community and teachers want to create a warm learning environment and be part of the school community where I feel like I can make a big difference.
We Copied the Facebook Format, But Hey, Look At
These Quotes!

Graphic by Leora Cohn ('20)
The Yeshiva Highlites Staff