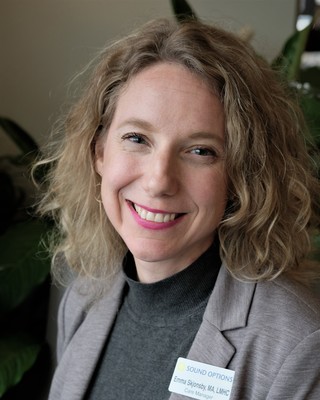 Emma Skjonsby
Licensed Counselor with Sound Options
of VillagePlan, MA, LMHC
How can the Licensed Counselors with Sound Options help?
While every person finds themselves on their own unique life path, it can be startling to find oneself in circumstances that were not predicted or anticipated. We know that it can feel scary and lonely at times, and we understand that feelings of hopelessness and fear can arise from the unknown of the future or the known circumstances of the present.
Are you emotionally and physically tired from caring for a loved one or for yourself? Are you feeling lost or afraid of what the future might hold? Do you find yourself feeling overwhelmed by decisions and only want to do what's best?
We feel it is a privilege to walk this path with you.
Through counseling and psychotherapy, it is possible to experience a sense of hope, freedom from suffering, and a greater sense of control in your life again.
Our team also specializes in counseling issues related to aging. Whether you are a family member caring for a loved one, someone with a new diagnosis, or find yourself facing unexpected life circumstances, we are here to support you as you navigate new meaning and understanding in your life.