Dear Rick, Maria and the team,
I would like to share with you this proud event.
This was Melaka Crowd Zentangle Event hosted at Melaka, my hometown, a small town in Malaysia on 23 July 2016 2-5pm.
There's 120 paid participants get together and drew Zentangle art together. I started this project with the help from Melaka Pay Teck School Alumni team, JCI Tropicana team and got sponsored from Sakura Malaysia.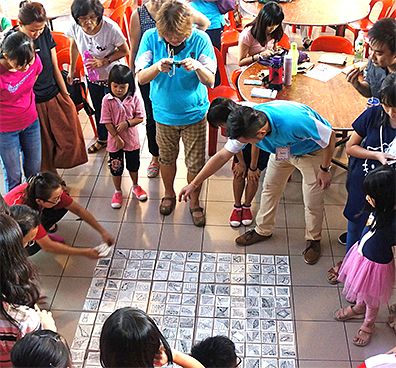 Also I gathered 5 other CZTs in town to help - CZT 14 Riko Lee, CZT 18 Pamela Loh, CZT 18 Ho Sin Yee, CZT 20 Kamala Looi and CZT 20 Cheryl Lee.
I also invited a wise lady who's a stroke patient sharing how she got over her depression after she found the Zentangle method.
Students from aged 5 to 80. 3 generations doing Zentangle art together.
This was FUN! Even local newspaper came and interviewed.
With best regards,
Michelle Lim
CZT 14 & 18
Dear Rick and Maria,
Recently I tried to encourage a friend who was attempting to learn how
to play a musical instrument. She had no background in music -- no
previous training at all. I told her about the idea that it took 10,000
hours of practice in anything -- playing the piano, boxing, playing
chess, tennis, figure skating -- becoming truly proficient -- mastering
any technique. She had just begun; and spent only a few hours; was
already discouraged.
It then occurred to me that her most recent (2013) endeavor into
something totally new and different was Zentangle. Within days of that
"new" creative process, she was a master, proficient and at ease with
what she was doing.
I had to think about this. This was something tanglers feel very
quickly. Sure, we are told that there are no mistakes in Zentangle, but
it has nothing to do with that really. It has to do with the basic
strokes in Zentangle -- The dot, circle, dash, crescent and s. When, as
adults, we arrive at the first Zentangle class we are already masters at
producing these elements -- we have been practicing these strokes since
we first entered school. We have put in our 10,000 hours and more. We
are Masters.
You told us at the beginning that we knew the strokes and that we could
easily produce art that was beautiful and unique -- and we did. That,
dear friends, was pure genius. We don't have to be born with a talent
to become masters. What we need to do is pay attention to the
techniques and practice, practice, practice.
I have, looking back, mastered many things in my life. Applying a
previous mastery to Zentangle has been one of the great joys of my life.
You gave me that. Thank you.
Joy Taylor -- CZT 11 - 15 - 19