In our previous newsletter we mentioned that we had some exciting announcements coming up in the next couple of weeks . . . well, here they are!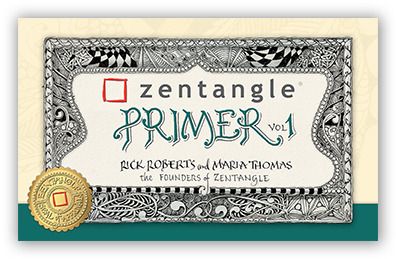 A new book, Zentangle Primer Vol 1 . . .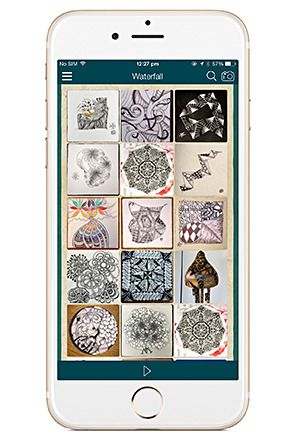 . . . and our first app, Zentangle Mosaic™!
Lots of info below.
Zentangle Primer Vol 1
Hello to all our amazing tanglers from near and far! We are happy to announce the arrival of our second book
******** DRUMROLL*********


Zentangle Primer Vol 1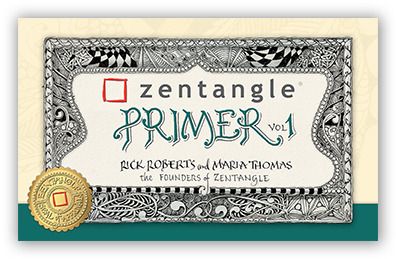 We have been working on this book now for about 2 years. We are excited to finally deliver it to you.
This book is an "old-world" instructional that is simple in its delivery but with enough information to gently guide the novice or enlighten the master. Whoever reads this can find what they seek in its words or in the inspirational exemplars hidden in its margins and borders. Each time you leaf through its folios you can find something new to spark your creativity. Each time you study it you may find yourself going just a bit beyond what you previously thought possible.
Our desire in creating this volume was that your copy will eventually have tattered corners, well-worn pages, and your hand-drawn notes in its margins. A book that has been loved and used -- it will become your go-to book of all things Zentangle.
-----+-----
This book is the instructional companion to
The Book of Zentangle
. It is the same dimensions and it has 187 pages of step-outs, tangles, and text in hardbound format.
Here's a look at its Table of Contents:
Dedication
Foreword
Introduction
The Zentangle Method
Lesson 1 - Your First Tile
Lesson 2 - Your Next Tile
Lesson 3 - String Theory
Lesson 4 - Shading
Lesson 5 - No Mistakes
Lesson 6 - More Tangles
Lesson 7 - Reticula and Fragments
Lesson 8 - A Zentangle Practice
Appendix A - Resources and Information
Appendix B - Glossary
Credits
Notes
Index
Colophon
This sneak peak shows you what to expect from this book - inspiration with every turn of the page: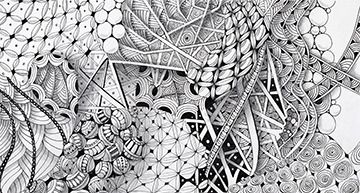 Chapter openings have beautiful full page facing pages tangled by Rick and Maria. Maria also designed a typeface just for this book.
Tangle step-outs include background information together with specific suggestions for tangling and shading.
In this book we introduce the terms "Reticula" and "Fragments." We think you will find this approach adds a new and exciting aspect to your Zentangle explorations.
This book includes exercises at the end of each lesson. Where appropriate, each of these lessons is #hashtagged so that readers can post their exercises to the Zentangle Mosaic app (more info below!) and share them in a world-wide mosaic - just as we all put our tiles together after a Zentangle class.
S.F. writes:
Oh my goodness what a fabulous book. I am a new tangler and found it has just swept me away. This book is great because it gets you to slow down and go back to basics. As you do it opens up so much more. The endless variety of tangles you think you know. The limitless things you can change, play with and develop.
Rick and Maria have written this book with so much love and enthusiasm you can feel it oozing from every page!
What a lovely, lovely book.
Zentangle Primer Vol 1: $49.95
-----+-----
Immerse yourself (or a friend) into the Zentangle experience with this bundle of the Zentangle Primer Vol 1, a Zentangle Kit, and our Sounds CD of Rick's Native American style flute music.
Retail value $113.95,
Bundle
:
$98.95


Zentangle Mosaic™ App
Believe it or not, we've also been working on this app for almost two years and we couldn't be more thrilled to finally be able to share it with you!
This app will bring together our global community of Zentangle enthusiasts, to share their art, to communicate, to inspire and to be inspired by the abundance of Zentangle passion and creativity around the world.
For several months, we have been in Beta testing with CZTs from all over this world. So there's already a treasure-trove of tangled art on the app.
Zentangle Mosaic allows a Zentangle artist to join a world-wide Zentangle community by contributing their Zentangle art which becomes part of a global mosaic.
With a Zentangle Mosaic subscription you can:
Zentangle Mosaic has additional features that you will discover. It also makes good use of common app gestures. Here are a few screenshots: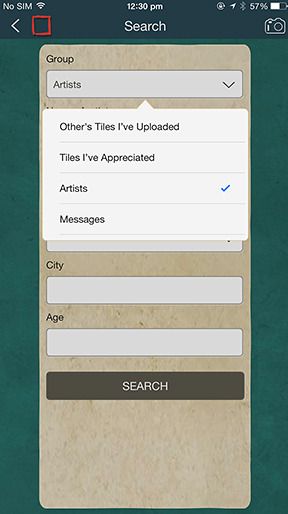 Search by Artist, tangle, geography and much more
Browse through an Artist's collection of tiles and mosaics
Drag and drop search results into your custom mosaics
Zentangle Mosaic is currently available in English, Chinese and French. The Dutch, German, Japanese and Spanish are being finalized and will be activated shortly.
Zentangle Mosaic subscribers will enjoy regular posts from Zentangle HQ.
Look for these T3s as we share "tips, tangles and techniques" in the app's home feed.
We will continue to upgrade this app and welcome your suggestions. We are already busy coding new features.
If there are changes or additions you would like made, please email us at
mosaic@zentangle.com
to let us know.
Pricing
You can download a free version of Zentangle Mosaic. In the free version you can see all the images, but you cannot enlarge them. You can perform some searches and enjoy Zentangle Mosaic's World Wide Waterfall of Zentangle art. (You'll understand that when you get there!) However, in the free version you cannot upload, appreciate, comment, or use several other functions.
The full version of Zentangle Mosaic is available by subscription as an in-app purchase for $2.99 a month or $24.99 a year.
Our Pricing Philosophy
To pay for app creation and maintenance, we can either:
Sell you to others, or

Sell our app to you.
We do not sell (or give) your personal information to anyone. Nor do we sell advertising. Therefore, we charge a subscription.


Pegi Schargel, CZT, writes:
"It is a cool, new, first of its kind, inspirational World-wide Tangler's viewer and sharing app (with a social media approach). Think of Zentangle Mosaic as a window to the global Zentangle community that you can peek into or become a part of any time you want."




Thank you, Pegi! Go to this link for the first of her series of insightful and informative Zentangle Mosaic reviews.
Tangle to Tangle at Kripalu - May 20-22, 2016
This will be a class taught by Rick and Maria along with Molly and Martha. It is for people with previous Zentangle experience or general knowledge of the Zentangle Method.
Allow each pen stroke to guide you toward the next on this Zentangle journey beyond the basics. Using the fundamental steps of the Zentangle Method, explore tangles you may already be familiar with, discover new ones, and take your creations to a new level of fluidity.
This class unveils simple tricks and tools that play with linking tangles to one another and includes:
Ways to start one tangle from the end of another,
Techniques to enjoy the process of Zentangle and its in-the-moment creativity, and
The making of beautiful, free-flowing, Zentangle art.
Designed for everyone already enjoying this meditative form of artistic expression, this program lets your Zentangle practice flourish and go even deeper, one tangle at a time.
See you there!
Thank you for sharing these exciting Zentangle milestone events with us. We announced them at the same time because the book and the app work together. They are designed to support readers sharing their Primer lessons through the app.
We look forward to seeing (and appreciating) your tiles on Zentangle Mosaic!

Best from us all,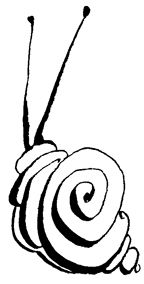 Rick, Maria, Bijou and everyone at Zentangle