New Zentangle Products
We introduced many new products at our April CZT seminars and and now we're thrilled to share them with you!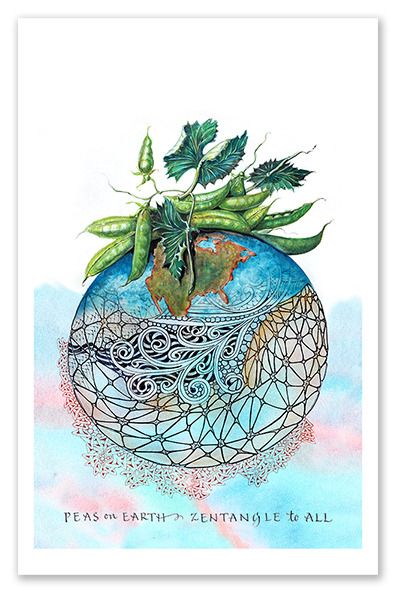 Zentangle "Peas on Earth" Print
A fine giclée print of Maria's quirky illustration of world peace which she created shortly after 9/11/2001 melds with an orb of tangles. We made these larger prints to share this beautiful and evocative image.
Each 11 x 17 inch (28 x 43 cm) print on archival paper is signed by Rick and Maria
-----+-----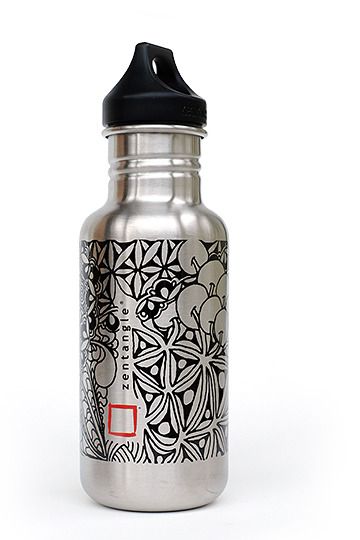 Zentangle Water-bottles
Stay hydrated in Zentangle fashion with these stainless steel water bottles custom made for us by Klean Kanteen®. This 18 ounce bottle comes preprinted with the Zentangle Logo and pre-tangled with a great assortment of tangles. Don't know which tangle to do next? Grab your water bottle, close your eyes, put your finger somewhere on the bottle . . . you get the idea!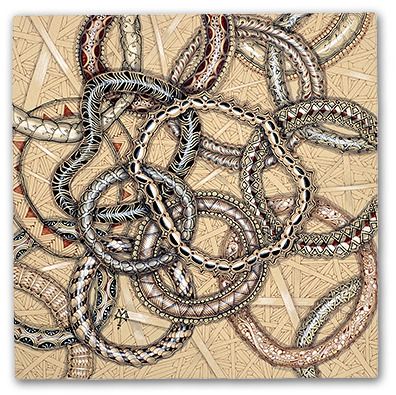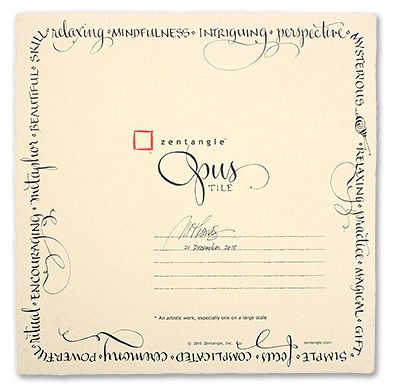 Renaissance Opus til es
The Opus tile was developed in celebration of Zentangle's 10th anniversary. This tile is nine times the size of our original tiles and measures 10.5 inches square. We first released this tile in the white and now are so excited to have it available in the Renaissance as well. It is made from the same tan toned, 100% cotton mould made paper as our other tiles in the Renaissance series. It is a dream to work on and welcomes itself to hours of layered tangled creations.
-----+-----
Zentangle Journals
We are thrilled to introduce these two companion Journals to our two Zentangle books.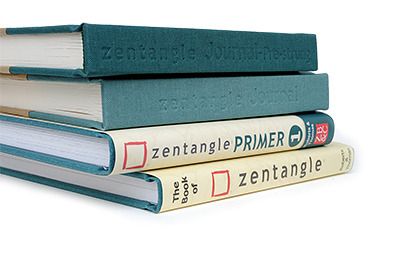 Each journal has a different welcome introduction from Rick and Maria.

Journals have a hardcover that is designed to be tangled. Each is 84 pages constructed with thick, off white

drawing paper that can be tangled on both sides.



The Zentangle Journal - Blank has a lighter teal fabric cover with blank pages inside.

This is a place to gather your
thoughts and inspirations in the universal language of Zentangle. Use this journal to log tangles and Zentangle
inspired art. Fill the blank pages by making notes, working through ideas, thoughts, and tangle
inspirations. Your options are endless. Allow the journey to unfold slowly.
The Zentangle Journal - Pre-strung has a darker teal fabric cover has a mix of "pre-strung" pages. These include pages to log tangle step-outs, special pages to record your reticula and gather your fragment jewels, pre-strung borders, pre-strung zendalas as well as blank pages.

This Journal uses the same hardcover designed to be tangled and 84 pages of the same beautiful, thick, off white drawing paper that can be tangled on
both sides.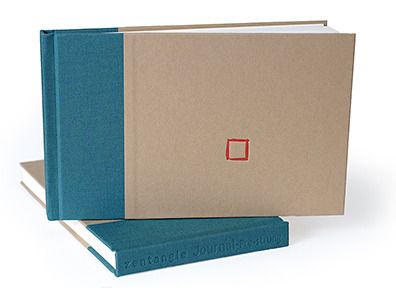 Here is a peek at some of the Pre-strung Journal pages, for instance, a place for collecting your fragments . . .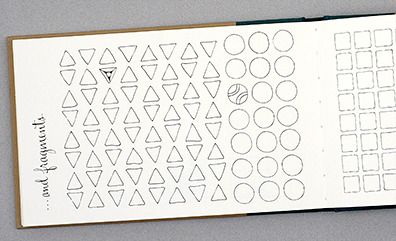 . . . and a place for preserving new tangle stepouts: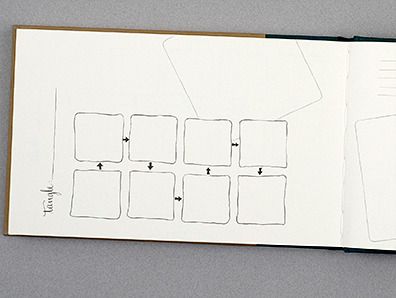 As we mentioned . . . the Renaissance-like paper on the cover begs to be tangled. Here's Julie's . . .
. . . and Molly's:
. . . and Thera Deva's (CZT 23), who even tangled the fabric binding using a gold Gelly Roll® pen: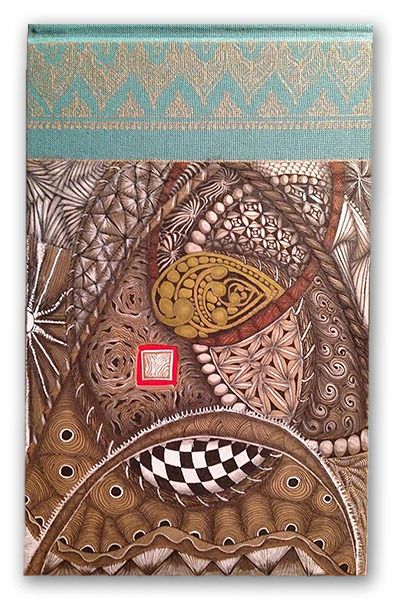 These journals are the same size as The Book of Zentangle

and

Zentangle Primer Vol 1

. Each is 84 pages of luscious ecru paper which is thick and opaque enough that you don't see through from the other side. Stitched binding allows these to be laid flat.



These journals are made locally at a high-quality boutique printer who does fantastic work. These journals are a wonderful addition to our book collection and yours.

Get one and make it your own . . . literally!




Zentangle Journal - Blank

84 pages; 4 printed, 80 blank




Zentangle Journal - Pre-strung

84 pages; 44 printed, 40 blank

-----+-----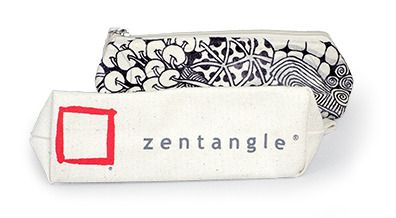 Zentangle Tool Case
The perfect case for all your Zentangle tools and then some. This custom made canvas zippered pouch comes
with the Zentangle logo screen printed on the bottom.
Ecru Canvas with zipper
7.5 x 2.5 x 2 inches (18 x 7 x 6 cm)