Here are some great Zentangle stories from CZTs that we've left unshared too long in our inbox.
Also, we just released a new version of the Zentangle Mosaic app that runs on iPad.
All this and more below.
Enjoy!
Zentangle Stories and Inspirations

Time to catch up on some comments and inspirations from and about Certified Zentangle Teachers (CZTs) . . .
-----+-----
Hello everyone!
Just wanted to share with you that I taught my first two Zentangle classes last week, and it was awesome! Everyone loved it. They were amazed, inspired, totally absorbed -- they all "got it." And it was an act of joy and devotion for me to teach it.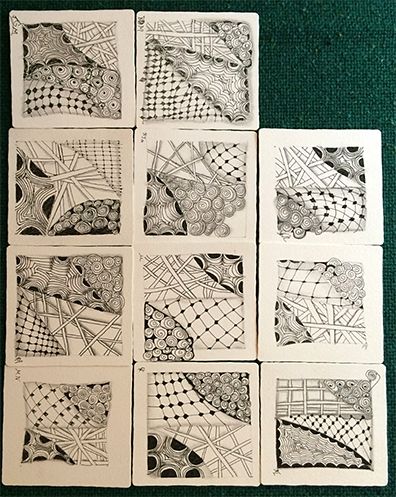 Of all the things that I've learned, studied and taught throughout the past 25 years, I believe that Zentangle has the greatest depth, as well as breadth. At one of the classes, someone asked me to teach Zentangle at her little grandson's birthday party, and someone else asked me to teach it to her survivors of domestic violence support group. I have also been asked to teach it to a Parkinson's support group.
Rick and Maria, so much healing continues to ripple out from that magnificent pebble that you dropped into the pond. How honored am I to be a part of this community -- and how grateful that all of you and your whole organization continue to share this gift with the world.
I am attaching photos that were taken during these classes.
With gratitude,
Willi, CZT
-----+-----
Dear Maria and Rick,
I am grateful every day to have Zentangle® in my life. Whether I'm teaching or practicing the patterns
it gives me great satisfaction.
My mantra while I tangle is "I cannot fail". That message is filtering into other aspects of my life.

It gives me more confidence and at times when I don't succeed, I am reminded that there is always a lesson to be gained. Also, I've noticed that when a tile is just not working out as I'd like, if I persevere and keep working it slowly transforms and by the time I finish I
am usually very pleased. Lesson: don't give up, don't judge. I'm looking forward to what more I can learn from Zentangle. Thanks for changing the world one stroke at time.
Meg Scott CZT
Fort Myers, FL
-----+-----
[A door I created was on exhibit recently.]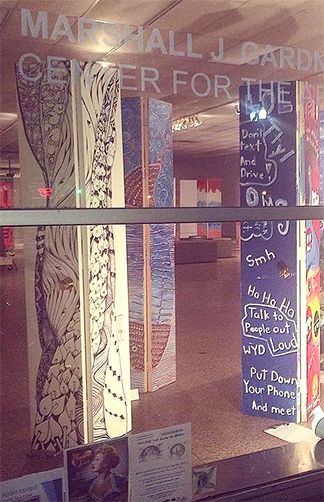 Also . . . teaching at our jail has been going very well.
I'm going once a month at this point and the men are doing wonderfully!
I never will be able to thank you enough for introducing the Zentangle® method to the world. I always describe it as a "transformative art form" because tangling truly has changed my life. Instead of first responding with stress or worrying about how I'll manage in a situation, I'm often able to take a breath and think about the process calmly, one step at a time.
I love that no matter what life throws at me, I know I can handle it thanks to the clarity, creativity, and peace that my Zentangle practice has brought to my life.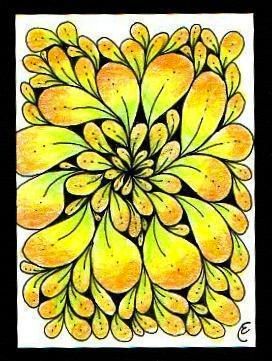 I thank you for inspiring me to find the best of myself.
All my love,
Emily Classon, CZT 9
-----+-----
Dear Rick and Maria,
I am sending you my first
Opus tan tile
. I love the big size in this color!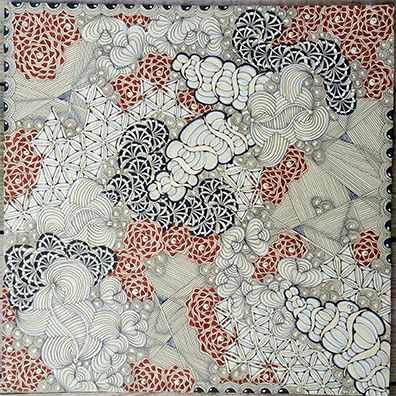 (detail)
Thank you for making it possible!
Warm regards,
Marieke Sanchez, CZT (The Netherlands)
-----+-----


And finally, a nice mention of Dilip Patel, CZT, in The Economic Times of India about his second career as a Certified Zentangle Teacher
We're so honored to have such passionate, talented and dedicated people teaching the Zentangle Method all around this world.
You can find a full list of Certified Zentangle Teachers at
this link
.
We encourage you to find one near you, take a class, and experience the benefits and enjoyment of this natural flow of relaxed creativity.
Zentangle Mosaic App Now on iPad
We just released our second upgrade for Zentangle Mosaic.
This update:
Supports six languages:

Chinese
Dutch
English
French
German
Japanese
Spanish


Available on:

iPad
iPhone
Android Phone


Also we have added:

A Tangle Step-Out section for subscribers
Autofill for hashtags and tagging
A custom keyboard for iOS
Bug fixes
Remember, you can enjoy all the Zentangle images on the app for free.
For instance, in our last newsletter, we introduced a new tangle,
ellish
. Now, there are hundreds of examples, if not more, of tiles from countries from all over the world for you to enjoy at no charge.
Anyone with an iPhone, iPad, or Android phone can see all of this for free. For instance, to see examples of ellish, just Search "All Tiles" and enter the hashtag "ellish" and, voila!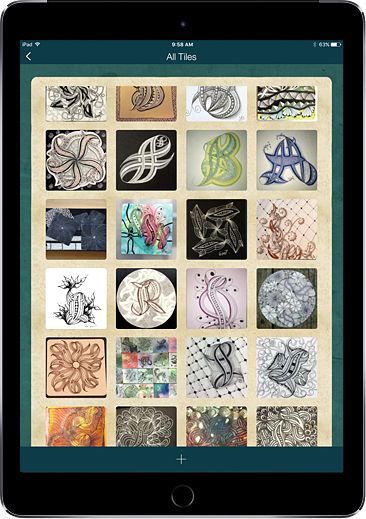 As you scroll through the hundreds of beautiful results, touch any thumbnail of a tile that catches your fancy (in the above screen) to see it larger and to read what the artist and others wrote:


The above screen is available in both the free and subscription versions. (To see the tile at full resolution, post your Zentangle art or leave a comment, you will need to subscribe.)
-----+-----
Maria writes:
In all my dreams, never would I have imagined where Zentangle has taken me. I have been a working artist most of my life, but this, this new adventure, has sparked me like nothing else.
Zentangle Mosaic, the new app we introduced, has even gone beyond the beyond. I was just telling my sister-in-law, Pam, who is also a CZT, that I am so thrilled by how much I have learned from this app. And, really, this was not my idea. I am "technicalogically" challenged (even with email!). But Rick and the kids guided me along, saying "this is going to be great, Mum."
In this venue, the Zentangle community is thriving with new ideas, challenges and unparalleled mutual support. They are hungry to learn new techniques and suggestions that can take them deeper into the world of Zentangle.
Tanglers the world over have come together, literally, to create the "traveling tangles project" where two or more artists contribute to one tile. The results are phenomenal . . . like great harmony in music . . . or chefs at work bringing their expertises together to create one phenomenal dish.
-- M
-----+-----
To upgrade to the new version:
iOS:

Go to "App Store"
Click "Updates" (bottom right corner)
Select "Zentangle Mosaic" and Update


Android, if your apps are not set to auto-update:
See you on the app!
Thank you for sharing this wonderful adventure with us and everyone.
And thank you for adding your Zentangle creations to this marvelous mosaic of creativity!

With the best from us all,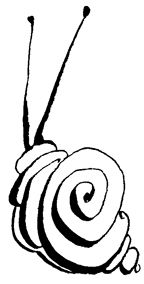 Rick, Maria, Bijou and everyone at Zentangle