| | |
| --- | --- |
| | december 2019 |
'Tis the season. Of giving. Of parties. Of merriment galore. And, most importantly, of gratitude. We recently came across this story about everyone's favorite neighbor who is, of late, having a particularly impressive resurgence.
In 1997, Mister Rogers won a Daytime Emmy. Instead of using his award acceptance speech to read through and thank a boring-to-the-audience list of names, he instead said, "Would you just take, along with me, 10 seconds to think of the people who have helped you become who you are -- those who have cared about you and wanted what was best for you in life. Ten seconds of silence -- I'll watch the time." After time had run, he said, "Whomever you've been thinking about...how pleased they must be to know the difference you feel they've made."
During this holiday season, we hope that in the midst of the crazy there's also time for the kind of reflection that reading the above provided us. From all of us at marlo, wishing you and yours a wonderful holiday season and a happy and healthy new year.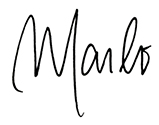 "For every prohibition you create, you also create an underground."
-Jello Biafra
Castro's violent rise to power in the

'

50s may have curbed the revelry of pre-revolutionary Havana, but its raucous nightlife scene waged on underground, and to this day, remains a vibrant piece of Cuban culture. For the past few months, Mariel has brought the lively spirit of pre-revolutionary Cuba to Boston's Post Office Square. Now, with the newly opened Mariel Underground, its moody, more rebellious counterpart comes to life.
Beneath Mariel in the basement of the Atlantic National Bank building, Mariel Underground beautifully couples the raw, foundational aesthetic of the former boiler room with opulent antique crystal chandeliers, velvet couches, vintage theater lights and diverse artwork and graffiti created by local artists that is reflective of generations of Havana street art. Live music, including multiple-piece jazz bands, and rotating DJ's spinning throwback disco, house and funk liven the party. Wash it all down with a full menu of classic and larger format cocktails, bottle service complete with fresh squeezed juices, mixers and other sophisticated accompaniments, and an impressive selection from the finest champagne houses, in formats ranging from 750ml to 6L bottles.
Be warned my friends, this will not be an easy place to access; table reservations are extremely limited, reservation requests are taken by email only (table@marielunderground.com), and entry is at the doorman's discretion at all times...just like in post-revolutionary Havana.
gingerbread at eastern standard
Ah, the holidays -- a magical time for children and adults alike. The gathering of families and friends, the age-old traditions, the spirit of giving back -- it all warms our hearts (and that's not just the spiked 'nog talking!). And, if we're being honest, the abundance of sweet treats never hurts. Thanks to the ever hospitable team at Eastern Standard, all of the above is coming together under one red roof awning at your new favorite holiday tradition: the Gingerbread House Party!
Yep, gingerbread house decorating is about to get a serious upgrade. Forgo the stale, store-bought gingerbread house kit for Pastry Chef Linnea Blake's limited batch of fresh gingerbread walls, roofs and chimneys -- all ready for you to decorate with an endless array of candy toppings. Snack and sip on holiday treats, leave the clean-up to the crew at Eastern Standard, and then be on your merry way. In the spirit of giving back, guests are encouraged to bring a toy donation for local nonprofit Christmas in the City.
Whether your

festive

creation stays up long after the holidays or is devoured on the ride home, an afternoon that gathers the fam and gives back is a winning tradition in our book!
If you grew up in New England or appreciate vintage wares, you may be familiar with the infamous "He's Got Moxie" soda ads of the 1940s. It takes a one-of-a-kind brand to become such a household name that it's recognized as its own word (looking at you, Kleenex and Popsicle), but when you hear the word "moxie" you know it to epitomize someone (or something) with guts and attitude. So, we can see why "Moxy" would be a fitting name for a brand of Marriott Hotels catering to fun hunters

--

including the young and young-at-heart

--

the newest of which is now open in the heart of Boston's bustling Theater District.
As a millennial-friendly hotel should, Moxy Boston Downtown focuses on buzzing social spaces, a killer beverage & food program (open to the public, Bar Moxy is a playful all-day restaurant offering international flavors and vibrant cocktails; The Mezz, a rooftop lounge, is exclusive to hotel guests and private events), and unique guest experiences at an affordable price-point. Theater-inspired décor (paying homage to its neighborhood), colorful art, custom murals and other 'grammable spaces are found throughout, and each of the 300+ modern guest rooms feature cushy queen beds, dual purpose furniture, and floor-to-ceiling windows for spectacular city views.
Whether shamelessly posing in the food truck photobooth or playing an intense game of Jenga with your crew at Bar Moxy, we think you'll agree

--

Moxy Boston Downtown has got some serious moxie!
| | |
| --- | --- |
| Through January 4: | |
| December 11: | |
| December 14: | |
| December 16: | |
| December 26 - January 4: | |
| December 31: | |