| | |
| --- | --- |
| | december 2016 |
We're in the heart of the holiday season, where we're eating more, drinking more and celebrating more. And this month's issue of
marlo monthly
is here to help you with ideas for all three! Speaking of three, if you've never experienced the charm of the three-martini lunch, you'll want to give Yvonne's a call, stat. Continue the celebration with a post-work toast to the season over mojitos in the most welcoming restaurant to open in the Seaport well, probably ever, and end the day with a spin around the ice at -- believe it or not -- City Hall Plaza.
Once we make it through the holidays, start 2017 on the right foot by attending the January
marlo health and wellness series
featuring celebrity astrologers Starsky & Cox, where you'll walk away with insights into the zodiac as we start the year anew, as well as a copy of their best-selling book,
Sextrology
. Reserve tix for yourself or as a thoughtful holiday gift before it sells out.
From all of us at marlo, wishing you a happy holidays and healthy new year!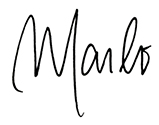 It doesn't matter if they make the most sophisticated of craft cocktails or a
coq au vin
that could make Julia Child cry; the ideal restaurant is one that makes you feel happy, welcome, and as relaxed as you would be in the comfort of a good friend's home. And at the risk of coming off a bit shallow, nothing turns a good friend into a great friend faster than (1) a willingness to feed us and (2) a sweet second home -- which is why we love that
La Casa de Pedro
has recently expanded from its original Watertown roots to swanky new Seaport digs.
Though the inimitably hospitable Pedro is more than likely to tell you to simply come as you are, we -- being your true blue amigos -- will share the insider's tip that you should definitely come ready for fun and adventure. Once your eyes soak in the ambiance and your brain starts to disconnect from reality (palm trees! a Jeep Willy! barber shop chairs -- at the bar!), you're quickly transported to South America. And if the decor isn't enough to remind you that you're not in Kansas anymore, the menu -- chock-full of Latin American specialties from Pedro's childhood in Venezuela and travels throughout the Caribbean and South America -- surely will. Featuring everything from fresh ceviches to tempting tapas like arepas and empenadas, to a section dedicated to Mexico and beyond, together with the kind of cocktails designed with vacation on the brain (think Pina Coladas, Mojitos, Passion Fruit Margs, all made with only the freshest fruit purees, herbs and pure sugar cane), we guarantee "Latin American" will soon be your answer when asked your favorite cuisine. And if you're unable to leave your own house (or, let's be real, the office...) fear not. Pedro's soon-to-open adjoining Café Rapido grab-and-go spot makes it easy to turn breakfast meetings, #saddesklunches, and late night bites into something to savor.


It may be true that there's no place like home, but La Casa de Pedro certainly comes close. So kick back, relax, and revel in the fact that you've got a friend with solid knife skills, prime real estate and an open-door policy!

While our spirits typically rise alongside the mercury (#LeoProblems), we won't deny that we enjoy the flattering effects of a well-tailored coat or indulging in a little holiday cheer. That said, there are other aspects of winter -- ahem, slush, wind, sunsets prior to 6PM -- that tend to bring down the mood. This year, however, the fine folks at Boston Garden Development Corp, Berkshire Bank and the City of Boston are teaming up to give us one less reason to fear the frost.


This December, 'Boston Winter' Presented by Berkshire Bank transforms City Hall Plaza into a must-see destination for tourists and locals alike. Featuring New England's first custom-designed Skating Path, a Holiday Shopping Market, and plenty of beer and vino to boot, 'Boston Winter' boasts fun for all ages. Guests can grab a bite at the Urban Lodge, lace up their skates AND finally discover the perfect gift for picky Aunt Cindy -- all in one place! Just in it for the Insta? Well you're in luck: a large BOSTON marquee sign, Pedal-Powered Christmas Tree and Spectacular Menorah make for charming backdrops that will give your followers some serious #goals.


Lest you think this enough to make us wish for some sort of endless winter, think again. A major reason we're psyched about 'Boston Winter' is the fact that it marks the beginning of 'Boston Seasons' -- a year-round seasonal activation set to turn City Hall Plaza -- the much chided bastion of brick and Brutalist architecture -- into the place to be for years to come. For the time being, however, 'Boston Winter' runs all the way through the end of February, with additional programming announced throughout the season. So bundle up in your very best -- we can't wait to see you there!

locke-ober lunch at yvonne's

If the frenzied Facebook feeds are any indication, there are a whole slew of folks out there pining to go back in time. And while we've resolved to remain zen and rooted in the present, it's hard to argue with the charms of years gone by. Though we can't actually control the clock (we're good, but we're not that good), we can direct you to Yvonne's for a taste of a more elegant era.


For the uninitiated, modern supper club Yvonne's occupies the same address as storied Locke-Ober, a landmark restaurant famed for its crème de la crème clientele, gustatory delights, and unrivaled revelry. This December, Yvonne's takes up Locke-Ober's grand tradition by opening early to allow guests to treat themselves to a luxe-holiday lunch on Fridays throughout the holiday season. Featuring a menu pulled directly from their predecessor's playbook, these exclusive, reservations-required meals provide an opportunity to relax, reunite, and embrace the glory of a menu that includes Lobster Thermidor paired with table-side martini service enjoyed well before 5PM. What's more: your vintage vittles arrive at your table courtesy of dapper wait staff sporting formal white jackets.


Of course, for all the event's retro-flair, the fact remains that it is 2016. Make the most of those modern technological trappings by hailing a car chariot (most commonly known as an 'Uber') to whisk you off to your next afternoon adventure or post a #humblebrag about the meal for all of your friends to ogle. Old school elegance paired with modern convenience? Now that's a happy holiday, indeed!


Dates:
December 16, 23, and 24
Seatings: 12:00 pm, 12:30 pm, 1:00 pm, 1:30 pm


Reservations are required and may be made exclusively by calling 617-267-0047.