So far we've had it good. Real good. Barely any snow. Not even all that cold. Shorts last Sunday (no joke!). Climate change or seasonal aberration, we know it's too good to last. That's why in this issue of marlo monthly we share three ideas for hearty food cheap (because, January) -- both in (because, there will be snow) and out (because, there will be snow).
Speaking of getting out, with my travel schedule of late I'm not able to spend as much time as I'd like in my
New York City place
. I rent it out on a very limited basis and I'd always rather rent it to friends than strangers -- and anyone who reads
marlo monthly
I definitely consider a friend! Take a look, and if you're interested,
ping me for more deets and availability.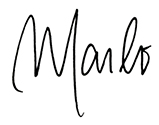 Now that we're past the excitement of the holidays and 60 degree January weekends, we are all too aware that the frigid New England winter is still just settling in. And since we can't hibernate for the next few months (job security and all), we feel we have earned the right to stay indoors for lunch. And that means taking advantage of all the local restaurants offering delicious catering options. Our newest go-to?
Cafe Landwer,
a specialty café & Mediterranean restaurant under one roof.
Lucky for us, Cafe Landwer offers fresh, affordable catering options for every occasion, especially the occasion of crappy weather! Breakfast options include assorted pastries, oatmeal or parfait bowls and breakfast pitas, while lunch and dinner = shareable salads, hummus, falafel and so much more (

we tried the Signature Shawarma package for a recent #BadWeatherBites and it was a hit!).

Special platters and packages make it simple to suit all tastes, including lots of vegan and gluten-free options.
If that's not enough of a reason, when you
order for delivery via EZCater
, take $25.00 off your first order.
So, when the temp dips below freezing and the sidewalk gets slick, ask your boss to order in Cafe Landwer for lunch. While so far winter hasn't been too bad, we speak from surviving decades of Northeast winters when we say with confidence that it just can't last!
Sox games and Fenway Franks. Cape Cod summers and ice cream cones. Clams and Narragansett Lager -- there are some things that make a perfect pairing for us New Englanders. And while we're out-of-season for the first two, now is the perfect time to enjoy a bowl of rich, creamy clam chowder and crack open a clean, crisp Lager.
So in honor of National Soup Month, The Hourly Oyster House is serving up a soup-er deal: for just $9.00, enjoy a hearty bowl of house-made clam chowder with a 16 oz Narragansett Lager. Considering 'Gansett is the "Official Beer of the Clam" (due to how perfectly it complements the natural sweetness and salinity of shellfish, natch), we'd say this tops our list of dynamic duos, at least this month!
True New Englanders know that seafood and beer are diet staples year round, so there's no shame in your game if that includes making multiple trips to Harvard Square to get your fix this winter. Think of it as tiding yourself through 'til it's time to go all-in on fried clams come June. 'Gansett, of course (always), in hand!
While cozying up on the couch with wine and Netflix is a beloved winter pastime, there's something to be said about changing out of sweats, swiping on a red lip and going out into the world every now and again.
But not only does the cold weather and the early nightfall make it hard to motivate, with maxed credit cards leftover from December we often feel like throwing in the towel before we even get started.
Lucky for us,
All Day Hospitality Group
is serving up some delicious deals at two of their North End spots on the four nights we find it most challenging to "remove ass from couch":
Mondays:
Tuesdays:
Cheap Date Night

at Ciao Bella: Enjoy dinner for two for just $49.00 (includes bottle of Piccini Chianti, choice of appetizer, entrées and dessert)
Wednesdays:
Snow Days:
Free cups of chowder with food purchase at North Square Oyster Bar
While the holidays may not have been too friendly on your wallet, make January the month that you stick to at least two of your resolutions: getting out of the house and saving some serious moolah. Diet resolution be damned!
| | |
| --- | --- |
| January 18 & 25: | |
| January 18: | |
| January 20: | |
| January 27: | |