| | |
| --- | --- |
| | january 2019 |
January! A new year, and lots of new and exciting things to announce from the world of marlo marketing!
First, we launched a
brand new website
earlier this month. If you haven't checked it out yet, give it a look and let us know what you think!
Next, I launched a
new blog, m.POV
, where I talk straight (for anyone who knows me, that's probably not hard to believe ;) about marketing, PR, agency life, clients, and more. (Don't stop until you're proud. And yes, an attention span
is
required!)
Happy new year!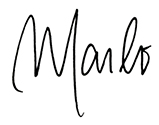 If you're part of the majority of resolutioners, you've already given up on your well-intentioned goals for 2019. Maybe, just maybe, resolving to prepare a scratch-made meal every weeknight was just a bit too ambitious. The first step: accept defeat. The second step: seeking out healthy options that make prepping a quick dinner as easy as ditching your resolutions. Start with Perdue Simply Smart Organics, a line of whole grain, certified gluten-free, and lightly breaded varieties of chicken nuggets, strips, and tenders.
Made with only organic, non-GMO, and recognizable ingredients, you can feel good about what you're feeding your fam. And with over a dozen varieties, there's an option for every meal that strikes your mood (pro tip: the Whole Grain Breaded or Grilled Chicken Breast Strips are a delicious addition to any salad!).
While some resolutions are just too damn hard to stick to, feeding your family healthy, wholesome meals on the reg doesn't have to be. Resolutions be damned!
Though not really a new trend, Dryuary drums up all the hype every new year, and for good reason -- it's never a bad idea to start the year off on a healthier, booze-free note. While some find it easy to sip sober for 31 days, others -- those who enjoy a nice glass of vino

nightly

occasionally -- struggle to find the satisfaction that a sugar-filled boozy bev offers. That is, until now, when we can swap our Chardonnay for an ice cold can of Sipp Infusions, the newest line from organic sparkling beverage brand Sipp Sparkling Organics.
Sipp Infusions offer three unique, multilayered flavors -- Cool Cucumber, Pineapple Breeze, and Strawberry Delight -- crafted with USDA certified organic ingredients and containing just 10 calories and 2 grams of sugar. And to make it as easy as drinking that first glass of wine will be come February 1, all of Sipp Sparking's beverages are available online, as well as in supermarkets nationwide.
Dryuary may be nearly over, but you can bet Sipp Infusions have earned a permanent spot in our fridge for the entire year (and hey, come Drinkust, we may or may not be mixing Cool Cucumber with vodka for a refreshing libation!).
While we often find ourselves talking about the latest and greatest to hit the Boston area restaurant scene, we equally appreciate the standouts that continue to be lauded and loved year after year. Craigie on Main, helmed by James Beard Award-winning chef Tony Maws, is high on that list. Celebrating a seriously impressive 10-year anniversary at his Cambridge location on Main Street in 2019, COM is gifting us with a lineup of exciting initiatives and celebrations.
First up is COMB, a new name and identity to match the distinct atmosphere that Craigie's more casual bar room embodies. COMB includes a regularly-changing à la carte menu of elevated bistro fare, more relaxed service, and an upbeat vibe. And, to complement the cult fave Craigie on Main Burger, COMB will roll out a new, limited quantity burger every month (on the docket for February is the Venison Burger with Red Chile Sauce and Smoked Red Onions).
In the dining room, which reflects Maws' signature refined rusticity, is a new four course prix-fixe menu featuring modern, French-inspired dishes nightly as well as special dinners throughout the year, including The Whole Hog: Craigie Pig Dinner in March, a six-course feast celebrating all parts of the pig, paired with curated wines (count us in!).
If you're wondering what to get Tony and team for their milestone b-day, we'd say their biggest wish is for a packed house throughout 2019 and beyond. And with this lineup, we're confident this is the birthday that just keeps on giving!