| | |
| --- | --- |
| | june 2019 |
It's been a busy month and the 4th of July is nearly upon us, but we somehow managed to get June's issue of marlo monthly out under the wire! TBH, we thought about skipping and just saving the content for July, but this newsletter has gone out Every.Single.Month since January of 2005, and we weren't going to break that streak now!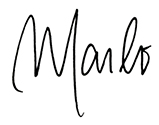 "Don't mess with perfection," they say, and we'd agree, especially when it comes to Craigie on Main's iconic #Burger. The nationally-renowned masterpiece is so heavenly that they only make 18 per day and usually sell out shortly after opening their doors for dinner service every night.
Lucky for us, Maws teamed up with equally as sustainability-minded friends and industry vets Nick Zappia (Blue Room, Belly) and Michael Leviton (Lumiere, Area Four) to create a new concept -- Craigie Burger -- located in the just-opened TimeOut Market. And even luckier for us, they tapped marlo marketing to create the new brand's visual identity. From Craigie Burger's logo, menu board and packaging, website and food porn photography (taking photos of burgers all day without sneaking a bite takes real skill, IOHO), the marlo team handled it all!
Craigie Burger will serve up three gourmet burgers, one of which, the Craigie "OG," is based on -- you guessed it -- the Cambridge original. But a smaller kitchen and higher volume of orders doesn't mean we have to sacrifice taste: the beef is locally raised and each and every ingredient remains sustainably sourced or made in-house. None of the Five Guy Kings of the Golden Arches can say that!
So, while we don't usually like being proven wrong, in this case we're happy to admit that Craigie Burger has shown us that it can, indeed, pay to mess with the best!
With our nation's growing interest in food as medicine comes a desire for increased transparency in the food biz. But while we want nutritious and sustainable, we also want convenience and accessibility.
Thanks to Walden Local, the country's largest meat share program, we can have it all. Walden Local purchases whole animals from 75 different small farms in the Northeast and distributes them in a unique share program to thousands of families in NY, CT, NJ, MA, RI, NH, & ME. Choose from three pre-curated shares featuring beef, pork, lamb and/or chicken, or create your own and change it up as often as you'd like. Members can also add other local and sustainable products to their share, including eggs, butter, fish and more. And Walden Local individually compiles and delivers every order by hand, meaning no environmentally-wasteful packaging or third-party shipping services involved.
Local, pasture-raised meat delivered straight to our door that is just as delicious as it is healthy? Sounds like our days of schlepping to the store to get the quality we care about are behind us. We guess you can have your cake and eat it, too...at least when your definition of 'cake' is sustainably sourced meat.
Remember that scene in "Honey, I Shrunk the Kids?" where the (miniature) children befriend an ant, who ultimately sacrifices his life to save them from a scorpion? While often viewed as pests, bugs are heroes to our ecosystem on a daily basis -- not just in a Hollywood blockbuster! Just think about the waste we'd be living in without the decomposers, or the flowers and veggies we couldn't enjoy without pollination. (Let's be real: a world without avocado just ain't a world we want to live in!)
Franklin Park Zoo's buzzworthy new exhibit, Wicked BIG Bugs, is here to help all of us better appreciate our pint-sized pals. Visitors will encounter an array of giant animatronic insects including the red-tailed bumblebee, Mexican red knee tarantula, Madagascan sunset moth, meadow grasshopper, emperor scorpion, and many others -- all nestled within the trees, bushes and undergrowth for a truly larger-than-life experience.
There is much to be learned about our creepy-crawler comrades, so squash your fears and check out the exhibit before Labor Day...and next time those little guys are bugging you, maybe you'll think twice about squashing them!