| | |
| --- | --- |
| | march 2017 |
Every year, for the past eight years, we would ask the same question: "What's going on with the brewery?" And every year, for the past eight years, we waited. But when we asked the question earlier this year, our patience was rewarded with the answer we'd been waiting for: "2017's the year!"
This issue of marlo monthly is all about celebration. Celebration of a brewery that has made its way back home. Celebration of teamwork, and what that means for kids who got dealt a hand way harder than they deserved. And celebration of a visionary, who turned her personal beliefs into an extremely tasty movement.
Soon, we'll also be celebrating ourselves...April 1st is the anniversary of the start of our 14th year in business.
So join us -- we've got lots to celebrate!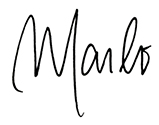 If you were #blessed enough to be among those invited to party down with us in our brand new DTX digs a few years back, you would know that we believe there's a fine line between perfectionism and procrastination. Sure, we threw our office warming a solid 12 months after moving in, but -- much like our gal Goldi

l

ocks -- we knew that we would never be satisfied unless things were just right. As our clients and friends know, we are firm believers that anything worth doing is worth doing well.
As many New England-based beer drinkers are probably aware (thanks in large part to yours truly), the team at Narragansett Beer had been knee-deep in bringing brewing operations back to their native Lil' Rhody for many moons. After busting their asses to make sure things were exactly as they wanted them, they are finally ready to debut a beer that is made on honor, sold on merit, and brewed in Rhode Island at their very own Narragansett Brewery at The Guild.
Cheekily titled "It's About Time IPA," 'Gansett's new brew is 100% worth the wait. The American IPA celebrates the passage of time by mixing the distinct malt profile of early IPAs with the floral hop aromas of current day IPAs. And, like so many of the 'Gansett beers before it, "It's About Time" is as pleasing to look at as it is to drink. A crimson background offsets an illustration of Providence's iconic Shepards Clock with hands at 4:59PM, the long awaited moment before it's acceptable to crack open that 5 o'clock cold one.

Available on tap at the brewery and in liquor stores throughout Massachusetts, Rhode Island and Connecticut, "It's About Time" will soon become your favorite new way to "Crush it like Quint." 'Gansett may have taken their sweet time, but the wait has been worth it as this brew is truly just right.

Real talk: while we'll admit that we are still flying high from that epic Pats Super Bowl victory and may have watched Rudy one too many times in our day, few things pull on our heartstrings like the combination of kids and sports. That's why we are thrilled to help spread the word about Team IMPACT, a Boston-based non-profit dedicated to improving the quality of life for children battling serious and chronic illnesses by allowing them to tap into the power of team.
Yep, every year since 2011, Team IMPACT has partnered with college athletic teams to welcome kids onto the field from Draft Day to Graduation. By working together, these children and student athletes teach each other about the power of strength, perseverance and teamwork.
And it's strength, perseverance and teamwork that will be on display on Wednesday, April 26th, when Team IMPACT is giving YOU a chance to get in the game at their 5th annual Game Day Gala, hosted by ESPN anchor extraordinaire Wendi Nix.
Tickets and table sponsorships are available by clicking here; trust us when we say you'll want to book early because this event will sell out quickly. We hope you'll join us in giving back by getting in the game!

wht celebrates: free tallow fries!
Having gotten our start in the food biz, we know a thing or two about restaurants. And in the restaurant industry, the odds are never in your favor. Despite this -- or perhaps because of it -- there are still plenty of brave folks who decide that the risk is worth the reward. Perhaps because of that, even after 14 years in the game, we never, ever get tired of raising a birthday toast to our client roster of amazing restaurants.
This month, you can catch us raising our craft cocktails in honor of the second anniversary of one of the country's few truly farm-driven restaurants. If you've been living under a rock, please allow us to introduce you to your soon-to-be fave, Woods Hill Table. Opened in 2015 by filmmaker and farm advocate Kristin Canty (Farmageddon), this Concord, Massachusetts farm-to-table phenom sources primarily from Canty's Bath, New Hampshire, farm, The Farm at Woods Hill, alongside a number of other small, supporting purveyors. With these carefully produced and sourced ingredients, the kitchen, helmed by 2017 FSR Rising Star Chef Charlie Foster, turns out artful dishes that pack a covert nutritional punch.
What, exactly, do we mean by that? Here's what to know if you go: the French fries are made using beef tallow, meaning they are high in Vitamin D and the beneficial fatty acid, CLA. The decadent dessert you'll consider getting seconds of somehow manages to be both gluten-free and vegan. And the burger? It's made from organic, free-range, grass-fed beef and topped with tomato preserves made when the fruit was at the very peak of its summer season.
Just when we've got you thinking this place couldn't possibly get any better, the Woods Hill Table team is giving our readers a gift -- mention "marlo monthly" when you make your reservation and receive a free order of those healthful tallow fries from now until April 15th. Happy birthday, indeed!