Summer's been sniffing around of late...and we're not hating it! Thanks to the nice temps, this issue of marlo monthly shares news you can use right now, specifically new glamp-ground amenities, how to make dinner for the fam without turning on the stove, and a sure-fire way to indulge in desserts with zero guilt!
Finally, as much as we hate to say it, September will be here before we know it and we're gonna need something to look forward to post-summer. What's better than a fun-filled trip exploring a brand new place!? Register for our Detroit trip here
and you may not even care when Labor Day rears it's ugly little head!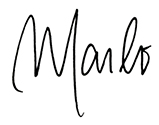 "I went to the woods because I wished to live deliberately, to front only the essential facts of life..."
While Thoreau spent two years, two months and two days in his effort to gain an objective understanding of the society in which he lived, most of us don't have that luxury of time in the society in which we live. Lucky for us, we have Sandy Pines Campground in Kennebunkport -- where even a mere two days offers the opportunity for some very deliberate R&R!
Opening for the season on May 11th, Sandy Pines has everything that we love about Maine -- the rustic charm, the breathtaking landscape, the fireside s'mores -- with added comforts like a heated saltwater pool, General Store with local provisions, Kids' Kamp, lawn games and more.
And for those who prefer their camping experience to be a little less "outdoorsy" and a lot more "Troop Beverly Hills," Sandy Pines' Pinterest-worthy Glamp Tents are #campgoals. New for the 2018 summer season are Camp Carriages (stylish cottages on wheels fully outfitted with king-size beds and A/C) and Hideaway Huts (single-room wooden A-frames with queen-size beds and cool outdoor seating areas).
Maybe our idea of living deliberately isn't quite how Thoreau imagined it. What can we say -- we like it simple, but we also like it fab!

You start the week with every intention of serving a delicious and nutritious meal to your family nightly; by Tuesday, you're pulling a Stouffer's family size mac and cheese out of the depths of the freezer. Sound familiar? Yeah, it does for us, too. Plan B: head to charming W. Newton neighborhood bistro

Lumière
, your new destination for those midweek nights when cooking a well-balanced meal just ain't in the cards.
Since taking the helm from his mentor, Michael Leviton, in 2016, new chef/owner Jordan Bailey has transformed Lumière from a fine dining destination known for special occasions to a welcoming neighborhood bistro, offering thoughtful takes on classic comfort food seven days a week. And now on Tuesday and Wednesday nights that includes a Family Meal for Four -- your choice of a shared entrée (Whole Roast Chicken or Fish Fry) along with assorted seasonal sides, fresh salad, hearty bread and a Cabot's ice cream sundae for sharing (hey, when you're in the 'hood!) -- all for 60 bucks and available for dine-in or takeout.
So change your intentions and hand the reigns over to Bailey and his crew. Honestly, even if you feel like cooking, it's gonna be better than anything you would have made anyway -- no offense!

Contributing to a worthy cause always fills us with the warm and fuzzies. Many would say the same about a decadent dessert. Combine the two for a sweet treat that gives back -- now, that's a guilt-free indulgence everyone can get behind!
During
Bakes for Breast Cancer
, over 200 restaurants and bake shops -- from Boston to Rhode Island to the Cape & Islands -- will donate proceeds from one or more of their delectable desserts to young researchers working to find a cure for this disease that affects one in eight women.
This year's 19th annual event honors one of those women, Toni Berry. Mother of Tom Berry, Culinary Director of Boston's swankiest spots -- Yvonne's, RUKA and Lolita --Toni lost her hard-fought battle with breast cancer at age 49. If she were still with us today, she would undoubtedly be proud of all her son has accomplished -- not to mention his continued devotion to her tomatoes and zucchini bread recipe!
So in memory of all the women we've lost and in honor of all of those who have kicked cancer's ass, you've got 20 days in May and June to get out and eat your sweets with absolutely no regrets!