| | |
| --- | --- |
| | october 2016 |
October's been a pretty momentous month here at marlo marketing. To begin, I was honored to receive the Boston Brava Award from
SmartCEO
magazine. Though that alone was pretty cool, the
hands down best part of the evening
were the kind words shared on my behalf from one of America's most popular governors, our very own Charlie Baker. Bet I'm not the only one wishing we had him as a choice on November 8th!
Next, we launched our very first
agency sizzle reel
. It is a true reflection of the quality, depth and breadth of our work; a huge thanks is owed to all those -- past and present -- who have contributed to our reputation for "getting shit done." Thank you.
Finally, while we have the honor of working with some pretty amazing brands, I have an
extra
soft spot for our newest client, Shinola Detroit. If you aren't aware of them yet, you will be soon enough. #Trust. Read on for more, and then be sure to stop by on Saturday and say hi. I'll be the one proudly sporting The Canfield around my wrist, showing off my Detroit home girl pride!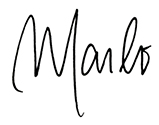 As Americans, we are #blessed with certain unalienable rights. Among these are life, liberty, and the pursuit of fashionable, functional wares that have a positive impact on the U.S. of A. Whether you're a liberal leaning Democrat or a staunch member of the GOP, we all understand that if we want to enjoy amazing American products, we need thriving American factories. And if we want thriving American factories, we need entrepreneurs willing to invest in our cities and job train our fellow citizens. Despite this being the golden age of "fast fashion" and "disposable chic" a reinvestment in American manufacturing is happening, and we could not be more excited to welcome one of the biggest players in this reinvestment to both Boston and the marlo family.
Much like Marlo herself, Shinola is straight outta the Motor City (that would be Detroit for the uninitiated), and is known for crafting high-style and high-quality watches, bicycles, journals and leather goods. Taking its name from the storied Shinola shoe polish company which operated until the mid-twentieth century, Shinola Detroit is reinvigorating not only the company name but also the city where they are based.

And while you may have spied a few fashionable folks who stay abreast of killer design rocking one of their classic t

imepieces around town, they're gearing up for full Boston domination with the opening of their Prudential Center storefront this coming weekend.
So if you're interested in making the most of the aforementioned inalienable rights and being one of the first in Boston to get your hands on some high-end, homegrown goods, you'll want to hit up their Grand Opening, featuring music from Local DJs, Lobster Rolls from Luke's Lobster, Shinola Cola Ice Cream Floats and SHOPPING. After all, especially with holiday season right around the corner, the only thing better than gift giving is giving a gift from a company whose mission is to give the gift of a well-paying job to our fellow Americans.

As anyone who has been sardined against a group of strangers while the Red Line creeps over the Longfellow Bridge can attest, the modern day MBTA gives us plenty to kvetch about. Still, it's important to remember that, despite our gripes, Boston's lite rail system is still technically a modern marvel; in the grand scheme of things, we aren't too far removed from a time when Hourlies -- horse drawn wagons departing to Boston from Harvard Square every hour, on the hour -- were the only mass transit ticket in town. (Pro tip: call that fact to mind the next time you're stranded with an ungodly 7 minutes to kill before the next Braintree bound train appears and rejoice.)
Happily, as of this month, Harvard Square is once again home to an Hourly -- and this one won't have you commuting like its 1849. New from Harvard Square stalwarts Grafton Group, The Hourly Oyster House is a vibrant and welcoming space in the heart of the Square. Featuring two bars -- one of the raw and another of the booze variety -- The Hourly is the ideal spot to grab post-work drinks with friends, delight the apple of your eye with a romantic dinner, or extend your evening with a nightcap. Bountiful bivalves -- five East Coast oysters and one rotating Pacific variety -- anchor a menu of thoughtfully-sourced seafood and classic New England comfort food. And, much to our delight, there's plenty of craft beer, wine and craft cocktails available to help wash everything down.
Though the name may invoke time, the beautiful design and easy ambiance make it all too easy to forget about the clock. In fact, we're willing to bet you have such an enjoyable experience that you begin to wonder why anyone ever wanted to hitch a ride away from Harvard Square, and you'll definitely leave counting down the seconds, minutes and hours until you can return!

Ahh, October. Summer's sultry temps have officially faded and the crisp evening air and chilly nights have us longing to curl up near a fire. Toss a few cocktails and two or three slices of award-winning pizza into the picture and you, friends, have described our perfect evening. (And yes, by "fire" we meant "wood fired oven at a restaurant." Space is at a premium in this city and the fireplace is where we store our off-season shoe collection.)
Lucky for us, the incendiary team behind critically acclaimed wood-fired Kendall Square-based restaurant Area Four has chosen this most wonderful time of year to debut their newest outpost,
Area Four Boston
. And while we'll always have a soft spot for the minimalist, techy vibe of the Kendall Square original, we were immediately won over by the new location's funky, retro-futuristic design. Kitschy touches and truly vintage elements like record players and TVs-turned-art-pieces are found throughout, and the distinctive dining room and bar area offer two unique experiences under one well-appointed roof. And if there's anything we like more than pizza, it's a two-for-one deal.
Better still, Area Four Boston pairs its elevated ambiance with an equally amped-up menu. While pizza pies still feature prominently, its playful plates like Duck Egg Carbonara and Brown Butter Beets paired with tipples like the Colonel Joe -- a take on a cherry lime rickey -- and the Greenpoint -- a variation on the classic Manhattan -- that will have Area Four claim the number one spot on your "must-hit" restaurant list.

So go ahead -- continue to fill your defunct hearth with sling-backs forevermore and leave cooking with fire to the pros.